View All Related Messages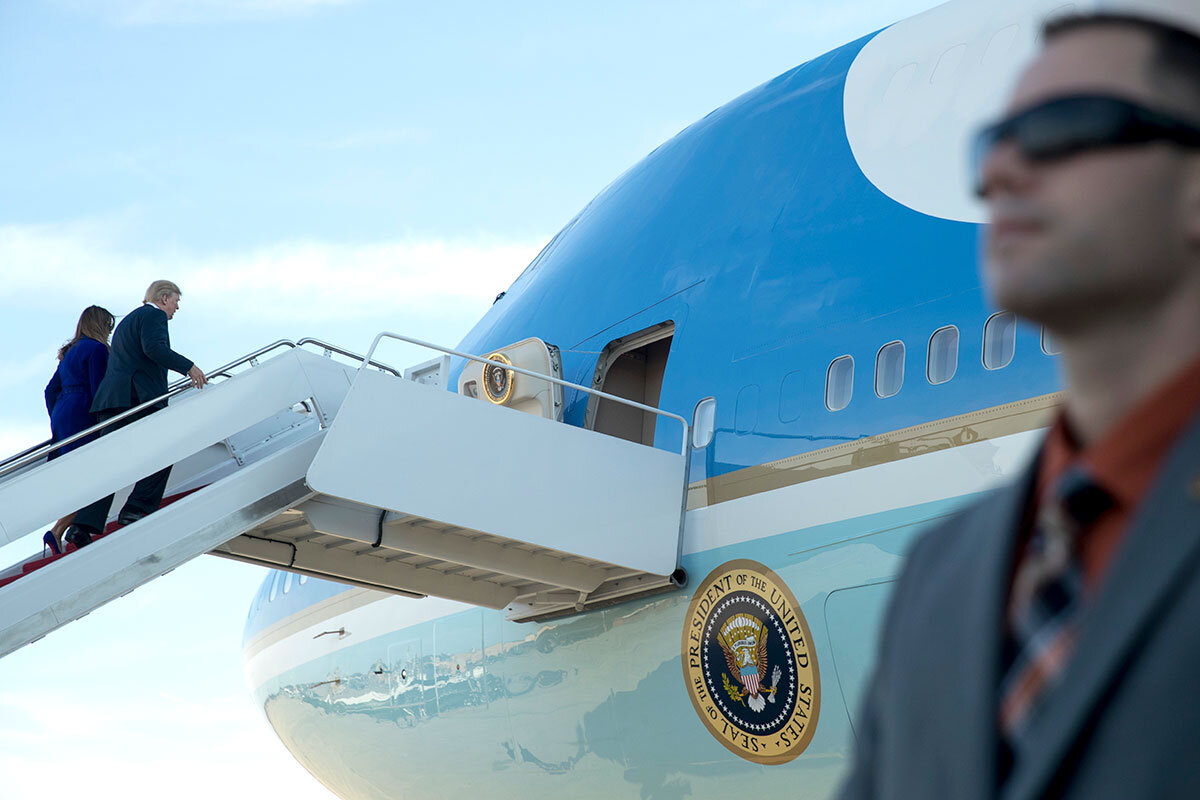 President Trump and his entourage have embarked on a 12-day tour of Asia, the longest of a president since George H.W. Bush in 1991. By now, the president is wrapping up his visit to Japan and will be in S. Korea, China, Vietnam, and the Philippines — in that order — before returning to the U.S.

The president has withdrawn the U.S. from the Trans-Pacific Partnership and the 'Asia pivot,' but it's hard to know what has replaced the agreements made by his predecessor. Here is a short speculation from the CSM:
President Trump clearly places a high priority on US relations with Asia. His 12-day trip to the region beginning this weekend – the longest by a US president since George H. W. Bush's 1991 marathon – attests to that.

And it's a priority the American people share with the president: Surveys consistently show that Americans consider Asia more important than any other region for furthering US security and economic interests.

But much less clear nine months into the Trump presidency is what policies and overarching vision will guide US relations with Asia, home to most of the world's fastest-growing economies and responsible for more than 40 percent of global economic output.

President Obama had his 'Asia pivot,' but Mr. Trump knocked the legs out from under that policy when he withdrew the US from the Trans-Pacific Partnership (TPP), the 12-nation trade deal designed to secure US economic leadership in a region increasingly dominated by China and its hybrid statist-capitalist economic model.

But if TPP and the 'pivot' are out, leaders at every one of the stops Trump will make – Tokyo, Seoul, Beijing, Da Nang and Hanoi in Vietnam, and Manila, with regional summits adding more leaders to the mix – will want to know what is 'in.'

With no clear policies as guideposts, leaders will be watching the unconventional American president for clues on key questions: What does 'America First' mean for relations, particularly economic, with Asia? What will Trump's preference for bilateral relations mean for America's traditional leadership role in multilateral arenas? Will a Trump focus on North Korea suck the air out of every other issue of interest with the US?

And underpinning them all: Is American leadership waxing or waning in Asia?

Read the rest at CSM: http://snips.ly/38G4KJ
While it's still early in the itinerary, what do you think will emerge from the administration's Asia trip?
What will be the focus and highlight? Trade? Security? Threats from N. Korea?


Since President Trump has withdrawn from the TPP under the banner of 'America First,' should some sort of trade program replace TPP? What?


N. Korea has been rather quiet lately. Any thoughts?


Earlier, European leaders did not seem to know what to do with President Trump's direct manner. We wonder how Asian leaders will react ...


In contrast to President Obama, President Trump takes a bilateral approach to agreements. How do you think 'America First' will turn out in Asia?


Not on the itinerary, but not unrelated either: What about India? After China, India perhaps is the world's largest under-tapped economy and yet remains largely a mystery to many Americans.
---
Editor's Note:
Comments Policy — We welcome comments, posts, and informed debate from a wide range of perspectives. Personal attacks, insulting/ vulgar posts, or repetitious/ false tirades have no place and can result in moderation or banning.
Civility — Clear-minded criticism is welcome, but play the ball and not the person. This includes speculation about motives or what 'sort of person' someone is. Civility, gentle humor, and staying on topic are superior debating tools.
Relevance — Please maintain focus on the topic at hand. Do not attempt to solve big problems in a single comment or to offer as fact what simply are opinions.
Ponder before you post — It's bad form to dominate a discussion either by multiple posts in a row or too many posts in a given forum.



Message edited by user at 11/5/2017 11:46:09 AM