Filmmaker Asif Kapadia gets closer to Diego Maradona than any England defender ever could.

RELATED ARTICLES
The Netherlands might have won the Eurovision Song Contest 2019 in Tel Aviv, but it was Madonna's political message that stole the...

RELATED ARTICLES
Warning: This post contains spoilers for Game of Thrones season 8. Game of Thrones is a rare example of mass entertainment that took the time to build compelling character arcs over the course of several seasons. The redemption of Jaime or the Hound were slow, carefully plotted evolutions — until they weren't. So Daenerys' turn…

RELATED ARTICLES
The R-rated thriller was No. 1 in North America with $57 million in ticket sales, by far a series best. Two other new wide-release movies flopped.

RELATED ARTICLES
* Mitt Romney declines to join calls for Congress to act * No holds Barred: Trump pushes for imperial presidencyPresident-elect Donald Trump and Mitt Romney dine in New York in November 2016. Photograph: Drew Angerer/Getty ImagesAs Donald Trump opened fire on Justin Amash, the Michigan representative who became the first Republican in Congress to call for his impeachment, Mitt Romney declined to join the fight.The former presidential nominee and Republican senator from Utah accused Donald Trump of lacking humility, honesty and integrity - but stopped short of calling for his impeachment and removal from power.Romney was scathing about the picture of the president that emerges from the Mueller report into Russian interference in the 2016 election, the redacted version of which he said he had spent two days reading in full. He said on Sunday its findings were "troubling, unfortunate and distressing".But he said he did not think it was time for Congress to call for impeachment."I don't think there is the full element which you need to prove the obstruction of justice case," he told CNN's State of the Union. I don't think there is the full element which you need to prove the obstruction of justice case Mitt RomneyMueller did not find that Trump or his aides conspired with Russia but he did lay out 11 instances of possible obstruction of justice by Trump or his campaign and indicated Congress should decide how to proceed. Controversially, attorney general William Barr said in his own summary of the then

RELATED ARTICLES
The death of Columbine survivor Austin Eubanks, Trump on abortion and more top news.



RELATED ARTICLES
* Incendiary message follows disavowals of intent from both sides * Opinion: Trump supporters don't want war with Iran In a picture released on Friday, the USS Abraham Lincoln sails in the Arabian Sea near the amphibious assault ship USS Kearsarge. Photograph: Mass Communication Specialist 1st Class Brian M Wilbur/APDonald Trump has issued one of his most direct threats yet to Tehran, warning that "if Iran wants to fight, that will be the official end of Iran".The US president emerged from his golf club in Sterling, Virginia, on Sunday to tweet belligerently at around 4.30pm, thereby risking a quickening of tension that is already rising."Never threaten the United States again!" he wrote.The tweet will do little to assuage jitters in the Middle East and in Washington about aggressive language coming out of the White House. Concern is already running high that Trump's hawkish national security adviser, John Bolton, who played a key role in instigating the invasion of Iraq under George Bush, might be nudging the administration towards military action.In 2015, Bolton wrote a New York Times op-ed entitled "To stop Iran's bomb, bomb Iran". Trump withdrew the US from the Iran nuclear deal last year.On the other hand, Trump has a way of blowing hot one minute and cold the next. As with so many of his social media missives, the precise import of his Sunday tweet was hard to read. It directly conflicted with reports of just three days ago that the president had been telling the Pentagon he did n
Clarke's emotional Instagram reflects on the mad queen's remarkable run

RELATED ARTICLES
Travis Scott and Maggie Rogers have added their voices -- and their dollars -- to the effort of abortion rights and reproductive healthcare...
A Katyusha rocket was fired Sunday into Baghdad's Green Zone housing government offices and embassies including the US mission, days after the United States evacuated staff from Iraq citing threats from Iran. Tensions between the US and Iran have been high since Washington withdrew last year from the 2015 nuclear deal between Tehran and major world powers, and they have soared in the past few weeks. Despite international scepticism, the US government has cited alleged threats from Iran, a long-time enemy of both Washington and its regional allies, including Israel and Saudi Arabia, but a powerbroker in Iraq.



RELATED ARTICLES
In the 44th season finale, Rudd played Pete Buttigieg and DJ Khaled offered a tribute to Nipsey Hussle.
Live, from New York, it's John Legend and Chrissy Teigen's adorable little girl stealing the spotlight on Saturday Night Live! The family...
Thousands of demonstrators prepared to take to the streets around the southern US state of Alabama on Sunday to rally against one of the nation's most restrictive bans on abortions in decades. Women's reproductive rights defenders will gather in the capital, Montgomery, and in Birmingham, Anniston and Huntsville, to denounce the "Alabama Human Life Protection Act," or HB314, which virtually outlaws terminations. Alabama passed a law last week that prohibits all abortions -- even in cases of incest and rape -- unless there is a risk of death for the mother.


DJ Khaled showed up to Saturday Night Live's season finale on May 18 with a VIP entourage who joined him to perform two medleys of new...
From Buttigieg and Gabbard to Sanders and Biden, more than a generation separates the oldest and youngest candidates.


Who won: Alejandro Aranda, Madison Vandenburg, or Laine Hardy?



RELATED ARTICLES
In Dave Malloy's ravishing new a cappella chamber musical, members of an addiction support group compare notes on getting lost in the web.
What shows are about to close in New York City?
Broadcast primetime live same-day ratings for Saturday, May 18,…
An explosion targeting a tourist bus injured at least 12 people on Sunday, mostly South African tourists, near a new museum being built close to the Giza pyramids in Egypt, two security sources said. A third security source said the bus was carrying 25 South African tourists from the airport to the pyramids area, and that four Egyptians in a nearby car were also injured by broken glass. Security and judicial sources said a rudimentary device containing nails and pieces of metal had been detonated remotely on the perimeter of the Grand Egyptian Museum, not far from the site of a roadside blast that hit another tourist bus in December.


Depending on ticket sales, the R-rated musical fantasia about Elton John could have ripple effects for its star, its studio and the wider film industry.
A Katyusha rocket crashed Sunday into Baghdad's Green Zone which houses government offices and embassies including the US mission, Iraqi security services said in a statement. The rocket -- which came after Washington ordered the evacuation of non-essential diplomatic staff from the Baghdad embassy and the Arbil consulate citing threats from Iranian-backed Iraqi armed groups -- caused no casualties, it said. "A Katyusha rocket crashed into the Green Zone without causing casualties," it said in a brief statement without giving further details.


The crash happened as the pilot was landing following a routine training mission, March Air Reserve Base Deputy Fire Chief Timothy Holliday said.


LOS ANGELES (Variety.com) - Earth's Mightiest Heroes put up a good fight, but John Wick put at end to the three-week box office reign of "Avengers: Endgame."
What are the Girls actor's top four theatrical experiences?
It was to eventually employ at least 1,500 people and help bring development to a rural area near Hyderabad in southern India. Two sources familiar with J&J's operations in India and one state government official told Reuters production at the plant, at Penjerla in Telangana state, never began because of a slowing in the growth in demand for the products. One of them said that demand didn't rise as expected because of two shock policy moves by Prime Minister Narendra Modi: a late 2016 ban on then circulating high-value currency notes, and the nationwide introduction of a goods and services tax (GST) in 2017.


In the "SNL" season finale, DJ Khaled wore Nipsey Hussle's face on his sweatshirt as he was joined onstage by John Legend, SZA, Lil Wayne and more.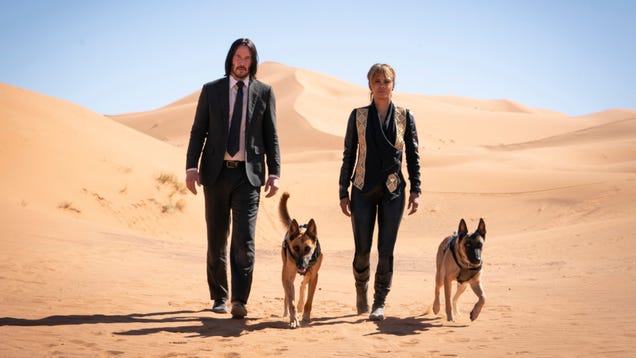 Our weekly thought-starter asks you (and us) a simple question each week: What pop culture did you consume this weekend, and what did you think of it? If you have suggestions for AVQ&A questions, big or small, you can email them to us here.


Read more...


The winner of this year's Eurovision Song Contest says the UK should "step up" its entry.
Behind the scenes of this year's song contest, the usual political tensions between Israel and Palestinians played out.
The Netherlands won the 64th Eurovision Song Contest in Israel on Sunday in a songfest that passed off without serious incident, despite calls by pro-Palestinian groups to boycott the event.

RELATED ARTICLES
Broadcast primetime live same-day ratings for Friday, May 17,…
The singer manages to make a political statement at Eurovision while fans are mixed about her performance.
In a wild story that was captured on video, an F-16 fighter jet crashed into a warehouse in Riverside, California shortly after takeoff yesterday afternoon. The pilot managed to safely eject from the plane before the crash and is said to have suffered no injuries, according to a report from the Los Angeles Times.A full-on investigation into the cause of the crash will certainly yield more details, but early reports suggest that a hydraulics failure was the reason behind the malfunction and subsequent crash.Video of the impact was captured by a nearby car's dashboard cam. Ty Stanonis was on the freeway when the crash occurred ahead of him, he told FOX11. His vehicle's dashboard camera recorded the moment the jet crashed, showing the plane dropping into the building. "Everybody was slowing down, just trying to figure out what just happened," Stanonis said. The pilot's parachute deployed after he ejected, and he landed in a field inside the base. Stanonis said the pilot was still for a few moments but finally rose to his feet.The moment of impact can be seen in the first few seconds of the video below.https://www.youtube.com/watch?v=9j4dzuttA1wFootage captured from within the warehouse can be seen below. It's worth noting that the video contains explicit language.https://www.youtube.com/watch?v=1Ho35RgfUfIMiraculously, no one in the warehouse was seriously injured as a result of the crash, though a few individuals were taken to a nearby hospital for evaluation for minor injuri
How did a young Nielsen get her start in comedies?
Brenda Wineapple's "The Impeachers" is a revealing history of the trial of Andrew Johnson in 1868.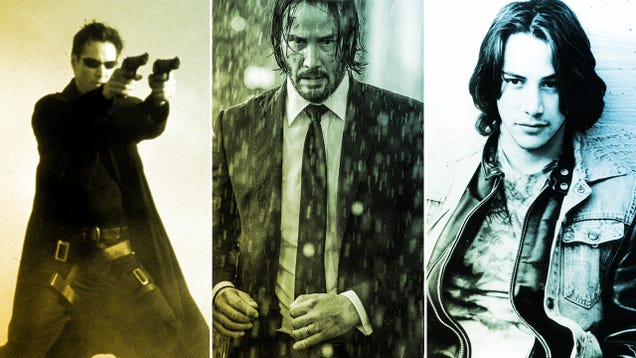 This week's question is in honor of the release of John Wick: Chapter 3—Parabellum, and its irreplaceable lead:

Read more...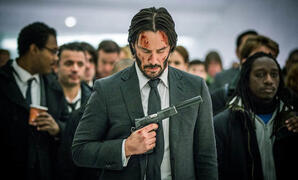 Here are a bunch of little bites to satisfy your hunger for movie culture:   Music Performance of the Day: Rocketman, which you can see early this weekend, premiered at the Cannes Film Festival this week to a standing ovation and rave reviews. Following the first screening, star Taron Egerton performed a duet of the title song with Elton John, whom he portrays in the musical biopic:   Fan Art of the Day: Even before the first screenings were guaranteeing...

Read More

Read Comments


Broadcast primetime live same-day ratings for Thursday, May 16,…