Tarantino's latest has premiered at Cannes to rave reviews - here's what we've learned from the reaction.

RELATED ARTICLES
'NCIS' showrunners confirmed that the character will return for season 17.


BTS' blitz tour of the U.S. is winding down, but the K-Pop superstars made sure to leave a lasting impression on Tuesday night (May 21) with a...

RELATED ARTICLES
NBC's The Voice season 16 came to a close on Tuesday night (May 21) after a night packed with performances. Blake Shelton's three...
British Prime Minister Theresa May's final bid to salvage her EU divorce deal appeared doomed on Wednesday as pro-Brexit Conservatives and opposition MPs rejected her attempts at a compromise to end months of deadlock. The beleaguered leader is set to face a torrid session at Prime Minister's Questions in parliament on the eve of European elections that Britain had not even expected to take part in three years after the Brexit referendum. May vowed Tuesday to give lawmakers a vote on holding a public referendum on Brexit if they approve her unpopular withdrawal agreement in a series of votes starting in early June.



RELATED ARTICLES
The live-action remake, incorporating songs from the 1992 animated movie and new material by Benj Pasek and Justin Paul, hits theatres May 24.
The decision issued late Tuesday night by U.S. District Judge Lucy Koh in San Jose, California, caused Qualcomm shares to plunge 9.5 percent in early trading on Wednesday. "Qualcomm's licensing practices have strangled competition" in parts of the chip market for years, harming rivals, smartphone makers, and consumers, Koh wrote in a 233-page decision. Qualcomm said it will immediately ask Koh to put her decision on hold, and also seek a quick appeal to the federal appeals court in California.


The US has hit China where it hurts by going after its telecom champion Huawei, but Beijing's control of the global supply of rare earths used in smartphones and electric cars gives it a powerful weapon in their escalating tech war. A seemingly routine visit by President Xi Jinping to a Chinese rare earths company this week is being widely read as an obvious threat that Beijing is standing ready for action. Xi's inspection tour "is no accident, this didn't happen by chance," said Li Mingjiang, China programme coordinator at the S. Rajaratnam School of International Studies (RSIS) in Singapore.


Qualcomm Inc illegally suppressed competition in the market for smartphone chips by threatening to cut off supplies and extracting excessive licensing fees, a U.S. judge ruled, a decision that could force the company to overhaul its business practices. The decision issued late Tuesday night by U.S. District Judge Lucy Koh in San Jose, California, caused Qualcomm shares to plunge 9.5 percent in early trading on Wednesday. "Qualcomm's licensing practices have strangled competition" in parts of the chip market for years, harming rivals, smartphone makers, and consumers, Koh wrote in a 233-page decision.


The MTI California Fire Relief Grant provides $1,000 grants to school theatre programs in the wake of the 2018 wildfire season.
Photo Illustration by Sarah Rogers/The Daily Beast/Photos GettyIf you're accused of stealing an animatronic child from Disney World, maybe don't make a wildly popular Disney-related Twitter account and post a picture of the stolen robot child with its eyes gouged out."Buzzy," an animatronic boy from an abandoned Disney World attraction, has been missing for months. Online, Disney superfans treated the disappearance like a kidnapping. But the investigation into the theft led police to someone in the online Disney fandom: a Disney blogger who taunted Disney about their security, posted conspiracy theories about Buzzy's disappearance and, in the final days before his arrest, uploaded a picture of the robot's decapitated and eyeball-less head.Patrick Spikes, 24, was arrested last week. He worked at Walt Disney World in Orlando, Florida, until last year. But Spikes didn't completely part ways with the theme park after he stopped working there. Instead, he started churning out videos, podcasts, and tweets under the username "BackDoorDisney." His Twitter account, which amassed more than 17,000 followers before going dark last week, promised to give fans an inside view of Disney World. In its seven months of operation, the account uploaded pictures of Disney control rooms, secret maps, and Disney cast members pretending to have sex while dressed as characters from Toy Story.Soon, Spikes was posting about an even more salacious Disney World story. In August, Disney told police that som
With "Game of Thrones" behind her, Turner has a new home, a new husband and a new movie, "Dark Phoenix," that might make her the biggest thing to come out of Westeros.
In "The Players Ball," David Kushner recounts the fight over a valuable domain name in the days before the internet took its current form.
We asked the director how the franchise's greatest sequences came to be. His answers involved phrases like "theater of pain."

RELATED ARTICLES
The Green Bay Packers quarterback also finally confirmed where he actually appeared in Game of Thrones' penultimate episode.



RELATED ARTICLES
Who won: Andrew Sevener, Gyth Rigdon, Maelyn Jarmon, or Dexter Roberts?


The return of the NBA playoffs to the Monday cable…

RELATED ARTICLES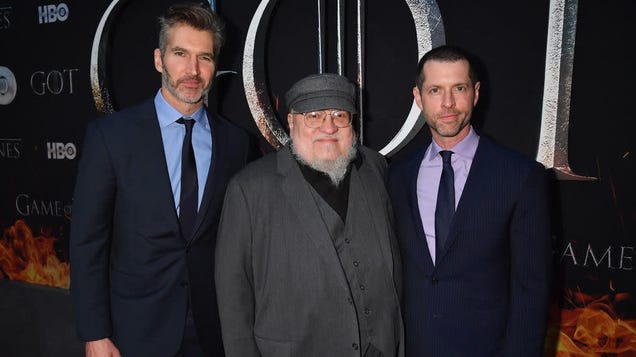 Now that the dust has cleared on HBO's Game Of Thrones series finale, fans unhappy with the ending have very little to look forward to other than bigger, better season 8 remake petitions and the continued hope that author George R.R. Martin will finish out the series of novels differently. Fortunately, over at …

Read more...


Broadcast primetime live same-day ratings for Monday, May 20,…
"Game of Thrones" wrapped up on Sunday in an episode that included a variety of "Thrones" greatest hits as well as some head-scratching moments.
He didn't make it onto 'Star Search' as a kid... but 'Voice' coach John Legend may finally win a TV talent show, thanks to his contestant Maelyn Jarmon.


Will Smith might be playing the genie, but Disney opted for two relative unknowns for the leads.
Nearly the entire cast has assembled for the movie, due in September. Only Lily James is conspicuously absent.
Will Smith was initially worried about playing the genie in Disney's live action version of "Aladdin" after the celebrated performance by the late Robin Williams more than 25 years ago, but says it eventually became a joy.
Nearly the entire cast has assembled for the movie, due in September. Only Lily James is conspicuously absent.
WASHINGTON (AP) — The Latest on the Trump administration's Iran policy (all times local):


Fantasy, romance, battles and intrigue — these seven series introduce you to new epic worlds.

RELATED ARTICLES
After Game of Thrones came to an end on Sunday night, fans everywhere said farewell to their favorite characters and took to Twitter to express their...
"Game of Thrones" went out as many expected it would,…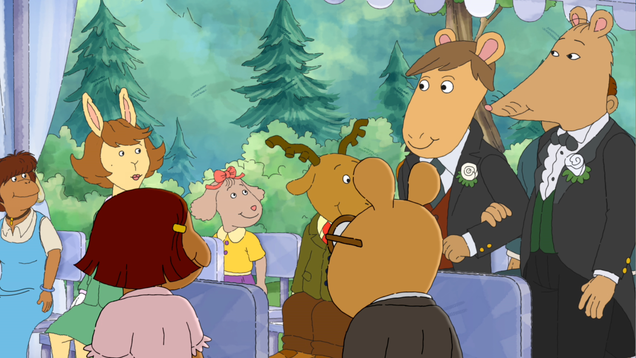 The long-running children's TV show Arthur recently opened its 22nd season with a groundbreaking episode that featured the kids' longtime teacher Mr. Ratburn's marriage to anther man. In the episode "Mr. Ratburn And The Special Someone," which premiered May 13, Arthur and his pals are concerned that their teacher is…

Read more...


The NBA conference finals secured ESPN an easy win in…
Kyle Grillot/ReutersAttorney Gloria Allred took the stage at a pro-choice rally in Manhattan on Tuesday and told a harrowing story about nearly "bleeding to death" after she was forced to get an illegal abortion following a rape in the 1960s.Describing herself as "living evidence of what happens if abortion is criminalized," Allred said recent anti-abortion legislation in Alabama, Georgia, and Missouri will effectively condemn women and girls to death by leaving them no options other than illegal abortion. While Alabama's near-total abortion ban stipulates up to 99 year prison sentences for doctors performing abortions, Allred said, "The truth is, the victims are the women and the girls who have to get a back-alley abortion and who are going to be left to die." The women's rights lawyer told the crowd in Foley Square that she'd seen firsthand what it was like for women who had no access to abortion in the 1960s. After being raped at gunpoint in Mexico, she said, she traveled back to the United States, found out she was pregnant, and discovered that it was a crime in many states for doctors to perform abortions. "I had to get a back-alley abortion in a bathtub from a person who was not licensed, they were just doing it for the money," she said. Once she began hemorrhaging, she said, the person who performed the procedure told her it was "[her] problem now." Allred recalled suffering from a 106-degree fever and being packed in ice once she was hospitalized, all while she
On Saturday evening (May 18), the Smithsonian Asian Pacific American Center held its first annual event in Los Angeles to raise awareness ...
With "K," our reviewer says, Tyler Kepner of The New York Times has written a "delightfully nerdy" book.
Massive protests opposing a series of bans against abortions have continued for several days after one of the most stringent abortion laws in the nation was signed into law in Alabama last week. Crowds of demonstrators on Capitol Hill were joined by prominent women's rights activists and politicians on Tuesday, including 2020 presidential hopeful Kirsten Gillibrand, for a rally titled StopTheBans. "Our democracy only works when the people of this country stand up and demand it," the New York senator said to cheers. "Do not allow this moment to pass without putting everything you have behind it … organise, advocate and vote." Across the country, Americans from all walks of life marched in major cities and small towns to oppose bans like the one in Alabama, which makes performing an abortion a felony in nearly all cases. The bill, signed by Republican Governor Kay Ivey, is effectively designed to set up a lengthy legal battle that could result in the Supreme Court revisiting a decades-old decision for Roe v. Wade, which deemed abortion a Constitutionally-protected right. "To the bill's many supporters, this legislation stands as a powerful testament to Alabamians' deeply held belief that every life is precious and that every life is a sacred gift from God," the governor said in a statement while signing the bill on Wednesday.Hundreds of demonstrators then marched to the Alabama Capitol on Sunday to protest the state's newly approved abortion ban, chan
Jennifer Berry Hawes, a Charleston-based newspaper reporter, drew on her long relationships with the families of victims to write this account of the 2015 murders at Emanuel African Methodist Episcopal Church.

RELATED ARTICLES
Savor English translations of Maylis de Kerangal's "The Cook," Olivier Bourdeaut's "Waiting for Bojangles" and Yannick Haenel's "Hold Fast Your Crown."

RELATED ARTICLES
The ban would be among the strictest in the country, but is expected to quickly be challenged in federal court.


The Cook County Sheriff is asking the Department of Child and Family Services to see if proper protocols were followed in reporting the birth of Marlen Ochoa Lopez's baby.


Blythe Danner and John Lithgow strain to elevate this twee late-life romance.

RELATED ARTICLES
Disney's live-action adaptations of their animated classics are serious business. Even this year's Christopher Robin quietly grossed almost $200 million worldwide. There are many more to come, including four features arriving in 2019 alone: Dumbo, Aladdin, The Lion King and Lady and the Tramp, the last of which hits the new streaming service Disney later in the year.  Aladdin is sure to be huge, as the 1992 animated version is considered a favorite among all Disney's classics, not just those from the modern era. And if we weren't sure of this beforehand, we definitely guarantee massive success now that the studio has unveiled another widely talked-about teaser for the movie, this one featuring a blue-skinned Will Smith as the iconic Genie. Watch it down...
Read More