Your Outlook Companion
Open Multi Search within Microsoft Outlook 2000, 2002, 2003


In business, the majority of our online time is used working within Microsoft Outlook. We built this application so that any information you need can be at your fingertips while you are on the phone, working on an email, or checking your schedule. Multi-Search is scaled to fit perfectly within the Outlook window. You can open Multi-Search within Outlook 2000, 2002 and 2003. Try it for a couple days. I guarantee that you won't know how you ever lived without it.

*Please make sure that your Outlook Shortcuts are open before you begin.  Just click on "View" and select "Outlook Bar."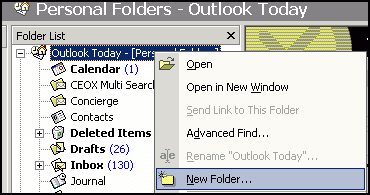 1. Right Click on "Outlook Today--Personal Folders" and click "New Folder."
2. Name the new folder "CEOX Multi Search" (or anything you want) Right click on the new folder you just created and click on "Properties"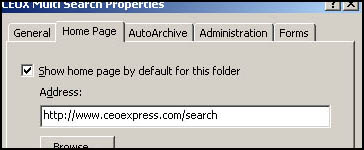 3. Within the "properties" menu click "homepage," put in the address www.ceoexpress.com/search, and check the box next to "show homepage as default for this folder." (Note: this will NOT affect your regular homepage on your browser)
4. Now, when you click on that folder, Multi-Search will open within Outlook.
5. Lastly, you can drag and drop the Multi-Search folder to the Outlook "short cuts" bar for quick and easy access.