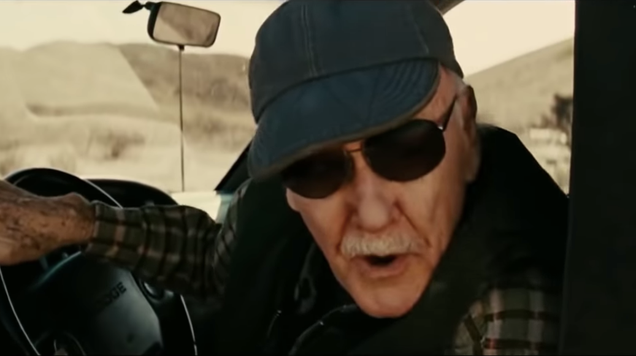 Cameos can be annoying, especially when they exist only to go viral (hi, SNL!). Stan Lee's routine Marvel cameos, on the other hand, are different, serving not only as a bit of fan service, but also as an homage to the legend who created a universe that still captivates to this day. Lee died yesterday at the age of…

Read more...



RELATED ARTICLES
At least 44 people have died from the raging wildfires consuming parts of California, making them the deadliest fire disaster in the state's history. State officials say a prolonged drought created a "recipe for destruction," especially for the town of Paradise, north of Sacramento. Fires have already burned over 110,000 acres and destroyed thousands of homes, including those owned by celebrities like Miley Cyrus and Gerard Butler.



RELATED ARTICLES
Here are a bunch of little bites to satisfy your hunger for movie culture:   Alternate Endings of the Day: With Fantastic Beasts: The Crimes of Grindelwald out this Friday, here's an animated look at how Fantastic Beasts and Where to Find Them should have ended:   Easter Eggs of the Day: Need a guide to all the Easter eggs and everything else in the new Pokemon: Detective Pikachu trailer? Nerdist has you covered:   Truthful Marketing of the Day: Honest Trailers points out they should have sold The Meg as a movie and its sequel rolled into one:   Film History of the Day: For Vox, Coleman Lowndes looks at how the Victorian mansion became such a staple of horror media, including movie such as Psycho:   Composer in...
Read More


"We want to take a second to remember her infectious spirit and her undeniable talent. Beverly, we love you so much," Carson Daly announced on the first live results show of Season 15.


ESPN's broadcast of the Giants vs. 49ers game kept "Monday…
The singer accused West and Kid Cudi of copying her stage set. Their designer said Lorde "wasn't the first person to use a floating glass box, she won't be the last."
In its first episode following star Andrew Lincoln's departure, "The…

RELATED ARTICLES
Broadcast primetime live same-day ratings for Monday, November 12,…
Singer-songwriter Billie Eilish may be just 16 years old, but she also happens to be one of the savviest brand-builders of the modern era. "We...

RELATED ARTICLES
David Rossmer and Steve Rosen's acclaimed musical returned to New York for a limited run at the Westside Theatre November 12.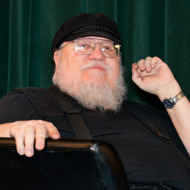 In an interesting turn of events, George R. R. Martin's latest project isn't fantasy. Don't worry, though. It has an alternate post-WWII timeline, an alien virus, mutants, superpowers and a loose playing card theme, which is fun. Surely it's enough to fill that dragon-sized void. According to The Hollywood Reporter, ... More »

RELATED ARTICLES
The first lady's memoir arrives just ahead of her multicity arena tour.
The first lady complained to the president that she was unhappy with how she was being treated by Mira Ricardel, a former Boeing Co executive who worked on the Trump presidential campaign and was picked by National Security Adviser John Bolton to be his deputy earlier this year, two sources told Reuters. Asked about the reports, Melania Trump's spokeswoman Stephanie Grisham issued a extraordinarily frank statement. "It is the position of the Office of the First Lady that she no longer deserves the honor of serving in this White House," Grisham said.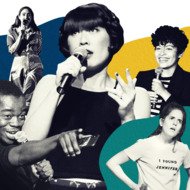 Vulture has been making this list, in one form or another, since 2013, always with an eye on giving readers their first look at their future comedic obsessions — be it Bo Burnham, Broad City, Michelle Wolf, Phoebe Robinson, or Thomas Middleditch. And no matter how worried we are that ... More »
President Donald Trump on Tuesday hit back at critics who lampooned him for


A 10-year-old Arizona girl says she was able to ward off a potential kidnapper


The vast majority of elected officials in New York City signed a letter to


The White House on Tuesday issued a carefully worded defense of its decision


Amazon has picked New York City and Arlington, Virginia as the locations for its new headquarters, ending a much-hyped selection process that saw cities across the US offer an array of incentives in attempts to woo the technology firm. Amazon said on Tuesday it would invest $5bn (£3.8bn) across the two sites and create 25,000 new jobs in each. The New York base will be in the Long Island City neighborhood of Queens, while its Virginia offices will be in a part of Arlington that Amazon is calling National Landing, close to Reagan International Airport and the Pentagon.


The White House responded Tuesday to CNN's lawsuit objecting to the revocation of White House correspondent Jim Acosta's press credentials by accusing the network of engaging in a shameless publicity stunt. In a suit filed Tuesday in a Washington, D.C. district court alleging the White House violated Acosta's First Amendment rights when it revoked his "hard pass" after he disrupted a press conference last week by refusing to surrender his microphone. The White House cannot run an orderly and fair press conference when a reporter acts this way," White House Press Secretary Sarah Huckabee Sanders said in a statement.


Following the news that legendary comic book writer and Marvel headmaster Stan Lee passed away on Monday (Nov. 12), celebrities and fans have...
Images show thick plumes of wildfire smoke rising above California


Marvel film stars Hugh Jackman and Chris Evans are among those honouring the Spider-Man creator.
Chrissy Teigen was one of the amazing women honored at Glamour's annual Women of the Year Awards in New York City on Monday (Nov. 12)....
Emporium Presents' and Promoter 101 podcast host Dan Steinberg is the first to admit he was one of the haters who couldn't foresee the...
JERUSALEM (AP) — The Latest on the outbreak of violence between Israel and Gaza's Hamas rulers (all times local):


The Voice season 15 returned on Monday night (Nov. 12) with performances from the competition's final 24. The remaining contestants will...

RELATED ARTICLES
John Legend will gain colorful wings and fly as the voice of Baobab Studio's Crow: The Legend, an short animated VR film set to...
David Rossmer and Steve Rosen's musical opened November 12 at the Westside Theatre.
Chrissy Teigen and John Legend don't need to do much to prove they're one of Hollywood's cutest couples, but Monday night (Nov. 12) set...
Steve McQueen's follow-up to '12 Years a Slave' turns an adaptation of a 1983 British miniseries into the powerhouse thriller of the year
CNN's Chris Cuomo went head-to-head with Brad Todd, the senior adviser to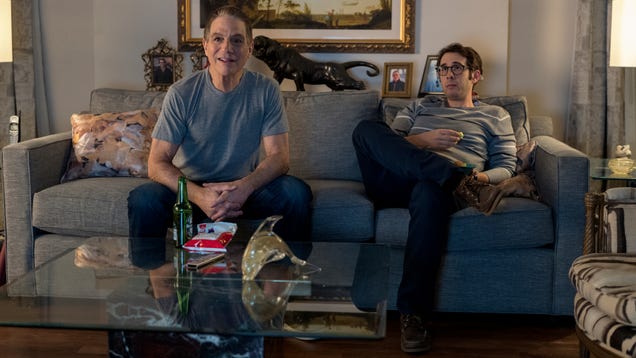 It still seems unusual for Netflix to cancel its original shows, since it picks up hundreds of new shows for every Luke Cage or American Vandal that it cancels, but it's even more unusual for a show to get canceled almost immediately after the premiere of its first season. Unfortunately for fans of Tony Danza and Josh…

Read more...



RELATED ARTICLES
Legendary Entertainment, home of "Batman Begins," has optioned the series about unconventional heroes stranded in a farm community.
Claude Lanzmann's documentary shares the stories of four women through installments that can be watched independently or together.
Andrew Roberts's "Churchill: Walking With Destiny" tells the full story of an extraordinary life.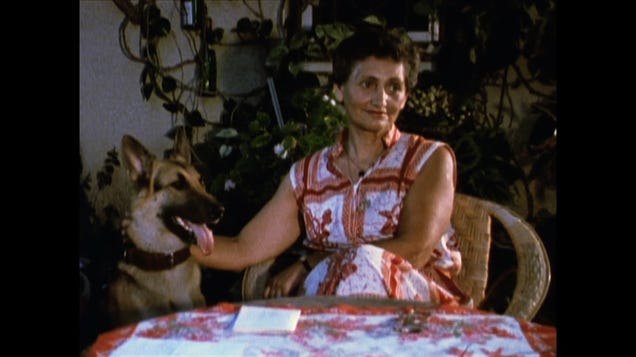 Near the seven-hour mark of Claude Lanzmann's 550-minute magnum opus Shoah (1985), widely considered the greatest cinematic document of the Jewish Holocaust, a woman credited only as a "survivor of Auschwitz" tells of her harrowing transport to the Nazi death camp. Her name is Ruth Elias, and her story constitutes the…

Read more...


Keegan-Michael Key and Jordan Peele, or the comedy duo Key and Peele, have reunited in the latest teaser for Disney-Pixar's "Toy Story 4," joining the film's voice cast. As cuddly carnival toys Ducky and Bunny in director Josh Cooley's film, the two actually riff on their famous parking valet attendants characters in this latest teaser for the film, which also features the voices of Tom Hanks and Tim Allen as Woody and Buzz. "Keegan-Michael Key and Jordan Peele, who voice Ducky and Bunny, are two of the most brilliant minds I've ever seen," director Josh Cooley said in a statement.


The Marvel maven died at 95 on Nov. 12, 2018
In Lauren Gunderson's issue play, Pascale Armand plays an insurance agent in a risky scenario.
You weren't expecting that the first truly great video game movie would also be a Pokemon movie, did you? All signs point to the former being a possibility, with Warner Bros.' live-action adaptation of the Nintendo game Detective Pikachu, starring everyone's favorite snarky voice actor, Ryan Reynolds.  The first trailer for the upcoming movie (watch it down below) hints that, thanks to Reynolds voicing the title character, this is sort of going to be Deadpool for kids. But it promises an even more adorable hero and a plot that's closer to the old Looney Tunes classic One Froggy Evening crossed with Who Framed Roger Rabbit. Here's everything we know about Pokemon: Detective Pikachu so far: What is the movie about? Assuming you're asking where did...
Read More



RELATED ARTICLES
Broadcast primetime live same-day ratings for Sunday, November 4,…
It was A&E's "Live PD" that took the top spot…
Crime thrillers offer audiences the opportunity to live vicariously through the heroes and villians portrayed on screen. Often those characters are brooding and brutal, manly men who have little time for the women in their lives; they are too busy planning spectacular crimes and scheming how they'll spend their ill-gotten gains. Widows flips the book, so to speak, smashing stereotypes and placing a strong group of women at the heart of an intense crime drama. The film has received very positive advance reviews ahead of its wide opening on November 9. Here's everything we know about Widows. What's it about? Set in present-day Chicago, Widows is "a blistering, modern-day thriller set against the backdrop of crime, passion and corruption," according to the...
Read More


Michelle Obama on that moment she touched Queen Elizabeth II: It was all about uncomfortable shoes. Plus more tidbits from 'Becoming.'         
Mr. Rain was a regular on the stage at the Stratford Festival for decades, but he was perhaps best known for his chilly voice in "2001: A Space Odyssey."
Mr. Lee helped create Spider-Man, the X-Men, the Fantastic Four, Iron Man and others while overseeing his company's emergence as a media behemoth.
FORT LAUDERDALE, Fla. (AP) — After Republicans, including President Donald Trump, made unsubstantiated accusations of illegal activity, a judge on Monday urged the warring sides in the Florida recount to "ramp down the rhetoric," saying it eroded public confidence in the election for Senate and governor.


Comic book writer, editor and publisher Stan Lee has passed away, according to The Hollywood Reporter and multiple other sources. He was 95 years old. It would be impossible to understate Lee's influence upon multiple generations of comic book readers and creators, as well as movie lovers and filmmakers. He has left a lasting mark on popular culture, thanks to the textured and beloved characters he created and/or developed, including Spider-Man, Black Panther, The Fantastic Four, Daredevil, Ant-Man, The Mighty Thor and Iron Man. His characters were often superpowered, yet they were also recognizably human, dealing with issues in the real world and their own personal flaws. Lee played a lovely role (as himself) in Kevin Smith's Mallrats (1995), offering dating...
Read More


What you need to know from Monday's TV, music and movie news.
The Big Bang Theory co-creator embraces prestige TV aesthetics—but still reverts to broad characters and lazy jokes—in this Netflix dramedy starring Michael Douglas and Alan Arkin.
Michelle Obama's anticipated memoir 'Becoming' hits stores Nov. 13, along with David Baldacci and Janet Evanovich.         
The Satanic Temple made good on its threat to sue Netflix and Warner Bros. on Thursday, filing a $50 million copyright suit accusing them of ripping off the temple's statue of Baphomet to fuel "Satanic panic" in the Netflix series "The Chilling Adventures of Sabrina." The Satanic Temple is best known for making life difficult […]


In 'Killing the SS,' the latest in a series, Bill O'Reilly and Martin Dugard tell the story of the hunt for Hitler's henchmen after the war. A review.