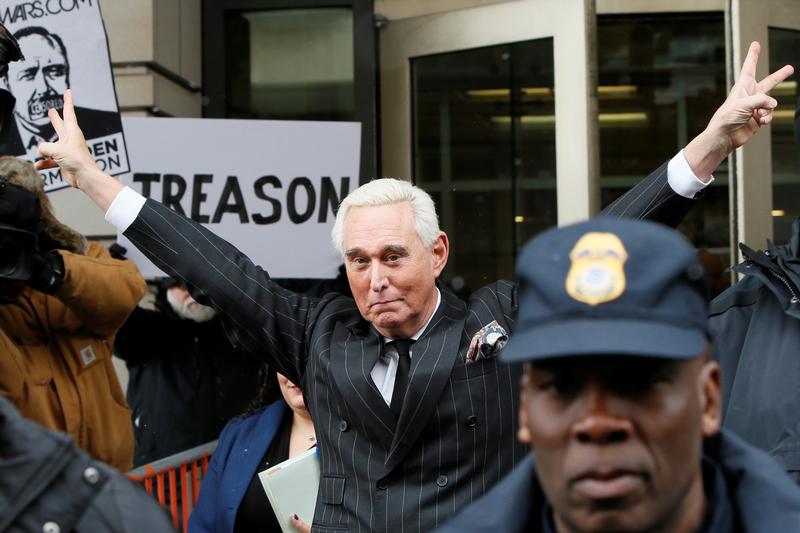 (Third column, 6th story, link) Related stories:
Prosecutors say they have communications of Roger with WIKILEAKS...
MANAFORT LIKELY TO DIE IN PRISON...
Dems prepare to force Trump to reveal private talks with Putin...



Advertise here


Prosecutors for Special Counsel Robert Mueller urged a federal judge in Virginia on Friday to impose a strict prison sentence for President Donald Trump's former campaign manager Paul Manafort, after a jury last year convicted him on eight counts of bank and tax fraud.
U.S. Special Counsel Robert Mueller disclosed for the first time on Friday that his office has evidence of communications between Roger Stone, a longtime adviser to President Donald Trump, and WikiLeaks related to the release of hacked Democratic Party emails.

RELATED ARTICLES
Robert Mueller's findings on the indicted Trump confidant appear to link him more directly to hacked campaign revelations.



(Third column, 3rd story, link) Related stories:
STONE GAGGED...
Mueller says has comms of Roger with WIKILEAKS...
Inaugural receives NJ civil subpoena...



Advertise here


A federal judge on Friday issued a partial gag order in the criminal case of former Trump political adviser Roger Stone as part of Special Counsel Robert Mueller's investigation.