Trump negotiated some great deals early in his career. But then he became a celebrity and stopped using proven techniques, with disastrous results.        
The president's supporters say he's keeping their support by delivering on his campaign promises to slash government and drain the swamp.        
High school students from Kentucky mocked a Native American man after the March for Life rally in Washington, D.C. Friday.         

RELATED ARTICLES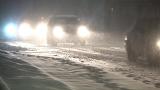 A major winter storm that has brought some of the coldest temperatures of the season covered a large swath of the U.S. in snow as it wreaked havoc on air travel and caused slick road conditions throughout New England Sunday.         
A large winter storm dumped snow, sleet and freezing rain across New England on Sunday. Time lapse video shows a drive between Acton, Massachusetts an Union, Connecticut on Sunday morning. (Jan. 20)         
Those across the nation who tuned in to watch President Donald Trump's proposal on Saturday to end the 28-day shutdown took issue with one particular line of the 13-minute address.        
Senate Majority Leaders Mitch McConnell will introduce Trump's immigration proposal in a Senate bill on Tuesday, Vice President Mike Pence said.        
House Speaker Nancy Pelosi, D-Calif., called Trump's proposal "unacceptable" and said it was a "non-starter' that wouldn't pass in Congress.        
In an interview with the Detroit Free Press, Native American leader Nathan Phillips of Ypsilanti describes incident with students caught on video.         
The president's attorney also said the Trump may have discussed a Trump Tower Moscow project with Cohen up until the 2016 election.        
A Catholic high school in Kentucky faced backlash Saturday after the video showed a group of young men surrounding indigenous marchers in Washington.        
U.S. President Donald Trump paid tribute to the four Americans killed in a suicide bomb attack in Syria this week at Dover Air Force Base in Delaware. (Jan. 19)