Donald Trump has signed an executive order imposing further sanctions on Iran, as tensions between the US and the Middle Eastern country have escalated following an attack on an American surveillance drone.The order would deny Iranian supreme leader Ali Khamenei and others access to financial instruments, with Mr Trump declaring the measure necessary to deny Iran access to nuclear weapons, and in order to send a message after a downed spy drone nearly pulled the US into a war with the Iranian regime. But it remained doubtful whether the restrictions imposed would have any significant impact on an opaque regime that largely operates outside of mainstream global business and financial channels controlled by the US."We will continue to increase pressure on Tehran," Mr Trump said on Monday in the Oval Office. "Never can Iran have a nuclear weapon."In remarks to reporters, Mr Trump stressed his administration is not interested in a military conflict with Iran, even though the president reportedly called off an attack at the last minute last week in retaliation for the drone incident."We do not seek conflict with Iran or any other country," Mr Trump said. "I can only tell you we cannot ever let Iran have a nuclear weapon."He suggested the military could have a role to play in the ongoing dispute, if deemed necessary. "I think a lot of restraint has been shown by us, but that doesn't mean we're going to show it in the future, but I felt that we want to give it a chance ... I think Iran has a phenomenal future," he s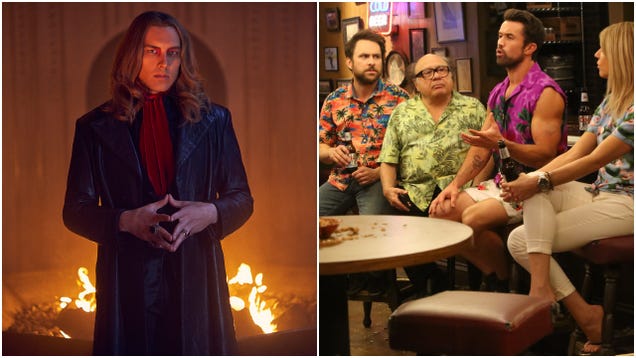 September's a big month for FX, as the acclaimed network will celebrate the season's crunchy leaves and leaden skies with the return of touchstones It's Always Sunny In Philadelphia and American Horror Story. Joining them will be sophomore seasons from up-and-comers Mr. Inbetween and Sons Of Anarchy spin-off Mayans…

Read more...


The new play by Chris Urch began performances at Lincoln Center Theatre June 20.
"CBS Evening News With Norah O'Donnell" will premiere from New York on July 15, and move to its permanent residence in Washington, D.C., sometime this fall, the network announced Sunday.The nightly flagship news program will also stream in its entirety at 10 p.m. ET on CBSN, CBS News' 24/7 streaming news service."There is a real hunger for an independent source of news, and that starts with Norah O'Donnell," CBS News president and senior executive producer Susan Zirinsky said in a statement."She has traveled the world reporting the most important stories of our time and has covered the White House, the Pentagon and Capitol Hill. She is an exceptional and experienced journalist who cares deeply about the issues that affect American families. Norah is the right person at the right time."Also Read: Jeff Glor Signs Off From 'CBS Evening News': I 'Wish Norah O'Donnell the Best of Luck' (Video)In addition to O'Donnell's new role as anchor and managing editor of "CBS Evening News," she will also serve as lead anchor for all political coverage of the primaries and election nights and continue as a contributing correspondent for "60 Minutes."The Emmy-winning journalist, who was named one of Washington's 100 most powerful women by Washingtonian Magazine, is the former co-anchor of "CBS This Morning," chief White House correspondent for CBS News, and substitute host for CBS' Sunday morning show "Face the Nation."O'Donnell replaces Jeff Glor, whose last broadcast was May 10. Glor will st