WASHINGTON (Reuters) - U.S. President Donald Trump lit a slow-burning fuse on Thursday to launch long-promised anti-China tariffs, but his actions appeared to be more of a warning shot than the start of a full-blown trade war with Beijing.

RELATED ARTICLES
AUSTIN, Texas (Reuters) - Two roommates of the 23-year-old man behind this month's deadly bombing spree that unnerved Austin have been questioned and released from custody, police in the Texas capital said on Thursday.
Mark Anthony Conditt, the Austin bomber behind a string of blasts in Texas over the past month, said he wished he "were sorry but I am not" in what police labeled a recorded "confession," a Thursday report said.

RELATED ARTICLES
President Donald Trump is replacing national security adviser H.R. McMaster with the former U.N. Ambassador John Bolton, injecting a hawkish foreign policy voice into his administration ahead of key decisions on Iran and North Korea.

Trump tweeted Thursday that McMaster has done "an outstanding...



RELATED ARTICLES
Sen. Rand Paul doesn't like Congress' omnibus spending bill, and he wants you to know it.

RELATED ARTICLES
China's US embassy lambasted President Trump's announcement that he will impose dozens of tariffs on China for its theft of US intellectual property.
Broward County Schools Superintendent Robert Runcie introduced the new measures in a letter sent to students' families this week.
Columbia University professor Sharyn O'Halloran, an expert in political economy and international trade and finance, says the China tariffs announced by the Trump administration on Thursday may come at costly price for the U.S. (March 22)         
Hotel surveillance video from the days before the deadliest mass shooting in modern U.S. history shows the gunman as an unremarkable Las Vegas hotel guest and casino patron.

RELATED ARTICLES
"It's time to protect yourself — and your friends — from Facebook," read the click-bait headline Monday on Mashable, one of many columns this week decrying how Cambridge Analytica, a firm aligned with the presidential campaign of Donald J. Trump, scraped and mined data from many millions of unsuspecting...


Nigeria's president Muhammadu Buhari has vowed to free the only Dapchi schoolgirl still in Boko Haram captivity.

New York Times


(Want to get this briefing by email? Here's the sign-up.) Good morning. Australia dodges U.S. tariffs, prominent septuagenarians trade schoolyard taunts, and the great Pacific garbage patch may now be the size of Mongolia. Here's what you need to know
Biden vs. Trump: How low can you go?
WASHINGTON/LONDON (Reuters) - Facebook Inc Chief Executive Mark Zuckerberg's apology for how his company handled 50 million users' data did little on Thursday to ease investor worries about the cost to fix mistakes and lawmakers' dismay that his response did not go far enough.

RELATED ARTICLES
"I told the officers, 'You guys are murderers," Stephan Clark's grandmother said after Clark was shot and killed by Sacramento police.

RELATED ARTICLES
Donald Trump once tried to offer Karen McDougal money after they had been intimate, the former Playboy model told Anderson Cooper Thursday in an exclusive interview on CNN.
White House Legislative Affairs Director Marc Short weighs in on House passage of omnibus spending bill, support for President Trump's actions against China.
Here are the most interesting things Facebook CEO Mark Zuckerberg told CNN.
WASHINGTON (Reuters) - The U.S. House of Representatives approved a $1.3 trillion spending bill on Thursday to fund federal agencies and avert a government shutdown ahead of a midnight Friday deadline, sending it to the Senate despite a revolt by fiscal conservatives worried by what they called runaway spending.
Years before the bomb attacks, I felt fear and isolation even in this progressive haven.

CNN


(CNN) If you're a New Yorker and sick of winter, there's a good reason. The Big Apple hasn't seen snow like this in 130 years. Here's what else you need to know to Get Up to Speed and Out the Door. (You can also get "5 Things You Need to Know Today
Cambridge Analytica boss went from 'aromatics' to psyops to Trump's campaignPo
SACRAMENTO, Calif. (Reuters) - Video showing the fatal shooting of an unarmed black man holding a cellphone in Sacramento, California, left the city's mayor "horrified," the official said on Thursday, as protesters gathered to denounce the shooting.
The students-turned-activists who survived a mass shooting at their Florida high school last month are featured on the glossy cover of Time magazine.
President Trump's legal team and strategy for the sprawling Russia investigation appeared in disarray Thursday after the lawyer negotiating a possible presidential interview with special counsel Robert S. Mueller III abruptly resigned.

The departure of John Dowd, who served as a Justice Department...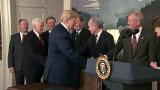 AP reporter Eric Tucker says President Trump's lead Mueller investigation lawyer might have resigned because of clashes with the president on how to handle the probe. As Trump intensifies attacks on Mueller, his legal team is making changes. (March 22)         
Police said they released the videos to provide answers to the community and show transparency following the fatal shooting of Decynthia Clements.

RELATED ARTICLES
Students from Marjory Stoneman Douglas High School in Parkland, Florida visited a school in Washington, D.C. on Thursday morning that has lost two students to gun violence just this school year. (March 22)        
When will Facebook founder and CEO Mark Zuckerberg agree to answer questions



RELATED ARTICLES
President Trump — facing a slew of accusations of sexual shenanigans from several women — on Thursday tweeted a photo of himself and the first lady looking lovey-dovey at the White House. Melania Trump first posted the photo, showing her and her allegedly wayward hubby in overcoats standing side by side on a White House...
President Donald Trump says he "would like to" testify before special counsel Robert Mueller's Russia investigation. His comment comes shortly after his lead lawyer in the probe resigned amid a shake-up of the president's legal team. (March 22)         
WASHINGTON (Reuters) - U.S. President Donald Trump was expected to lay the foundation for tariffs on Chinese imports worth around $50 billion on Thursday, in a move likely to trigger retaliation from Beijing and stoke fears of a global trade war.
President Donald Trump's lead lawyer, John Dowd, has resigned from the President's personal legal team handling the response to the Russia investigation, according to The New York Times and The Washington Post.
The biggest U.S. antitrust case of this century kicked into high gear on Thursday as a government lawyer warned that AT&T Inc. wants to buy media giant Time Warner Inc. to "weaponize" its must-have content — a move that would raise prices for consumers and hinder innovation.

"Time Warner would...


RALEIGH, N.C.  — A North Carolina mother helped her 1-year-old daughter smoke marijuana in videos of the child puffing on a cigarillo that garnered millions of views online, according to an arrest warrant. Authorities were alerted Wednesday by concerned social media users after two videos of the girl smoking sparked outrage. One of the videos...

RELATED ARTICLES

CNN


Washington (CNN) Outgoing Secretary of State Rex Tillerson called Washington a "very mean-spirited town" in his goodbye address to State Department staff on Thursday. "This can be a very mean spirited town," Tillerson said, as staff present at his
Rex Tillerson takes an apparent parting shot at Trump

RELATED ARTICLES
AUSTIN, Texas (Reuters) - Federal investigators on Thursday combed through the home of the 23-year-old they say was behind this month's deadly Texas bombing spree, seeking clues about what motivated his attacks the day after he killed himself in a confrontation with police.
In opening statements of government's case to block the AT&T-Time Warner merger, the two sides offered starkly different visions of the TV industry.
Karen McDougal, who reportedly signed an agreement in 2016 compelling her silence about an affair with President Donald Trump years prior, is scheduled to appear on CNN Thursday night.

New York Times


WASHINGTON — Secretary of State Rex W. Tillerson bade farewell to the State Department on Thursday in a brief and barbed speech that called for an era of respect and kindness after he was dismissed by presidential tweet. "This can be a very mean

President Donald Trump's lead lawyer in the special counsel's Russia investigation resigned Thursday, shaking up the legal team just as Trump intensifies attacks on an inquiry he calls nothing more than a witch hunt.

The departure of attorney John Dowd removes the primary negotiator and legal strategist...


Sacramento police officers shot and killed a black man in his grandmother's backyard because they believed he was pointing a gun at them, police said.
In Austin, Texas, investigators are still piecing together what transpired during the final days the man's life who built and left bombs around the city. They still haven't determined his motive.
The World War II veteran died at age 94 a week after the chain he founded announced it would close.

RELATED ARTICLES
The founder of Toys 'R' Us, Charles Lazarus, died on Thursday — hours before his beloved toy chain was to begin going-out-of-business sales. Lazarus, 94, opened his first toy store in 1957 in the suburbs of his Washington, DC, home — and by the 1980s had created the supermarket of toys format and had grown...
After months of build-up, lawyers for AT&T and the Justice Department squared off in court Thursday over the potential $85 billion deal for Time Warner. The Justice Department says it will hurt competition and drive up cable TV subscription prices.
Bill Cosby's lawyers on Thursday asked the judge in his upcoming sexual assault retrial to step aside, arguing the judge could be seen as biased.
AUSTIN, Texas (Reuters) - Federal investigators on Thursday scoured the home of the 23-year-old man they say was behind this month's deadly Texas bombing spree, seeking clues about what motivated Mark Conditt and whether anyone helped him build or plant his bombs.
Fired Secretary of State Rex Tillerson is lamenting the 'mean-spirited' nature of Washington, D.C., as he bids good-bye to the U.S. diplomatic corps. (March 22)         
In politics, too, training and knowledge matter. Hasn't Trump taught us that?
WASHINGTON (Reuters) - President Donald Trump's administration urged a federal judge on Thursday to block AT&T Inc's proposed $85 billion merger with Time Warner Inc, saying the deal would hand the company a "weapon" to harm competition and raise consumer prices.
Mr. Cosby, nearing a retrial on sexual assault charges, says the judge must recuse himself because his wife is an advocate for assault victims. Legal experts disagree.
The resignation of John Dowd, Donald Trump's top personal attorney, is the latest -- and largest -- signal that the President of the United States is shifting his strategy in regards special counsel Bob Mueller's ongoing probe of Russian meddling in the 2016 election.
Lawyers for the family of a woman fatally shot by Elgin police raised questions about they called unnecessary use of force after viewing police video of the shooting.

"This situation did not have to escalate to such a degree that cost a young woman her life. As we move forward with this lawsuit,...



New York Times


Good Thursday Here's what we're watching: • The stock market is proving Gary D. Cohn right. • Mark Zuckerberg finally spoke out. • The U.S. and China are edging toward a trade fight. • Congress has agreed on a spending bill, but President Trump isn't
Forget Ca
Stephon Clark, 22, was shot at 20 times by two officers who believed he had a gun. Clark was holding a cellphone.        

New York Times


Good Thursday morning. The NYT's latest Wealth special section is online, with coverage on managing fortunes and finding financial security. Some links require subscriptions. Mark Zuckerberg has finally spoken. After days of questions and criticism
Next Worry for Facebook: Disenchanted Users
Nigerian teen describes Boko Haram's attacks on school.         

RELATED ARTICLES
Here's help making sense of the president's legal team.
Mark Anthony Conditt, the suspect in a string of deadly bombings around Austin, killed himself early Wednesday by detonating a device as SWAT officers approached him leaving a hotel parking lot.        

RELATED ARTICLES
Attorneys defending President Donald Trump and the company of his personal legal counsel, Michael Cohen, have filed to move the lawsuit against their clients by porn star Stormy Daniels to federal court and are claiming she could owe as much as $20 million for violating a nondisclosure agreement.