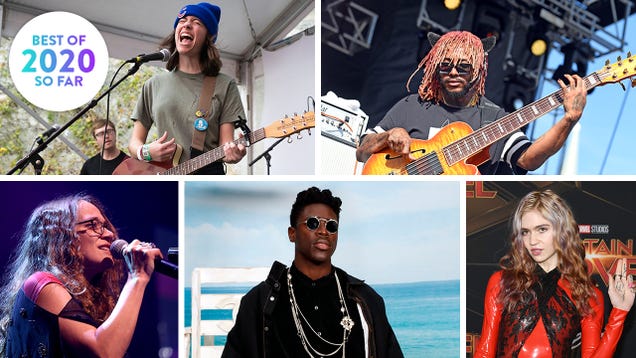 The tidal wave of garbage that is 2020 continues to wash over us, keeping everyone masked and nervous. (And if you're not masked, seriously, get on that, this isn't hectoring, it's trying to save lives.) Luckily, the one thing there might be more of this year than bad news is good music. As always, it's impossible to…

Read more...


Nobody howled louder than Texas Lt. Gov Dan Patrick when Houston Mayor Sylvester Turner barred the state GOP from holding its convention there amid a COVID-19 explosion."This is nothing but a political hack job by Mayor Turner," Patrick told Laura Ingraham on Fox News.Patrick failed to mention that he and Gov. Greg Abbott and various other GOP elected officials had earlier opted out of actually joining the 6,000 party stalwarts who signed up for the July 16th gathering at the George R. Brown Convention center. They had instead planned to address the gathering via video."All the elected officials are switching from a live, in-person speech to videos," state GOP executive director Kyle Whatley said during a virtual town hall on Tuesday night. "They're doing that for us in order to focus all the attention on the business of the meeting and to get everybody in and out of here as quickly and as safely as possible."  Surely, virtual appearances would require as much attention as live. But video might in fact prompt everybody to leave quicker. Each virtual speech would carry the unstated message that the official was leery of actually being there. And those who did attend would be left with the question, "Then what the heck am I doing here?"Even such big and bright stars of the Texas conservative firmament as Rep. Dan Crenshaw approved of the mayor's decision."A prudent move for public health," Crenshaw said.Patrick had already made a prudent move for his own health
The Chinese Communist Party's new security law has criminalized any actions it deems to be subversion, secession, terrorism, and collusion with foreign entities in Hong Kong. The law spells an abrupt end to the political freedoms that Hong Kongers used to enjoy. Authorities Friday raided the offices of a research and polling institute associated with the pro-democracy camp just ahead of primaries in which it will choose its candidates for Legislative Council elections, and there's certainly more to come. But there's an additional reason to be wary of the law: It is Beijing's assertion of legal jurisdiction over the entire world.The text of the legislation's Article 38 is blunt, and makes an unprecedented jurisdictional claim: "The Law shall apply to offences under this Law committed against the Hong Kong Special Administrative Region from outside the Region by a person who is not a permanent resident of the Region." If the provision is enforced as it is written, Hong Kong authorities could charge and prosecute individuals who have never stepped foot in the city but whom Beijing deems to have violated the law. "If mainland practice to date is any guide—and it is—then the definitions don't matter that much," wrote Donald Clarke, a professor at The George Washington University Law School, in an analysis. "Anything can be stretched as necessary to cover something done by the person being targeted."The CCP could thus use Article 38 to prosecute offenses that are illegal in Chi
House Minority Leader Kevin McCarthy discusses efforts for a bipartisan police reform bill.