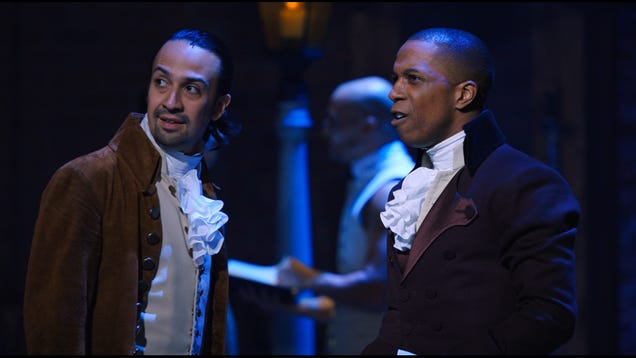 Today, the world knows a lot more about the intensity of Jonathan Groff's enunciation than it did yesterday. Over the course of two performances in 2016, nine cameras captured Hamilton, Lin-Manuel Miranda's juggernaut musical retelling of the life of America's first Secretary of the Treasury, in intimate detail.…

Read more...



RELATED ARTICLES
Saroj Khan, a top Bollywood choreographer, died of cardiac arrest in a Mumbai hospital on July 3, her family said.

RELATED ARTICLES
A video of a New Jersey woman calling the police on her black neighbours went viral and eventually spawned a protest outside the woman's home.The incident occurred on Monday when Fareed Nassor Hayat, an attorney and a professor of law at City University of New York, and his wife, Norrinda, were in the backyard building a stone patio.



RELATED ARTICLES
Rod Lurie's recounting of the Battle of Kamdesh in Afghanistan is both a tense you-are-there action film and a stirring tribute
The live stream benefits The Actors Fund.
High schoolers are the worst, and Stacey is the best.

RELATED ARTICLES
With so much new music to choose from, Billboard wants to know which new music release is your favorite. Check them out here and vote!
President Donald Trump is scheming to retain power in the event of an electoral loss in November, according to a former Senator from Colorado.Tim Wirth published an op-ed in Newsweek where he lays out his theory, apparently inspired in-part by HBO's adaptation of the Philip Roth novel The Plot Against America.


On this week's First Stream, Pop Smoke's legacy gets enshrined, Kanye West has more on his mind and Ty Dolla $ign recruits the best and brightest for his new track.
India is expected to become the third worst-hit country. Face masks are now required in Texas as crowds flock to the Jersey Shore. Latest coronavirus news.



RELATED ARTICLES
The Mississippi flag is finally coming down.
Earlier this year, British singer Duffy reemerged after a lengthy, mysterious absence. We found out in a lengthy essay that the singer had been kidnapped and raped, but now, she's using her platform to help victims. In an open letter, Duffy is asking Netflix CEO Reed Hastings to remove the Polish film 365 Days, a…



RELATED ARTICLES
Despite early hopes that the coronavirus pandemic would mean the end of the middle seat on flights, American Airlines laid that theory to rest.


Revisit this 2016 meeting of the minds between Broadway's original Alexander Hamilton and John Adams.
India Ferrah knows that a surefire way to deflect negative attention is to start bringing up some old drama.

RELATED ARTICLES
Dave Grohl joined Matt Wilkinson on Apple Music for a conversation about the time period from his early days in Nirvana through the release of the first Foo Fighters album.
Lady Gaga posted a selfie encouraging her 42.7 million Instagram followers to wear a mask amid the coronavirus pandemic.
Russia has one of the largest submarine fleets in the world, but it is aging.


Late rapper Pop Smoke was remembered by his friends 50 Cent and Steven Victor during a recent episode of Rap Life on Apple Music.
Even in lockdown, it's still hard to cut a streaming deal for a professional show. Here what viewers can expect, for now.

RELATED ARTICLES
Cambridge University accepts David Starkey's resignation, saying: "We do not tolerate racism."
Radio 1 Newsbeat hears from fans of the rapper as his posthumous album is released.
A longtime sportswriter, he collaborated with Hank Aaron, Bob Gibson and Mike Piazza on their autobiographies. "I was there," he once said, "to make the subject more literary."
During an appearance on the "Today" show, US Surgeon General Jerome Adams didn't advise people not to attend large gatherings for the 4th of July.


Chicago is requiring individuals from 15 states experiencing COVID-19 outbreaks to quarantine for 14 days when traveling to the city.


Jillian Wuestenberg, 32, and Eric Wuestenberg, 42, got into an altercation with the family outside a Chipotle in Michigan.


Iran will retaliate against any country that carries out cyber attacks on its nuclear sites, the head of civilian defence said, after a fire at its Natanz plant which some Iranian officials said may have been caused by cyber sabotage. The Natanz uranium-enrichment site, much of which is underground, is one of several Iranian facilities monitored by inspectors of the International Atomic Energy Agency (IAEA), the U.N. nuclear watchdog. Iran's top security body said on Friday the cause of the "incident" at the nuclear site had been determined, but "due to security considerations" it would be announced at a convenient time.


Portland Police declared a riot on July 2 after a number of flash-points between police and protesters were reported around the Multnomah County Justice Center and an adjacent courthouse.

Video here shows several officers retreating back inside the central precinct police building as they are confronted and shouted at by protesters.

Police said a riot was declared shortly before midnight after "large rocks, full cans, and bottles" were thrown at officers.

Police said fireworks were also launched towards officers, and that a fire broke out inside the courthouse after its doors were broken.

"Because of the violent nature of the demonstrators while officers cleared the area, crowd control munitions were used and several arrests were made," police said. Credit: Garrison Davis via Storyful




The world's longest-running play opened in 1952.
Maxwell, a former girlfriend of Jeffrey Epstein, is accused of helping him sexually abuse underage victims over the course of many years.


Chicago has issued an emergency travel order requiring anyone coming to the city from states experiencing a surge in COVID-19 infections to quarantine for 14 days.


"They're caught between a rock and a hard place, and the biggest fear is they're going to be forced to open schools without the safety guidelines."


A billing mistake by the hotel results in a dispute that led to police being called to the Hampton Inn. Now the guests are suing.


Using interviews and rare archival footage, John Lewis: Good Trouble chronicles Lewis' 60-plus years of social activism and legislative action on civil rights, voting rights, gun control, health-care reform and immigration. Using present-day interviews with Lewis, now 79 years old, Porter explores his childhood experiences, his inspiring family and his fateful meeting with Dr. Martin Luther King Jr. in 1957. In addition to her interviews with Lewis and his family, Porter's primarily cinéma verité film also includes interviews with political leaders, Congressional colleagues, and other people who figure prominently in his life.Release Date: Jul 03, 2020
Fabienne (Catherine Deneuve) is an aging French movie star who, despite her momentary lapses in memory, remains a venerable force to be reckoned with. Upon the publication of her memoirs, her daughter Lumir (Juliette Binoche) returns to Paris from New York with her husband (Ethan Hawke) and their young daughter to commemorate its release. A sharp and funny battle of wits ensues between the mother-daughter duo, as Lumir takes issue with Fabienne's rose-colored version of the past. Reflected cleverly by Fabienne's latest role in a sci-fi drama, their strained relationship takes a poignant journey toward possible reconciliation. [IFC Films]Rated: PGRelease Date: Jul 03, 2020
Following his Palme d'Or-winning "Shoplifters," the Japanese director Hirokazu Kore-eda visits some of the glories of France.
Critically panned, the steamy Polish flick is a streaming success thanks to TikTok teenagers and curious fans. But there's also a growing backlash from those who say it glorifies rape culture.
Our critics and readers make a return trip to the movie that kicked off a franchise. Does the blockbuster hold up in a summer without one?
The coronavirus case numbers are worse than ever in Florida.



RELATED ARTICLES
The historian faces a backlash after comments he made during an interview are condemned as "racist".
Plus, why he thinks Tom Hanks wasn't as offended by the monologue as viewers at home assumed.


The ongoing mask debate across the United States has gotten the 'Hamilton' treatment just in time for the musical's Disney premiere.
A federal grand jury indicted Maxwell on conspiracy charges that accuse her of "helping Epstein to recruit, groom, and ultimately abuse victims" between 1994 and 1997.


Florida police officers responding to a George Floyd protest have been caught on camera laughing and bragging about shooting protesters with rubber bullets.The video shows police forming a line against a group of protesters in Fort Lauderdale on 31 May and eventually tossing tear gas to drive them away. When protesters began throwing the cannisters back at the police, they responded by shooting at demonstrators with rubber bullets.



RELATED ARTICLES
Documentary on the icon of the civil right movement and current congressional firebrand makes a case that his legacy (and political vitality) is not over yet
Kelly Clarkson has revisited her heart-wrenching cover of Hamilton's "It's Quiet Uptown" ahead of the Broadway hit's streaming debut on Disney .
Liam Gallagher, Dua Lipa and Sir Paul McCartney sign letter warning government of Covid-19 impact.