A key episode in Mueller's 22-month probe into Russian election meddling was a secret meeting that the president's eldest son took at Trump Tower in Manhattan in 2016 with a Russian lawyer connected to the Kremlin on the promise of being given dirt on Democrat Hillary Clinton. Now, one of the inquiry's most intriguing unanswered questions is why Trump Jr. remained largely untouched by Mueller despite his participation in the meeting and questions about whether he tried to cover it up. Also left unscathed was Jared Kushner, the president's son-in-law and senior adviser.


Watch Jason Statham confront a massive whale in "The Meg." Or catch a Mötley Crüe biopic on Netflix.
Juice WRLD commands the Billboard 200 for the first time and pop continues its resurgent domination of the Billboard Hot 100. Here are 13 things to...
Reports say Sydney Aiello was 19 and was at Marjory Stoneman Douglas High School during the Parkland school shooting.


Michelle Dorrance brings three distinct programs to City Center; Jackson and others are inducted into the Rock & Roll Hall of Fame; and an artist gets a retrospective in D.C.
At the Al Noor mosque, where more than 40 of the victims were killed by a suspected white supremacist, prayers resumed with armed police on site, but no graphic reminders of the mass shooting, New Zealand's worst. Aden Diriye, who lost his 3-year-old son, Mucad Ibrahim, in the attack, came back to the mosque with his friends. Prince El Hassan bin Talal of Jordan, who visited the Al Noor mosque, said the attack assailed human dignity.


Could playing the ringmaster in the new "Dumbo" be an allegory for our political circus?
President Donald Trump overruled his own Treasury Department and withdrew new sanctions aimed at North Korea because he "likes" dictator Kim Jong Un.


Predictably, "The Walking Dead" continued to dominate in the cable…

RELATED ARTICLES
Final broadcast primetime live same-day ratings for Thursday, March…

RELATED ARTICLES
PITTSBURGH (AP) — The Latest on the homicide trial of a white Pennsylvania police officer in the shooting of an unarmed black 17-year-old (all times local):


What to Read While You're Waiting To Read the Mueller Report
"Doing Justice," Bharara's new book, is not only a memoir but also a manual on how the justice system is a guide to life.
The hero's journey to this milestone is filled with many memorable moments, from his debut, to Robin's and Batgirl's and more.
The new movie starring Dev Patel sticks close to the facts, but takes some creative license

RELATED ARTICLES
Based on the tell-all book about "Mötley Crüe," this film adaptation sands down the source material into a junior varsity "Bohemian Rhapsody."
Marking the end of his nearly two-year investigation that ensnared former Trump aides and Russian intelligence officers and cast a cloud over the Republican businessman's presidency, Mueller submitted the report to Attorney General William Barr, the Justice Department said. It was not known if Mueller found criminal conduct by Trump or his campaign, beyond the charges already leveled against several aides. In all, Mueller brought charges against 34 people and three companies.


NASA's OSIRIS-REx spacecraft first arrived at the large space rock known as Bennu late last year, and it's spent the first few months of 2019 observing its new space companion and teaching NASA more about the rock's surface. Unfortunately for NASA engineers, the asteroid's surface is nothing like what they assumed it would be, and that poses a serious challenge going forward.The OSIRIS-REx mission includes multiple objectives, with the first being the successful insertion of the spacecraft into orbit around the rock itself. NASA nailed it and things seemed to be great, or at least until scientists got a good look at Bennu's surface. As Sky & Telescope reports, it has complicated matters greatly.With limited capability to observe the asteroid from Earth or in-flight towards the rock, scientists believed the asteroid would be fairly smooth. A smooth surface would make the spacecraft's final maneuver -- and up-close-and-personal sample retrieval -- a lot less risky, but that's not what Bennu had in store.Bennu is, to put it simply, an absolute mess. The asteroid is covered in debris of all sizes, ranging from dust and small rocks to massive boulders and everything in between. This poses a massive challenge for sample collection since the spacecraft will have to avoid obstacles as it inches its way towards the space rock's surface.The plan has always been for OSIRIS-REx to remain in orbit around Bennu for around a year, making observations of its surface and relaying data and
* Submission to attorney general signals end of criminal inquiry * Barr: 'I remain committed to as much transparency as possible' * Robert Mueller submits report - live updates * Support the Guardian's independent journalism and make a contributionRobert Mueller. Anticipation of his completed report has grown for months. Photograph: Alex Wong/Getty ImagesRobert Mueller has completed his Trump-Russia investigation without prosecuting additional associates of the president, and has reported his findings to William Barr, the US attorney general.Barr said in a letter to senior members of Congress on Friday afternoon he had received a report from Mueller, the special counsel, and expected to be able to inform them of its main conclusions "as soon as this weekend".The attorney general said he would consult Mueller and Rod Rosenstein, the deputy attorney general, to determine what information from the report could be released to the public ."I remain committed to as much transparency as possible," Barr wrote, adding that he was constrained by law and justice department rules. Senior Democrats and Republicans called for Barr release the report in full.Justice department officials told reporters Mueller had not recommended any further indictments based on his findings, ending intense speculation that more members of Trump's circle would be prosecuted.Nancy Pelosi and Chuck Schumer, the Democratic leaders in Congress, urged the attorney general not to give Trump a "sneak preview" of Muelle Here are a bunch of little bites to satisfy your hunger for movie culture: Genre Guide of the Day: As his new horror movie, Us, arrives in theaters this weekend, writer/director Jordan Peele teamed up with the Wall Street Journal for a video guide to the genre of scares and iconic slashers. Find out Peele's feelings about horror tropes, final girls, and the best scary movie villains to team-up for an Avengers of horror:   Film History Lesson of the Day:...

Read More

Read Comments


A lawsuit claims that two JetBlue pilots drugged three crew members during a Puerto Rico layover, with one pilot allegedly raping two crew members.


Writer Dominique Morisseau and stars James Harkness, Ephraim Sykes, Jeremy Pope, Derrick Baskin, Jawan M. Jackson, and more spill insider knowledge about the new Temptations bio-musical.
"I knew that there was a sophistication here," said Mitchell Kaplan, the owner of Books & Books, "because I witnessed what people were reading,"
"Visit your local record shop to find out how you can be part of Hands Across America," intones a cheery TV promo at the...
Controlling territory gave the group room to launch attacks around the world


Three female flight attendants claim they were drugged and two of them raped by two JetBlue pilots during a layover in Puerto Rico, a new lawsuit filed this week in New York federal court has claimed. At least one of the female flight attendants said she was forced to work with one of the accused pilots after the alleged rape. After making their way to a beach in Puerto Rico near the hotel they were staying during their layover in May of last year, the women were offered sips from one of the flight attendant's alcoholic beverages.


Broadcast primetime live same-day ratings for Thursday, March 21,…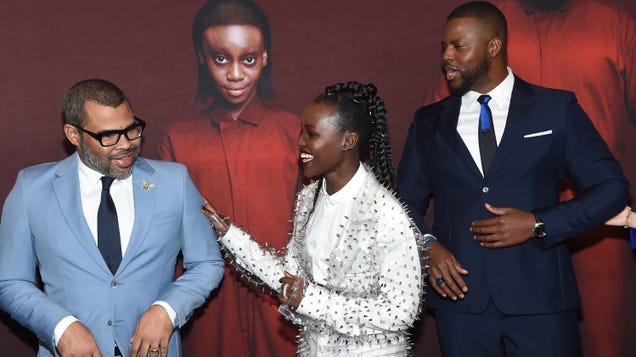 The Thursday night box office numbers for Jordan Peele's Us are in and the horror maestro already appears to be outdoing himself. Us accumulated an impressive $7.4 million in its Thursday night box office previews from 3,150 screens. That's a $5.6 million increase from Get Out's 2017 preview intake. Per independent…

Read more...


Derrick Baskin, Jeremy Pope, Jawan Jackson, James Harkness, and Ephraim Sykes sang from the new musical on their opening night.

RELATED ARTICLES
After three weeks of rising tax refunds, the average tax refund is $3 less than a year ago.


Boeing and the FAA are under global regulatory scrutiny over software and training on the signature aircraft. Boeing risked losing a $6 billion order for the jet on Friday, its first since the world's entire fleet was grounded last week. American Airlines pilots were preparing to test Boeing's planned software upgrade for an anti-stall system on MAX simulators this weekend, saying they want their own safety guarantees on the software fix.


The approach to gun laws in each of the 12 countries varies widely depending on whether owning a gun is considered a right or a privilege.


Taron Egerton and Richard Madden cross the pond for the latest episode of Apple Music's Carpool Karaoke. The new episode, out now, features the...
RHOA's Porsha Williams Welcomes a Daughter


Billboard Dance hosted its debut showcase Ones to Watch Live on Wednesday at 1720 in Los Angeles to a sold-out crowd that roared from beginning to...
Almost 20 years ago, Orishas, a trio of expat Cuban musicians, set the music world on fire with their A lo Cubano debut album, and Latin music was...
The comedy also stars Gwyneth Paltrow, fellow Tony winner Jessica Lange, and Dear Evan Hansen co-star Laura Dreyfuss.

RELATED ARTICLES
The new musical comedy launches at Theatre Row, where it will officially May 4 (known by fans as Star Wars Day).
A week after a gunman opened fire at two mosques that left 50 people dead, women across New Zealand showed solidarity with Muslims Friday by wearing headscarves.


The photos of Renty and his daughter Delia, taken in nude in 1850 against their will for a Harvard University professor, are now the subject of a lawsuit that Tamara Lanier has filed this week.


A teenager who survived the Parkland school shooting in Florida has killed herself while struggling with survivors' guilt, local media reported Friday. Sydney Aiello, 19, was a student at Marjory Stoneman Douglas last February 14 when a former student opened fire with a semiautomatic weapon, killing 14 students and three staff members. Among the dead were two of Aiello's best friends, Meadow Pollack and Joaquin Oliver.


Co-host Brian Kilmeade went after Mr Trump on Thursday for the jabs, saying that the president diverted attention away from his accomplishments in order to unearth his feud with a dead man. "The problem is he swapped his own message by going after George Conway and in that speech inexplicably segueing to go after John McCain," Mr Kilmeade said Thursday morning, reviewing a speech Mr Trump made in Ohio where he attacked the late senator and the husband of White House adviser Kellyanne Conway.


This neo-exploitation potboiler about brutal men on both sides of the law stars Mel Gibson and Vince Vaughn, and traffics in sordid, ugly shocks.
The film's writer and director discusses a haunting scene where members of a family meet their terrifying doubles.


One of the biggest movie stars on the planet returns to theaters this summer. And by biggest, we mean in terms of physical size. Everyone's favorite kaiju creature will be back in the eponymously titled Godzilla: King of the Monsters, which is a sequel to the 2014 Godzilla reboot and the third installment of the franchise that also includes 2017's Kong: Skull Island.  This time, Godzilla is not alone. The king of the monsters will be joined on screen by a few of his most...

Read More

Read Comments


The Wednesday night cable ratings were dominated by basketball yet…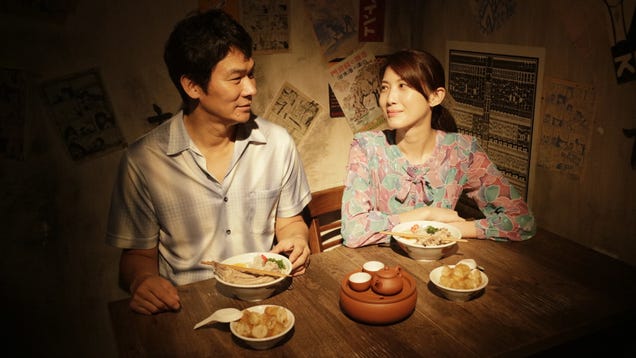 Food is one of the most powerful emotional forces on Earth. For many people, the smell and taste of a favorite childhood dish brings back vivid, nostalgic memories of a particular moment in time, often a moment when that person felt safe, content, and loved. For Masato (Takumi Saitoh), the half-Japanese,…

Read more...


Dick Dale, who became known as "king of the surf guitar" with a twangy rapid-fire, reverb-heavy sound that he said recreated what he heard in his head while riding the waves, has died at the age of 81, according to media reports.
In his review, Preet Bharara calls David McCraw's "Truth in Our Times" a behind-the-scenes look at the newspaper's legal battles with the Trump administration and others.