The dates for the Foo Fighters' 2020 Van Tour, which had previously been rescheduled, have been cancelled altogether.

RELATED ARTICLES
After the success of RapCaviar, there was skepticism listeners would have similar excitement for a genre-less playlist. But thanks to one successful experiment, the company is rethinking its strategy.
A GoFundMe account has been set up to help the family of Winsome Chua, an American Airlines employee in Phoenix who died of COVID-19.


Legends Never Die, indeed.
This week, Cardi B and Megan Thee Stallion team up to rule the rap conversation, Juice WRLD's voice is paired with the Weeknd's familiar croon, and Luke Bryan honors our simple pleasures.
Applications for the program, which kicked off Wednesday, are now available online in English, Creole and Spanish.


Germany will test arrivals from most countries outside of the EU in a bid to avoid another escalation in Covid-19 infections.


A request to fellow writers: Inscribe your book to me with one pithy piece of guidance.
Two hip-hop queens came together on Friday (Aug. 7), delivering a thumping new collaboration.
The daily series from Seth Rudetsky and James Wesley benefits The Actors Fund.
TikTok has fired back at President Donald Trump's executive order essentially banning the popular social video app in the U.S. if it is not sold to an American company within 45 days, stating that the order came with "no due process or adherence to the law."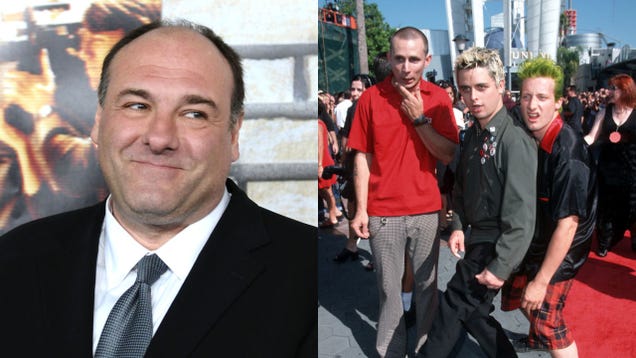 Each new fact we learn about James Gandolfini, accomplished actor and friend of SpongeBob, fills us with a simple kind of joy. This is probably because Gandolfini and Tony Soprano are inseparably linked and everything funny or nice we hear about him must inevitably clash with an ill-founded mental image of him…

Read more...


Presumptive Democratic presidential nominee Joe Biden made the remarks on Thursday, drawing widespread crticism.


An American-owned cargo ship named after the president of the United States docked in a Ukrainian port has just offloaded 10,000 metric tons of the same chemical substance that nearly leveled the city of Beirut this week, according to the Liveuamap news source. The hangar in Lebanon only had 2,750 metric tons of ammonium nitrate, which caused catastrophic damage to the Lebanese capital. Sea ports administration of Ukraine says that almost 10 000 tonnes of ammonium nitrate that is being stored at pier 1 and 2 of Yuzhi port near Odesa is totally safe cause of "Big-bags" pic.twitter.com/rxftR5TbKB — Liveuamap (@Liveuamap) August 7, 2020The ship docked in Ukraine, which was previously named Seabreeze before a Florida company registered as Pilin Fleet Management LLC purchased it in 2018, and renamed it Trump D, was registered by Marine Traffic tracking website in the Yuzhi port near Odessa on Friday.Ukrainian Prime Minister Denys Shmyhal has now ordered "relevant checks" on the storage condition of the substance, which is primarily used for agricultural fertilizer or high-powered explosives after port officials claimed it was safely stored in "big bags." Video that was published yesterday, both with photos became viral in Ukraine pic.twitter.com/AXeRvBJs6g — Liveuamap (@Liveuamap) August 7, 2020Photos online suggest that the ammonium-nitrate powder was also stored in similar "big bags" in the port of Beirut when it detonated,
Saad al-Jabri, who spent 40 years working in Saudi intelligence, claims Crown Prince Mohammed wants him dead because he knows too much.


Across the continent, crowds are flocking to events organized on social media and messaging apps, despite risks and a backlash.
Six new paperbacks to check out this week.
Rescue teams pulled more bodies from the rubble of Beirut's port Friday, nearly three days after a massive explosion sent a wave of destruction through Lebanon's capital, killing nearly 150 people and wounding thousands. Outside the port area, women cried as they waited for news about missing relatives. Among the four bodies recovered in the last 24 hours was that of 23-year-old Joe Akiki, a port worker missing since Tuesday's explosion.


A straight-A high student scrambles to become a hip-hop dancer for her college application in this Netflix dance movie that pays homage to the genre.
Mystery solved! On Thursday (Aug. 6), Taylor Swift spilled the tea about where she came up with the names for the three characters at the center of Folklore highlight "Betty."
This film takes a look at the life and work of the book writer-lyricist behind Little Shop of Horrors, Beauty and the Beast, and more.
David Lacey didn't hurt anyone when Black Lives Matter demonstrators showed up at his home shortly after 5 a.m. one morning.


The author's stories have influenced countless works, including the new HBO series "Lovecraft Country." But how do modern adapters reckon with his racism, his sexism and his profound weirdness?
Looking for a pitch-perfect summer escape? We've got some recommendations.
"There's some hoes in this house."
"Wish we could celebrate together," The Weeknd tweeted.
President Trump Joe Biden had "totally disparaged and insulted the Black community" by comparing African-American attitudes with those of Hispanics.



RELATED ARTICLES
In an exclusive set of interviews with three different Latin directors, Billboard talks about the new normal, working with social distancing, and the future of animated videos.

RELATED ARTICLES
Mr. Bentley, who was also a playwright, was an early champion of modern European drama in the 1940s but had little use for American plays.
Ten countries account for 80% of the new coronavirus testing taking place across Africa, a regional body said on Thursday, indicating that little testing is taking place in many countries around the vast continent. COVID-19 confirmed cases across Africa have accelerated and are close to hitting a million this week, and experts say low levels of testing in many countries means infection rates are likely to be higher than reported. "This number indicates we reached 90% of our goal for the partnership to accelerate COVID testing," Nkengasong told a virtual news conference.


Odom says he was still in negotiations for his salary for the filmed version of "Hamilton" the day before it was set to begin shooting.



RELATED ARTICLES
U.S. Defense Secretary Mark Esper expressed concerns about Beijing's "destabilizing" activity near Taiwan and the South China Sea in a call with Chinese Defense Minister Wei Fenghe, the Pentagon said on Thursday, the first time the two are believed to have spoken since March. The call came as U.S.-China ties have rapidly deteriorated this year over a range of issues, including Beijing's handling of the coronavirus, telecommunications equipment maker Huawei [HWT.UL], China's territorial claims in the South China Sea and its clamp-down on Hong Kong. "Secretary Esper also communicated the importance that the PRC (People's Republic of China) abide by international laws, rules and norms and meet its international commitments," Pentagon spokesman Jonathan Hoffman told reporters, adding that the call lasted for an hour and a half.


Diplo and Joji play the PA part in the video for their new collaborative single, "Daylight."
Counties in Kansas that adopted a mask mandate have seen a drop in COVID-19 cases, Kansas Department of Health and Environment Secretary Dr. Lee Norman said.In late June, Gov. Laura Kelly (D) issued a statewide mask guidance, but because the Kansas legislature limited her emergency powers, each county was able to decide whether or not to enforce the order, KSHB reports. During a press conference on Wednesday, Norman said 15 counties went along with the order, while 90 decided to make wearing a mask a recommendation only."What we've seen through this is that in the counties with no mask mandate, there's no decrease in the number of cases per capita," Norman said. "All the improvement in the case development comes from those counties wearing masks."The Kansas Department of Health and Environment has been interviewing people who have recovered from the virus, and Norman finds it worrisome how some can't seem to shake the symptoms, saying, "This serves to me as humbling, in many regards, and a reminder that we still know very little about this disease and its impact on the body."More stories from theweek.com Pelosi doubts Republicans will pass generous coronavirus bill: 'Perhaps you mistook them for somebody who gives a damn' Trump issues executive orders targeting TikTok, WeChat The terrible trade-off of keeping schools closed


The makeup influencer subtweeted the launch of Keys's beauty brand.
President Donald Trump quickly attacked Biden over the remark.


PBS leads the nominations for the 41st annual News & Documentary Emmy Awards, as it usually does, scoring 48 noms to top its closest rival by even more than last year. But there's a shakeup for the No. 2 spot among networks and platforms as CNN doubled its 2019 noms haul to 30. Read the […]


The August 6 stream benefits The Actors Fund.
Angry Lebanese mobbed French President Emmanuel Macron in Beirut on Thursday, demanding his help in overthrowing their reviled leaders, as outrage grew over a devastating explosion caused by thousands of tons of dangerous chemicals that were stored in the capital for years despite repeated warnings. The visiting French leader warned that without structural reform the country would "continue to sink", as the death toll rose to 145 and over 5,000 injured by the port blast that damaged half of Beirut, the capital of a country already facing economic collapse. Touring a heavily damaged Beirut neighbourhood, Mr Macron was met by an angry crowd chanting "Revolution" and "The people want to bring down the regime," slogans used during nationwide protests last year. Surrounded by traumatised demonstrators pleading for help, Mr Macron pushed past bodyguards to hug a woman, something no Lebanese leader has done since the disaster on Tuesday. "Don't give money to our government, we don't trust them," one woman called to the French leader. Mr Macron said he would ask Lebanon's leaders to accept "a new political deal" and "to change the system, to stop the division of Lebanon, to fight against corruption". He said he was not there to endorse the "regime" and vowed that French aid would not fall into the "corrupt hands".


Plus, watch Tony nominee Norm Lewis deliver a soaring version of "You'll Never Walk Alone."

RELATED ARTICLES
Suggested reading from critics and editors at The New York Times.
It's the second departure of a high-ranking State Department official in just two days.


A new documentary looks at the prodigious talent of Howard Ashman, one half of the musical team behind "The Little Mermaid" and others, before he died of AIDS at 40.
In this documentary, Alejandro Jodorowsky compares Freud's "science" to his own "magic" and chronicles aiming for cures with methods resembling performance art.
Netflix's "Julie and the Phantoms" debuts in September, and Netflix dropped a music video for a cute acoustic track "Edge of Great" featuring the four stars Tuesday.Premiering Sept. 10, the series stars Madison Reyes as highschooler Julie, who meets a trio of three ghostly musicians Charlie Gillespie, Owen Patrick Joyner, Jeremy Shada who inspire her to start making music again.Here is the synopsis:High schooler Julie (Madison Reyes) lost her passion for music after her mom died last year. But when the ghosts of three dreamy musicians (Charlie Gillespie, Owen Patrick Joyner, Jeremy Shada) from 1995 suddenly appear in her mom's old music studio, Julie feels her own inner spirit beginning to reawaken, and she's inspired to start singing and writing songs again. As their friendship with Julie grows, the boys convince her to create a new band together: Julie and the Phantoms.Also Read: Sarah Paulson Starts Out as a Pleasant - but Peculiar - Nurse in Ryan Murphy's 'Ratched' Trailer (Video)Kenny Ortega ("High School Musical," "Descendants") serves as director and Paul Becker ("Descendants," "Mirror Mirror") serves as choreographer. Dan Cross and David Hoge ("The Thundermans," "Pair of Kings") serve as showrunners and executive producers, with executive producers George Salinas and Jaime Aymerich of Crossover Entertainment, as well as Michel Tikhomiroff and Fabio Danesi for Mixer Entertainment. The seri
The live stream benefits The Actors Fund.
Suggested reading from critics and editors at The New York Times.
Oprah Winfrey's book club is back. We have gathered all of her official book club selections in one handy place.        
Documentary on an artist who turns the man who's stolen her work into a muse is a tribute to an unlikely, undeniably powerful frendship
It's nice to be one of the few people who has seen an under-the-radar, low-budget, throw-cares-to-the-wind horror flick, because there's a sense of community that comes with watching something that precarious, that delicately connected and held together. It might be strange to think of horror as being fragile, with the monsters and the decapitations and the blood and whatnot. But that's exactly what the genre is, a delicate balance between production, money, fandom, and expression, with the resulting final product usually something that almost no one sees. I try to keep that in mind when I watch b-horror, the time and energy and work that g...Read the entire review