President Donald Trump doubled down Monday on his false insistence that Democrats are to blame for the administration's forced separation of migrant children from their families at the border, even as a growing number of Republicans urged him to reverse course. Speaking at a White House event,...



RELATED ARTICLES

Washington Post


This post has been updated with another new poll, from CNN. President Trump's administration has taken the rather remarkable and controversial step of separating families that immigrated illegally at the border — a move that opponents decry as


New York Times


WASHINGTON — President Trump remained resistant on Monday in the face of growing public outcry over his administration's policy of separating children from their parents at the border, repeating the false assertion that Democrats were the ones to
What's Behind Family Separation at

RELATED ARTICLES
Michael Hayden, former director of the CIA and the National Security Agency under presidents from both parties, explains why he is speaking out so passionately against the Trump administration's practice of separating children from their families at the border.
President Donald Trump, his attorney general and his Homeland Security chief staunchly defended a "zero tolerance" immigration policy Monday amid growing outrage over separation of children from parents accused of illegally attempting to enter the country.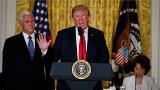 President Trump says the "horrible laws" allowing children to be taken from their parents as they illegally enter the U.S. are "the Democrats' fault" and "so sad."        

Wall Street Journal


President Donald Trump on Monday directed Pentagon officials to move toward creating a "space force" that would become a sixth branch of the military, with congressional blessing, and portends the most sweeping revamp of the U.S. armed forces in more ...
Trump's Space Force Is Almost a Real Thing
Democratic Reps. Ben Ray Luján and Joaquin Castro on Monday called on President Donald Trump to visit the South Texas border and witness the separation between immigrant parents and children.