PARIS (AP) — French yellow vest protesters set small fires as they marched through Paris on Saturday to drive home their latest message to the government: that rebuilding the fire-ravaged Notre Dame Cathedral isn't the only problem the nation needs to solve.


Nearly 40% of the 448 pages have parts blacked out but that content - including remarks by Trump - is not a total mysteryThe attorney general, William Barr, made redactions under four categories: harm to ongoing matters; grand jury evidence; investigative techniques; and personal privacy. Photograph: Eric Baradat/AFP/Getty ImagesThe Mueller report contains tantalising details of Trump campaign dealings with Russia and of the president's possible attempts to obstruct justice. But much of it is blacked out. Nearly 40% of the pages in the document contain at least one redaction, totalling nearly 1,000 in all. In some parts, entire sections have disappeared.The redactions fall into four categories. The largest is "harm to ongoing matters". This refers to likely future trials, including that of Trump's friend and ally Roger Stone, who is due in court in November.The second-biggest category is "grand jury": material that might be used in ongoing legal matters. Information has also been removed which could compromise FBI "investigative techniques". The fourth category is "personal privacy". It concerns individuals peripheral to the core investigation by the special counsel, Robert Mueller.Trump's attorney general, William Barr, will release a less-redacted version of the report to Congress. A close reading of the 448-page report made public offers clues as to what is missing, including remarks made by Trump about sensitive matters. 1\. Russian interference in the 2016 electionThe report gives a voluminous accoun
CAIRO (AP) — The Latest on Egypt's vote on a referendum potentially extending President el-Sissi's rule to 2030 (all times local):


Four Turkish soldiers were killed on Friday in clashes with the outlawed Kurdistan Workers Party (PKK) near the border with Iraq, Turkey's Defence Ministry said on Saturday. Demiroren News Agency said a military base had been attacked in the mountainous Cukurca district of Turkey's southeastern province of Hakkari, prompting the Turkish military to respond with a "large-scale" military operation. "As part of ongoing operations in the Turkey-Iraq border, two soldiers were killed in clashes with terrorists despite all efforts to save them," the ministry said, adding a total of four soldiers were killed and six wounded.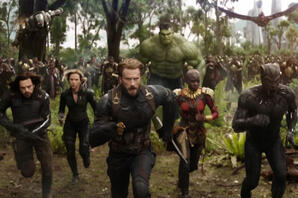 Here are a bunch of little bites to satisfy your hunger for movie culture:   Movie Franchise Trivia of the Day: With one week to go before Avengers: Endgame hits theaters, everyone is looking back at the last 21 movies in the Marvel Cinematic Universe. For their recapping fun, IMDb and narrator Brandon Hardesty share some trivial information in a video that breaks the MCU down by the numbers:   Cosplay of the Day: Will Valkyrie finally show up again in...

Read More

Read Comments


The story you know is the lie they told you


The Massachusetts senator is the most senior Democrat to call for the start of impeachment proceedings against TrumpWarren's remarks make her one of the most prominent Democratic voices to advocate for impeachment. Photograph: Yuri Gripas/ReutersElizabeth Warren on Friday became the most senior Democrat, and the first 2020 presidential candidate, to call for the start of impeachment proceedings against Donald Trump following the release of the special counsel's report on Russian interference in the 2016 US election and the Trump campaign. "To ignore a president's repeated efforts to obstruct an investigation into his own disloyal behavior would inflict great and lasting damage on this country, and it would suggest that both the current and future presidents would be free to abuse their power in similar ways," the Democratic senator from Massachusetts said in a statement Friday, one day after the release of a redacted version of a 448-page summary of Robert Mueller's nearly two-year investigation."The severity of this misconduct demands that elected officials in both parties set aside political considerations and do their constitutional duty. That means the House should initiate impeachment proceedings against the president of the United States," Warren said. Mueller put the next step in the hands of Congress: "Congress has authority to prohibit a President's corrupt use of his authority in order to protect the integrity of the administration of justice." The correct process for
Israeli forces destroyed two apartments in the occupied West Bank on Friday that housed the family of a Palestinian accused of killing an Israeli woman in February, the army said.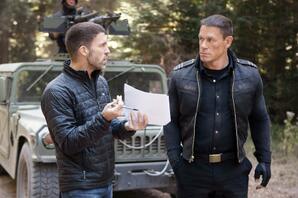 Need a quick recap of the past week in movie news? Here are the highlights: BIG NEWS John Cena to star in The Suicide Squad: The Suicide Squad sequel may be acquiring some serious muscle, as Variety reported this week that WWE superstar turned actor John Cena is joining the ensemble cast in an unknown role. The Suicide Squad will be his first comic book adaptation, and you can read all about the movie here. Ma Dong-seok joins The Eternals: Meanwhile, over at Marvel,...

Read More

Read Comments


Depending on whom you believe, Huawei is either a key provider of cellular equipment in the transition to 5G, or a Chinese agent of espionage


Empire first-look photos: Jussie Smollett's Jamal is getting married


The poll, conducted Thursday afternoon to Friday morning, is the first national survey to measure the response from the American public after the U.S. Justice Department released Special Counsel Robert Mueller's 448-page report that recounted numerous occasions in which Trump may have interfered with the investigation. In his report, Mueller said his investigation did not establish that the Trump campaign had coordinated with Russians. The poll found that 50 percent of Americans agreed that "Trump or someone from his campaign worked with Russia to influence the 2016 election," and 58 percent agreed that the president "tried to stop investigations into Russian influence on his administration." Forty percent said they thought Trump should be impeached, while 42 percent said he should not.


James Corden's parents wish their son had landed a role on "Game of Thrones" instead of this silly CBS late (late) night gig. Well, apparently he auditioned — and so did Andrew Garfield.On Thursday's "Late Late Show," Corden and his guest shared their (faux) tryouts for the hit HBO drama.They both make pretty bad Jon Snows.Also Read: James Corden's Parents Think Sam in 'Game of Thrones' Looks Just Like Their Son (Video)Corden really wanted the gig. At a certain point, Corden made it very clear that he is willing to cut his balls off with a butcher knife to play Varys the eunuch. Or Reek (a.k.a. Theon) the eunuch. Or anyone who has been castrated, really.Garfield proved he can go method too. The former "Spider-Man" was down to have sex with his own real-life sister in order to play Jaime Lannister properly.Not gaining much ground as individuals, the two then teamed up to play The Mountain. Pass. They teamed up to act out the Ned Stark beheading scene. Pass.Also Read: Jimmy Kimmel Says Bill Barr 'Looks Like if Elton John Had Conversion Therapy' (Video)Clearly, it was desperation time. That's when Corden entered the casting office completely naked, save the Mother of Dragons wig. No? How about Cersei? That's just a different wig.Garfield got in on the nudity, and they both got shamed.Watch the video above.Read original story Andrew Garfield, James Corden Get Naked and (Poorly) Audition for 'Game of Thrones' (Video) At TheWrap


An iconic temple central to The Church of Jesus Christ of Latter-day Saints faith will close for four years for a major renovation to help it withstand earthquakes and be more welcoming to visitors, leaders said Friday. The Salt Lake Temple will close Dec. 29 to update the stately granite building and surrounding square, including elements that emphasize the life of Jesus Christ, church President Russell M. Nelson said. The building and square at the heart of Utah's capital city is one of the state's top tourist destinations, though only church members in good standing can go inside the building used for marriages and other religious ceremonies.


They're all accused of illegally prescribing pain meds, but charges against these medical professionals are the most shocking from this week's sweep.


Three renowned professional alpinists are missing and presumed dead after an avalanche in the Rocky Mountains.


House Judiciary Committee Chairman Jerry Nadler takes the next step in what is shaping up to be a lengthy political and legal battle between Democrats and Republicans over the Mueller report; chief intelligence correspondent Catherine Herridge reports.


Three world-renowned professional mountaineers -- two Austrians and an American -- were missing and presumed dead after an avalanche on a western Canadian summit, the country's national parks agency said Thursday. American Jess Roskelley, 36, and Austrians Hansjorg Auer, 35, and David Lama, 28, went missing Tuesday evening in Banff National Park, according to media reports.


And paleontologists aren't happy about it.


Late-night comics devoted parts of their shows to dissecting the public release of special counsel Robert Mueller's report on the 2016 election.



RELATED ARTICLES
Donald Trump ordered the man who would later serve briefly as his national security adviser, Michael Flynn, to find thousands of missing emails from Hillary Clinton's computer server at the height of the 2016 presidential campaign, the special counsel's report revealed on Thursday.The episode is among the closest that investigators came to uncovering an instance in which Mr Trump himself appeared to use whatever means necessary to locate the messages.However, it stops short of saying he encouraged a breach of his opponent's computers, networks or email accounts.Trump had insisted at the time that he was only joking when he encouraged Russian hackers to find and disclose 30,000 deleted emails from Ms Clinton's servers.But behind the scenes, Trump was serious, according to the report by special counsel Robert Mueller.It said that Mr Flynn, by then a retired three-star Army intelligence officer, told the investigators "that Trump made this request repeatedly, and Flynn subsequently contacted multiple people in an effort to obtain the emails".As it turned out, Russia's military intelligence unit and supporters of Mr Trump's campaign had — apparently independently — sought the email trove, convinced that it contained embarrassing material that could prove decisive on election day.Ms Clinton's use of a private email server while she was secretary of state had been the focus of a lengthy investigation by the FBI, and Mr Trump, calling his campaign opponent "Cr