The Chanel and Fendi designer, who died on Tuesday, remained a polarising figure in the fashion world.
For some, this tax season so far has come with a costly surprise - a tiny tax refund or a big tax bill. The shock is hitting their finances.


With a blissful new dance-pop tune reminiscent of their 2014 break out hit "Shut Up and Dance," Walk the Moon returned to The...
A winter storm swept across much of the U.S. Midwest and East Coast on Wednesday, hampering air travel and prompting officials to close federal offices in Washington and several large public school systems. The National Weather Service warned the storm could make travel very difficult, with snow, sleet and freezing rain potentially causing downed branches and power outages. The storm reached from northern Minnesota down through Missouri and east into the Mid-Atlantic region and could bring as much as 6 inches (15 cm) of snow along with sleet and freezing rain, the National Weather Service said in an advisory.


Last month, Venezuelan opposition leader and Congress chief Juan Guaido invoked the constitution to assume the interim presidency after declaring Maduro's reelection in May 2018 illegitimate. In an effort to secure the backing of Venezuela's military, Guaido proposed an amnesty for officers who turn on Maduro's government. Amid fears the changes have stalled, opposition leaders have begun to talk in the past week about bringing ruling Socialist Party stalwarts into a potential transition government.



RELATED ARTICLES
Lil Pump is gearing up to finally share his delayed Harverd Dropout album to close out the work week (Feb. 22). The 18-year-old decided to give...
In "Sleeping With Strangers," David Thomson examines the ways in which movies have codified our fantasies.
Learn about an unusual cult that never existed in Season 3 of "Documentary Now!" And revisit "The Incredibles" on Freeform.
Every state east of the Mississippi is likely to get winter storm effects Wednesday, including Detroit, Chicago, Philadelphia, New York, Washington.


This year's "NBA All-Star Saturday Night" event easily took the…
Marc Martel never thought his vocal resemblance to the Queen frontman "would amount to anything more than a fun karaoke trick." It's taken him to "Bohemian Rhapsody" and beyond.
OAKLAND, Calif. (AP) — Former President Barack Obama and Golden State Warriors superstar Stephen Curry told a roomful of minority boys on Tuesday that they matter and urged them to make the world a better place.


Writers, L.G.B.T. people, L.G.B.T. writers, and Jimmy Fallon attended parties this week.
From Beirut's slums to Norway, Oscar-nominated film Capernaum changed its star's life dramatically.

RELATED ARTICLES
Archbishop Anthony S. Apuron was found guilty of 'certain accusations' of crimes related to the sexual abuse of minors. He has appealed the ruling.


It could take Kim at least two and a half days to travel the thousands of kilometers through China by train, from the North Korean capital of Pyongyang to Vietnam, meaning he would have to set off later this week in time for his planned Feb. 25 arrival. Kim's train will stop at the Vietnamese border station of Dong Dang, where he will disembark and drive 170 km (105 miles) to Hanoi by car, the sources said. Trump and Kim will meet in the Vietnamese capital on Feb. 27-28, eight months after a historic summit in Singapore in June - the first between a sitting U.S. president and a North Korean leader - at which they pledged to work towards the complete denuclearization of the Korean peninsula.


The hit London and Broadway comedy began previews February 11.
The Tony nominee and star of Broadway's upcoming Hadestown will make her New York City concert return.
The political stalemate that ended last month will reduce first-quarter revenue by $60 million as the aftereffects linger, Southwest said in a regulatory filing Wednesday. "The company has continued to experience softness in passenger demand and bookings as a result of the government shutdown," Southwest said. Southwest dropped 4.5 percent to $55.10 at 9:39 a.m. in New York after sliding as much as 6.1 percent for the biggest intraday decline in three months.


"American Spy," Lauren Wilkinson's assured debut novel, explores the career and moral quandaries of a black woman who's undervalued in the boy's club of the F.B.I.
The teenage Wasp has inherited her father's mission for justice. Like him, she must also learn to live with a mental health condition.
Britain will strip citizenship from a UK teenager who joined the Islamic State group in Syria but now wants to return home with her newborn baby, a lawyer for her family said Tuesday. The case points to a dilemma facing many European countries, divided over whether to allow jihadists and IS sympathisers home to face prosecution or barring them over security concerns as the so-called "caliphate" crumbles. A lawyer for her family, Tasnime Akunjee, said on Twitter that they were "very disappointed with the Home Office's intention to have an order made depriving Shamima of her citizenship," and that they were considering "all legal avenues".


From a grocery store to an indoor beach
German haute-couture designer Karl Lagerfeld, artistic director at Chanel and an icon of the fashion industry with his extravagant outfits and striking catwalks, has died aged 85.
Tony winner Christopher Ashley directs the new musical at La Jolla Playhouse.
With the release of their stunning debut album Box Office, hip-hop star and RuPaul's Drag Race alum Aja stopped by Billboard to chat about...

RELATED ARTICLES
Broadcast primetime live same-day ratings for Monday, February 18,…

RELATED ARTICLES
The streamlined and revised revival officially opened at Roundabout's Laura Pels Theatre February 19.
The new play will begin performances March 5 at the Public Theater, directed by Artistic Director Oskar Eustis.

RELATED ARTICLES
Final broadcast primetime live same-day ratings for Friday, February…

RELATED ARTICLES
Onyejekwe will star alongside creator Doreen Taylor in the new musical celebrating the life and legacy of lyricist Oscar Hammerstein II.
The New York Times reports President Trump asked former Acting Attorney General Matthew Whitaker whether Geoffrey Berman, the U.S. attorney for the Southern District of New York, could oversee the Cohen probe; chief White House correspondent John Roberts reports.


In "Wayward Lives, Beautiful Experiments," Saidiya Hartman writes about young black women in the early 20th century who tossed out the narrow scripts about intimacy they had been given.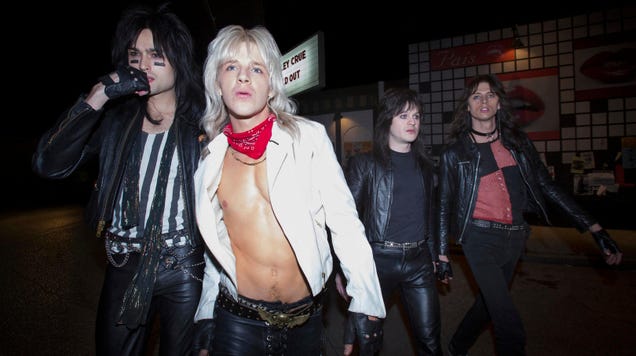 The Dirt is one of the filthiest, nastiest, and most gut-roiling rock biographies ever written, depicting hair-metal icons Mötley Crüe as a gang of enterprising, idiotic sex maniacs who should've died at least 15 times by now. But, while the first trailer for Netflix's upcoming adaptation of the book looks like it…

Read more...



RELATED ARTICLES
The February 25 benefit concert raises money to fight pulmonary fibrosis.
Here is your Arrested Development update by the numbers. One murder, no masterminds, one premiere date for Part 2 of Season 5. Got that? Netflix said today that the eight new episodes of its ensemble comedy starring Jason Bateman et al. will start streaming on March 15. Check the poster here and some first-look photos below; the one above is new also: You can't handle the Bluth. Arrested Development returns March 15 pic.twitter.com/07UA4hJlgB -- Arrested Development…


The Catholic Church is "nowhere close" to enacting the reforms needed to stop the "epidemic" of sex abuse by predatory priests and bishops against children, campaigners warned on Tuesday. Pope Francis is "in retreat" from any meaningful effort to bring abusers to justice, said Bishop Accountability, a leading pressure group. The scathing criticism comes as the Vatican admits it has secret guidelines on how to deal with priests who break their celibacy vows and sire children.  Nearly 200 archbishops, bishops and other senior officials are to join the Pope at the Vatican for an unprecedented, four-day conference on combating the sexual abuse of minors by clergy. Like his predecessors, the Pope has fostered "a culture of plausible deniability" in which allegations against priests are lost, not scrutinised properly, or buried in bureaucracy, campaigners said.  The Catholic Church persists in regarding the sexual abuse of children as a sin, to be dealt with internally, rather than as a serious crime that requires the intervention of the police, said Phil Saviano, a high-profile survivor of sex abuse. Molested by a priest in Massachusetts when he was 12 years old, his ordeal was told in the Oscar-winning film Spotlight, based on a Boston Globe investigation into widespread sex abuse by clergy. Phil Saviano, a victim of clerical sex abuse, and Anne Barrett Doyle, co-director of Bishop Accountability, speaking to the media in Rome Credit: Alessand
German haute-couture designer Karl Lagerfeld, artistic director at Chanel and an icon of the fashion industry with his extravagant outfits and striking catwalks, has died aged 85.
Virginie Viard, deputy artistic director of Chanel, will become chief designer of the fashion house following the death of haute couture icon Karl Lagerfeld, a source at Chanel said on Tuesday.
Fiasco Theater brings its signature style to an all-new production of the Stephen Sondheim-George Furth musical.
The man accused of shooting and killing a neighbor over a parking space dispute made his first court appearance on Tuesday.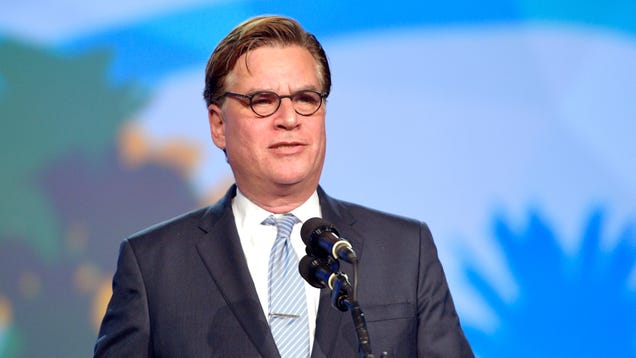 The Newsroom was one of those rare shows that seemed to do pretty well while being hated by nearly everyone who watched every episode (sort of like a more enlightened-seeming Entourage), and so when series regular Olivia Munn floated the idea of a modern-day revival earlier this week, the concept was met with what we…

Read more...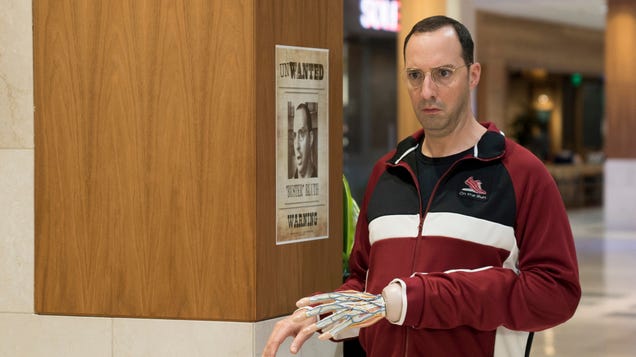 The last time we saw the Bluth family in the first half of Arrested Development's fifth season, a handful of people were missing, the family had realized it had no chance of funding its wall across the Mexico-America border, and Buster was facing a murder trial. Of course, that wasn't really the last time we saw the…

Read more...




Here are a bunch of little bites to satisfy your hunger for movie culture:   Movie Trailer Parody of the Day: Captain Marvel tickets are now on sale, and while we wait for the release of the highly anticipated next entry of the Marvel Cinematic Universe, it's time to watch a Toon Sandwich animated parody of the movie, in which the titular hero's biggest weapon is her snarky attitude:     Celebrity Impersonations of the Day: In...

Read More

Read Comments


Since an unflattering interview with the cast derailed a press tour last spring, fans have wondered when the rest of the episodes would drop.
Elinor Lipman's "Good Riddance" offers an up-to-the-minute look at a young woman's life in Manhattan.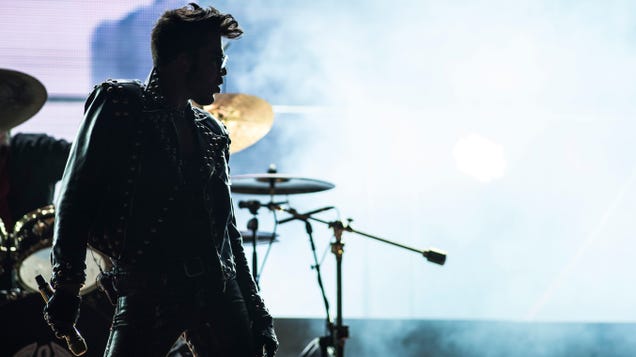 While the Queen biopic Bohemian Rhapsody's presence throughout this year's awards season continues to ring problematic, fans might be pleased to hear that the legendary band is set to play the Academy Awards this Sunday.

Read more...


The Academy of Motion Picture Arts and Sciences has reversed its controversial decision to hand out four Oscars during the telecast's commercial breaks. Following a Thursday night meeting with top cinematographers, Academy leadership including President John Bailey and CEO Dawn Hudson have pledged to air every awards category on the live show a week from […]


Netflix black and white family portrait "Roma" won Best Film at the British Academy of Film and Television Arts (BAFTA) awards on Sunday, scooping up the top prize at the star-studded event in London.

RELATED ARTICLES
"Unexampled Courage," by Richard Gergel, is a riveting account of the 1946 legal case that spurred the federal government to act in defense of racial equality.
Just like all of the other networks, ABC has begun…
Our resident VOD expert tells you what's new to rent and/or own this week via various Digital HD providers such as cable Movies On Demand, FandangoNOW, Amazon, iTunes, Vudu, Google Play and, of course, Netflix. Cable Movies On Demand: Same-day-as-disc releases, older titles and pretheatrical A Simple Favor (thriller-mystery; Anna Kendrick, Blake Lively, Henry Golding, Andrew Rannells, Linda Cardellini, Jean Smart, Rupert Friend; rated R) Fahrenheit 11/9 (documentary; Michael Moore; rated R) The House with a Clock in Its Walls (fantasy; Jack Black, Cate Blanchett, Owen Vaccaro, Renee Elise Goldsberry, Sunny Suljic, Kyle MacLachlan; rated PG) Venom (superhero sci-fi; Tom Hardy, Michelle Williams, Riz Ahmed, Scott Haze, Reid Scott, Jenny Slate, Woody Harrelson...
Read More


The Love Boat (Season Four, Volumes 1 & 2), from the 1980-81 season, chugs right along with its parade of obvious but likeable romantic melodrama and low-brow comedy, its romanticized notions of cruise ship vacations, occasional exotic location shooting and, most importantly, its parade of guest stars: hot and cold TV talent, has-beens, barely-beens, famous-because-they're-famous types, nostalgic TV faces from the past, sports personalities, and sometimes even major old-time movie stars. Though probably few would admit it now, back in the late 1970s pretty much everyone not on a date or otherwise engaged on Saturday night tuned in to ABC's one-two punch of The Love Boat at 9:00 and Fantasy Island at 10:00pm. Though often unpardonably corny and melodramatic, The Love Boat was also daringly innovative from a production standpoint, and so tantalizingly glamorized and exo...Read the entire review