She collaborated with her husband, Harvey, on "It Happened in the Catskills" and other histories told in the voices of the people who were there.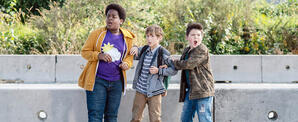 Jacob Tremblay, Brady Noon and Keith L. Williams star as Good Boys on the brink of adolescence. They yearn to be able to fit in at an upcoming "kissing party," but that proves to be far more challenging -- and far more uproariously funny -- than they could have anticipated. Audiences have responded warmly to the R-rated comedy. Naturally, that makes us wonder what further R-rated hijinks may be coming to theaters. Here are three that look like they will tickle our fancy.  ...

Read More

Read Comments


He wrote prolifically, with a focus on the Yankees, while teaching at Dartmouth and collaborating with his wife on New York oral histories.