The cast of Broadway's, Ain't Too Proud: The Life and Times of the Temptations, brought down the house with an electrifying...
Emilia Clarke shared that she survived two life-threatening brain aneurysms during the early days of Game of Thrones for the first time Thursday. Now her co-star Lena Headey is showing her heartfelt appreciation for the actor's strength. "It took me a while to know this woman (there are 64,000 of us after all.) Not until…
Brace yourself: AOC and Hillary Clinton have joined forces on Twitter to create a clapback so powerful that you may need to take a some deep breaths to compose yourself.It went down on Thursday night, when Alexandria Ocasio-Cortez tweeted a very straightforward "But his WhatsApp," after it was alleged that Jared Kushner had been communicating with foreign officials using WhatsApp.  But his WhatsApp https://t.co/kLO3ZHvdbO -- Alexandria Ocasio-Cortez (@AOC) March 22, 2019Kushner's behavior is obviously problematic on any number of levels, not least of which is that his father-in-law, President Donald Trump, ran his campaign against Hillary Clinton almost exclusively on the charge that she'd used a private email server while she was secretary of state. Lock her up, etc. AOC's tweet was a twist on the well-worn "But her emails" meme, which pops up on political Twitter every time the Trump administration does something shady. So it was especially potent when Hillary herself replied to AOC's tweet with a succinctly satisfying, "Tell me about it." Tell me about it. -- Hillary Clinton (@HillaryClinton) March 22, 2019That's the stuff. Hillary is no dummy and no doubt knew this was exactly the kind of thing that AOC's sizable social media fanbase would go wild over. And, of course, AOC had the reaction that pretty much all of us had, which was to freak out in a reply tweet to Hill. !!! -- Alexandria Ocasio-Cortez (@AOC) March 22, 2019We can only hope that this exchang
JERUSALEM (AP) — The Latest on the United States and Israel (all times local):


The hardest workout in New York right now has got to be the one being demonstrated eight shows a week by the principal cast of Ain't Too...
The new musical charting the rise of the famed vocal group makes its New York debut following engagements across the country.
Final broadcast primetime live same-day ratings for Wednesday, March…
CHRISTCHURCH, New Zealand (AP) — The Latest on the mosque attacks in New Zealand (all times local):




One of the biggest movie stars on the planet returns to theaters this summer. And by biggest, we mean in terms of physical size. Everyone's favorite kaiju creature will be back in the eponymously titled Godzilla: King of the Monsters, which is a sequel to the 2014 Godzilla reboot and the third installment of the franchise that also includes 2017's Kong: Skull Island.  This time, Godzilla is not alone. The king of the monsters will be joined on screen by a few of his most...

Read More

Read Comments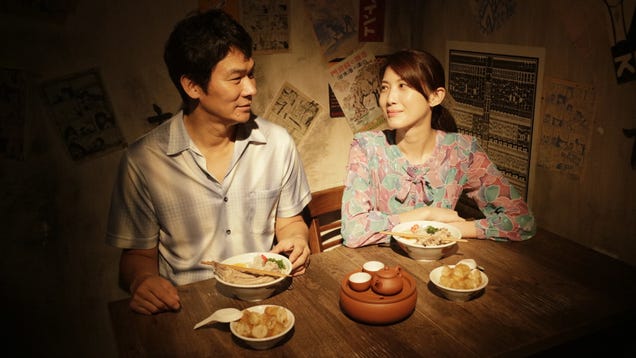 Food is one of the most powerful emotional forces on Earth. For many people, the smell and taste of a favorite childhood dish brings back vivid, nostalgic memories of a particular moment in time, often a moment when that person felt safe, content, and loved. For Masato (Takumi Saitoh), the half-Japanese,…

Read more...



RELATED ARTICLES
The musical makes its New York premiere after four out-of-town engagements.
On the eve of its release, Netflix has dropped the trailer for true-crime documentary series "The Disappearance of Madeleine McCann.""If you made a dozen movies out of this, nobody would believe them," one participant in the docuseries tells trailer viewers right off the bat."I've done thousands of cases, the Madeleine case, I've seen the worst things a human being can see — the worst," an investigator adds.Watch the video above.Also Read: 'One Day at a Time' Canceled by Netflix After 3 Seasons, Sony to Shop ElsewherePromising a deep dive into every piece of evidence and potential theory of what has been called the most famous missing child case in British history, the streaming series reexamines the events of the night of May 3, 2007, when 3-year-old McCann disappeared while on vacation with her family at Praia de Luz resort in Portugal.The project emerges two years after it was greenlit in 2017, with the series order marking a decade since the case was opened. Directed by Chris Smith ("Fyre: The Greatest Party that Never Happened"), the eight-episode series draws on 120 hours of interviews with over 40 contributors, including journalists, investigators and people close to the McCann family. Even a former suspect talks in the trailer.Also Read: Mark Hamill, Catherine O'Hara, Rosario Dawson Join Netflix Animated Series 'The Last Kids on Earth'"The Disappearance of Madeleine McCann" includes archival news footage, reenactmen