Karina, a Danish-French actress, was the muse of director Jean-Luc Godard.
The sketch offered a peek into the Conways' much-discussed marriage
Scarlett Johannson spoke for many when she alluded to Niall Horan's dreamboat status as she introduced him on Saturday Night Live on Dec. 14....

RELATED ARTICLES
The actress made dozens of films, in addition to pursuing a singing career and writing four novels.
Five Italians have been jailed for the gang rape of a British woman in the popular resort of Meta di Sorrento, south of Naples. The men, who were all employees of a hotel where the woman was staying, set up a WhatsApp group after the rape which they called "Bad Habits". They were accused of slipping the 50-year-old Kent woman a date rape drug and then subjecting her to multiple rapes in the Hotel Alimuri on the night of October 6 2016. They filmed and took photos of the assault and some were identified by tattoos on their bodies. The woman was on holiday with her 25-year-old daughter, who went to bed early on the night the attack happened and was not targeted by the Italians. They were sentenced on Friday to prison terms of between four and nine years by a court in the nearby town of Torre Annunziata. The rapists were named as Gennaro Davide Gargiulo, who was given the heaviest sentence of nine years; Antonino Miniero and Fabio De Virgilio, who were sentenced to eight years; Francesco D'Antonio, who will go to jail for seven years; and Raffaele Regio, who was given a four-year sentence. Sorrento is popular with British tourists Credit: Look The British victim was not in court but had been in "a state of anxiety all day" while awaiting the verdict from a panel of three judges, said Lucilla Longone, her Italian lawyer. She was "delighted" with the tough sentences handed down, her lawyer said. When the sentences were read out there was uproar in court, with
It was a Christmas miracle: "Saturday Night Live" opened the show with a sketch that wasn't dependent on celebrity cameos.
"What are they going to do, fire my fiancé?"
Scarlett Johansson may be nominated for a Golden Globe for her performance in "A Marriage Story," but when she hosted the Dec. 14 episode of "Saturday Night Live," she slid into a less flashy role for that sketch comedy's parody of the new dramatic film. Johansson took on the role of therapist to Kate McKinnon's […]


Female Turkish lawmakers sang a Chilean song in parliament that has been taken up in demonstrations globally to protest violence against women, and displayed photographs of women who have been killed. Turkey does not keep official statistics on femicide. Some women's groups attribute the rise to Turkey's failure to implement the legislation.


From Choir Boy to Jagged Little Pill, how many did you see during the past calendar year?
(Bloomberg) -- Sign up to our Brexit Bulletin, follow us @Brexit and subscribe to our podcast.Prime Minister Boris Johnson is on a collision course with Scotland's leader Nicola Sturgeon over the future of the U.K. Sturgeon says Scotland needs a new referendum on whether to split away from the rest of the U.K. but Johnson's team ruled out another independence vote.The premier is preparing to re-shape his cabinet after winning a big majority in last week's election. His opponent Jeremy Corbyn accepted responsibility for the crushing defeat his Labour party suffered, as potential candidates jostle to succeed him.Key developments:Minister Michael Gove rules out another Scottish independence referendum (8:40 a.m.) but Sturgeon says London cannot imprison Scotland "against its will" (9:30 a.m.)Johnson prepares to name his cabinet MondayPremier will outline government program in Queen's Speech on Thursday.Corbyn says he takes responsibility for Labour's heavy defeatLabour MP Lisa Nandy says she's considering a run for the leadership (10 a.m.)Must read: Johnson's Big Win Raises Tensions That Threaten to Unravel U.K.Sunak Sees Brexit Debate Before Christmas (10:45 a.m.)Chief Secretary to the Treasury Rishi Sunak said the government plans to put its Brexit legislation before Parliament before Christmas to ensure everything is ready for the country's planned EU departure at the end of January."One overriding mandate we have from this election is to get Brexit done," Sunak told the BBC. "Our intention is to bring the withdrawal bill, the legislation, back to parliament before Christmas."He said a budget can be expected "reasonably soon" after Brexit. He suggested Johnson is consider
"Sesame Street," Earth, Wind & Fire and Sally Field are honored for their achievements in the arts, and Peter Sarsgaard is a sound-obsessed house tuner in "The Sound of Silence."
Air pollution forced schools to close on Sunday in parts of Iran including Tehran, as the capital lay under a thick cloud of smog considered hazardous to health. The pollution level in the capital was "unhealthy for sensitive groups" and officials warned the young, elderly and people with respiratory illnesses to stay indoors, with sporting activities suspended. The decision to shut schools in the capital was announced late Saturday by deputy governor Mohammad Taghizadeh, after a meeting of an emergency committee on air pollution.


A powerful earthquake hit the southern Philippine island of Mindanao on Sunday, killing a child, injuring dozens and damaging buildings in an area still recovering from a string of deadly quakes in October. Police said a rescue operation had been launched at a heavily damaged market building in Padada near the 6.8 magnitude quake's epicentre, which is about 90 kilometres (55 miles) south of the major city of Davao. A provincial police commander said the number of injured across the hardest hit areas had reached 62, with one confirmed fatality after a child was crushed under a collapsed structure.


The death toll from New Zealand's White Island volcano eruption rose to 18 Sunday, including two people whose bodies have not been recovered, police said. Deputy police commissioner Mike Clement said there was "every chance" the bodies had been washed into the sea from the stream where they were last seen Monday. The death toll now stands at 18 after an Australian victim who had been repatriated to Sydney died in hospital almost a week after the deadly eruption.


As the GOP counter-offensive runs on fake news and conspiracy theories, critics say truth itself is under attack"Freedom is the freedom to say that two plus two make four," George Orwell wrote in the novel Nineteen Eighty-Four. "If that is granted, all else follows."The pro-Donald Trump industrial complex has not yet denied basic arithmetic. But as impeachment looms, his allies appear to be waging an increasingly frantic political and media counter-offensive that puts truth itself in the dock.A bewildering array of fake news, warped facts and conspiracy theories have been propagated in the past week by conservative media, Republican politicians, White House officials and the president in his own defence. It is, commentators say, a concerted disinformation war, intended to crowd out damaging revelations as the House of Representatives prepares its ultimate sanction."The more facts come out, the more desperate they get," said Kurt Bardella, a former spokesman and senior adviser on the House oversight committee. "They know in a debate centred on facts, truth and reality, they lose. Their only mechanism to survive is to muddy the waters, distort, distract and hope if they repeat lies often enough, they become real."Trump this week became the only fourth US president to face articles of impeachment. The two against him charge him with abuse of power by pressuring Ukraine to announce investigations that would boost his 2020 re-election campaign, and obstruction of Congress by ordering witnesse
The upcoming Feinstein's/54 Below headliners love to spread Yuletide cheer wherever they go.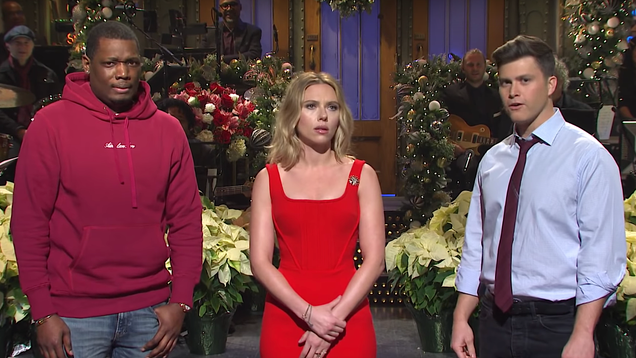 "It's like saving the world, too, just on a smaller level."

Read more...


The romance channel does not accept "public displays of affection" in ads.
The star, who played Annie Sugden, was part of the soap from its launch as Emmerdale Farm in 1972.
"American Gods" actor Orlando Jones, who played fan favorite Mr. Nancy on the Starz series, has revealed in a Twitter video that he was fired back in September and, without directly naming him, slammed showrunner Charles "Chic" Eglee for the move. In the fiery post, Jones says that "the new Season 3 showrunner is Connecticut-born […]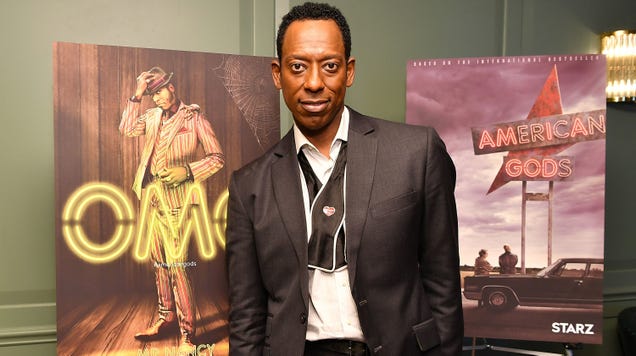 Since its first season, Starz's fantasy drama American Gods has seen its share of cast and crew shake-ups, including a carousel of showrunners. After the unceremonious departures of original point men Bryan Fuller and Michael Green, who adapted Neil Gaiman's novel in 2017, and Jesse Alexander, who was essentially…

Read more...



RELATED ARTICLES
This remake of the holiday-themed horror movie updates things for 2019—and its righteous anger makes all the difference
Queen Elizabeth will set out on Thursday Prime Minister Boris Johnson's legislative agenda following his election victory, including a pledge to bring the EU Withdrawal Agreement bill back to parliament before Christmas, his office said on Saturday. Johnson led his Conservative Party on Thursday to their biggest national election win since Margaret Thatcher's landslide victory of 1987, trouncing his socialist Labour Party opponent Jeremy Corbyn by winning 365 parliamentary seats and securing an overall majority of 80. The so-called Queen's Speech is used to detail all the bills the government plans to enact over the coming year.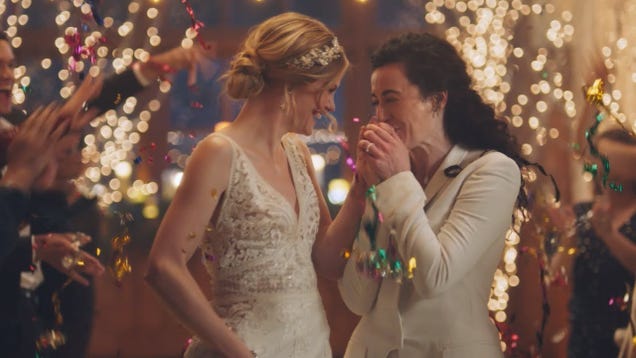 Hallmark maintained its reputation as the network where romantic miracles can happen—but not in a good way—this week, by performing a high-profile vanishing act on a series of commercials from wedding planning site Zola. Said ads had the temerity/gall/etc. to show two women kissing each other at their wedding, in…

Read more...


At 752 feet tall, The Leonardo overlooks "the richest square mile in Africa." It also comes with one of South Africa's most expensive penthouses.


The musical adaptation of Aristophanes' Lysistrata, starring Frozen's Patti Murin and On Your Feet's Josh Segarra, opened at the Walter Kerr Theatre December 14, 2011.
Stream Bob Clark's 1974 holiday slasher movie, or catch an animated journey to the North Pole by rail.
Name-caller-in-chief also ripped 'Commiecast' MSNBC.


The cake must be seen to be believed.
With the world's largest trade fair opening in an Arab country for the first time next year, Israel is stepping up preparations, hoping to boost nascent ties with regional neighbours. The Dubai Expo 2020 trade fair will gather nearly 200 countries vying for the attention of a projected 25 million visitors over nearly six months from October. Like most Arab countries, the United Arab Emirates has no diplomatic relations with Israel.


Taylor Swift's birthday weekend continued on Saturday (Dec. 14) with a televised performance of "Lover" airing on the BBC's...
Former Emmerdale actor Kelvin Fletcher and professional partner Oti Mabuse lifted this year's glitterball trophy on BBC One on Saturday.
Happy 30th birthday, Taylor Swift! The pop superstar spent her 30th birthday in New York Friday night (Dec. 13), performing for thousands of adoring...
1950s America comes vividly to life in a collection of thousands of 3-D slides. No bulky headgear required!
The veteran singer beats Robbie Williams and The Who to the UK number one spot in a close race.
The bodies of two children were found about three miles from the crash scene.


A memorable character actor on both stage and screen, Mr. Aiello won an Academy Award nomination for his role in Spike Lee's 1989 film.
A spokesman for the channel said the lesbian couple's P.D.A. violated its policies. Hallmark did not reject a similar ad featuring an opposite-sex couple.
Niall Horan is not above spreading a little Christmas joy. The "Put a Little Love On Me" singer is more than happy to listen to Saturday...
Broadcast primetime live same-day ratings for Wednesday, December 11,…
The musical opened on Broadway at what is now the August Wilson Theatre on December 11, 1989.
The singer, whose hits included The Look and It Must Have Been Love, had had a brain tumour.
Dreamscape Immersive -- backed by Hollywood's biggest players including IMAX, AMC, Fox and Warner Bros. -- is opening up its first permanent location this weekend in one of Los Angeles' biggest malls,