Jamie Lee Curtis returns for a final showdown in the "Halloween" reboot. And Allison Williams stars in a disturbing thriller on Netflix.
Updated May 24 at 10:55 p.m. PT with "A.P. Bio" canceled by NBC.Upfronts have come and gone, and that means broadcast networks have (for the most part) set their 2019-20 slates after ordering new series and winnowing down which current shows will return next season and which will come to an end.Below is every scripted (and a few unscripted) show that ABC, NBC, CBS, Fox and The CW have renewed or canceled so far, along with those still awaiting their fates for the 2019-20 slate. We've also included descriptions of the new shows that have been ordered.Check back regularly for updates. Readers can find our pilot guide, which includes all the new projects that were in the running this season, here.Also Read: 21 Lowest-Rated Broadcast TV Shows of 2018-19 Season (Photos)NBC Renewed Series: "The Blacklist," "Blindspot" (for fifth and final season), "Brooklyn Nine-Nine," "Chicago Fire," "Chicago Med," "Chicago P.D.," "Ellen's Game of Games," "Good Girls," "The Good Place,"  "Law & Order: SVU," "Manifest," "New Amsterdam," "Superstore," "This Is Us" (for Seasons 4, 5 and 6), "Will & Grace"Canceled/Ending Series: "A.P. Bio," "I Feel Bad," "Marlon," "Midnight, Texas," "Reverie," "Trial & Error"Series Awaiting Decisions: "Abby's," " "The Enemy Within," "The Village"Series That Have Yet to Premiere This Season: "The InBetween" (new series)Newly Ordered Series: "Bluff City Law," "Council of Dads," "Indebted," "The Kenan Show," "Lincoln," "Perfect Harmony," "Sunnyside,"
A source with knowledge of the situation tells Yahoo Entertainment that "no one behind the scenes wants him to return."


As the pop icons return (minus Posh) for their Spiceworld tour - is Girl Power relevant or a 90s relic?
Nineties girl band the Spice Girls return to the stage as a foursome on Friday, kicking off a reunion tour in Dublin with happy wishes from their absent band mate Victoria "Posh Spice" Beckham.
After 16 seasons, Maroon 5 frontman Adam Levine will not be returning to one of the coaches chairs on NBC's The Voice when the series...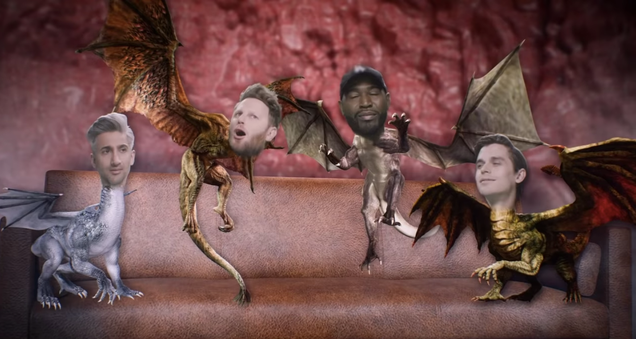 Jonathan Van Ness is as good at recapping Game of Thrones as Game Of Thrones is at wedding deaths. They just fit together, they make sense, and they add a little "oomph" to an already good thing. The nicknames for the cast are iconic enough—Baby Kill Bill, Dog The Bounty Hunter, Christina Aguilera, Neph-boo, and Sansa…

Read more...