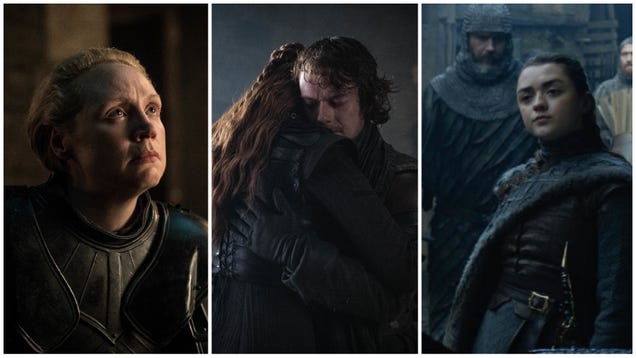 Despite its brief compressed episode run—the final season of Game Of Thrones is only six episodes—the show is taking its time. Season eight's second episode let us bask in the presence of most of the show's remaining characters, gathered at Winterfell and passing a long existential night of the soul before taking…

Read more...


Hmmm, the Night King may want to erase this entire song along with Bran's memory. Not because she wants to return mind you, but because she's fated to end her life — her long, long, long life — on Westeros. Why does the Night King have eyes for the Three-Eyed Raven?


CBS has picked up both of its "NCIS" spinoffs for next season.For "NCIS: LA," the renewal gives it an 11th season. The pickup for "New Orleans" comes after the show lost an executive producer and its showrunner. The network renewed the flagship, "NCIS" earlier this month.Former "New Orleans" showrunner Brad Kern was fired in October after the start of a third HR investigation into misconduct. He had twice previously been investigated internally at the studio, but for the third investigation, spurred by further reports of harassment and verbally abusive behavior toward women, CBS brought in outside counsel.Also Read: CBS Sports Network to Air 40 WNBA Games in New TV DealIn January, CBS fired "NCIS: New Orleans" executive producer Adam Targum following an HR complaint and investigation."Both shows have been key pillars to the CBS schedule for several years," said Kelly Kahl, President, CBS Entertainment. "They offer heroic stories, big stars and have attracted a passionate, loyal fan base. We're excited to have Chris, LL, Scott and these terrific casts back to bring more terrific NCIS stories to viewers in the U.S. and around the world."The three shows join "Young Sheldon," "Mom," "Criminal Minds," "Blue Bloods," "FBI," "God Friended Me," "The Neighborhood" and "Magnum PI" to be picked up for next season.Read original story CBS Renews 'NCIS: New Orleans' and 'NCIS: Los Angeles' At TheWrap


Warning: This post contains spoilers for Game of Thrones. As Jon and Daenery's army prepared for the fight against the White Walkers in Season 8, Episode 2 of Game of Thrones, they decided to hide those who cannot or should not fight inside the Winterfell crypts. In fact, several characters spent plenty of time going…
In "Autumn Light: Season of Fire and Farewells," the noted journalist finds wisdom in the rituals and routines he shares with his Japanese wife.