Six new paperbacks to check out this week.
Kellyanne Conway, special counselor to President Trump, is known to berate journalists who speculate about her marriage to George Conway, a prominent Trump critic. In an interview with "Fox & Friends" on Friday, the president did just that.



RELATED ARTICLES
Tom Junod, whose 1998 'Esquire' profile of Mr. Rogers inspired the movie, on their life-changing friendship

RELATED ARTICLES
Luba Mason - 5' 10" celebrates the best of Broadway and the star's career on stage.
Frankie Grande unveiled his empowering new single, "I Got Me," on Friday (Nov. 22). On the vulnerable anthem, the singer finds strength in...

RELATED ARTICLES
Scooter Braun has issued his first comments since Taylor Swift went public with a dispute over public performances of her Big Machine catalog, with...

RELATED ARTICLES
Susan Lambert Hatem's play stars April Armstrong as U.S. President Jimmy Carter.
Filmmaker Todd Haynes takes on the true story of a corporate lawyer who risked it all to take on Dupont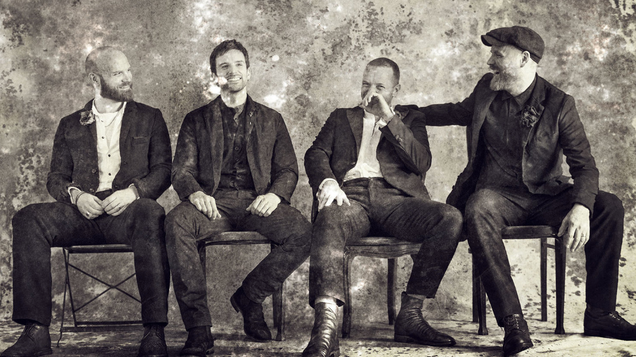 Coldplay has a reputation for a sort of vanilla earnestness that isn't entirely undeserved: The albums that made the British quartet huge in the early part of its career—from 2000's Parachutes through 2008's Viva La Vida Or Death And All His Friends—were generally filled with easy-to-swallow, expertly crafted pop…

Read more...


He might be one of the biggest DJs in the world, but it's been well over a decade since Richie Hawtin touched a turntable. The man who in 1999...
It was a TV phone-in offering viewers the chance to have their say on Donald Trump - and Monty from Florida took full advantage.Producers on America's C-Span network may have already been regretting opening up the lines after a series of rowdy callers offered partisan views on the US president's ongoing impeachment hearing.


It's Friday! Happy Coldplay Day!! The British four-piece return with Everyday Life, their eighth studio album which arrived on digital music...
Adrienne Quintal was last heard from Oct. 17 when she called a family friend from her family's cottage in Michigan. She hasn't been seen since.


Benjamin Netanyahu's indictment on corruption charges prompted speculation Friday that the end of his decade-long tenure was nigh, though several key allies expressed support for the beleaguered Israeli premier. After months of speculation Avichai Mandelblit's decision was the worst possible outcome for Netanyahu, hitting him with the most serious charges. Israel's longest-serving premier swiftly hit back, vowing to fight on and accusing the police and legal system of bias against the right-wing in an often angry speech.


Frontier Airlines passengers across the country received a rude email surprise late Thursday: "There has been a change to your upcoming flight.''


As it's confirmed the South Korean K-pop stars will complete compulsory military service, we look at what it means for the band.
Tony nominee Jenna Russell will co-star in the Dominic Cooke-helmed production at the Adelphi Theatre.
Critics suspect hand of Project Blitz in draft passed by Ohio house which they fear could let students' religious beliefs trump scienceThe draft law says a teacher 'shall not penalize or reward a student based on the religious content of a student's work' - language strikingly similar to Project Blitz's model legislation. Photograph: Justin Lane/EPAAn Ohio state bill which could allow students' religious beliefs to trump science-based facts is almost identical to model legislation backed by an evangelical, anti-gay Christian group.The Student Religious Liberties Act, which passed the Ohio house last week, instructs schools to neither "penalize or reward" students on the basis of their religious speech. It also stipulates schools must provide opportunities for religious expression "in the same manner and to the same extent" as secular speech. Critics argue the bill would provide protect students from bad grades based on religion.The bill's backers deny it is connected to the group, called Project Blitz but the bill has nearly identical language to the model legislation backed by Project Blitz in their 2018-2019 "playbook".While student religious liberties bills existed before Project Blitz, its inclusion in a playbook by groups whose goal is to inject religion into law shows the priority they place on the matter. By contrast, many mainstream civil rights groups have lined up against the bill.Project Blitz model legislation says: "A student may not be penalized or rewarde
Russian President Vladimir Putin has handed top state awards to the widows of five scientists killed in an accident while testing what he called an advanced weapons system without equal in the world. The five men died on Aug. 8 in what their employer, state nuclear agency Rosatom, said was an accident during a rocket test on a sea platform off northern Russia, an incident which caused radiation levels in the surrounding area to briefly spike. Thomas DiNanno, a senior U.S. State Department official, said last month that Washington had determined that the explosion was the result of a nuclear reaction which occurred during the recovery of a Russian nuclear-powered cruise missile after a failed test.


A 27-year-old man was found guilty of murdering Millane in December 2018. A court order to suppress his name has been in place since last year.


Israeli settlers attacked five villages in the occupied West Bank overnight, torching vehicles and olive trees, and leaving graffiti on the walls of homes, Palestinian officials said Friday. Ghassan Daghlas, a spokesman for the Nablus governorate, said the Jewish settlers set fire to five cars and spray-painted graffiti on more than 20 others. Israeli police say they are investigating the reports and that police and military units will visit the area.


(Bloomberg) -- At a cultural gathering in the region of Qatif in Saudi Arabia's oil-rich east, a poet recited some of his work before taking questions. The audience of 80 or so people was engaged and smiling, while a man quietly served coffee and tea in espresso-sized paper cups.The scene of relaxed conviviality on a Monday evening in November might have been anywhere, save for the white thobes worn by the men, the women in mainly black abaya cloaks and the smell of cardamom in the coffee. But the event stood out for where and when it was, rather than what it was.Qatif is an area inhabited mainly by Shiites, who make up roughly 15 percent of the Saudi population and whose branch of Islam is most identified with Iran. The poet was a Sunni, the sect that dominates the kingdom.  The organizers said they had hosted Sunnis before, yet the atmosphere during a tense period for Saudi-Iranian relations showed how much Saudi Arabia has changed over the past three years. Crown Prince Mohammed bin Salman, the leader and heir, is trying to fashion a kingdom underpinned by national identity rather than the traditional Wahhabi religious conservatism that defined society for generations. He has sought to crush any dissent against that new narrative.Read More: Where Have All the Wahhabis Gone?As a proxy war rages with Iran, there's been none of the usual tightening of security around Shiite areas in Eastern Province. Also absent are the verbal attacks by radical Sunni clerics that accompanied previous episodes of tension with
This action thriller set in a parking garage with a female butt-kicking lead doesn't even reach the level of watchable novelty.
Showtime is going back for seconds from its first late-night talk show. The premium cabler has handed a Season 2 renewal to Desus & Mero ahead of tonight's rookie-season finale. The new episodes will air at 11 p.m. Mondays and Thursdays starting February 3, having added the second night for its summer run. Watch a promo […]



RELATED ARTICLES
Final broadcast primetime live same-day ratings for Wednesday, November…

RELATED ARTICLES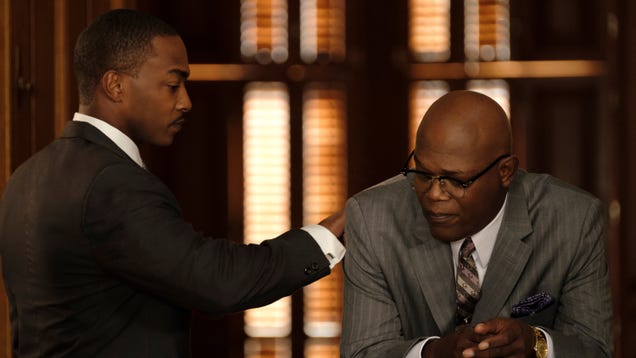 Earlier this week, all appeared to be well with Apple's upcoming historical/financial drama The Banker. The film—directed by George Nolfi, and based on the life of Bernard Garrett Sr., a Black man who hired a white man to serve as the public face of his financial business in order to operate more smoothly in the…

Read more...


Writer-director Minhal Baig's tale of a Pakistani American caught between youth and adulthood is a beautifully personal portrait of growing pains
Coldplay are about to return with a new album, Everyday Life. And the legendary British band are giving fans a first listen, with a two-part live...
Kacey Musgraves is celebrating the holidays this year with her very own special. The Kacey Musgraves Christmas Show will air via Amazon Prime...
In Todd Haynes's latest, Mark Ruffalo plays a corporate defense lawyer who switches sides to defend a poisoned community.
In this sturdy thriller, Chadwick Boseman plays a Manhattan detective on the hunt for two squirrelly cop killers.
After two weeks of riveting public hearings in the House impeachment inquiry into President Donald Trump, there is a mountain of evidence that is now beyond dispute. Trump explicitly ordered U.S. government officials to work with his personal attorney Rudy Giuliani on matters related to Ukraine, a country deeply dependent on Washington's help to fend off Russian aggression. The president pushed Ukraine to launch investigations into political rivals, leaning on a discredited conspiracy theory his own advisers disputed.


Olivia Colman just assumed the throne on The Crown — but Netflix is already lining up her replacement. Oscar nominee and Harry Potter veteran Imelda Staunton has signed on to play Queen Elizabeth II in Seasons 5 and 6 of the royal drama, according to a report in The Daily Mail. Colman will still play […]



RELATED ARTICLES Read More

Read Comments



RELATED ARTICLES
A 16-year-old boy who opened fire at his Southern California high school, killing two classmates and wounding three others before shooting himself in the head, used a "ghost gun" built from parts, the local sheriff said on Thursday. Nathaniel Tennosuke Berhow pulled the .45-caliber semi-automatic pistol from his backpack on Nov. 14, his birthday, and shot students at Saugus High School in the Los Angeles suburb of Santa Clarita seemingly at random before turning the gun on himself. The sheriff told KABC it was not yet clear if the teenage gunman put the weapon together himself.


The Primary Stages benefit will be held at the Cherry Lane December 19.
Israel's Benjamin Netanyahu on Thursday became the country's first prime minister to be indicted in office, on corruption charges, but defiantly condemned the "coup" against him and vowed to hold onto power. The shock announcement compounded the political chaos gripping Israel, which has been without a government for months and faces the prospect of its third election in a year. After months of suspense, Israel's longest-serving premier was charged by Attorney General Avichai Mandelblit with bribery, fraud and breach of trust.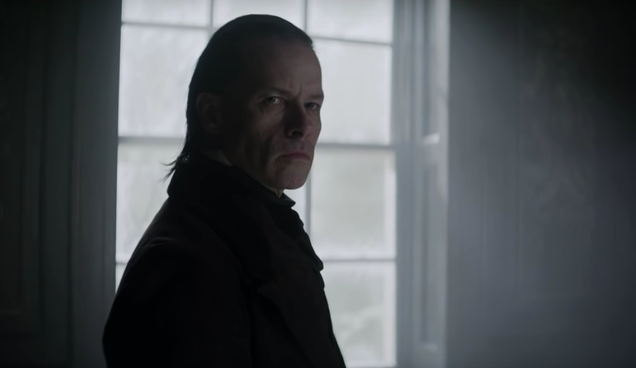 There have been a multitude of Christmas Carol adaptations, featuring everyone from Henry Winkler to Jim Carrey, from the Muppets to Mr. Magoo. The story even figured prominently in a recent excellent episode of GLOW. But despite the spookiness of the Ghost Of Christmas Future, perhaps given the s
A U.S. judge on Thursday rebuked Jeffrey Epstein's estate for keeping the late financier's alleged victims in the dark about a fund that would compensate them for claims of sexual abuse. The estate, facing at least 14 lawsuits from women, has proposed creating a fund to resolve the allegations out of court. Epstein, 66, hanged himself in a Manhattan jail in August while awaiting trial on federal sex trafficking charges.


The work of the Trump administration continues on a variety of fronts, largely overshadowed by the high drama of a president accused of high crimes and misdemeanors.


JERUSALEM— Israeli Prime Minister Benjamin Netanyahu did not react with equanimity when, after three years of investigations, the indictments finally came. Railing at the Israeli public on television, with no press allowed, Netanyahu savaged Israel's police and judiciary and all but called for insurrection, repeatedly demanding that "the investigators be investigated!"As he spoke, the same words were tweeted from his official account. "They never were pursuing the truth!" an ashen Netanyahu yelled. "They were pursuing me!"Netanyahu Lost. His Enemies Won. But Who Can Govern Israel?The indictments capped an extraordinary day in Israeli history, as Attorney General Avichai Mandelblit announced Thursday evening that Israeli Prime Minister Benjamin Netanyahu will be indicted for bribery, fraud and breach of trust in three criminal cases.It is the first time in Israeli history a prime minister has been indicted while serving.The dramatic announcement came less than 24 hours after another unprecedented moment in Israeli history, the failure of both candidates chosen by the president to form a government."Today is a sad and difficult day," Attorney General Mandedlblit said in an extraordinary press conference in Jerusalem, declaring his devotion to the rule of law and his respect for many of the prime minister's achievements. Mandelblit announced the upcoming indictments in February, pending an October hearing in which, after four years of investigation, Netanyahu's att
The teenager who shot five classmates, killing two, at a Southern California high school used an unregistered "ghost gun," Los Angeles County Sheriff Alex Villanueva said Thursday. Villanueva told media outlets Thursday that 16-year-old Nathaniel Tennosuke Berhow's .45 caliber semi-automatic pistol was assembled from gun parts and did not have a serial number. Berhow pulled the gun from his backpack on Nov. 14— his birthday — in an open-air quad at Saugus High School in the Los Angeles suburb of Santa Clarita and in 16 seconds shot five students at random.


British band Coldplay will not tour to promote their new album, but are working on how to make their gigs environmentally sustainable, lead singer Chris Martin said.
The musical begins performances February 7, 2020, at the Belasco Theatre.
In the 1960s, as the British economy stagnated and youth movements raged against the establishment, the royal family started to worry. How long could a largely ornamental monarchy keep justifying its tax-supported existence to so many broke, disaffected subjects? Queen Elizabeth II dodged these questions, in part, by granting a BBC crew limited access to…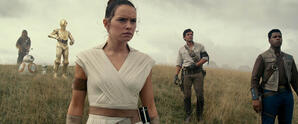 MUST-WATCH TRAILERS Star Wars: The Rise of Skywalker teases the end: As tickets went on sale for the highly anticipated sequel this week, Disney released the final trailer for Star Wars: The Rise of Skywalker, which is filled with nostalgic beats plus hints of what's new in store for the last chapter of the Skywalker saga. Watch below.     Antlers looks frightening: Keri Russell, who also has a role in Star Wars: The Rise of Skywalker, features in the...

Read More

Read Comments