CNN anchor Don Lemon on Monday night broke with the network's head over the live broadcasting of President Trump's coronavirus press briefings, calling it "a plot" and warning that Trump is "never, ever going to tell you the truth.""I'm not actually sure, if you want to be honest, that we should carry that live. I think we should run snippets. I think we should do it afterwards and get the pertinent points to the American people because he's never, ever going to tell you the truth," Lemon told fellow host Chris Cuomo during their nightly handoff.He pointed to Trump's sparring with media during the question-and-answer periods of the briefings, saying the president reacts to questions negatively "because he wants his base to think that the media is being mean to him and they're attacking him.""It is all a plot. It is all orchestrated. And if you can't see it, I don't know what you're looking at," Lemon claimed. "It's obvious, it's transparent to me . . . those press briefings have become his new 'Apprentice.' They've become his new rallies. And he treats the press and the media as if he's talking to the people at his rallies. It's the same thing. It's no different except the audience isn't there."After Cuomo pushed back, saying that there is "too much of a need for information" to broadcast the live pressers, Lemon went further, saying he is not "frustrated," but is just "pointing out

RELATED ARTICLES
Mr. dePaola wrote or illustrated more than 270 books, including his classic story of a grandma witch and her helper, Big Anthony.
MOSCOW—Amid a growing uproar in newly locked-down Russia, news broke on Tuesday that a doctor President Vladimir Putin met with just a week ago during a highly publicized visit to a coronavirus treatment facility has now tested positive for the infection himself. Widely disseminated photos of the visit showed Putin donning an orange hazmat suit, but he had also talked to Dr. Denis Protsenko extensively without protection and photographs show them together with very little "social distancing."Putin's spokesman says the Russian president is tested frequently for coronavirus infection and is just fine. But the news is bound to shake a country already racked by uncertainty, fear, and not a little anger."You should find abandoned cells used to punish prisoners, cold ones with no food in them, lock them up there," Chechen strongman Ramzan Kadyrov declared as the Russian Federation went into a nationwide lockdown over the weekend. He was telling his security force commanders how to treat those who disobeyed the curfew and quarantine orders. "Throw them in a big hole, bury them, let them die in it."Most Russian officials are not as blunt and brutal as Kadyrov, a Putin protégé and the point man for some of the more ruthless actions carried out in support of the president. But the coronavirus crisis has brought to the fore the grim authoritarian instincts of several leaders in what was once the Soviet Bloc. As their people try to find masks and rubb
Paying it forward! Selena Gomez took to social media on Monday (March 30) to share that she's found a way  to help out the doctors and nurses at Cedars-Sinai in the midst of the coronavirus pandemic.
So far, the CDC advises social distancing, handwashing, and staying home as the main ways to avoid the coronavirus. Medics have lacked equipment.



RELATED ARTICLES
The new video from The Barricade Boys spotlights the Stay at Home initiative, supporting healthcare workers around the world.

RELATED ARTICLES
"There was a riot, I had to be hustled out by security."
An excerpt from "Sharks in the Time of Saviors," by Kawai Strong Washburn
Hoping to "bring some joy and some music" into everyone's homes amid quarantine because of the novel coronavirus, the late-night host was joined by an array of stars including BTS, Will Ferrell and David Blaine.
Can't go outside? The new Switch video game offers a candy-colored substitute for real life.
"Late Late Show" host James Corden used the final minutes of his "Homefest" special on Monday night to speak out about his anxiety over the global coronavirus pandemic. The British presenter, who hosted the special out of a custom-built set in his garage, said, "I've found it tougher than I ever thought I would. I […]


California's second-largest river has sustained Native American tribes with salmon for millennia, provided upstream farmers with irrigation water for generations and served as a haven for retirees who built homes along its banks.


New Zealand's prime minister posted a video of masks being made in a factory and said: "I'll admit, I have watched this video more than once.


Peniel E. Joseph's "The Sword and the Shield" shows that Martin Luther King Jr. and Malcolm X had more in common than is generally believed.
Rajiv Joseph's play opened at the Richard Rodgers Theatre March 31, 2011.

RELATED ARTICLES
A scholar of Judaism as well, he walked every block in New York — totaling 6,163 miles — and wrote a book about his odyssey. He died of the coronavirus.
A weekend benefit broadcast featuring recording stars performing live music online from home raised nearly $8 million for two charities serving first responders and Americans facing economic hardship amid the coronavirus crisis, sponsors said on Monday.

RELATED ARTICLES
The children's author created more than 250 books during his career, including the adventures of Big Anthony and that magic pasta pot.
Kelly Clarkson's team of 10 only had one male contestant going into the Battles, but those demographics notably shifted Monday.



RELATED ARTICLES
Donald Trump is gambling that his 30-day extension of a national lockdown will halt the spread of the coronavirus inside the United States as he confirmed 1 million tests have been conducted so far - and he warned there might be a period of time when all Americans are ordered to wear masks outside."I could see something like that happening for a period of time, but I hope it would be for a limited period of time," the president said, telling reporters he is examining a study authored by former Food and Drug Administration (FDA) commissioner Scott Gotliebb calling for a mask-wearing country. But he did not issue any formal order.


The rulings came in a series of legal actions aimed at blocking steps by various Republican-led states cracking down on abortion during the pandemic. The first of the decisions involved Texas Attorney General Ken Paxton's announcement last week that abortion providers were covered by a state order that required postponement of non-urgent medical procedures to preserve hospital beds and equipment during the pandemic. U.S. District Judge Lee Yeakel in Austin ruled that Paxton's action "prevents Texas women from exercising what the Supreme Court has declared is their fundamental constitutional right to terminate a pregnancy before a fetus is viable."


CNN chief Jeff Zucker on Monday defended the network's decision to carry President Donald Trump's coronavirus press briefings live despite criticism that Trump uses the conferences to spread misinformation during a pandemic.During an internal employee call, the network head said he has "probably spent more time on this topic than anything else, believe it or not," and that he gets more calls and emails on the subject than any other topic. The Daily Beast reported last week that employees at both CNN and MSNBC have begun pushing back against airing the briefings, which some cable staffers described as "open-mic nights" full of "misinformation." But both networks have continued to broadcast the events."We might take it from the top and then cut away after the first lie, and return when the lies stop," one cable-network producer told The Daily Beast.According to multiple sources, Zucker argued on the staff call that it is important for viewers to hear critical information from the administration's public-health experts like Drs. Anthony Fauci and Deborah Birx, and for the CNN audience to hear the president answer tough questions from journalists including the network's own. He did note that the network had pondered whether to air portions of the briefings after Trump finishes speaking, but said that he felt comfortable airing the briefings live because of those grillings by reporters."It's a very difficult decision," Zucker remarked. "As of now, we are going to continue to carry t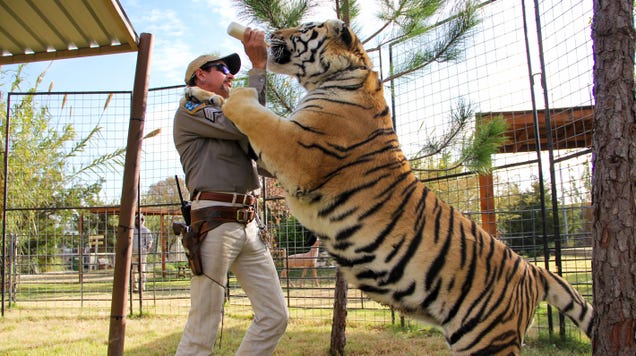 Everybody's looking for stuff to do during this coronavirus pandemic, and Sheriff Chad Chronister from Hillsborough County Florida has apparently decided to take some time to take another look at the 1997 disappearance of Jack "Don" Lewis, husband of animal rights activist Carole Baskin. A man named Joe…

Read more...



RELATED ARTICLES
DJ D-Nice, Miley Cyrus, Ben Gibbard and a lot of Diplo.
The Hillsborough County Sheriff jumped on the show's success to ask for new info in the disappearance of Jack "Don" Lewis, former husband of Carole Baskin.


President dismissed Democratic-led push for voter reforms amid coronavirus pandemic during Fox & Friends appearance * Coronavirus - live US updates * Live global updates * See all our coronavirus coverageDonald Trump admitted on Monday that making it easier to vote in America would hurt the Republican party.The president made the comments as he dismissed a Democratic-led push for reforms such as vote-by-mail, same-day registration and early voting as states seek to safely run elections amid the Covid-19 pandemic. Democrats had proposed the measures as part of the coronavirus stimulus. They ultimately were not included in the $2.2tn final package, which included only $400m to states to help them run elections."The things they had in there were crazy. They had things, levels of voting that if you'd ever agreed to it, you'd never have a Republican elected in this country again," Trump said during an appearance on Fox & Friends. "They had things in there about election days and what you do and all sorts of clawbacks. They had things that were just totally crazy and had nothing to do with workers that lost their jobs and companies that we have to save."Democrats often accuse Republicans of deliberately making it hard to vote in order to keep minorities, immigrants, young people and other groups from the polls. And Republicans often say they oppose voting reforms because of concerns of voter fraud - which is extremely rare - or concerns over having the federal government
Geneva Wood, 90, credited family, God, and potato soup for her recovery from COVID-19. The soup is certainly not a cure, but it didn't hurt.


Dermot Kennedy kicked off another week of Billboard Live At-Home performances today (March 30) with his acoustic concert that raised money for Housing Works.
Healthcare professionals are bravely battling coronavirus. But there are other "essential" workers in harm's way. And they aren't being paid fairly.


Looking for a good book to read while social distancing? We've got you covered with 100 recommendations.        

RELATED ARTICLES
Despite the lockdown, on Sunday the Philippines reported a daily increase of 343 new coronavirus cases — its highest one day increase yet.



RELATED ARTICLES
But people are more focused on the Vegemite in the photo