The new musical, featuring the songs of Alanis Morissette, opened at the Broadhurst Theatre December 5.

RELATED ARTICLES
An internationally acclaimed movie is missing from the lineup of the Tbilisi Film Festival, after protests at screenings turned violent.

RELATED ARTICLES
By rushing the impeachment process - and keeping the focus narrow - Pelosi may be making a grave political miscalculationNancy Pelosi is rushing to conclude the impeachment inquiry against President Trump. On Thursday, just over two months after the inquiry was launched, Pelosi announced she was instructing investigators to draft articles of impeachment. These will be voted on by the Democrat-controlled House of Representatives as soon as this month.The impeachment articles seem likely to focus only on the president's attempt to blackmail Ukraine into interfering in the 2016 election, and his subsequent attempts to obstruct investigations into the scheme. "Our democracy is what is at stake," Pelosi said in a news conference, standing before a backdrop of placidly hanging American flags. "The president leaves us no choice but to act, because he is trying to corrupt, once again, the election."Another hearing is scheduled in the judiciary committee for this coming Monday, but the timeline is now clear: the House will vote to impeach the president, probably in a party-line vote, sometime in late December or early January. The Republican-controlled Senate will try him in the early months of 2020, and regardless of the evidence, he will almost certainly be acquitted.For months, Pelosi was reluctant to pursue impeachment, and even after being persuaded to open the inquiry, she has seemed weary and anxious of the political stakes of the process. It seems to have been Pelosi who dictated a narrow focus for the inquir

RELATED ARTICLES
Taylor Swift released her first original holiday song, "Christmas Tree Farm," on Friday (Dec. 6) and Swifties rushed to social media in the...
A look back at what has worked, and what has not, in the continuation of musical stories.
A lonely woman (Marianne Jean-Baptiste), recently separated from her husband, visits a bewitching London department store in search of a dress that will transform her life. She's fitted with a perfectly flattering, artery-red gown—which, in time, will come to unleash a malevolent curse and unstoppable evil, threatening everyone who comes into its path. [A24]Rated: RRelease Date: Dec 06, 2019
The greatest time of year.
The Tony and Oscar nominee is the latest contributor in a string of Sondheim needle drops on the big screen.
The Dec. 6, 1969, concert has come to represent the end of a 1960s utopian daydream
David Fincher's eerie drama is on FXM. And the third part of a Christmastime trilogy premieres on Netflix.
David Fincher's eerie drama is on FXM. And the third part of a Christmastime trilogy premieres on Netflix.
The San Francisco Opera has named conductor Eun Sun Kim its new music director, ushering the first woman into the job in the company's history...
Green Day, Dan Shay, Dua Lipa, Megan Thee Stallion and many more are scheduled to perform at the West Coast celebration of Dick Clark's New...
A car, an office, a marriage, our hearts??
Ladj Ly started with videos of police confrontations with his friends in Paris's immigrant suburbs. Now, his wrenching film "Les Misérables" is up for an Oscar.
This thriller from Netflix follows four teenage misfits in the Philippines who plot to kidnap the school bully for ransom.
German Chancellor Angela Merkel's chief of staff is urging Russia to support the investigation of a killing prosecutors say appears to have ordered by Russian or Chechen authorities, and says he has "no understanding" for outraged reactions from Moscow. Germany expelled two Russian diplomats on Wednesday over the brazen killing of a Georgian man on the streets of Berlin in August. German federal prosecutors said evidence suggested the slaying was ordered either by Moscow or authorities in Russia's republic of Chechnya.


Welcome to Camila Cabello week.     The "Senorita" pop star dropped her second full length album, Romance, at the stroke...
More than 50 polar bears have gathered on the edge of a village in Russia's far north, environmentalists and residents said, as weak Arctic ice leaves them unable to roam. The Russian branch of the World Wildlife Fund said climate change was to blame, as unusually warm temperatures prevented coastal ice from forming. The WWF said 56 polar bears had gathered in a one-square-kilometre (0.4-square-mile) area near the village of Ryrkaipy in Chukotka on the northeastern tip of Russia.


German Chancellor Angela Merkel voiced a feeling of "deep shame" during her first-ever visit on Friday to the hallowed grounds of the former Nazi German death camp of Auschwitz-Birkenau, where Adolf Hitler's regime murdered more than a million people. Merkel noted that her visit comes amid rising anti-Semitism and historical revisionism and vowed that Germany would not tolerate anti-Semitism.


Since launching his presidential bid, former Vice President Joe Biden has largely settled on a primary strategy common among frontrunners: Only attack when attacked, stay above the conflict, and let the other candidates squabble among themselves so they can eventually take one another out. That last tactic is why Biden hasn't been going after Pete Buttigieg. He doesn't think the South Bend mayor can hurt him, but he does think Buttigieg can hurt someone else who could—Sen. Elizabeth Warren.Biden's campaign declined to comment on the record about its strategy. But multiple veteran pollsters and operatives said there's sound logic behind the notion that the vice president's team might view Buttigieg as a useful way to help blunt Warren's momentum, particularly with white college-educated voters. The more Buttigieg rises in states like Iowa and New Hampshire, the thinking goes, the more Warren slips in some polls. "There's not a reason to believe Buttigieg at this point is really hurting Biden," Monmouth University pollster Patrick Murray told The Daily Beast. "The more the waters in Iowa are muddied, the better it is for Biden."One well-placed Iowa Democrat put it more candidly, "You don't need to punch down at the mayor of South Bend, Indiana."One exception to that rule occurred on Monday, as Biden cruised on his extended bus tour through the Hawkeye State, a place where Buttigieg has recently gained ground and Warren has an equally strong following with just nine weeks to go before the first votes are cast. Responding to a repo
The Labour leader Jeremy Corbyn revealed the confidential Brexit documents ahead of next week's general election.


Alice (Emily Beecham) is a single mother and dedicated senior plant breeder at a corporation engaged in developing new species. She has engineered a special crimson flower, remarkable not only for its beauty but also for its therapeutic value: if kept at the ideal temperature, fed properly and spoken to regularly, this plant makes its owner happy. Against company policy, Alice takes one home as a gift for her teenage son, Joe. They christen it 'Little Joe.' But as their plant grows, so too does Alice's suspicion that her new creation may not be as harmless as its nickname suggests.Rated: Not RatedRelease Date: Dec 06, 2019
Harry Styles gives us some funky styles on "Adore You." The new track has a groovy '80s vibe and has been trending high on Twitter...
This week, the top of the Wednesday cable ratings exchanged…

RELATED ARTICLES
Tennessee executed death row inmate Lee Hall in the electric chair Thursday night. Hall was convicted of the 1991 murder of Traci Crozier.



RELATED ARTICLES
Broadcast primetime live same-day ratings for Wednesday, December 4,…
The Times's art critics select 26 of their favorite art books and books related to art of the year.

RELATED ARTICLES
"Monday Night Football" continued to easily dominant the cable ratings…
After removing a president, the Senate must separately vote by simple majority to prevent them from holding a federal office in the future.



RELATED ARTICLES
Taylor Swift is helping her fans get into the holiday spirit this year with her brand new song "Christmas Tree Farm," which dropped at 12 a...
Kanye West adds a new achievement to his awards case, as the superstar finishes 2019 as Billboard's Top Gospel Artist, thanks to the success...
Previews, openings and some last-chance picks.
Singer Darlene Love, now 78, described her unhappiness in a lengthy Facebook post Wednesday night, as the annual event was broadcast live on NBC.


During the exercise, airmen set up on a remote corner of the base to practice getting an A-10 ready for combat on short notice with limited supplies.


Part British-horror homage and part Freudian nightmare, this fetishistic ghost story is a singularly warped vision of haunted couture
Felicity Jones and Eddie Redmayne reach for the skies in this charming Victorian ballooning adventure.
If Adam Levine ever decides to drop his career as a rock star, he may have a promising future as a parking enforcement officer.  To help...
Biden also called the man a 'damn liar' after comments about his son


In Céline Sciamma's new film, Adèle Haenel and Noémie Merlant play an aristocrat and an artist falling in love in 18th-century France.
Joe Biden defended his son and released a new ad that went after President Trump as he campaigned in Iowa.


Céline Sciamma's film is a timeless work of art
The encore shows mark a first in the Met's modern history.
"Ain't no laws when baby yoda drinking claws"
Kim Jong Un first used the insult "dotard" — referring to someone who's senile and losing it — in 2017, when Trump called him "Little Rocket Man."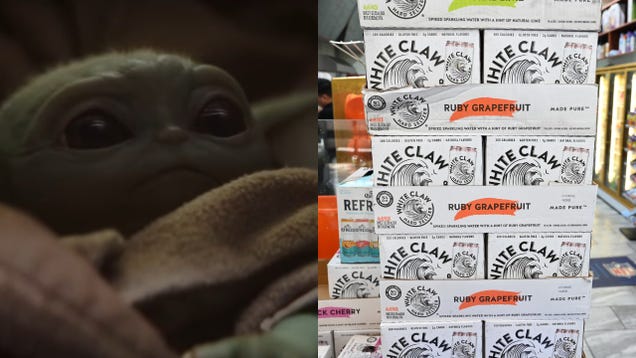 Well, we knew this day would come sooner or later. It was a good run, folks, but all good things must come to an end, however prematurely it may seem to some of us. While we can't know for sure just yet, today may very well be the day we must finally bid farewell to our dear, sweet Baby Yoda.

Read more...


With Patti LaBelle now gone from The Masked Singer, the only way to go from here is likely down. (Reminder: this is the show where T-Pain triumphed...
Alanis Morissette had a very busy Wednesday night (Dec. 5) on The Tonight Show. In addition to sitting on the couch to talk about the new Jagged...
The Times's staff critics give their choices of the best fiction and nonfiction works of the year.
"I'm fascinated by stories of how the various plant specimens we take for granted today were originally discovered," says the actor, whose latest book is "Home Work: A Memoir of My Hollywood Years."
Alanis Morissette & Jimmy Fallon Busk in Disguise at NYC Subway


ESPN kept a firm hold over the Saturday cable ratings…
The film follows Arthur setting up in the family hardware shop.
This pop star has performed on bigger stages and in even glitzier costumes, but she's been out of the spotlight for over a year... till now.


The film dominated the evening. It also took home honors for best actor (Adam Driver) and best screenplay as well as the audience prize.
"I prefer not to know exactly how I feel about a character," says the Emmy-winning actor, writer and producer (whose new book is "Fleabag: The Scriptures"). "I definitely started walking like a badass while reading Lisbeth Salander."
The NFL stayed dominant over the cable ratings for the…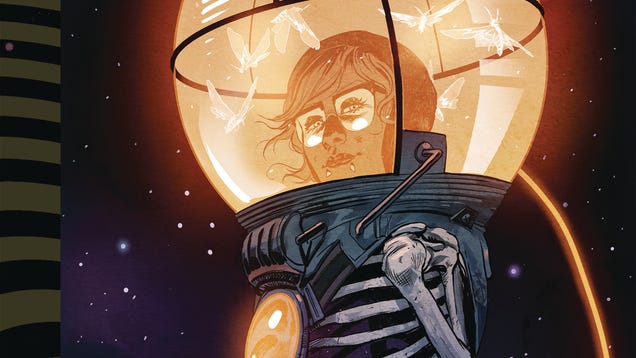 In the pages of Euthanauts, death is something to be celebrated rather than mourned. This new series from IDW's Black Crown imprint has writer Tini Howard, artist Nick Robles, and letterer Aditya Bidikar venturing into the vast frontier of death, a territory ripe for exploration by those brave enough to leave their…

Read more...