There's new momentum in the House to investigate whether Trump used the military to score political points.
A new CIA report says Saudi Crown Prince Mohammed bin Salman personally ordered the killing of Jamal Khashoggi. And Trump doesn't want to believe it.

RELATED ARTICLES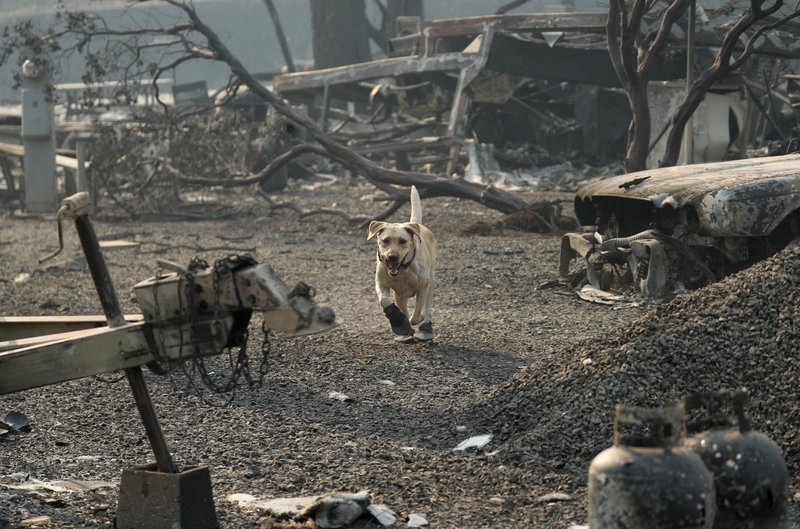 (Second column, 7th story, link) Related stories:
Refugees create new town of 'Wallywood'...
Jerry Brown to join Trump for visit; Survey damage...
Northern Cal Air Quality WORST IN WORLD...
'Like smoking 11 cigarettes'...



Advertise here


Friday, while insisting he wasn't "agitated" by the ongoing Russia probe being led by Robert Mueller (HINT: He is!), President Donald Trump was asked why he felt so strongly about the investigation. And he said this:

RELATED ARTICLES
Photo Illusration by Kelly Caminero/The Daily BeastMinutes after a federal judge ordered the White House to reinstate CNN reporter Jim Acosta's press pass, Fox Business Network host Lou Dobbs took to Twitter to bash the decision, contradicting his network's company line in the process.

"Outrageously puerile reasoning and ruling: Our district courts are filled with farcical excuses for judges," Dobbs tweeted, linking to a Fox story about the Friday ruling.

U.S. District Court Judge Timothy Kelly, a Trump appointee, granted the network's request to temporarily restore Acosta's White House press badge after it was revoked last week following a public spat with the president during a press conference.

Read more at The Daily Beast.

Got a tip? Send it to The Daily Beast here



RELATED ARTICLES
As American spies worked to collect intelligence on Julian Assange, Justice Department prosecutors took steps that resulted in secret charges.
The Judiciary Committee chair has just a few weeks left to order witnesses to appear in the inquiry into how law enforcement conducted its Trump investigation.
President Trump said Friday he has finished answering questions to written questions from Special Counsel Robert Mueller, but he hasn't submitted them yet.
The fight over President Donald Trump's appointment of Matthew Whitaker as acting attorney general has reached the U.S. Supreme Court, with lawyers in a pending gun rights case asking the justices on Friday to decide if the action was lawful.
Christopher Saunders/ShowtimeAt one point in Escape at Dannemora, Showtime's new miniseries set inside a maximum security state prison, David Sweat (Paul Dano) reclines in his cell reading Call of the Wild. The book is an obvious choice for an inmate, a man shackled by regiment and regulation, compelled to suppress his primordial instincts. Yet for Sweat and his savvy prison ally Richard Matt (Benicio del Toro), the wild won't stop calling. And they know that, if they're smart about it, their animal urges—for sex, power, freedom—don't have to be stymied. They can be stoked ablaze.

Directed by Ben Stiller, the seven-part series—premiering Nov. 18 on Showtime—is a taut, classy drama that follows Sweat and Matt, both serving life sentences, as they concoct and execute a grand ploy to break free. Like many worthy movies and shows directed by veteran actors, Escape at Dannemora thrives on its performances; the characters here, based on real people from the true-life 2015 Clinton Correctional Facility escape, are alive in ways not often achieved onscreen. We don't see anything of Sweat or Matt's backstories or know what they did to earn their sentences (Matt's nickname is "Chainsaw," which gives us an ide
Among famous figures in sports, entertainment and politics, one honoree stands out: Miriam Adelson, a prominent Republican donor and wife of Sheldon Adelson.
President Donald Trump on Friday said he had "very easily" completed his written answers for Special Counsel Robert Mueller's investigation into Russia's role in the 2016 U.S. election, but had not yet submitted them to Mueller's office.

RELATED ARTICLES
President Trump will award the Presidential Medal of Freedom to seven Americans on Friday, though even that gesture is coming under fire from liberals.
An obscure conservative podcast recorded by a former Trump administration official last Sunday provided a unique window into acting Attorney General Matt Whitaker and the reasons some have found his appointment alarming.


U.S. District Court Judge Timothy J. Kelly, who was appointed by President Trump, ordered the White House to reinstate correspondent Jim Acosta's press pass.