Easter is here, which means your favorite celebs are dressing up in their Sunday best, taking their kids on Easter egg hunts, sharing throwback pics...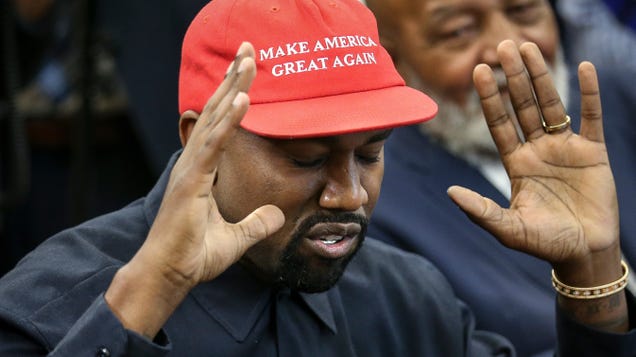 Earlier this year, we reported that Kanye West had dropped out of Coachella because the festival refused to build him a giant dome, but in the months since, he was lured back by the opportunity to put on one of his absurd, shockingly self-aggrandizing "Sunday Service" events, where fans and celebrities pay to—pretty…

Read more...


Donald Trump's top lawyer on Sunday attacked "calumny, lies and distortions" in the Mueller investigation report, and said there is "nothing wrong" with taking hacked information from Russia. Rudy Giuliani mounted a combative defense of the president in Sunday talk show appearances that took aim at Special Counsel Robert Mueller's investigators, the evidence they amassed and the witnesses they cited.


The tourist trade calls it "India lite" - a laid-back paradise of perfect beaches and weather with all the culture but a softer pace of life.  But the horrific slaughter that unfolded in churches and hotels in Sri Lanka on Easter morning seemed designed to wreck that reputation, stoke sectarian tension, and destabilize an already febrile political situation.  Perhaps the most worrying thing about the attacks is that they have so little in common with the island's recent, violent history.  Whoever carried out the attacks appears not to have been emulating the now defunct Tamil Tigers insurgent group, but the bloodthirsty tactics of militant Islamist groups like al-Qaeda and Islamic State, neither of which have a previously known presence on the island.     Sri Lankan military stand guard inside a church after an explosion in Negombo Credit:  STRINGER/REUTERS And it does not take an evil genius to see what the attackers were trying to achieve.  The first goal appears to be to spark further violence. There has been a striking uptick in nationalist sentiment among the predominantly Buddhist, Sinhalese majority in Sri Lanka, and in recent years tensions with the Christian and Muslim minorities, which each make up no more than ten percent of the population, have been growing.  In March last year, the government declared a state of emergency after Buddhist mobs attacked a mosque in the central district of Kandy.    In such an atmosphere it would b
Photo Illustration by The Daily BeastThough we never think of Easter as a day pocked by any kind of fear, it's certainly the holiday that represents the most macabre event out of any of them. Skinny, sage dude, who was trying to revolutionize the world with love, gets his hands and feet nailed to a cross, then spends the afternoon up there until he dies. Upon which, he is stuck in a cave with a rock jammed into its mouth, only to rise from the dead, get out, and find his friends to see if they need to test their belief in him by sticking their fingers in his nail holes. Now let's eat the crap out of some Peeps and Cadbury Eggs!Easter is so vernal, with a color scheme of pinks, light blues, and yellows to match, which enlivens everything from little girls' dresses to ubiquitous Easter eggs. But what has always produced a frisson of fear in me is one of our greatest ghost stories—let's call it top 20—written by a man who normally reserved his frights for Christmas but saw an opportunity in the soft pastel spring of Easter. Montague Rhodes James—M.R. to his friends and to us—was born in 1862, living until 1936. He was a scholar and provost, working at a number of universities in England. But it was while he was at King's College from 1905 to 1918 that he did what he became most famous for. Each year, at Christmas, James would write a ghost story. These dispensed with the trappings of the spirit yarns of the Victorian age, in favor of more modern sensibilities—an emotionally hidebound, sexually repressed professor t
"I said, 'Girls, we don't know what's going to happen. I can't promise there's going to be any love, but we're going to have a whole lot of great time and alcohol.' And the party started."


Here are a bunch of little bites to satisfy your hunger for movie culture:   Character Reprisal of the Day: While hosting Saturday Night Live, James McAvoy reprised his role as Mr. Tumnus from the Chronicles of Narnia movies for a sketch about the character's fandom:   Mashup of the Day: In anticipation of the new movie Velvet Buzzsaw, Funny or Die mashed its trailer up with scenes from Ghostbusters 2:   Oscar Montage of the Day: Here's a montage showcasing the Oscar-nominated visual effects in Christopher Robin, Avengers: Infinity War, First Man, Solo: A Star Wars Story and Ready Player One:   Movie Comparison of the Day: Speaking of Oscar nominees, here's another side-by-side comparison between the Live Aid...
Read More


Captain Marvel, the 21st entry in the Marvel Cinematic Universe, will mark the mega-franchise's first movie focused on a single female superhero. And the first to be co-directed by a female filmmaker and scored by a woman composer. The highly anticipated film, which will take place more than 10 years before the MCU began, has been in development since 2013 and finally flies into theaters in early 2019.  The second trailer for Captain Marvel has just premiered, and it fleshes out more of the plot, shows off some Skrulls, including the evil old lady we saw in the first trailer, and depicts young Nick Fury as a cat-loving agent who's not yet become the tough-guy Avengers Initiative leader we know him as. Brie Larson appears even more badass in this new spot, declaring...
Read More