Photo Illustration by Lyne Lucien/The Daily Beast/Getty/JimWatsonSlightly more than halfway through the first Democratic presidential debate on Wednesday night, Sen. Elizabeth Warren (D-MA) was asked if she had a plan to deal with the very real possibility that her domestic agenda would be held up by Republicans in the Senate. 

She did, she assured the moderators. .

In reality, she didn't. 

Read more at The Daily Beast.



RELATED ARTICLES
TBSWhile most Americans were watching the first 2020 Democratic primary debate—and most late-night hosts were preparing to cover it live—Samantha Bee was speaking her piece on the latest sexual-assault allegation against President Donald Trump.

"Thank you for tuning in to my show instead of watching the Democratic debate and getting swept away by John Delaney fever," the Full Frontal host joked. "Now, with a looming war with Iran to the ongoing humanitarian crisis at the border, it has been a week. Somewhere in the middle of all that was the teensy bit of news that our president, who has admitted to sexual assault on tape, was accused for the 22nd time of sexual misconduct."

"I'm sorry, hold on," she said, "I just have to say: This is the 22nd accusation of sexual misconduct against Donald Trump. 22. If I had a dollar for every person Trump allegedly sexually harassed or assaulted, I would be doing better than any of his businesses." 

Read more at The Daily Beast.

Got a tip? Send it to The Daily Beast here


CBSRep. Alexandria Ocasio-Cortez is not ready to make a 2020 endorsement quite yet. But that wasn't going to stop her from sharing her thoughts about the first of two Democratic primary debates with Stephen Colbert. 

As the "AOC!" chants died down, Colbert began by asking the congresswoman what she thought about all of the Spanish being spoken on stage by candidates, including Beto O'Rourke and Cory Booker. 

"I loved it, because, I represent the Bronx and there was a lot of Spanglish in the building," she answered, explaining that she "thought it was humorous, sometimes, at times" because she thought some candidates might start saying "I will not give you an answer to your question" in Spanish. "But it was good," she added. "I thought it was a good gesture to the fact that we are a diverse country." 

Read more at The Daily Beast.

Got a tip? Send it to The Daily Beast here



RELATED ARTICLES
Democratic presidential contenders battled over healthcare coverage and border policy on Wednesday during a surprisingly heated first debate that laid bare the party's divisions on whether to abolish private insurance and shift to a Medicare-for-All system.



(Second column, 7th story, link) Related stories:
Largest Trump message board 'quarantined' by REDDIT......
Canada teams with tech giants to counter 'extremist content'...
FACEBOOK acting like country -- not company...



Advertise here


Fox Nation host David Webb compared 2020 presidential hopefuls Beto O'Rourke and Julian Castro to Hillary Clinton following Wednesday night's Democratic presidential debate, saying they both overemphasized Spanish pronunciations to pander to the nation's Latino population. 

RELATED ARTICLES
The candidates' speaking time varied, but their focus did not.
It passed almost unnoticed, but history suggests we just saw a potent political weapon get pointed at two top candidates, Warren and Bernie Sanders.
To the Democrats running for president of the United States, corporations charge too much for medicines and other critical goods, do not pay enough in taxes and repay bailouts by taking jobs overseas.
President Trump, who earlier Wednesday said he wouldn't watch the first round of the first Democratic presidential debate, because he was "off to save the free world," tweeted initially just one word on the event in Miami: "BORING!"



RELATED ARTICLES
A photo of a migrant father and his 23-month-old daughter appeared to crystallize the human tragedy at the border, and it was everywhere — on cable, the internet and on the Senate floor.



(First column, 1st story, link) Related stories:
George Calls For President to Be Committed...



Advertise here



RELATED ARTICLES
Democratic presidential contenders battled over healthcare coverage during their first debate on Wednesday, reflecting the party's divisions on whether to abolish private insurance and shift to a Medicare-for-All system.
United States President Donald Trump has found the one immigration policy more controversial than his own, and endorsed it.

RELATED ARTICLES
Trade wars -- and the prospect of actual war -- will dominate President Donald Trump's agenda when he touches down here in Osaka, Japan, Thursday for a highly consequential meeting of world leaders.
Jim Watson/AFP/GettyOf the two dozen Democratic presidential candidates seeking the party's nomination, former cabinet secretary Julián Castro has produced the most detailed platform on how he would shift the course of the nation's immigration policies if elected. On Wednesday night, he demonstrated that no matter how sincere the emotional reaction to the immigration crisis at the U.S. southern border, sure-footed knowledge of the labyrinthine immigration system is potential a winner with a Democratic audience.

The majority of the candidates who were asked what they would do on their first day in office to fix the immigration system leaned into the emotion of the issue, without grounding responses in concrete policy proposals.

Rep. Tim Ryan of Ohio expressed anger over children in immigration detention "laying in their own snot, in three-week-old diapers that haven't been changed." New York City Mayor Bill de Blasio attempted to redirect anger over lost jobs from immigrants to "big corporations."

Read more at The Daily Beast.



RELATED ARTICLES
Less speechifying and more policy, please.
The most comprehensive guide anywhere to the issues shaping the 2020 Democratic presidential primary.

RELATED ARTICLES
Mario Tama/GettyCLINT, Texas—Last week, lawyers from Human Rights Watch toured the Clint Border Patrol station outside of El Paso, Texas. What they reported shocked the nation: migrant children without diapers, toddlers in the care of teenage detainees, and a lack of basic sanitation such as clean clothing and access to showers. 

And after a sanitized tour of the facility for reporters on Wednesday, the lawyers aren't backing away from what they said. 

Border Patrol officials led about a dozen journalists through the facility holding more than 100 children a half-hour outside of El Paso. As many officers flanked the reporters at all times. The press was not allowed to speak with the children. A minder sternly warned if anyone did the tour would be instantly canceled. 

Read more at The Daily Beast.


Sen. Lindsey Graham, R-S.C., appeared on "The Story with Martha MacCallum" where he talked about Special Counsel Robert Mueller's upcoming testimony on Capitol Hill calling it a "political circus."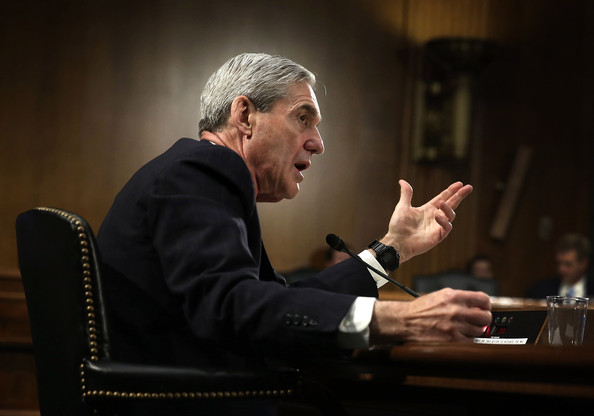 (First column, 3rd story, link) Related stories:
Dems pull him back in!



Advertise here



RELATED ARTICLES
The Department of Homeland Security has moved 100 migrant children back to a Border Patrol facility in Clint, Texas, where infants and toddlers have been locked up without adequate food, water, sanitation or medical care, with older children having to care for the younger ones. Around 300 kids were removed from the facility Monday following widespread outrage over the reports, but Customs and Border Protection said some of the children are being sent back, claiming that the facility is no longer overcrowded. Lawyers who recently visited the facility described a scene of chaos and sickness, with children unable to shower or change into clean clothes for weeks on end. We speak with Clara Long, senior researcher at Human Rights Watch. She was part of the monitoring team that visited Border Patrol facilities last week, including Clint.



(Top headline, 10th story, link) Related stories:
2020 KICKOFF... DEVELOPING...
Elizabeth Warren Gets Center Stage...
Embraces 'Made in America' Policy...
Big business becomes boogeyman...
Dems defend policies to reshape economy...
Gabbard Anti-War Call...
9 MILLION EXPECTED TO TUNE IN...
TRUMP: BORING...

During Wednesday evening's Democratic presidential debate, a question asking which candidates would support eliminating private health insurance marked the first apparent policy difference among the contenders.


The governor of Washington has made climate change his campaign's singular focus, going so far as to call for a climate debate.



(Top headline, 4th story, link) Related stories:
TONIGHT: 2020 KICKOFF... DEVELOPING...
Elizabeth Warren Gets Center Stage...
Big business becomes boogeyman...
9 MILLION EXPECTED TO TUNE IN...
TRUMP: BORING...
REPORT: Hollywood Turning Solidly For Biden...
LIVE STREAM...



RELATED ARTICLES
Mr. Castro, a former housing secretary and San Antonio mayor, was the first Democratic candidate in the 2020 campaign to release an immigration plan.
The Trump campaign and Republican National Committee are ramping up an "aggressive" rapid response effort both nationally and locally for the Democratic debates, with a war room locked and loaded with live tweeters, real-time fact-checkers, and new hashtags in an effort to maintain momentum for Trump 2020.
The U.S. Senate on Wednesday approved a $4.6 billion bill to address the migrant surge at the border with Mexico, setting up a negotiation with the House of Representatives and President Donald Trump over the funds and how they should be spent.

RELATED ARTICLES
On June 26, Acting Secretary Kevin K. McAleenan released the follwoing statement on U.S. Customs and Border Protection (CBP) leadership:

"This week, Mr. John P. Sanders offered his resignation as Chief Operating Officer and Senior Official Performing the Duties of the Commissioner, effective Friday, July 5. I would like to thank Mr. Sanders for his service and for assuming the highest role at CBP at one of the most tenuous times in the Department's history. His dedication to our nation's security has helped raise the agency's standards of care as well as support for the law enforcement personnel who serve CBP.

"I had the distinct honor to serve with him at CBP where he held the position of Chief Operating Officer. In that role, he worked to identify and address the operational requirements of the agency, and to provide strategic direction and oversight of enterprise services and operational support components. He also led CBP's efforts to form key partnerships with technological innovators and industry stakeholders.

"Prior to joining CBP, Mr. Sanders served as the Transportation Security Administration's Chief Technology Officer, overseeing the development and implementation of risk-based analysis to enhance transportation security. Mr. Sanders's private sector experience includes co-founding Reveal Imaging Technologies and with contraband detection, geospatial intelligence and data analytics solutions.

"On behalf of the entire Department, I want to thank Mr. Sanders for his outstanding service to CBP and to our nation, and I wish him the very best for the future."

###

Keywords: staffing
Topics: Border Security,
Children were sleeping on cots at a US Customs and Border Protection facility in Clint, Texas. Some were playing soccer, and a teenage girl also detained there was calling her family to tell them she was alive.
Presidential hopeful Beto O' Rourke sidestepped a question about tax rates on wealthy Americans during Wednesday's Democratic debate in Miami and instead spoke at length in Spanish corporate welfare. 
A former Capitol Hill staffer said Rep. Duncan Hunter grabbed her behind at a party in downtown Washington in 2014, adding a new element of impropriety alleged against the embattled California Republican, who is charged with using campaign funds to pay for vacations and to finance extramarital affairs.
Stephen Lam/ReutersFacebook's chief executive appeared on stage Wednesday to shore up his company's arguments against looming regulatory threats just hours before one of those threats, Sen. Elizabeth Warren, was due to take the stage with a grab bag of other presidential hopefuls.

In conversation with honorary Harvard professor and former White House regulatory official Cass Sunstein, Zuckerberg outlined Facebook's support for some regulatory proposals while making clear the company's deep disdain at the idea—espoused by Warren in particular—that big tech be broken up. The conversation took place at a festival held by the Aspen Institute, a centrist think tank.

Zuckerberg called Sen. Mark Warner and Sen. Amy Klobuchar's Honest Ads Act, which would regulate online campaign ads in a bid to weed out disinformation from foreign actors, "a good floor for what should be passed," adding that Facebook is already complying with many of its requirements. "Having a bill like that passed as a floor would be positive," Zuckerberg said. 

Read more at The Daily Beast.

Got a tip? Send it to The Daily Beast here


Boris Johnson wants a points system for immigrants and Jeremy Hunt would scrap some tuition fee debts.
Money that could have been used to curtail the Ebola outbreak in Central Africa or support demining programs in Southeast Asia was held up over human trafficking complaints.
Scott Eisen/GettyBOSTON—Hundreds of employees of home-goods delivery giant Wayfair took to the streets in Boston on Wednesday to protest the company's decision to sell furniture to a government contractor that would be used for children detained at the border.

The workers had already signed a petition demanding that Wayfair halt the sale and change company policy to prevent such sales in the future. But at 1:30 p.m., they streamed out of the company's office for a public walkout in Copley Square.

Kayla Smith, a Wayfair engineer who has been with the company for a year, said it was the right thing to do. 

Read more at The Daily Beast.

Got a tip? Send it to The Daily Beast here


Reuters/RTA former House Republican staffer on Wednesday alleged that Rep. Duncan Hunter (R-CA) sexually assaulted her during a National Republican Congressional Committee dinner in 2014. 

In an exclusive interview with Kremlin-owned news network RT, conservative commentator Rory Riley-Topping alleged that the Republican congressman grabbed her from behind at the event while she was a staffer for the House veterans committee.

"Duncan Hunter had clearly appeared intoxicated and came up to me and said he wanted to speak to me about Agent Orange, which was an issue the committee was dealing with at the time," Riley-Topping recalled to RT host Manila Chan. "He leaned into me very closely and said, 'No, I want to talk to you,' and I felt very uncomfortable and tried to back up and he reached around and put his hand on my behind and said, 'Let me give you my cell phone number.'"

Read more at The Daily Beast.

Got a tip? Send it to The Daily Beast here


Which candidates believe the next president can stop climate change? How do they see the future of health care, handguns, the Supreme Court and other issues? Here's a quick look at their answers.

RELATED ARTICLES
The White House will hold a summit on social media next month amid growing criticism from President Donald Trump and some in Congress.
Mr. Trump repeated false accusations that the special counsel had destroyed text messages by F.B.I. officials critical of the president.

RELATED ARTICLES
Jo Swinson and Ed Davey talk Brexit, austerity and the party's future at a hustings with journalists.
Immigration jails along the southern border are facing heightened scrutiny following horrific reports of dirty and unhygienic conditions at a detention center in Clint, Texas, and other facilities. We speak with government whistleblower Dr. Scott Allen, who was hired in 2014 to inspect facilities where immigrant families are incarcerated, who says degrading conditions for jailed migrants date back to Obama's presidency. He is calling for more government transparency about conditions in immigration facilities, saying, "I think most Americans, if they were confronted with the humanity of what we are doing here, would be outraged and would not tolerate it." Allen is still on contract with the Department of Homeland Security's Office of Civil Rights and Civil Liberties. He and fellow whistleblower Dr. Pamela McPherson were recently awarded the 2019 Ridenhour Prize for Truth-Telling and are represented by the non-profit Government Accountability Project.
In a noisy Commons, the SNP's Ian Blackford shouts his criticism of the two men competing to take over from Theresa May.
The first minister urges MPs to act to ensure the new prime minister holds a further referendum.
Key Democrat lawmakers who triumphantly announced that Robert Mueller will testify under subpoena next month about his report on alleged Russian collusion may have played right into Republican hands, several legal and political experts told Fox News.