Police fired chemical-laced blue water and tear gas at protesters who lobbed Molotov cocktails outside the Hong Kong government office complex Sunday, as violence flared anew after thousands of pro-democracy supporters marched through downtown in defiance of a police ban. A mixed crowd of hardcore protesters in black and wearing masks, along with families with children, spilled into the roads of the Causeway Bay shopping belt and marched for over 2 kilometers (1.2 miles) to the central business district. Some waved U.S. and British flags, while others carried posters reiterating their calls for democratic reforms.


It is almost too late for impeachment. The 25th amendment is untested. The ballot box offers our only remaining hope Donald Trump speaks to reporters at the White House. Photograph: Kevin Lamarque/ReutersIn retrospect, what's most disturbing about "Sharpiegate" isn't Trump's clumsy effort to doctor a National Weather Service map or even his brazen move to get the same agency to lie on his behalf.It's how utterly petty his motive was. We've had presidents trying to cover up a sexual liaison with an intern and a botched burglary, but never have we had one who went to such lengths to cover up an inaccurate weather forecast. Alabama being hit by a hurricane? Friends, this is not rational behavior.Trump also cancelled a meeting with the Taliban at Camp David. The meeting was to have been secret. It was scheduled for the week of the anniversary of 9/11. He cancelled it by tweet. Does any of this strike you as even remotely rational?Before that, Trump cancelled a state visit to Denmark because Denmark wouldn't sell Greenland to the US. Hello? Greenland wasn't for sale. The US no longer buys populated countries. The state visit had been planned for months.He has repeatedly told senior officials to explore using nuclear bombs to stop hurricanes hitting the US. He believes video games cause mass shootings. He thinks climate change is no big deal. No president has ever been sent packing. Nixon resigned because he saw it coming. Trump would sooner start a civil warHe says trade w
A hobby hunter from Florida has been given permission to can import a lion trophy from Tanzania - the first time the US has allowed such an import since it ruled the species should receive special protection three years ago.Carl Atkinson shot the animal dead during an £80,000, 21-day safari in 2016.


Donald Trump has suggested Brett Kavanaugh sue for "liable" — meaning to say "libel" — after a fresh sexual assault allegation was raised against the Supreme Court justice in the New York Times.In a series of tweets, Mr Trump accused Democrats and the news media of working to intimidate Mr Kavanaugh with the new allegation, which comes less than a year after similar claims were made during his Senate confirmation hearings.


The demonstrations come after a day of brawls between opposing political groups that left 25 hospitalized


Benjamin Moser's "Sontag" explores the life and work of the vaunted writer and public intellectual, including her long-term relationship with the photographer Annie Leibovitz.
At two of the world's biggest coal mines, the finances got so bad that their owner couldn't even get toilet paper on credit. Warehouse technician Melissa Worden divvied up what remained of the last case, giving four rolls to each mine and two to the mine supply facility where she worked. Blackjewel furloughed most of its Wyoming employees and shut down Eagle Butte and Belle Ayr mines, the first idled by hardship since coal mining in the Powder River Basin exploded in the 1970s.


The ruling ends a decades-long dispute.


Mezzo-soprano Jamie Barton steals the show at the Proms' Last Night, as Pride flags adorn the stage.
US President Donald Trump on Saturday confirmed that Hamza bin Laden, the son and designated heir of Al-Qaeda founder Osama bin Laden, was killed in a counter-terrorism operation in the Afghanistan-Pakistan region. US media reported more than a month ago, citing intelligence officials, that the younger Bin Laden had been killed sometime in the last two years in an operation that involved the United States. Secretary of Defense Mark Esper said last month that it was "his understanding" that Bin Laden, who was thought to be about 30, was dead.


Kid Rock paid tribute to Eddie Money on Friday night (Sept. 13) at a venue that had become an adopted home for the late singer. Rock and his Twisted...
The eight-part, 16-hour documentary tells the genre's story, from Appalachia to arenas.
The Two Tickets to Paradise singer, who sold some 30 million records, had been diagnosed with cancer.
Performances begin September 14 for Adam Gwon and Michael Mitnick's new musical at Roundabout.
Felicity Huffman was sentenced for taking part in a college admissions scandal, but John Legend does not think prison time is the answer. The...
A pair Confederate statues will remain standing in the city of Virginian city Charlottesville where clashes over their removal left a young woman dead.After city officials decided to remove statues of Confederate American Civil War generals Robert E Lee and Thomas "Stonewall" Jackson, one resident filed a lawsuit to prevent this.


Actress Felicity Huffman has been accused of benefiting from "white privilege" after getting just a two-week jail sentence over paying to inflate her daughter's exam results.  US congressman Hakeem Jeffries, chairman of the House Democratic Caucus, and Martina Navratilova, the tennis player, were among those who took to Twitter to suggest Ms Huffman had got off lightly given her background.  There was also criticism of the minimum-security prison she will be incarcerated in, which reportedly has the nickname "Club Fed" because of its cushy conditions.  Ms Huffman, best known for her starring role in the TV series Desperate Housewives, was one of the most famous names caught up in the college admissions scandal. Prosecutors alleged that parents, often rich and white, broke the law by paying someone to ensure their child got into top colleges, sometimes by phony sports scholarships.  Many of the cases are still going through the courts.  Ms Huffman pleaded guilty to one count of conspiracy to commit fraud. She expressed regret at paying $15,000 to inflate her daughter's SAT test score, saying it was to her "eternal shame" that she did not pull out of the scheme.  She was sentenced to 14 days in prison, as well as a fine $30,000 fine, supervised release for a year and 250 hours of community service.  Like many, Mr Jeffries and Navratilova questioned the sentence by comparing it to Crystal Mason, an African-American woman given a five-year sentence for voting while on supervised re
Thousands of flat cap-wearing fans take to the streets where the original Peaky Blinders once roamed.
We hope you're ready to dance, because we have some great news, One Day at a Time fans! Two months after CBS-owned cable network Pop TV picked up the series for a fourth season, showrunner Gloria Calderón Kellett revealed when all-new episodes will drop.



RELATED ARTICLES
A new account by the New York Times reporters Robin Pogrebin and Kate Kelly reinvestigates the allegations of sexual misconduct against the justice.
HBO's Leaving Neverland won best documentary or nonfiction special at the 2019 Creative Arts Emmys on Saturday night (Sept....

RELATED ARTICLES
The White House announced Saturday that Hamza bin Laden , the son of the late al-Qaida leader who had become an increasingly prominent figure in the terrorist organization, was killed in a U.S. counterterrorism operation in the Afghanistan-Pakistan region. A statement issued in President Donald Trump's name gave no further details, such as when Hamza bin Laden was killed or how the United States had confirmed his death. Administration officials would provide no more information beyond the three-sentence statement from the White House.


"Love you all. I'm scared sh*tless, but feeling super free right now"
Enough! No one needs to drive luxury cars! say German protesters standing on top of SUVs at the Frankfurt auto show.


KAABOO Music festival returned to Southern California on Friday (Sept. 13) at the Del Mar fairgrounds. Just north of San Diego, the three-day...
In what has been an active weather week across the Midwest, more thunderstorms are expected to fire up once again late Saturday afternoon through the overnight hours.An area of low pressure is expected to track out of the northern Plains and into the Midwest through the day, acting as a focal point for thunderstorm activity late in the afternoon.Thunderstorms are expected to fire up along a frontal boundary extending east from the center of low pressure that will set up in southern Minnesota and central Wisconsin. As the afternoon progresses through the evening and into the overnight hours, individual thunderstorms are expected to congeal into an organized complex of thunderstorms as they track south and eastward into portions of Iowa and southern Wisconsin.Storms may have enough energy through the overnight hours to continue to produce localized gusty winds and torrential downpours into northern Illinois before sunrise on Sunday.Many Midwestern cities that are under the threat for severe weather Saturday have observed above-average rainfall totals through this point in September. This includes the cities of Minneapolis, Des Moines, Iowa; and Madison, Wisconsin.Travelers along interstates 35, 80 and 90 may face travel issues if traveling late in the day or overnight and are urged to take necessary precautions to avoid these hazards.Be sure to slow down to minimize the risk for hydroplaning when traveling at highway speeds, and never drive through a flooded roadway. It only takes about 6 inches of moving water to swe
On the still dark morning of September 4, tucked behind a rural Florida neighbourhood dotted with single-story houses painted bright green, turquoise and pink, flames licked the metal frame of a PT Cruiser parked in the grass.When Hendry County Sheriff's deputies doused the flames, they found a woman's body inside so badly burned she couldn't be identified for days.


American rock star Eddie Money, whose hits including "Two Tickets to Paradise" and "Baby Hold On" formed part of the power pop soundtrack of the late 1970s and early 1980s, died in Los Angeles on Friday at age 70, his family said in a statement.
He burst on the scene in the late 1970s and went on to have a string of rock hits that also included "Baby Hold On" and "Take Me Home Tonight."
Danya Taymor directs the world premiere at Playwrights Horizons.
American musician Eddie Money, whose hits including "Two Tickets to Paradise" and "Baby Hold On" formed part of the rock and power pop soundtrack of the late 1970s and early 1980s, died on Friday at 70, his family said in a statement released to U.S. media.
British singer Sam Smith on Friday asked to be referred to by the gender neutral pronouns they/them, citing "a lifetime of being at war with my gender."

RELATED ARTICLES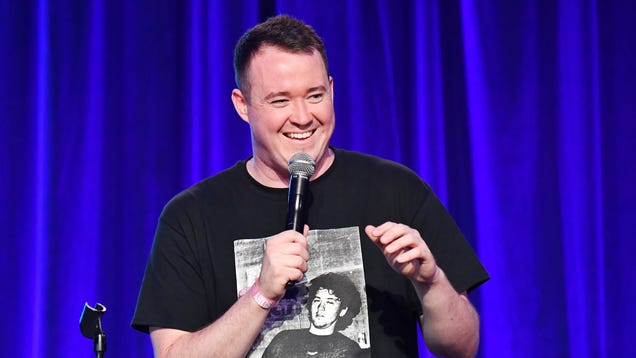 God damn that was fast: Just hours after Saturday Night Live announced that it was adding three new cast members to its upcoming 45th season, one of them—stand-up comic Shane Gillis—has already had a video of himself using a racial slur on a podcast resurfaced by the collective power of the internet. Gillis was…

Read more...