South Korean thriller "Parasite" was the upset winner at the Screen Actors Guild awards on Sunday, while Joaquin Phoenix and Renee Zellweger were named best actors, cementing their roles as frontrunners at the Oscars next month.

RELATED ARTICLES
The Screen Actors Guild (SAG) awards for film and television were handed out on Sunday at a ceremony in Los Angeles.

RELATED ARTICLES
What shows are about to close in New York City?

RELATED ARTICLES
Former Vice President Joe Biden and House Speaker Nancy Pelosi used to be Facebook's friends. Things have changed.


Several Republicans who oppose new witnesses say House Democrats rushed the impeachment process.



RELATED ARTICLES
Chesley 'Sully' Sullenberger tells president's daughter-in-law to 'grow up' and 'show some decency' in New York Times columnChesley Sullenberger, the pilot who performed the "Miracle on the Hudson", has told Donald Trump's daughter-in-law Lara Trump to "grow up" and "show some decency", after she mocked Joe Biden for stuttering.Biden, a frontrunner for the Democratic nomination to face President Trump in November, has spoken openly about his lifelong experiences with a stutter.Lara Trump, who is married to the president's second son Eric, works for the Trump re-election campaign and spoke in that capacity at an event in Iowa on Friday, the day after the seventh Democratic debate."I feel kind of sad for Biden," she said. "And you know that's when it's not going well for him, right, because I'm supposed to want him to fail at every turn. But every time he comes onstage or they turn to him, I'm like, 'Joe, can you get it out? Let's get the words out, Joe.'"Trump is not the first prominent supporter of her father-in-law to face criticism for mocking Biden's stutter: Fox News has aired montages of his stuttering on the debate stage and former White House press secretary Sarah Sanders deleted a mocking tweet in December.Nonetheless, on Friday Trump criticised reporting of her remarks and insisted in a tweet that "anyone who takes 10 seconds to watch what I actually said can clearly see that I never mention a stutter - didn't even know he had one". Here's @LaraLeaTrump at Trump event in Iowa mocking Bi
Season two peters out in a steady stream of Characters Talking About Their Feelings, but at least we finally get to see Romeo and Juliet: The Musical.
The actors' guild prizes are being handed out tonight. On the film side, the honors are considered a precursor to the Oscars.

RELATED ARTICLES
"I am not against Tesla," one activist said. "But it's about the site; in a forest area that is a protected wildlife zone. Is this necessary?"


Its director, Sam Mendes, dedicated the award to his grandfather, a World War I veteran who was one of the inspirations behind the war film.
Africa's richest woman has been accused of corruption and exploiting her own country's natural resources, after thousands of documents detailing her business interests were leaked to the media. Isabel dos Santos, who resides in the UK and whose father was the president of Angola, faces allegations of exploiting family connections to secure deals on land, oil and diamonds. According to the documents, seen by BBC Panorama and the Guardian, she and her husband were allowed to buy up valuable state assets and siphon hundreds of millions of dollars out of Angola. Ms dos Santos, whose fortune is estimated at £2bn, says these claims are entirely false and that she is the victim of a witch-hunt led by the Angolan government. She  also wrote on Twitter that the leaked documents were "fake" and based on "false information."     Ms dos Santos is already under investigation for corruption by the Angolan government, which has frozen her assets in the country. The documents were obtained by the Platform to Protect Whistle-blowers in Africa and then passed to the International Consortium of Investigative Journalists. Anti-corruption campaigners responded by claiming that Ms dos Santos has been exploiting her own country for personal gain, with normal Angolan citizens the victims of her lavish lifestyle. "Every time she appears on the cover of some glossy magazine somewhere in the world, every time that she hosts one of her glamorous parties in the south of France, she is doing so by tramplin
Gov. Wanda Vázquez fired the heads of Puerto Rico's housing and family departments Sunday in the latest fallout over the discovery of a warehouse filled with emergency supplies dating from Hurricane Maria. The removal of Housing Secretary Fernando Gil and Department of Family Secretary Glorimar Andújar came a day after the governor fired the director of Puerto Rico's emergency management agency. Vázquez fired him hours after a Facebook video showed angry people breaking into the warehouse in an area where thousands have been in shelters since a recent earthquake.


An award-winning investigative team published a trove of files Sunday allegedly showing how the daughter of Angola's former president -- dubbed Africa's richest woman -- syphoned hundreds of millions of dollars of public money into offshore accounts. The New York-based International Consortium of Investigative Journalists (ICIJ) worked with newspapers such as Munich's Suddeutsche Zeitung to reveal the "Panama Papers" tax haven scandal in 2016. Its latest series called "Luanda Leaks" zeros in on Isabel dos Santos, the former Angola president's daughter.


The supplies, including food, water, cots, and diapers from 2017's Hurricane Maria, were discovered Saturday following earthquakes in Puerto Rico.


Argentines paid tribute Saturday to a prosecutor on the fifth anniversary of his unsolved death while probing the bombing of a Jewish community center -- an attack in which he alleged a presidential cover-up to shield Iran in exchange for trade. Prosecutor Alberto Nisman led the probe of the 1994 bombing of the Argentine Israelite Mutual Association headquarters, which left 85 dead and 300 wounded. In 2015, his body was found in his Buenos Aires apartment with a gunshot wound to the head, delivered at close range from a handgun found at his side.


She also wrote about the death of her son at 27, for which she — and he — blamed her because she had been an alcoholic when she was pregnant with him.
Belfast artist Jordan Adetunji gives an insight into the increasingly popular Irish hip-hop scene.
With The Marvelous Mrs. Maisel taking home Outstanding Comedy Ensemble.
Korean thriller "Parasite" made history at the 26th Annual Screen Actors Guild Awards on Sunday, becoming the first foreign-language film to win best motion picture cast. In another streaming stride, Netflix's "The Crown" nabbed best TV drama and Amazon's "The Marvelous Mrs. Maisel" took home best TV comedy. In a repeat of the Golden Globes, […]


Apple is diving into the streaming wars with the boldness of The CW, announcing today that it has already renewed mystery drama Home Before Dark and video game-themed comedy Mythic Quest: Raven's Banquet before either show has even premiered its first season. This is a big vote of confidence for both shows, or at…

Read more...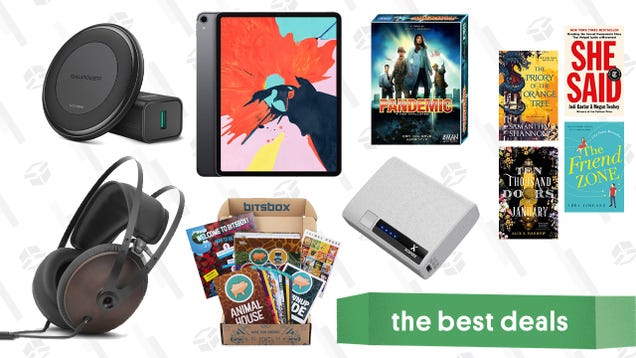 A BioBidet sale, Pandemic board game, iPad Pros, and a BitsBox subscription offer lead off Sunday's best deals from around the web.



RELATED ARTICLES
Jeanine Cummins's third novel follows a mother and son on their harrowing attempt to escape from Mexico, cartel assassins at their heels.
Will Smith and Martin Lawrence led "Bad Boys for Life" to box office glory this weekend. "Dolittle" did less well.

RELATED ARTICLES
Due to the expansive nature of Off-Broadway, this list is not comprehensive.
The conductor has worked with the L.A. Phil since 2009.
During a Monday conversation on "Morning Joe" with former White House communications director Anthony Scaramucci and other market experts, MSNBC's Joe Scarborough complained that Republican officials are inconsistent with concerns about national finances."You know," Scarborough said, "it used to be that I could get Republicans on this show to also talk about  massive spending … again ginning up the economy, overheating the economy, the $23 trillion national debt."Republicans, they only seem to care about deficits or debts when Democrats are in the White House, but man, we're looking at bigger spending and more fiscal recklessness than ever before this year," he added.Also Read: Joe Scarborough Tells GOP to 'Speak Up Now' After Trump Attacks Elijah Cummings and Baltimore (Video)Libertarian party chairman Nicholas Sarwark agreed, saying, "Absolutely. You can hear it in that jobs report. You can see the seeds of the destruction."Scarborough has hit the GOP many times on his show during the era of President Donald Trump's administration, saying Republicans are "damned by [their] own silence." In July, he addressed the party directly: "I'm getting really tired of having to tell you this and please, please, please, don't write your books about 'how I won the war' after Donald Trump leaves town. Speak up now because if you don't, Donald Trump is going to bring you down."Read original story Joe Scarborough: GOP Won't Come on 'Morning Joe

"The Beautiful Ones" is for all of us. USA TODAY reviews Prince's memoir, plus see an exclusive, never-before-seen photo of the artist.