(First column, 2nd story, link) Related stories:
Pelosi questions President fitness to stay. He calls her 'crazy, mess'...
Dem High-Stakes Litigation...
Power struggles roil DC...



Advertise here





(First column, 1st story, link) Related stories:
NANCY: 'Villainous' Trump wants us to impeach...
Dem High-Stakes Litigation...
Power struggles roil DC...



Advertise here



RELATED ARTICLES

RELATED ARTICLES



(Second column, 13th story, link) Related stories:
China says trade talks can't continue unless US addresses its wrong actions...
TECH COLD WAR...



Advertise here


President Donald Trump said on Thursday he did not think additional U.S. troops are needed in the Middle East to counter Iran, casting doubt on a Pentagon plan to bolster forces in the region.

RELATED ARTICLES
The head of a Chicago-based bank was charged in an indictment unsealed on Thursday with bribery and accused of approving $16 million in high-risk loans to President Donald Trump's former campaign chairman Paul Manafort in a scheme to land a top Trump administration post such as secretary of the U.S. Army.
Acting U.S. Defense Secretary Patrick Shanahan on Thursday confirmed that the Pentagon was considering sending additional U.S. troops to the Middle East as one of the ways to bolster protection for American forces there amid tensions with Iran.
Manhattan federal prosecutors unsealed an indictment Thursday charging a banker with bribing former Trump campaign chairman Paul Manafort with $16 million in loans in order to secure a high-ranking position in the presidential administration.
U.S. House Speaker Nancy Pelosi said on Thursday that President Donald Trump threw a temper tantrum at a meeting with Democratic congressional leaders a day earlier and that she wished his family or staff would conduct "an intervention" with him for the good of the country.
Lawmakers reached agreement on a long-delayed disaster relief package, overcoming President Trump's opposition to Puerto Rico aid and setting aside his border demands.
U.S. House of Representatives and Senate negotiators have reached a deal on a $19.1 billion disaster aid bill that has President Donald Trump's support, and which includes money for farmers, highways and hurricane-ravaged Puerto Rico, lawmakers from both parties said on Thursday.

RELATED ARTICLES
Democratic presidential candidate Pete Buttigieg raised the volume Thursday on his criticism of President Trump, accusing him of using his "privileged status to fake a disability" decades ago in order to avoid military service in the Vietnam War.
Just as Mexico was supposed to pay for the wall, but isn't, now China is supposed to pay for President Donald Trump's plan to bail out US farmers.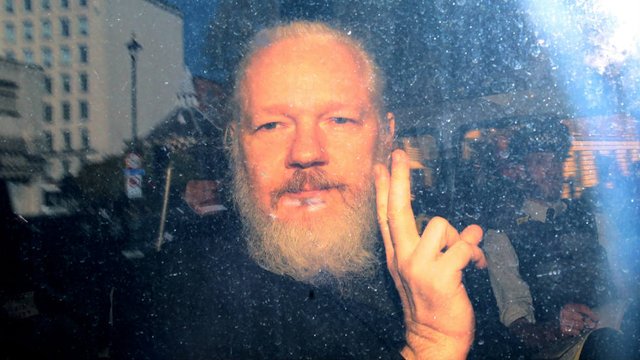 (Main headline, 1st story, link) Related stories:
CASE COULD TEST FIRST AMENDMENT



Advertise here





(First column, 11th story, link)


Advertise here


President Donald Trump -- so far -- has been reluctant to give Nancy Pelosi any kind of nickname. Well, here are a few ideas.



(Second column, 6th story, link) Related stories:
White House Briefed on Plan to Send MORE Troops to Middle East...
Conflict Intensifies...



Advertise here


WikiLeaks founder Julian Assange has been charged with 17 new counts under the Espionage Act for "unlawfully obtaining" and disclosing national defense information, including a potentially controversial allegation that his publishing of some secrets was criminal.
President Donald Trump and first lady Melania Trump paid their respects to fallen American troops during an unannounced visit to Arlington National Cemetery ahead of Memorial Day.
While defending President Donald Trump's decision to stop work on infrastructure legislation until House investigations into his administration stop, White House press secretary Sarah Sanders on Thursday morning argued on CNN that House Democrats have not accomplished anything legislatively.
President Trump on Thursday lashed out at Rex Tillerson after the former secretary reportedly told members of Congress that Russian President Vladimir Putin out-prepared him during a their first meeting in Germany.


The strict anti-abortion laws passed recently in Alabama, Georgia, Ohio, Mississippi, Kentucky, Iowa and North Dakota contain thousands of words. Tens of thousands more will be contained in court filings as these laws are appealed through the judicial system over the next year or more. And in their wake will come editorials, ad campaigns, speeches, fundraising letters from groups working for and against abortion rights.


Representatives from more than 70 companies met with U.S. lawmakers on Wednesday to push for a tax on carbon emissions to fight climate change, and a senator said bipartisan legislation containing such a plan could be introduced in weeks.
U.S. President Donald Trump on Wednesday accused the top Democrats in Congress of "tearing the United States apart" by pursuing investigations stemming from the now-concluded Russia probe.
New York state's legislature on Wednesday passed a bill that would make it easier for U.S. congressional committees investigating President Donald Trump to get access to his state tax returns.
The House Intelligence Committee pulled back on Wednesday from threats to enforce a subpoena against Attorney General William Barr after the Justice Department agreed to turn over materials relating to an investigation into Russian election interference.
The Democratic chairman of the House Intelligence Committee said he would hold off enforcing a subpoena against Attorney General William Barr after the Justice Department agreed to turn over materials relating to an investigation into Russian election interference.
A second federal judge has blocked a gag rule that would have stripped federal funding known as Title X for Planned Parenthood and other clinics that refer patients for abortions or even mention abortion as an option. The judge's ruling halts the rule, which was announced by President Trump in February and was scheduled to go into effect on May 3. Washington state Federal Judge Stanley Bastian ruled against the changes to Title X funding Thursday, saying they would require clinics "to face a Hobson's choice that harms patients as well as the providers." This came two days after an Oregon judge issued a preliminary injunction to stop the gag order from going into effect, calling the rule a "ham-fisted approach to public health policy." Title X covers non-abortion services like STD prevention, cancer screenings and contraception, and provides over $280 million in funding for 4 million mostly low-income women every year. We speak with the president of Planned Parenthood, Dr. Leana Wen. She says the gag rule would force doctors "to compromise the oath that we took to serve our patients."