Republican Senate leaders said Wednesday they won't negotiate with House Democrats over differences in their chambers' emergency funding bills for the border, essentially daring the House to take or leave the Senate bill, which has bipartisan backing and the expected support of President Donald Trump.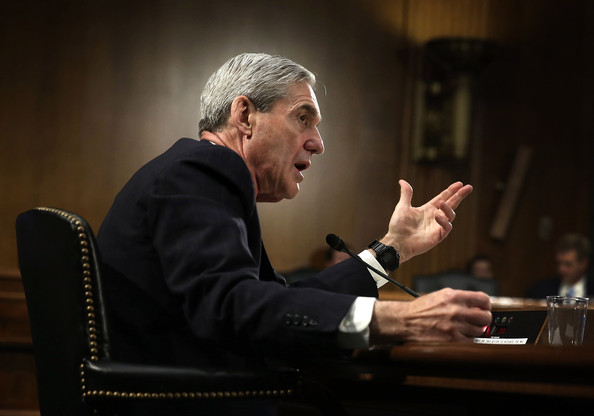 (First column, 3rd story, link) Related stories:
Dems pull him back in!



Advertise here


With former U.S. Special Counsel Robert Mueller set to testify next month in Congress, Democrats are framing his appearance as a major opportunity for Americans to see how the Trump administration misled them about his two-year Russia probe.
Brynn Anderson/APAs news broke on the reportedly horrific conditions at a Texas detention center holding migrant children, President Trump did what he normally does in times of crisis and public-relations hellscapes: He monitored the media and political reactions via his White House TV and the DVR device he dubs his "super TiVo."

And in the days since the treatment of small children at this detention facility became major national news, the president wanted to make one thing clear to his subordinates, though his focus was not at all about ameliorating appalling conditions. Trump has repeatedly told advisers and senior aides that, no matter how great the public outrage toward his administration, his lieutenants were to stick to a simple strategy of blaming Democrats and Trump's predecessor, Barack Obama, according to two people with knowledge of the exchanges.

In the end for Trump, the dire situation was a mere messaging problem.

Read more at The Daily Beast.

Got a tip? Send it to The Daily Beast here


A divided House approved a contentious $4.5 billion emergency funding package to address the border crisis Tuesday, under growing pressure to address the Trump administration's inhumane treatment of migrants. The bill passed largely along party lines in a 230-195 vote, with some progressive Democrats voting in favor after negotiating to include provisions including new health and safety standards for jailed migrants. Four Democrats voted against the bill: Representatives Alexandria Ocasio-Cortez, Ilhan Omar, Ayanna Pressley and Rashida Tlaib. Last week, the progressive congressmembers issued a statement condemning the bill and calling for the abolition of ICE. The Senate is slated to consider its own border funding measure this week, including President Trump's original request for more than a billion dollars for Customs and Border Protection and Immigration and Customs Enforcement. We speak with Renée Feltz, a Democracy Now! correspondent and producer who has long reported on the criminalization of immigrants, family detention, and the business of detention. Her recent report for Rewire.News is headlined "'Willful Recklessness': Trump Pushes for Indefinite Family Detention."
Mainstream media and congressional Democrats alike were in lockstep just months ago that the situation along the southern border was a "manufactured crisis" being ginned up by the president for political reasons -- but the narrative has swiftly shifted as those same voices now acknowledge the crisis while citing the conditions to attack the Trump administration. 
Photo Illustration by The Daily Beast/ShutterstockTurns out Joe Biden isn't the only presidential candidate making tone-deaf comments guaranteed to provoke key Democratic constituencies. Enter Bernie Sanders, who postulated Friday that Elizabeth Warren is gaining on him in part because "there are a certain number of people who would like to see a woman elected." The idea that Americans—even progressive Democrats—are so eager for the coming matriarchy that it's an obstacle for a man like Bernie is laughable, and demonstrably false. 

According to a Morning Consult poll, Bernie supporters overwhelmingly break for Biden as their second choice. Somehow the woman with whom the Democratic-Socialist senator is ideologically closest loses his voters to the most conservative candidate in the field. Twenty-six percent of Berniecrats told an Emerson poll earlier this year that they would even choose Trump in a general election. Meanwhile, Warren still has to fight to win over voters who should be her natural base: women who say they like her, but worry that she can't win. This self-fulfilling prophecy was captured in