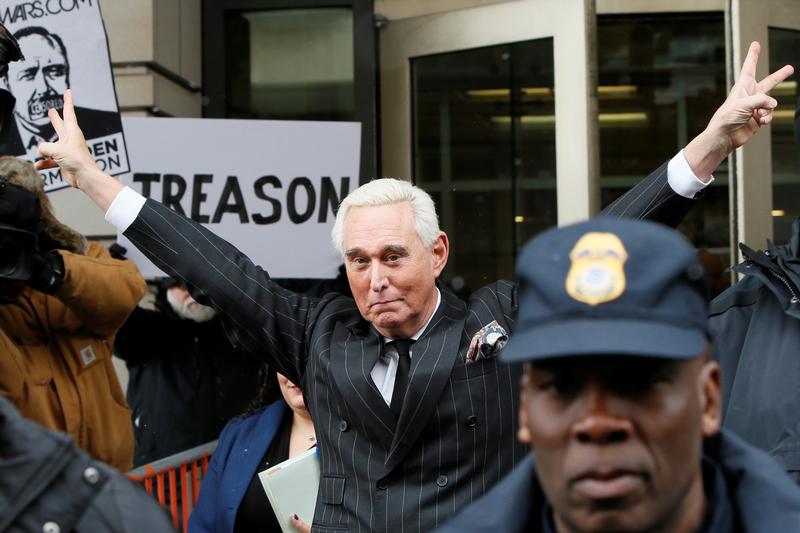 (Third column, 6th story, link) Related stories:
Prosecutors say they have communications of Roger with WIKILEAKS...
MANAFORT LIKELY TO DIE IN PRISON...
Dems prepare to force Trump to reveal private talks with Putin...



Advertise here


Federal prosecutors, who also recommended Mr. Manafort pay up to $25 million in fines, said that a tax and bank fraud scheme allowed him to hide millions of dollars in "ill-gotten gains."

RELATED ARTICLES
Alex WongPaul Manafort faces between 19 and 24 years in prison for his conviction on tax and bank fraud charges in Virginia, one of two federal cases against him.

In a memo filed late Friday, Special Counsel Robert Mueller said that his office "does not take a position as to the specific sentence to be imposed here" but a presentence investigation report recommended a prison term of 235 to 293 months. If Manafort receives a sentence within that range, it would mark the harshest punishment received by anyone charged in the Russia investigation.  

In the memo, prosecutors argued that the stiff sentence was warranted in the Virginia case because Manafort's crimes, spanning millions of dollars and "the product of his planning and premeditation over many years," were not isolated incidents but rather "routine" criminal behavior for him.

Read more at The Daily Beast.





(Third column, 3rd story, link) Related stories:
STONE GAGGED...
Prosecutors say they have communications of Roger with WIKILEAKS...



Advertise here





(Third column, 2nd story, link) Related stories:
STONE GAGGED...
MANAFORT LIKELY TO DIE IN PRISON...



Advertise here