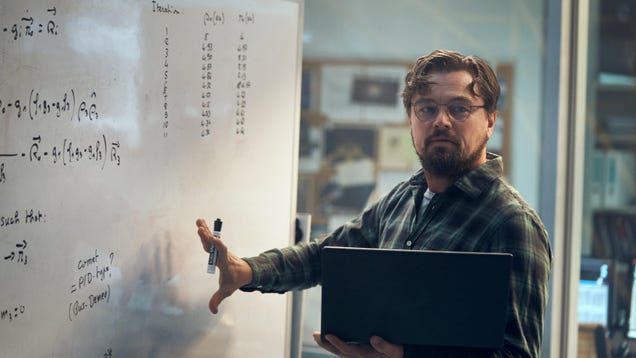 Nearly two years after the onset of a global pandemic, there have been plenty of films made in a post-COVID world, and a brave and/or foolhardy few have even addressed it directly. But Don't Look Up is the highest-profile movie so far to feel like a true product of the pandemic.

Read more...


"Most movies don't want to be a postcard New York City."

RELATED ARTICLES
Amazon has released its list of the best books of 2021, and Amor Towles road-trip novel "The Lincoln Highway" is at the top of the pack.       
"Women are foolish to pretend they are equal to men," Lord of the Flies author William Golding once opined. "They are far superior and always have been. But one thing you can't do with them is take a bunch of them and boil them down, so to speak, into a set of little girls who…
Talk show host Dick Cavett (b. 1936) is rightly remembered as having one of the very best talk shows on television. His unusual combination of Yale-educated intellectualism and Nebraska-bred midwestern ordinariness, a kind of perpetual state of halting slight embarrassment, charmed audiences. They appreciated his self-deprecating humor and, most significantly, his eclectic guests. His smart conversations spurred many guests who'd rarely (or never) turn up on The Tonight Show, "Joey Bishop" or "Mike Douglas": esteemed writers, firebrand political activists, out-of-the-mainstream rock stars, and reclusive actors like Brando and Katharine Hepburn. More than a decade ago, Shout! Factory released a superb series of boxed sets to DVD, one devoted to "Hollywood Greats" like Fred Astaire, Robert Mitchum, Orson Welles, Alfred Hitchcock, Kirk Douglas and others. "Comic Legends" featured the likes of Wo...Read the entire review




Here are a bunch of little bites to satisfy your hunger for movie culture:   VFX Breakdown of the Day: Aquaman is surprisingly not Oscar-nominated for Best Visual Effects, but as you can see in this breakdown its VFX are amazing:   Fan Theory of the Day: In the latest Film Theory video, MatPat tackles the theories about which characters will be revealed as undercover Skrulls in Captain Marvel:   Character in Close-Up: Speaking of Marvel superheroes, ScreenRant chronicles the history of Spider-Man in movies:   Oscar Montage of the Day: Burger Fiction chronicles all the Academy Award winners for Best Animated Feature:   Vintage Image of the Day: W.C. Fields, who was born on this day in 1880, rehearses on the set of...
Read More