Timothy Wu, a Columbia University professor and New York Times contributing writer reportedly set to join the Biden administration's National Economic Council, appeared this week to have deleted thousands of old tweets as another nominee faced scrutiny over their social media activity.

RELATED ARTICLES



(First column, 1st story, link) Related stories:
MILLIONS OF PAGES...
Sprawling criminal investigation into business activities...
Donald prepares to bask in 'conservative' movement he changed...
Litmus test at CPAC...
Republican No-Shows...



RELATED ARTICLES
Acting Capitol Police chief Yogananda D. Pittman cites threats to explain the continued presence of the National Guard and tall fencing at the Capitol.

RELATED ARTICLES
The guidance from the parliamentarian, Elizabeth MacDonough, was communicated privately to key Senate offices and confirmed by aides in both parties. It could be a major setback for liberals hoping to use Biden's $1.9 trillion relief bill as the vehicle for their long-sought goal of raising the federal minimum wage from its current level of $7.25 an hour.

RELATED ARTICLES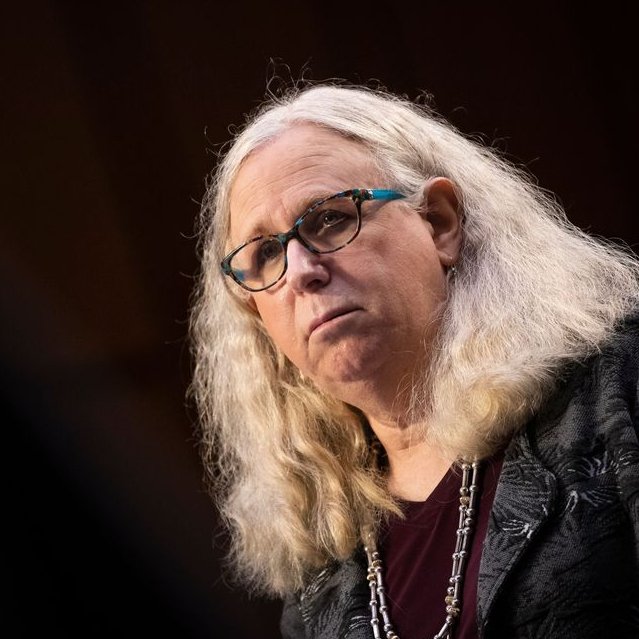 (Third column, 1st story, link) Related stories:
Marjorie Taylor Greene: There are TWO genders...





(Second column, 11th story, link) Related stories:
Facing resistance, Biden reaches out to Republican governors...


Sarah Silbiger/ReutersTrans people are under attack, just as we should be celebrating the historic passage of the re-introduced Equality Act, 224 votes to 206. Soon the bill, which would federally outlaw LGBTQ discrimination, will go to the Senate where we already know it faces an uphill battle.

The transphobia from Republicans during the House debate may not have been shocking, but it was relentless, upsetting and exhausting—casting trans people as cheats in sport, cheats of nature, and yet also too insignificant a number to care and legislate about. If that's so, why don't Republicans just leave our bodies and selves alone?

In 2019, the American Medical Association declared that anti-transgender violence was an "epidemic." Now, in 2021, a new plague has infected Republicans and conservatives across America: rampant, vicious and virulent transphobia.

Read more at The Daily Beast.


Neera Tanden had been seen as a strong pick to serve as budget director, but her past tweets became a sticking point with Republicans.
The parliamentarian ruled that the provision, which would gradually increase the wage to $15 an hour, violated the strict budgetary rules that limit what can be included in the package.
Senate Minority Leader Mitch McConnell said Thursday he would "absolutely" support former President Donald Trump if he became the GOP presidential nominee in 2024, a notable commitment following his recent blistering critiques of the former President.

RELATED ARTICLES
The struggle to gain support for the longtime Democratic aide whose combative Twitter posts have drawn criticism reflects miscalculations by the White House and its chief of staff, Ron Klain.
As both parties anticipate the Senate parliamentarian's decision, there is no official Plan B.

RELATED ARTICLES
via YouTubeLess than two weeks after Senate Minority Leader Mitch McConnell declared that there was "no question—none—that President Trump is practically and morally responsible for provoking" the insurrectionist attack on the U.S. Capitol—while simultaneously voting to acquit on impeachment—he told Fox News on Thursday evening that he would "absolutely" support Trump if he is the Republican nominee in 2024.

Ahead of Trump's big speech at CPAC on Sunday, Fox anchor Bret Baier asked McConnell to weigh in on the widespread assumption that the former president will be the frontrunner should he decide to run again.

At first, McConnell hedged a bit, saying, "There's a lot to happen between now and '24" and adding, "I've got four members, I think, that are planning on running for president, plus some governors and others." With no incumbent Republican running, McConnell said, "It should be a wide open race and fun for you all to cover."

Read more at The Daily Beast.


A Senate confirmation hearing will take place on Thursday for President Joe Biden's pick to serve as assistant health secretary, Dr. Rachel Levine, who would make history as the first out transgender federal official to be confirmed by the Senate.
The president, declaring "this is not a victory lap," touted the progress of the vaccination campaign but cautioned that "we have a long way to go."
He faces allegations of sexual harassment, backroom bullying and improperly withholding state data on coronavirus deaths in nursing homes.
President Biden on Thursday ignored a question about the timing of stimulus checks, after promising the American people earlier this year that they would receive $2,000 checks immediately if Democrats won the Senate.
The next phase of the fight for LGBT rights on Capitol Hill will center on transgender Americans.
The House voted Thursday to pass the Equality Act, a Democrat-backed bill meant to ban discrimination on the basis of sexual orientation or gender identity.
New York Gov. Andrew Cuomo on Thursday took shots at former President Donald Trump's handling of the COVID-19 vaccine effort, as pressure on the governor mounts over sexual harassment claims and how he handled nursing home patient care in his state.
The House narrowly passed the Equality Act on Thursday, a bill that would prohibit discrimination on the basis of sexual orientation or gender identity.
President Joe Biden on Thursday commemorated 50 million Covid-19 vaccine doses administered since he took office, using it as a measuring stick against his promise to put 100 million shots in people's arms in his first 100 days. But he also warned there's "a long way to go" before life will return to normal.
The deadly January 6 insurrection in the Capitol may have caused many voters to recoil at former President Donald Trump's election lies.
New York Gov. Andrew Cuomo, who faces a claim of sexual harassment, supported Christine Blasey Ford's allegations against Brett Kavanaugh in 2018.
REUTERSDr. Rachel Levine, the first transgender person to be nominated for a Senate-confirmed position in the federal government, had been seated in her confirmation hearing to become the nation's assistant secretary of health for a little less than an hour when she was grilled about "genital mutilation" of minor children by a Republican committee member.

"American culture is down normalizing the idea that minors can be given hormones," Sen. Rand Paul (R-KY) said on Thursday, likening standards of care for transgender minors to castration and female circumcision and blaming increasing rates of trans-identified youth on "the social pressure to conform and do what others do."

"Do you believe minors are capable of making such a life changing decision of changing one's sex?" Paul asked Levine,

Read more at The Daily Beast.


As the pandemic's death toll nears 2.5 million, stringent rules around intellectual property rights could be preventing much of the world from obtaining COVID-19 vaccines. Over 45 million people in the United States have received at least one dose of a vaccine, according to the United Nations, while 130 other countries have not received any vaccines at all, leading to what some describe as "vaccine apartheid." At the World Trade Organization, South Africa and India are leading a push by over 100 nations to waive intellectual property rules that give pharmaceutical companies monopolistic control over vaccines they develop, even when the vaccines are developed largely with public funds, in order to speed up distribution of the life-saving medicines — but the U.S. has been a key impediment to loosening those restrictions. "The proposal really seeks to ensure that everyone has access," says Mustaqeem De Gama, a member of the South African WTO delegation. "We should enable more producers to produce, to scale, and to ensure that all of us are safe in the shortest possible time." We also speak with Congressmember Jan Schakowsky of Illinois, who supports the WTO waiver. "We know that these intellectual property rights really do put profit over people all over the world," she says.



(Third column, 10th story, link) Related stories:
TWITTER to Launch Paywall?
FACEBOOK 'Supreme Court' to receive new powers...
TROUBLES: NYT says it needs culture change...



RELATED ARTICLES



(Top headline, 1st story, link) Related stories:
First military attack of presidency...

Drudge Report Feed needs your support!   Become a Patron



RELATED ARTICLES
Some Republicans worry that this week's controversial antics from Rep. Marjorie Taylor Greene (R-Ga.) have stomped on their attempts to sensitively communicate why they are opposed.
EXCLUSIVE: Republican Sen. Marsha Blackburn is warning the Biden administration that China is "our adversary," saying Beijing threatens our supply chain and urging the White House to "step up their game."
EXCLUSIVE: House Republicans are warning the Biden administration of a "grave risk" if a Trump-era public health order that allows for migrants to be swiftly returned to their home countries is ended -- something activists have urged President Biden to do.

RELATED ARTICLES
Every political reform proposal must be judged by its ability to fuel or weaken extremist candidates.



(Third column, 12th story, link) Related stories:
Saudi crown prince approved killing of Khashoggi, U.S. intelligence report concludes...


An intelligence report is expected to be released on Friday as the Biden administration engages in a "recalibration" of the United States' relationship with Saudi Arabia.
Democrats for weeks have argued that the minimum wage hike could be included in the package through the so-called reconciliation process.
House Republicans are demanding the Biden administration's Department of Health and Human Services give a briefing on New York's nursing home deaths after Democrats quashed a push for a bipartisan hearing.
President Joe Biden's reset of the US-Saudi Arabia relationship will take another step with the release of a long-awaited US intelligence report on the killing of Saudi insider turned dissident Jamal Khashoggi.



(Second column, 3rd story, link) Related stories:
State of Union threat...


Ms. Granholm will oversee an agency that plays a leading role in researching and developing new energy technologies.

RELATED ARTICLES
"Black officers fought a different battle" on Jan. 6, said Capitol Police Officer Harry Dunn. Here is what he saw and heard when rioters, including white supremacists, stormed the Capitol.
Twitter/@NicoleGoodkindRep. Andy Biggs (R-AZ) on Wednesday ludicrously faulted the recent slowdown in post office deliveries on the antifa and Black Lives Matter movements, claiming that the destruction of property during last year's summer protests was the actual cause of current United States Postal Service issues.

The House Oversight and Reform Committee held a hearing on Wednesday to look into the continuing delays in delivering the mail, grilling Postmaster General Louis DeJoy on plans and strategies for reversing the trend. Democrats, meanwhile, have called for the ouster of DeJoy, who was appointed by then-President Donald Trump last year.

Since DeJoy was made postmaster general, the USPS has been besieged with delivery service shortcomings, something Democrats have suggested was purposeful on DeJoy's part during last year's election in an effort to appease Trump, who obsessively railed against mail-in voting throughout the campaign. The former president, in fact, even openly acknowledged last August that he was starving the USPS of cash to make processing the pandemic-related surge of mail-in ballots more difficult.

Read more at The Daily Beast.


One of the most controversial Trump-era immigration policies — the so-called Remain in Mexico program, officially called the Migrant Protection Protocols — left about 25,000 asylum seekers stranded on the other side of the border while their cases progressed through U.S. courts. President Joe Biden has suspended that program, but immigrant advocates say his administration needs to move more quickly to undo the damage. Although dozens of asylum seekers have been allowed to trickle in, many thousands are still waiting in dangerous conditions for their chance to cross the border, including in the Matamoros refugee camp across the border from Brownsville, Texas. It is the largest camp of its kind and holds hundreds of men, women and children seeking asylum, most of them fleeing extreme violence and poverty in Guatemala, El Salvador and Honduras. "We've gotten very little government support on the ground with this transition," says Chloe Rastatter, a field engineer for Solidarity Engineering, a humanitarian organization that provides support in the Matamoros camp. "They say MPP is over, but there's a camp of 1,000 people still here." We also speak with Dison, an asylum seeker from Honduras who works with Solidarity Engineering, and investigative reporter Valerie Gonzalez, who covers the Rio Grande Valley.
In a coming call with King Salman, the president plans to warn him that the United States will soon make public intelligence about the Saudi crown prince's role in the killing of Jamal Khashoggi.
"The president has been clear to all of us — words matter, tone matters and civility matters," said Jen Psaki, the White House press secretary.