The US military is preparing to deploy additional forces to support the coronavirus response, including 15 Army task forces designed to support urban area hospitals dealing with the pandemic, a US defense official told CNN.

RELATED ARTICLES
The Trump administration is considering a plan to use funds from the $2 trillion federal stimulus package to reimburse hospitals treating uninsured coronavirus patients, two people familiar with the matter said Friday.
Uninsured candidates must take extra care to protect their health as they campaign amid the coronavirus outbreak: "What if something does happen to me?"

RELATED ARTICLES
GOP counters criticism of president by focusing on Beijing's early coverup of the disease and evidence that the Communist Party is underreporting the number of cases.
The Democrat's new position comes four days before voters were expected to go to the polls amid widespread concerns about coronavirus infection.

RELATED ARTICLES
T.J. Kirkpatrick/GettyAs Rep. Thomas Massie (R-KY) explained it, his decision to try and force every last member of the House of Representatives back to Washington D.C. in the middle of a pandemic to get their votes on a massive coronavirus relief bill was a matter of pure principle; the type of act that those truly wedded to the ideals of a constitutional republic would gladly perform. 

"I thought I might be signing my political death sentence," the Kentucky Republican would say later, reflecting on the procedural maneuver he pulled that angered nearly all of his colleagues and drew the rebuke of President Donald Trump as well. "But I did it for principled reasons."

But two weeks earlier, when Congress voted on a $850 billion coronavirus response bill, Massie didn't bother to go to Washington D.C at all. In fact, he scoffed at the idea that he'd even show up to put himself on the record. While his colleagues filed into the House chamber around midnight on March 14 to vote on that legislation—known as Phase 2 of the coronavirus response—Massie was back home in Kentucky, having just headlined a fundraiser for his reelection campaign and gearing up to reorganize his home pantry.

Read more at The Daily Beast.



RELATED ARTICLES
The speaker appears open to a more focused aid package.
Wisconsin's primary results will not be released until at least April 13 -- six days after the state's election is held -- after a federal judge extended the deadline for absentee ballots to be returned.

RELATED ARTICLES
The unemployed have other options to get insurance, but it's expensive.
For days, executives at the industrial company 3M gave Trump administration officials shifting explanations for why they couldn't send a larger share of the company's global production of N95 masks to the US. Export restrictions prevented them from shipping to the US, they said at first, before explaining they didn't want to jeopardize foreign business relationships.

RELATED ARTICLES



(Third column, 1st story, link)






(Main headline, 1st story, link) Related stories:
562 IN DAY


Joe Biden's campaign said Friday the former vice president supports President Donald Trump's January 31 decision to ban foreign nationals who had been in China within the previous 14 days from entering the United States.
Former U.N. Ambassador Nikki Haley took aim at the World Health Organization on Friday, saying the health body owes an explanation for why "they took China's word" on the claim that coronavirus could not be spread from person to person -- a claim now known to be entirely false.
The White House will give rapid Covid-19 tests to anyone who will come in close proximity with either President Donald Trump and Vice President Mike Pence, CNN has confirmed.

RELATED ARTICLES
Former vice president Biden claims Trump made "no effort" to get CDC staff into China to understand the coronavirus. But that's not correct.





(Main headline, 1st story, link)


RELATED ARTICLES
The government website for the emergency repository appears to have been updated this morning.
Republicans are hitting back at what they say is a "partisan" move by House Speaker Nancy Pelosi to form a new House committee on the administration's response to the coronavirus crisis -- arguing that there are already numerous additional oversight measures in the $2 trillion stimulus bill passed by Congress last week.



(First column, 3rd story, link) Related stories:
USA stepping up protection of President, VP...
WASH POST: Trump sows uncertainty and seeks to cast blame...
White House says not enough following guidelines...
BUCHANAN: America may never be same...
Nation facing hunger crisis as demand for food banks soars...
Some could wait 20 weeks to receive stimulus checks...
'Mom & Pop' firms worry they will be squeezed out of aid...


"The big test for the administration right now is: Can you scale up the production of hundreds of millions of tests," he says.
On Thursday afternoon -- moments before he urged people to take politics out of the coronavirus fight -- President Donald Trump sent an absolutely unbelievable letter to Senate Minority Leader Chuck Schumer.
Former Vice President Joe Biden says the March unemployment report - which saw the nation's jobless level rise to 4.4 percent - is more evidence that another economic stimulus package is needed to help boost an economy savaged by the coronavirus pandemic.
The president's optimism for a deal between Saudi Arabia and Russia to reduce production and a Saudi call for talks send crude prices skyrocketing, but Moscow showed little enthusiasm.
The world was already breaking apart. The coronavirus pandemic accelerates the trend.
Trump's suggestion of a truce between Russia and Saudi Arabia may be premature.
As the United States grapples with a rampaging communicable disease that will needlessly take the lives of more Americans than most of the nation's wars, we are also confronting a president who has rendered our federal government utterly incapable of protecting its nation's citizens and who has left it to the nation's governors to desperately compete among themselves for lifesaving medical equipment.

In the vacuum created by a hapless national government, it will fall almost entirely upon the leaders of the states to effectively cooperate in an effort to minimize the grievous cost in human lives our nation will pay. 

We are facing an unprecedented test of our federal system, one that will require states to resist fear and mistrust by working together to minimize the virus' toll, and to do so while Trump — who has fanned the flames of division in the midst of the pandemic — continues to encourage Americans to blame one other, so as to distract them from blaming him.

Read more at The Daily Beast.


President Trump says a production cut of 15 million barrels per day is possible, is it?
Former vice president and presumptive Democratic presidential nominee Joe Biden demanded that the Trump administration reopen enrollment in the Affordable Care Act health insurance exchanges, as millions of Americans—many of them newly unemployed—face the prospect of enduring the coronavirus pandemic without access to healthcare. 

"During this outbreak, when health care coverage is more important than ever, Donald Trump is refusing to give those who have been uninsured access to the best resource we have: the Affordable Care Act's marketplaces," Biden said in an exclusive statement to The Daily Beast, in which he called it "critical" that Trump reverse his opposition to reopening the Healthcare.gov federal health care exchange for a special enrollment period.

"This is no time to put pettiness and ideology above helping those who are in the greatest need," Biden said, calling the spread of the novel coronavirus "the worst public health crisis in generations"—one for which the president failed to prepare the nation, "despite warning after warning."

Read more at The Daily Beast.





(Third column, 23rd story, link) Related stories:
Coronavirus Started in China, but Europe Became the Hub for Its Global Spread...
Americans flock to remote land, survival retreats...
Boris claims UK will 'massively increase testing'...
Queen to address nation...
Social unrest rising in Italy; Shops forced to hand over food...
Harrowing video shows medics with 'mixed-up' body bags on hospital floor...
Wuhan Residents Line Up for Hours to Buy Graves...
Twins named 'Corona' and 'Covid'...




(Third column, 2nd story, link) Related stories:
Over $1 Million Daily in Lost Revenue...

Drudge Report Feed needs your support!   Become a Patron





(Top headline, 7th story, link) Related stories:
Coronavirus patients ordered to wear GPS ankle monitors...
GOOGLE Releases Location Data To Help Authorities Check Lockdowns...
Delaware Police Authorized To Pull Over Out-Of-State Drivers...
Social distancing going to get darker...
NYPD infection rate skyrockets past city's average...
Morgues almost full...
Flush With Lid Down: Experts Warn Of Fecal-Oral Transmission...

Photo Illustration by The Daily Beast / Photos GettyAfter spending weeks downplaying the deadly virus that now has nearly the entire U.S. under some form of lockdown, several Fox News stars are now attempting to gaslight viewers by claiming they sounded the alarms over the coronavirus all along while it was actually the media and Democrats who dismissed it.

The network's most-viewed primetime host Sean Hannity has recently devoted much airtime to insisting he has "always taken the coronavirus seriously," despite no less than a month ago suggesting the pandemic might be a "deep state" plot to hurt the economy or, at another point, claiming concerns over the novel virus was a "new hoax" designed to "bludgeon" Trump.

Like many of his Fox colleagues, Hannity suddenly changed his tune late last month on the virus after President Donald Trump finally pivoted to treating it seriously. The Fox star and unofficial Trump adviser has since taken aim at Democrats and critics who have rightly called out his previous coverage, claiming that all along he was the one warning of the coming disaster whi
Mike Segar/ReutersMore people in New York, the epicenter of the coronavirus pandemic in the U.S., have died in the last 24 hours than in most of March, Gov. Andrew Cuomo said Friday—but the Empire State is still struggling to find enough medical equipment to combat the pandemic.

"The curve continues to go up," Cuomo said at a Friday briefing in Albany, adding that, in the last day, the state saw its "highest single increase in the number of deaths since we started." "New York is in crisis. Help New York," he said.

More than 2,935 people have died and 102,863 people have been infected with the virus in New York State, marking 562 deaths in a single day on Thursday. The state's death toll has almost doubled in just three days, Cuomo said. In the 27 days after the first coronavirus case was confirmed on March 1, 366 New Yorkers died. 

Read more at The Daily Beast.


Dr. Anthony Fauci, America's top infectious disease expert, is the latest to urge countries to crack down on marketplaces like the one linked to the coronavirus outbreak.

RELATED ARTICLES
The $2 trillion coronavirus law could give the education secretary the power to waive special education rules as school districts struggle to teach all their students online.
Top infectious disease expert Dr. Anthony Fauci left the hosts of Fox & Friends disappointed and frustrated Friday when he threw cold water on their insistence that the anti-malarial drug hydroxychloroquine is a game-changing cure for the coronavirus.

Citing a recent poll showing that 37 percent of doctors around the world feel the drug is currently the most effective treatment of COVID-19, co-host Steve Doocy added that frequent Fox News guest Dr. Oz recently touted a small Chinese study that found the drug had some efficacy in treating the virus.

Doocy went on to play a clip of Dr. Oz wondering whether Fauci was impressed with the results of that study. The Fox host asked the top physician to respond to the TV doctor.

Read more at The Daily Beast.

Got a tip? Send it to The Daily Beast here


The American economy lost more jobs than it gained for the first time in a decade.
The bill would remove China's jurisdictional immunity in American courts if it discharges a bioweapon that harms Americans.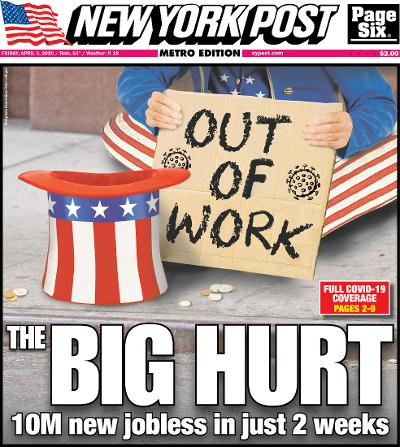 (First column, 14th story, link) Related stories:
Crisis likely to reshape economy permanently...
Chaotic launch of small business lending program...
30% Of Mortgages Will Default?
Bankruptcy Lawyers Gear Up for Surge...
Quarter Americans Have No Emergency Savings...


Kemp appeared to be learning that people who are not showing coronavirus symptoms could spread the disease over two months after the White House first said so.
We analyzed every race for governor to determine who we think will win in 2020. See our election dashboard and find your local races.
Larry Hogan is head of the National Governors Association and charged with representing state leaders who fear they're unprepared to fight the coronavirus.
It may be true that planning for the fall election will not defeat the coronavirus, but it is a way of responding to it.


The coronavirus outbreak in Colorado is "far worse than we imagined," the state's governor wrote in a recent letter to Vice President Mike Pence, who heads President Trump's task force that is responding to the pandemic.



(First column, 11th story, link) Related stories:
Social distancing threatens social norms, mental health: 'It's hard to go back'...
Fear of 'Suicide Wave'...
Antibody tests key to ending lockdowns...



RELATED ARTICLES
Former Vice President Joe Biden is calling on the Trump administration to take "immediate steps" to ease U.S. sanctions on Iran, one of the nations hardest hit by the global coronavirus pandemic.
The Trump campaign challenged Twitter on Thursday over its update policies by sharing a manipulated video of former Vice President Joe Biden calling the coronavirus a "hoax."
President Trump, speaking at the White House coronavirus briefing on Thursday, unloaded on Democrats who have created a new House committee with subpoena authority to investigate the federal response to the coronavirus pandemic.
The new schedule means the Democratic gathering will be held one week before the Republican convention in North Carolina, rather than in July.

RELATED ARTICLES
A federal judge refused on Thursday to postpone next week's U.S. presidential primary in Wisconsin, but extended the time for absentee voting amid widespread worries about health risks from the coronavirus pandemic.
Jeenah Moon/Bloomberg via GettyNew York Gov. Andrew Cuomo on Thursday warned the coronavirus crisis could continue until August as cases continue to rise, with more than 400 deaths overnight across the Empire State.

"There is no superhero who is immune to this disease. Anyone can get it. No one can be protected from it. I couldn't protect my own brother," Cuomo said. "This is troubling news."

More than 2,220 people have died and 92,381 more have been infected with the virus in New York State, with the death toll spiking 22 percent in the last 24 hours, Cuomo said. About 51,809 of those cases are in New York City, a city of 8.6 million that accounts for 21 percent of the national infection rate.

Read more at The Daily Beast.

Got a tip? Send it to The Daily Beast here


Terrorists see opportunities. Food shortages could lead to conflict. Governments may fail.

RELATED ARTICLES
We analyzed every Senate race to determine who we think will win in 2020.

RELATED ARTICLES
President Trump's son-in-law has become a central player in the administration's effort to curb the pandemic. But critics say he is part of the problem.
The Health and Human Services Department said Thursday it had distributed some 192,000 N95 respirator masks and a large haul of other scarce medical supplies that the FBI had seized during the arrest of a Brooklyn man.
President Donald Trump said Thursday his administration will soon release nationwide recommendations on wearing face masks after initially telling Americans they weren't necessary to prevent the spread of coronavirus.
Speaker Nancy Pelosi announced she would move to form a special committee to scrutinize the Trump administration's response, including how more than $2 trillion in federal relief money is being spent.
The day after boasting that gasoline prices could fall to under $1 a gallon, President Trump said he had arranged a deal between Russia and Saudi Arabia that would lead to substantially higher oil prices.


President Donald Trump said he underwent a second coronavirus test on Thursday, using a new diagnostic that produced a result in less than 15 minutes, and it determined he has not been infected.