Theresa May is given more time to come up with a Brexit solution after talks with EU leaders.
As Washington waits for word -- that could come as soon as Friday -- about the status of special counsel Robert Mueller's report into Russian interference in the 2016 election, President Donald Trump is closing his PR campaign against the investigation on a new note: Who elected this guy???

RELATED ARTICLES
President Trump has made yet another move to strengthen the relationship between the U.S. and Israel, one that may also serve as a political calculation going into 2020, Real Clear Politics co-founder Tom Bevan argued Thursday.

RELATED ARTICLES



(Third column, 5th story, link)


Advertise here


The political "twins" will meet next week in Washington.
After melanoma spread to his brain, "I just thought I had a few weeks left," he said. Carter is now 94 years and 172 days old.
Even sponsor Ed Markey plans to vote 'present.'

RELATED ARTICLES
Hundreds of millions of dollars have been pledged, the outside groups say, with the goal of offsetting the impact of a lengthy Democratic campaign for president.
Trump's business returns could reveal much, much more.
The second-term lawmaker has become a progressive leader and mentor for women of color in the House.



(Third column, 4th story, link) Related stories:
GEORGE: TRUMP WORST KIND OF DUMB...
Kellyanne Scolds Husband: Keep it Private...
Donald protective of me...





(Second column, 2nd story, link) Related stories:
President keeps up attacks on 'horrible' McCain...



Advertise here



RELATED ARTICLES
Brexit can be postponed until 22 May if MPs back deal next week, or 12 April if they do not.
The White House rejected a request by congressional Democrats that it provide information about President Donald Trump's communications with Russian President Vladimir Putin, House Democratic leaders said on Thursday, suggesting they would take further action.
Jewish Democrats unveiled a resolution condemning the boycott movement targeting Israel to counter the perception the party is fractured in its backing for the Mideast ally.
The former president will meet with the new members at a reception Monday evening.

RELATED ARTICLES
The chairman of the House Oversight and Reform Committee says the couple may have broken the Presidential Records Act.


Abbe Lowell, Kushner's attorney, challenged aspects of the account by the Democratic chairman of the House Oversight Committee.
On Thursday, President Trump tweeted about a hilly plateau beside the Sea of Galilee that has been one of Israel's quieter frontiers for 52 years.
Mr. Trump reversed decades of U.S. policy by declaring that Israel should have sovereignty over the Golan Heights — a move that has never been recognized internationally.
Noam Galai/GettyFuckJerry's long con might finally be catching up to them.

The controversial meme account, created by Elliot Tebele in 2011, culls the internet and curates memes for its over 14 million Instagram followers. This ethically murky content curation has only gotten more questionable as Tebele has expanded his empire, founding the marketing and social media agency Jerry Media and the tequila brand JAJA. These endeavors are seemingly sustained by a good deal of pilfered content. As Vice reported in February, "Today, Jerry Media employs dozens of people and charges tens of thousands of dollars to post memes for brands on @fuckjerry and other accounts." FuckJerry has long been accused of turning a profit off of content that they did not pay for or properly credit.

Now, a content creator named Olorunfemi Coker is suing FuckJerry, Jerry Media, Elliot Tebele, and JAJA spirits, alleging that they jacked his content in an attempt to sell their tequila.

Read more at The Daily Beast.

Got a tip? Send it to The Daily Beast here
A number of Senate Republicans have refrained from weighing in on the president's attack on the war hero, wary of antagonizing Mr. Trump and conservative voters.

RELATED ARTICLES
The order would link some higher education funds to how colleges enforce free speech rights, a cause célèbre for conservatives who argue their voices have been silenced.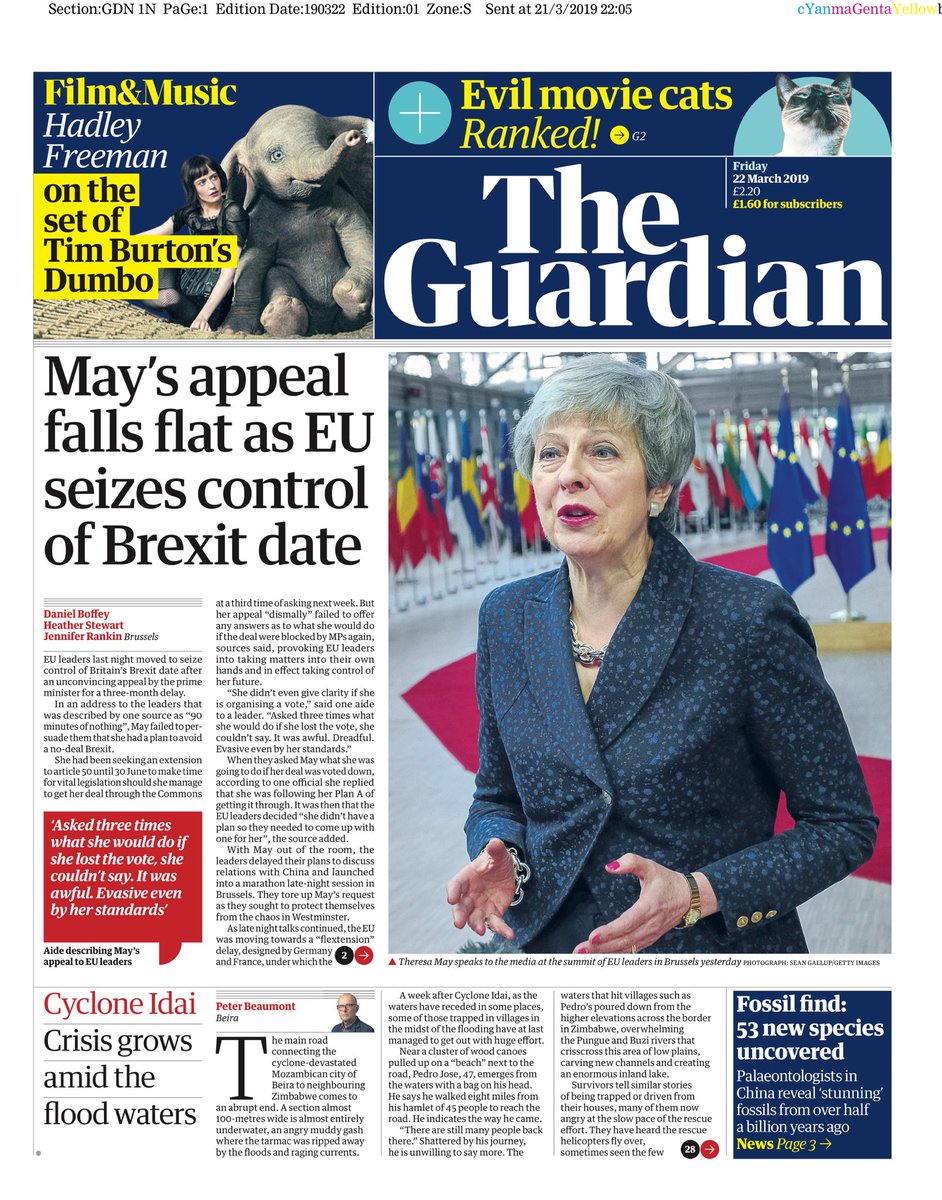 (Second column, 5th story, link) Related stories:
May stares into abyss...
Pressured to name RESIGNATION date...



Advertise here





(First column, 2nd story, link) Related stories:
Immigration arrests fall under Trump...
Surge overwhelms govt...
Court backlog up 300%...
Investigative division of ICE feels ostracized...



Advertise here



(Second column, 3rd story, link) Related stories:
ERODING US MILITARY ADVANTAGE...



Advertise here


While the late Sen. John McCain's daughter Meghan McCain frequently clashes with President Donald Trump, it was youngest daughter Bridget McCain who criticized the president Thursday for disparaging her father, calling the President "a child."
The commandant of the US Marine Corps, Gen. Robert Neller, has warned acting Secretary of Defense Patrick Shanahan that a series of "unplanned and unbudgeted" tasks -- including President Donald Trump's decisions to deploy Marines to the southern border and to reallocate a portion of the defense budget to pay for the construction of a border wall -- has imposed an "unacceptable risk to Marine Corps combat readiness and solvency."
A newly unearthed batch of classifed emails from Hillary Clinton's email server reveals that the former secretary of state discussed establishing a "private, 100% off-the-record" back channel to Israel Prime Minister Benjamin Netanyahu, and that her top aides were warning that she was in "danger" of being "savaged by Jewish organizations, in the Jewish press and among the phalanx of neoconservative media" as a result of political machinations by "Bibi and the Jewish leadership."
In internal documents obtained by Fox News and first reported by the Los Angeles Times, the top Marine Corps commandant, Robert Neller, a four-star general, is warning Defense Department officials that there's a cost to the massive response at the border. He called it an "unacceptable risk," one that's "negatively impacting Marine Corps readiness."
Mississippi Gov. Phil Bryant is the latest governor to sign into law a bill that would ban abortions once a fetal heartbeat can be detected.
A Wisconsin judge on Thursday blocked legislation passed by Republican lawmakers during a December lame-duck session intended to curb the powers of newly elected Democratic Governor Tony Evers, calling the measures unconstitutionally approved.
Mr. Trump has brushed aside worries about any negative impact that the Patriots owner's presence at an official event could have, according to people close to the president.
Bridget and Meghan McCain criticized President Trump — one calling on him to be "decent" and another suggesting she's not holding her breath.
Neither of his parents went to college, and it was a scholarship from his father's labor union that helped fund Delaney's attendance at Columbia University. He served three terms, but gave up his seat to run for president. He's not really a tough guy."


A Wisconsin judge issued an order Thursday putting on hold a set of laws that Republicans passed late last year to limit the power of the incoming Democratic governor.
From the Conways to the Bushes to the Romneys to the McCabes, Trump has been willing to go where most politicians wouldn't.
Fox Business host Maria Bartiromo is not exactly known as a tough interviewer when it comes to the Trump administration, which helps explain why she scored a rare sit-down with the president this week.

But given the chance to speak with Kellyanne Conway on Thursday morning, she somewhat surprisingly spent nearly 12 minutes grilling her about the bizarre feud that has developed between her husband George Conway and her boss, President Trump.

"Your boss calling your husband a 'whack job,' what's going on?" Bartiromo asked.

Read more at The Daily Beast.

Got a tip? Send it to The Daily Beast here


As Donald Trump continues to attack John McCain, the late senator's youngest daughter made a rare public statement upbraiding the president.


Attacks on John McCain and George Conway are a feature, not a bug, of the Trump presidency.
Stepping again into the fraught territory of Middle Eastern politics, President Trump on Thursday reversed a long-standing American policy that treated Israeli occupation of the Golan Heights as temporary.


A Republican lawmaker in Maine on Friday argued that a bill to guarantee free tampons, pads and menstrual cups for state prison inmates was unnecessary — and warned against attempts to "micromanage" the criminal justice system.
Mr. Kushner and Ms. Trump's use of private email accounts and an unofficial messaging service could violate federal records laws, a House committee chairman said.
Acting Attorney General Matthew G. Whitaker and Secretary of Homeland Security Kirstjen M. Nielsen submitted a joint report to President Donald J. Trump on February 4, 2019 evaluating the impact of any foreign interference on election infrastructure or the infrastructure of political organizations, including campaigns and candidates in the 2018-midterm elections.

The classified report was prepared pursuant to section 1(b) of Executive Order 13848, Imposing Certain Sanctions in the Event of Foreign Influence in a United States Election, which the President issued on September 12, 2018. 

Throughout the 2018 midterm election cycle, the Departments of Justice and Homeland Security worked closely with federal, state, local, and private sector partners, including all 50 states and more than 1400 local jurisdictions, to support efforts to secure election infrastructure and limit risk posed by foreign interference.  Efforts to safeguard the 2020 elections are already underway. 

Although the specific conclusions within the joint report must remain classified, the Departments have concluded there is no evidence to date that any identified activities of a foreign government or foreign agent had a material impact on the integrity or security of election infrastructure or political/campaign infrastructure used in the 2018 midterm elections for the United States Congress. This finding was informed by a report prepared by the Office of the Director of National Intelligence (ODNI) pursuant to the same Executive Order and is consistent with what was indicated by the U.S. government after the 2018 elections.   

While the report remains classified, its findings will help drive future efforts to protect election and political/campaign infrastructure from foreign interference.

###

Keywords: