The FIAC contemporary art fair stands to benefit from uncertainty around Brexit and the return of visitors to Paris city after the 2015 terrorist attacks.
Between the Saw series, the Insidious movies and The Conjuring Universe, James Wan has become one of history's greatest horror franchise producers. Now he's shepherding another to theaters, if The Curse of La Llorona proves as successful as all his other brands. There's already been enough confidence in the upcoming feature for Wan to pluck its director for The Conjuring 3.  The first teaser trailer for La Llorona further promises something to look forward to, especially for fans of the Conjuring movies, the latest installment of which, The Nun, is going strong at the global box office to the tune of more than $350 million. Find out all you need to know about La Llorona and then check out the trailer down below.  Here's everything we know about The...
Read More


Here are ABC's renew/cancel standings for week 3 of the…

RELATED ARTICLES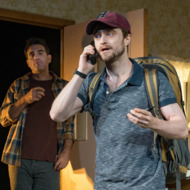 "There is such a thing as poetic, ecstatic truth. It is mysterious and elusive, and can be reached only through fabrication and imagination and stylization." —Werner Herzog"Look, Americans are their own fact-checkers. People know, they have their own facts and figures, in terms of meaning which facts and figures are ... More »
In Istanbul, Turkish investigators for a second time searched the Saudi consulate where Khashoggi - a U.S. resident and Washington Post columnist who was a strong critic of Crown Prince Mohammed bin Salman - vanished on Oct. 2, seeking clues about an incident that has caused an international outcry. Trump acknowledged for the first time that Khashoggi had likely been killed. It's very sad," Trump told reporters before boarding Air Force One on a political trip.



RELATED ARTICLES
We didn't review "Halloween" in 1978 because of a newspaper strike. Forty years later, our critic takes a new look at John Carpenter's masterpiece.