Kelsea Ballerini and Kenny Chesney put on a sweet and sincere performance of "Half of My Hometown" at the 2021 ACM Awards on Sunday (April 18).

RELATED ARTICLES
"She has shone more brightly in the last months than you would imagine even the brightest star could shine."

RELATED ARTICLES
For Miranda Lambert's third performance at the ACM Awards on April 18, she was joined on the Nashville stage by Jack Ingram and Jon Randall for "In His Arms."

RELATED ARTICLES
In 1994, Disney's Beauty and the Beast opens on Broadway.
"The only positive outcome is the one that is happening."
Mickey Guyton offered up her song of hope, "Hold On," which was included on the 'Breakthrough' soundtrack, at the 56th annual ACM Awards April 18.
Lady A didn't take the conventional stage when the country band performed "Like a Lady" at the 56th annual ACM Awards held in Nashville on Sunday (April 18).
Joe Jonas recently got his second dose of the Pfizer COVID-19 vaccine, and he filmed it for the world to see.
Ben Perkins built a blacksmith's forge in his back garden and taught himself the traditional craft.
While 'Fearless (Taylor's Version)' makes its debut at No. 1 on the Billboard 200, Taylor Swift is literally in the studio recording another album.
Roll Up Your Sleeves also features U.S. President Joe Biden along with Barack and Michelle Obama.
Betty Buckley, Matthew Broderick, André De Shields, Jane Krakowski, Bernadette Peters, and Lillias White are also part of The York Theatre Company benefit.
Cillian Murphy, JK Rowling and Sir Sam Mendes lead tributes to the "fearless and magnificent" actress.
In Dan Gutman's "Houdini and Me," a boy named Harry who lives in Houdini's old house is getting text messages from the long-dead magician's ghost.
The powerful producer of "Hello, Dolly!" and "The Book of Mormon" regrets "the pain my behavior caused" and says others will directly run his shows.

RELATED ARTICLES
After wowing art lovers in the US and China, Lucy Sparrow's latest felt fantasy is her first UK show in five years.
He wrote prodigiously while teaching, first in Dublin and then in New York, and often clashed with critics he considered too political.
"I am profoundly sorry for the pain my behavior caused to individuals," the producer said in a statement.
Seth Rudetsky and James Wesley's daily series benefits The Actors Fund.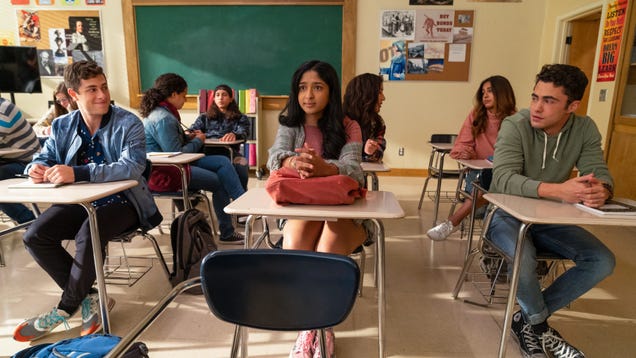 Netflix's Mindy Kaling-helmed series Never Have I Ever won over fans with its painfully relatable portrayal of Indian-American teenage girl Devi (played by newcomer Maitreyi Ramakrishnan), who attempts to navigate complicated dynamics with crushes, a fraught relationship with her mom, and grief after the death of her…

Read more...


Seth Rudetsky and James Wesley's daily series benefits The Actors Fund.
Here are a bunch of little bites to satisfy your hunger for movie culture:   Remade Trailer of the Day: Huxley Berg Studios has recreated the new Once Upon A Deadpool trailer in Lego:   Video Essay of the Day: The latest ScreenPrism video essay looks at the big metaphor at the center of the Spider-Man movies:   Character Swap of the Day: Speaking of superheroes, what if Robert Downey Jr. had played Batman and Ben Affleck played Iron Man? BossLogic shows us the switcheroo: You guys wanted the #Quickswitch #billionaireboysclub next so here they are - #ElseBothworlds @RobertDowneyJr @BenAffleck #batman #ironman pic.twitter.com/0rx0j0vYM4 — BossLogic (@Bosslogic) November 19, 2018   Dialogue Swap of the Day: The gang...
Read More