Based on the tell-all book about "Mötley Crüe," this film adaptation sands down the source material into a junior varsity "Bohemian Rhapsody."
The photos of Renty and his daughter Delia, taken in nude in 1850 against their will for a Harvard University professor, are now the subject of a lawsuit that Tamara Lanier has filed this week.


The new movie starring Dev Patel sticks close to the facts, but takes some creative license
The film's writer and director discusses a haunting scene where members of a family meet their terrifying doubles.
Derrick Baskin, Jeremy Pope, Jawan Jackson, James Harkness, and Ephraim Sykes sang from the new musical on their opening night.

RELATED ARTICLES
Jordan Peele narrates a sequence from his film.
Dreamy marshmallows, rude animals, a portal to a mirror world and more fill the latest crop of picture books.
Aziz Ansari took part in a "Parks & Recreation" reunion panel for Paleyfest on Thursday night. The actor has kept a low profile since a #MeToo allegation.


JAKARTA/OSLO (Reuters) - Indonesian airline Garuda plans to cancel a $6 billion order for Boeing 737 MAX jets, it said on Friday, saying some passengers would be frightened to board the plane after two fatal crashes, although analysts said the deal had long been in doubt. The news came as another 737 MAX customer, Norwegian Air, played down the significance of a move by Boeing to make a previously optional cockpit warning light compulsory. Norwegian said that, according to Boeing, the warning light would not have been able to prevent erroneous signals that Lion Air pilots received before their new 737 MAX plane crashed off Indonesia in October, killing 189 people.



RELATED ARTICLES
This is a major marketing opportunity for an act that hasn't put out an album of new material since 2008. So of course it tries to balance enough rock debauchery to satisfy viewers' ids with a smattering of somber moments designed to evoke sympathy for—and preempt outrage toward—its cartoonish heroes.

RELATED ARTICLES
Emilia Clarke shared that she survived two life-threatening brain aneurysms during the early days of Game of Thrones for the first time Thursday. Now her co-star Lena Headey is showing her heartfelt appreciation for the actor's strength. "It took me a while to know this woman (there are 64,000 of us after all.) Not until…
The initiative awards American teachers with a $10,000 grant in recognition of their extraordinary impact.
Two Boeing 737 MAX 8 crashes in less than five months have prompted questions from aviation experts about the training of pilots for foreign airlines.


Brace yourself: AOC and Hillary Clinton have joined forces on Twitter to create a clapback so powerful that you may need to take a some deep breaths to compose yourself.It went down on Thursday night, when Alexandria Ocasio-Cortez tweeted a very straightforward "But his WhatsApp," after it was alleged that Jared Kushner had been communicating with foreign officials using WhatsApp.  But his WhatsApp https://t.co/kLO3ZHvdbO -- Alexandria Ocasio-Cortez (@AOC) March 22, 2019Kushner's behavior is obviously problematic on any number of levels, not least of which is that his father-in-law, President Donald Trump, ran his campaign against Hillary Clinton almost exclusively on the charge that she'd used a private email server while she was secretary of state. Lock her up, etc. AOC's tweet was a twist on the well-worn "But her emails" meme, which pops up on political Twitter every time the Trump administration does something shady. So it was especially potent when Hillary herself replied to AOC's tweet with a succinctly satisfying, "Tell me about it." Tell me about it. -- Hillary Clinton (@HillaryClinton) March 22, 2019That's the stuff. Hillary is no dummy and no doubt knew this was exactly the kind of thing that AOC's sizable social media fanbase would go wild over. And, of course, AOC had the reaction that pretty much all of us had, which was to freak out in a reply tweet to Hill. !!! -- Alexandria Ocasio-Cortez (@AOC) March 22, 2019We can only hope that this exchang
This neo-exploitation potboiler about brutal men on both sides of the law stars Mel Gibson and Vince Vaughn, and traffics in sordid, ugly shocks.
Radzi Chinyanganya will leave after more than five years on the CBBC children's show.
The pound rose Friday but was struggling to claw back its latest losses after the EU gave Britain a Brexit deadline extension, while equity markets were boosted by a positive lead from Wall Street. At a summit in Brussels, Prime Minister Theresa May was given until April 12 to push her divorce agreement through a fractious parliament next week. The sterling has come under pressure owing to the uncertainty in the past few days, falling to as low as $1.3004 Thursday, though it has recovered slightly and is still maintaining its position, helped by this week's dovish outlook on interest rates from the Federal Reserve.


JERUSALEM (AP) — The Latest on the United States and Israel (all times local):


Brendan Maclean is seemingly plagued by passing airplanes. "They're a constant feature of where I live in Sydney," the Australian...
Anna Netrebko and Jonas Kaufmann have come together in London for Verdi's "La Forza del Destino," their first staged opera together in 11 years.
The hardest workout in New York right now has got to be the one being demonstrated eight shows a week by the principal cast of Ain't Too...
Rep. Alexandria Ocasio-Cortez (D-N.Y.) on Thursday laughed off the obsessionthat some Fox News personalities appear to have with her."I mean, it's weird," she told "Late


Actors Keanu Reeves and Alex Winter confirmed in a video that a third film will come out in 2020
The Muslim call to prayer sounded out over Christchurch and around New Zealand on Friday, as thousands gathered to remember the 50 people killed by a lone gunman at two mosques a week ago. Prime Minister Jacinda Ardern joined about 20,000 people standing quietly at Hagley Park, in front of the Al Noor mosque where most of the victims were killed during Friday prayers last week. "New Zealand mourns with you. We are one," she said in a short speech, followed by two minutes of silence. Ms Ardern, who swiftly denounced the shooting as terrorism, has announced a ban on military-style semi-automatic and assault rifles. The country is under heightened security alert since the attack, and police said on Friday they were investigating a threat made against Ms Ardern on Twitter. Jacinda Ardern announced a swift national crackdown on guns Credit: REUTERS/Jorge Silva New Zealand Herald reported that a Twitter post containing a photo of a gun and captioned "You are next" was sent to the prime minister. Reuters could not verify this independently. The report said the account was suspended. Australian Brenton Tarrant, 28, a suspected white supremacist, has been charged with one murder following the Christchurch attack and was remanded without a plea. He is due back in court on April 5, when police said he was likely to face more charges. Most victims of New Zealand's worst mass shooting were migrants or refugees from countries such as Pakistan, India, Malaysia, In
Here's a summary of all the case files to date, in our handy bluffer's guide.
Masato, a young ramen chef, leaves his hometown in Japan to embark on a culinary journey to Singapore to find out the truth about his past. He uncovers a lot more than family secrets and delicious recipes.Release Date: Mar 22, 2019
The Wednesday night cable ratings were dominated by basketball yet… Here are a bunch of little bites to satisfy your hunger for movie culture: Filmmaker in Focus: With Jordan Peele's sophomore feature, Us, hitting theaters this weekend, Vulture looks at the filmmaker's career as he seamlessly jumped from being a sketch comedy star to the hottest new horror writer and director. The key to the transition, as pointed out in this video, is that comedy and horror aren't that dissimilar:   Cosplay of the Day: Speaking of...

Read More

Read Comments


Hollywood adapts the brutal events that transpired over three days in November 2008 in Mumbai into an uneasy blend of fact and fiction
The new musical charting the rise of the famed vocal group makes its New York debut following engagements across the country.
On Thursday night (March 21), leading urban artists gathered at the Coliseo de Puerto Rico to celebrate the first annual Tu Música Urban Awards...

RELATED ARTICLES
President Donald Trump defended his harsh criticism of the late Sen. John McCain in an interview with Fox Business Network set to air on Friday.


Final broadcast primetime live same-day ratings for Wednesday, March…
The HBO store has three House-themed sets of aprons and oven mitts, including House Lannister, House Stark and House Targaryen.


"Every minute of every day I thought I was going to die," said the actor, who suffered two aneurysms.
"At some level, I knew what was happening: my brain was damaged"
"Game of Thrones" actress Emilia Clarke on Thursday revealed she suffered two brain aneurysms during her early years with the hit television show that left her convinced she would die.
Hit Western's film sequel to premiere on HBO this May

RELATED ARTICLES
Long-legged flyers may be interested to learn that JetBlue's newest cabin redesign now features the most legroom of any US airline for economy-class cabins. 


Late-night TV host Samantha Bee ripped into the growing field of Democratic 2020 presidential hopefuls Wednesday night. The 'Full Frontal' host commented on everything from Sen. Kirsten Gillibrand's campaign slogan, to former Vice President Joe Biden not making a decision on his third potential presidential run. The TBS star also went after former Texas congressman Beto O'Rourke, Sen. Cory Booker and Sen. Amy Klobuchar.


Manafort avoided a trial that would have exposed his ties to criminal elements in Ukraine and positioned himself well for future mercy from Trump.


CHRISTCHURCH, New Zealand (AP) — The Latest on the mosque attacks in New Zealand (all times local):


Nicky Jam and Ozuna are hours away from premiering their new song "Te Robare." But before it happens, Billboard has an exclusive one-...
As the world was first falling for the "Game of Thrones" star, she was secretly fighting for her life — a battle that continued throughout her early years on the show.


Welcome to #TBT Mixtape, Billboard's series that showcases artists' very own throwback-themed playlists exclusive to ...
Maduro was not among the leaders invited to meet in the Chilean capital Santiago on Friday to discuss forming a new regional political group called "Prosur." Heads of state from Argentina, Brazil, Colombia, Chile, Ecuador, Paraguay and Peru will join the summit, with Chile and Colombia looking to sign countries up to the new political bloc after criticism over Unasur's lack of action on the Venezuela. Some leaders have criticized the organizers for leaving out Maduro and instead inviting Venezuelan opposition leader Juan Guaido, recognized by many countries as the interim leader.


In their debut novels, Yara Zgheib and Anissa Gray explore the harrowing experience of female eating disorders.
Caroline Jones will be spending much of the year on the road opening for Kenny Chesney and Zac Brown Band, and the singer-songwriter is releasing new...


One of the biggest movie stars on the planet returns to theaters this summer. And by biggest, we mean in terms of physical size. Everyone's favorite kaiju creature will be back in the eponymously titled Godzilla: King of the Monsters, which is a sequel to the 2014 Godzilla reboot and the third installment of the franchise that also includes 2017's Kong: Skull Island.  This time, Godzilla is not alone. The king of the monsters will be joined on screen by a few of his most...

Read More

Read Comments


"Little Boy" recounts his life story in a free association of flashes and arias, of high and low culture — the verbal riffs of a good talker.
More than 14 years after they first collaborated on the 2005 EP In the Reins, beloved indie rock acts Iron & Wine and Calexico are prepping...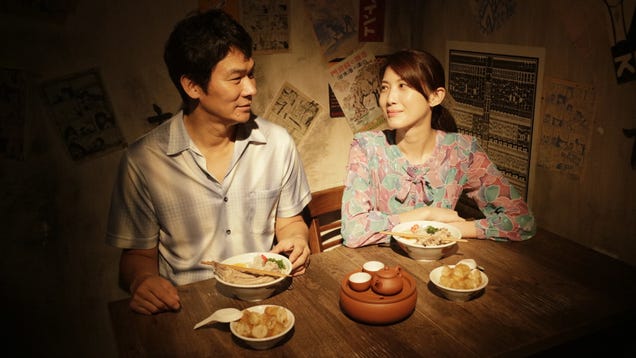 Food is one of the most powerful emotional forces on Earth. For many people, the smell and taste of a favorite childhood dish brings back vivid, nostalgic memories of a particular moment in time, often a moment when that person felt safe, content, and loved. For Masato (Takumi Saitoh), the half-Japanese,…

Read more...


Dudes, it's been 28 years since we last saw the duo on the big screen but now they're back.
A controlled thriller that invents an intimate subtext for the 1983 escape of imprisoned Irish Republican Army fighters from the fortresslike Maze.
This film demonstrates the power of delicious cuisine to spice up an otherwise straightforward, sentimental film.
The musical makes its New York premiere after four out-of-town engagements.
Fox wants viewers wary of the new slimmed-down version that it will be just fine after shedding most of its film and TV assets to Disney, which became official Wednesday.In a new promo that aired Wednesday night, Fox Entertainment — the programming unit of what is now known as "Fox Corporation" — ran through the list of shows including "9-1-1," "Empire," and "The Simpsons" that still air on the Fox broadcasting network, even if their studio is now owned by Disney.On Wednesday, Disney finalized its $71.3 billion purchase of 21st Century Fox's film and TV assets.After the sale, the remaining assets, a portfolio of news, sports and broadcast businesses, were formed into a new company called Fox Corporation. These include Fox News Channel, Fox Business Network, Fox Broadcasting Company, Fox Sports (including cable networks FS1, FS2, Fox Deportes and Big Ten Network) and its local TV stations. That new company debuted on the NASDAQ Stock Market on Tuesday under the symbol "FOXA."Meanwhile, Disney takes over ownership of 20th Century Fox film and TV studio, cable networks FX, FXX and National Geographic, and certain cable and international television assets. Disney also acquires Fox's 30 percent stake in Hulu, giving it majority control. The new assets should strengthen Disney's position as a content behemoth, especially as it launches Disney later this year, its own streaming competitor to Netflix.Watch the video above.Read original story Fox Entertainment Shows Of
This B-movie take on cops, crooks and moral corruption is like a hardboiled crime novel come to life — only nasty, brutish and exceptionally long
Creator Tom D'Angora reveals the plot and how fans will have the opportunity to contribute to rewrites—plus exclusive photos.
The ACC Tournament title game took the no. 1 spot…
On the eve of its release, Netflix has dropped the trailer for true-crime documentary series "The Disappearance of Madeleine McCann.""If you made a dozen movies out of this, nobody would believe them," one participant in the docuseries tells trailer viewers right off the bat."I've done thousands of cases, the Madeleine case, I've seen the worst things a human being can see — the worst," an investigator adds.Watch the video above.Also Read: 'One Day at a Time' Canceled by Netflix After 3 Seasons, Sony to Shop ElsewherePromising a deep dive into every piece of evidence and potential theory of what has been called the most famous missing child case in British history, the streaming series reexamines the events of the night of May 3, 2007, when 3-year-old McCann disappeared while on vacation with her family at Praia de Luz resort in Portugal.The project emerges two years after it was greenlit in 2017, with the series order marking a decade since the case was opened. Directed by Chris Smith ("Fyre: The Greatest Party that Never Happened"), the eight-episode series draws on 120 hours of interviews with over 40 contributors, including journalists, investigators and people close to the McCann family. Even a former suspect talks in the trailer.Also Read: Mark Hamill, Catherine O'Hara, Rosario Dawson Join Netflix Animated Series 'The Last Kids on Earth'"The Disappearance of Madeleine McCann" includes archival news footage, reenactmen