Day one of Bill Cosby's sentencing hearing that will determine how the 81-year-old comedian will be punished for drugging and sexually assaulting a woman more than 14 years ago has been adjourned. A judge is expected to sentence Cosby in the Philadelphia area courthouse on Tuesday. Cosby was the first celebrity to go to trial in the #MeToo era and could be the first to go to prison, after being convicted in April of violating Temple University employee Andrea Constand at his suburban Philadelphia home in 2004.



RELATED ARTICLES
The review addressed the departure of its editor, Ian Buruma, who published an essay by a man lamenting his ostracism after sexual misconduct allegations.
After an almost month-long hiatus, "Live PD" returned with a…
The following statements were posted to the verified personal Twitter account of U.S. President Donald Trump (@realDonaldTrump) The opinions expressed are his own. Reuters has not edited the statements or confirmed their accuracy. @realDonaldTrump : - "Remarks by President Trump at 'Global Call to Action on the World Drug Problem' Event" #UNGA http://45.wh.gov/FaDM6c [1017 EDT] - Today, we commit to fighting the drug epidemic together! #UNGA [1255 EDT] - It was my great honor to welcome and meet with President @moonriver365 Jae-in of South Korea today, in New York City! http://45.wh. ...


Final broadcast primetime live same-day ratings for Friday, September…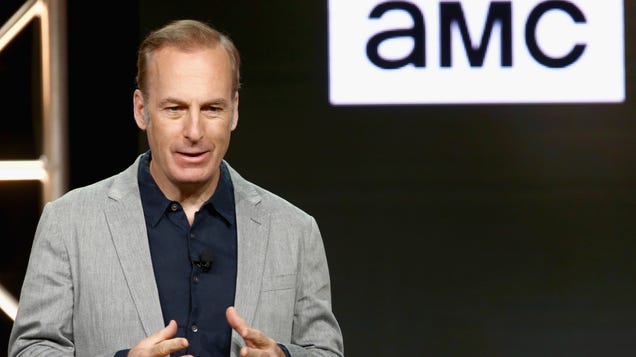 At this point, the cast of Greta Gerwig's Little Women adaptation is looking so good that it actually makes her look a little greedy. The Ladybird writer/director has already landed Saoirse Ronan, Timothée Chalamet, Meryl Streep, Laura Dern, Florence Pugh, Eliza Scanlon, and Emma Watson (replacing Emma Stone in a…

Read more...


Drivers for Uber, Lyft and other US ridesharing services have seen their incomes fall by half in recent years as more people get behind the wheel, according to a study released Monday. The report by US banking giant JPMorgan Chase, based on deposits received by the bank, offers a sobering note on the so-called platform or "gig" economy, although it left a number of questions unanswered.


Three days after Mitch McConnell vowed to "plow right through" the opposition to Brett Kavanaugh and install him on the Supreme Court, the halls of Congress filled with protesters invigorated by the latest allegations against the nominee.



RELATED ARTICLES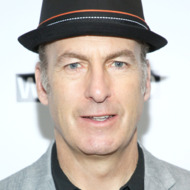 Greta Gerwig's adaptation of Little Women hasn't even started production yet and it's already on the threshold of being too beloved. Deadline reports that Bob Odenkirk is joining a cast that already includes Meryl Streep, Timothée Chalamet, Saoirse Ronan, Laura Dern, Emma Watson, Florence Pugh, Eliza Scanlon, James Norton, and ... More »
Unsurprisingly, the series premiere of "Mayans M.C." scored the biggest…
At 1 p.m. on Monday, supporters of the women who accused Supreme Court nominee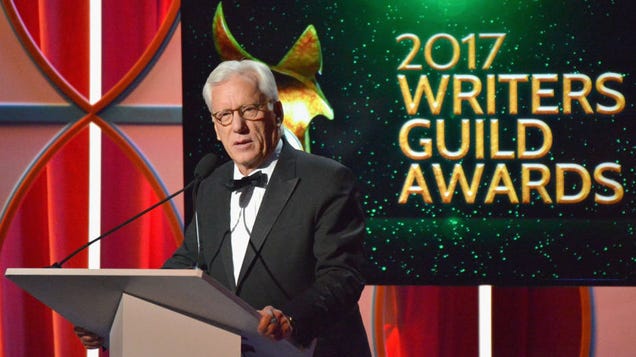 Twitter has a pretty terrible record when it comes to effectively removing trolls and abusive users from their platform, but occasionally they get one right. This weekend, Oscar-nominated actor turned conservative nut-job James Woods was locked out of the social media website for essentially being a total dumbass.…

Read more...


Kim's plan is revealed, as is a little something about her true motivations.

RELATED ARTICLES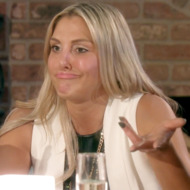 I think that maybe everyone needs to leave Gina alone about her divorce. She and her incredibly hot partner Matt, who we have never seen on the show, decided to get divorced because they're "not right for each other," even though Gina says that they're best friends, they still have ... More »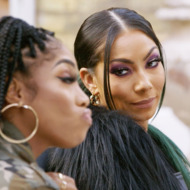 Let's talk about Donatella, the woman too busy to attend the London girls' trip that she organized in the first place. This doesn't make any sense. If she organized the trip, shouldn't she have planned it around her "busy" work schedule? I find Donatella's entire contribution to the Love & ... More »

RELATED ARTICLES
WASHINGTON (AP) — President Donald Trump on Monday declared himself an "absolute no" on statehood for Puerto Rico as long as critics such as San Juan's mayor remain in office, the latest broadside in his feud with members of the U.S. territory's leadership.


Having just wrapped a set at the stacked Life Is Beautiful festival in Las Vegas, iconic French electro duo Justice stopped by the Billboard offices...
A career-length docuportrait of the actor/activist throws celebrity hagiography out the window — and replaces it with the sense that you're watching a therapy session in progress

RELATED ARTICLES
Vicki Gunvalson doesn't have time for unnecessary drama this year.


Diddy's career evolution into the mogul of an empire has been a blueprint for entrepreneurs looking to make a name for themselves in the...
He was a New Jersey native enthralled by California. "The light had such physical presence; it looked as though you could lean against it," he said.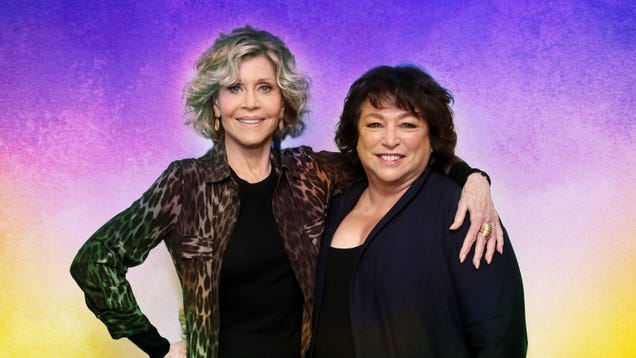 Jane Fonda In Five Acts is a fascinating documentary about a fascinating person. It closely examines the life of someone who is somehow simultaneously Hollywood royalty, activist, fitness mogul, and movie star, looking back at the considerable history of Fonda's life over eight decades. As the actor nears turning 80…

Read more...


This just in: Zoë Kravitz is the new John Cusack. The Big Little Lies actress has landed the lead role in High Fidelity, a 10-episode gender-flipped version of Nick Hornby's novel and the subsequent Cusack film, to air on Disney's forthcoming streaming service. Kravitz, who will star and executive produce, will play the ultimate music fan, a […]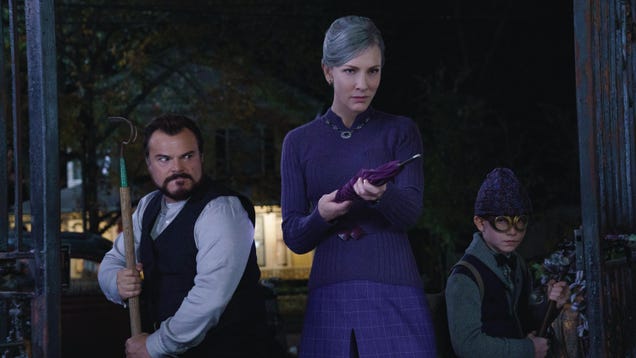 Eli Roth's first foray into the realm of the family-friendly seems to have worked out well for all involved: It's pretty good ("an ooky-spooky, creepy-crawly Halloween treat for horror-fans-in-training," per our own Katie Rife), it made some real money, and Cate Blanchett got to wear some great sweaters. Not bad for a…

Read more...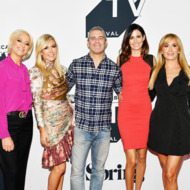 The Tribeca TV Festival drew a legion of Real Housewives of New York fans Sunday to watch Andy Cohen grill Dorinda Medley, Tinsley Mortimer, and Sonja Tremont Morgan about ten years of Gotham's favorite reality show. The ladies squabbled and talked over each other much like they do on Bravo, ... More »
The Voice returned for its 15th season on NBC tonight, with Blake Shelton, Adam Levine, Kelly Clarkson and Jennifer Hudson settling into the coach...

Sorry, brunette performers of the world, but this is a Fox News sexual harassment drama we're talking about. Deadline reports Saturday Night Live star Kate McKinnon is the latest actress to join Charlize Theron, Nicole Kidman, and Margot Robbie in director Jay Roach's upcoming Roger Ailes movie. It depicts the ... More »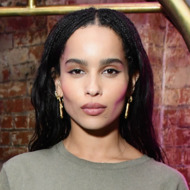 Zoë Kravitz, handily your first or second most-loved Kravitz, is reportedly set to star in a gender-swapped High Fidelity TV series, according to Variety. The show's ten-episode order will debut on Disney's forthcoming streaming platform, which is currently scheduled to launch in the second half of 2019. Kravitz will play ... More »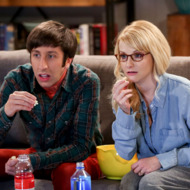 A continuation of Sheldon and Amy's wedding celebration would have been a good way to open this final season of The Big Bang Theory. I'm still disappointed we didn't get to see which of Sheldon's pop-culture obsessions inspired the wedding cake, how many single wedding guests Raj tried to scope ... More »
Success maketh another sequel. Kingsman 3, revealed last year as being a possibility, has now been officially greenlit for a 2019 release. While the previous installment, Kingsman: The Golden Circle, was not as well-received by critics as the original, Kingsman: The Secret Service (53% vs. 74% on Rotten Tomatoes), the sequel did about match the first movie's worldwide gross ($411 million vs. $414 million). Doing a third (and more) is obviously a good decision by Fox.  And with the next James Bond movie pushed back to 2020, it makes sense for another spy film franchise to move into its place. The untitled third installment of the Kingsman series has revealed that it will take over the November 8, 2019, release date, according to Entertainment Weekly. Also confirmed...
Read More


AHVAZ, Iran (AP) — Amid wails and vows of revenge, thousands of Iranians on Monday attended a mass funeral service for victims of a weekend attack targeting a military parade that killed at least 25 people.


Jimmy Bennett, who says the actress sexually assaulted him, was told by a TV host, "a man has to take an active role, even if he is subjected to it."
Sen. Susan Collins (R-Maine) has once again indicated that she trusts Brett


Just five months ago, Marvel Studios head Kevin Feige said Eternals was "one of many, many, many things that we are actively beginning to have creative discussions about to see if we believe in them enough to put them on a slate." Now, the possibility has become a reality and Eternals is moving forward to the next level.  While not officially greenlight and set for production or a release date just yet, Eternals does have writers and a director in place, according to The Hollywood Reporter. Check out everything we know about the movie and the comic books it's based on below.  Who are the Eternals? In Marvel Comics, the Eternals are a race of near-immortal super-powered beings spawned from early proto-humans. They were created through genetic...
Read More


Iran's Supreme Leader Ayatollah Ali Khamenei said on Monday the attackers who killed 25 people at a military parade had been paid by Saudi Arabia and the United Arab Emirates, and that Iran would "severely punish" those behind the bloodshed. The deputy head of Iran's Revolutionary Guards also accused the United States and Israel of involvement in the attack and said they should expect a devastating response. Mattis told reporters at the Pentagon that Iran's threat did not give him any concern.


The Twitterati were foaming at the mouth Monday morning when multiple outlets



In the run-up to the launch of Netflix's Emma Stone-Jonah Hill trippy, sci-fi limited series, Maniac, it was almost impossible to avoid one word when reading about the project's backstory: "loosely." Yes, creators Cary Joji Fukunaga and Patrick Somerville were remaking a Norwegian series with the same title, but their ... More »
The Playwrights Horizons production officially opens September 24.
Is it possible to get a sunburn from LEDs? We're pretty sure it's safe, but you might want to put on some goggles before viewing the official...
Olivia Laing's first novel features a protagonist who bears a strong resemblance to the writer and performance artist Kathy Acker.
The White House announced the meeting after conflicting reports about whether Rosenstein would be leaving the post.


What shows are about to close in New York City?
"There are two ways to look at this: It's a disaster -- or it's magical." Based on the murmurs of encouragement and praise...
Hailee Steinfeld, John Cena star in sci-fi/action film
What's announced and what's in previews in the West End.
The one-ton silverback gorilla encounters his new Broadway co-star Christiani Pitts in the first production shot released from the new megamusical.
Hulu has renewed the period drama "Harlots" for a third season, Variety has confirmed. The series takes place in 18th century London and follows the Wells family as they try to run a successful brothel despite strong competition from their rival, Lydia Quigley. The third season will consist of 8 episodes, just as the first two have. The […]


Russell Harvard stars in the New York premiere at Playwrights Horizons, directed by Tyne Rafaeli.
Schitt's Creek fans, it's time to brush up on your Tina Turner: The quirky comedy will be back for a fifth season on Wednesday, Jan. 16, at 10/9c, Pop TV announced Monday. Season 5 will span 14 episodes, making it the series' longest run yet. Read on for the official season description: The Roses are […]


CNN news anchor Alisyn Camerota says that when she was working at Fox News she


Brett Kavanaugh said that he "will not be intimidated into withdrawing" his


France has warned Syria faces a future of perpetual war unless Russia agrees to turn the one-month ceasefire in Idlib into a wider UN-endorsed political agreement. The French foreign minister, Jean-Yves Le Drian, issued the warning at the start of a week of summit meetings at the UN general assembly, where the US national security adviser, John Bolton, also raised the prospect of an endless, grueling conflict, vowing not to pulling US forces out of Syria before Iranian troops and their allies.



RELATED ARTICLES
The 81-year-old was convicted in April of drugging and molesting Andrea Constand in 2004.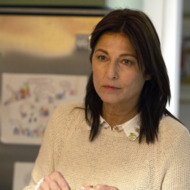 This week, the Pickles Boys are getting girlfriends, and once again it seems like Will is handling adult feelings more maturely than his dad. Both, however, are in better shape than Seb, who is getting creepier and creepier every episode.We start with another scene of Mr. Pickles lashing out at ... More »
A spoiler-free round up of reaction to the conclusion of BBC One's hit drama.
A female superhero, a female superhacker, a Lady Time Lord and everyone's favorite flying nanny — check out the top trailers of the week
Comcast has submitted the higher bid for European pay TV giant Sky in a three-round auction showdown with 21st Century Fox, with an offer worth $22....
In a piece she describes as "sort of a play," the poet and singer journeys through her past, with a little help from her children.
Carrie Underwood is sitting "pretty" at No. 1 on the Billboard 200 albums chart, as her latest studio effort, Cry Pretty, arrives atop...
Dan Fogelman's "Life Itself" barely made a blip in sales

RELATED ARTICLES
Carrie Underwood lands her fourth No. 1 album on the Billboard 200 chart, as Cry Pretty starts atop the list. The set, which was released on Sept. 14...
Suggested reading from critics and editors at The New York Times.
Bravo's Garden State gals are back for another season of feuds, fun and fabulosity.


The six books in the running for one of the world's major literary awards includes a novel written in verse. Two American authors made the cut.
Loosely based on the life of author Louisa May Alcott and her three sisters, Little Women has proven to be an enduring literary classic. It tells the story of Meg, Jo, Beth and Amy March as they pass from childhood to adulthood. The original novel has inspired more than a dozen film and television adaptations. Now a new film version is on its way from an unexpected source. Read onward to learn all we know about the latest Little Women adaptation. Who is directing the new version? Greta Gerwig. She first made a mark as an actress in the acclaimed indie Hannah Takes the Stairs, which she co-wrote, more than 10 years ago. Since then she has continued to appear in both independent features and Hollywood productions, as well as acting in and co-writing acclaimed films such as...
Read More


Spend your weekend reading 'The Only Girl,' a memoir about Rolling Stone magazine. Plus more recommendations from USA TODAY's book reviewers.