Lulu the Broadway Mouse is about a little mouse with big dreams.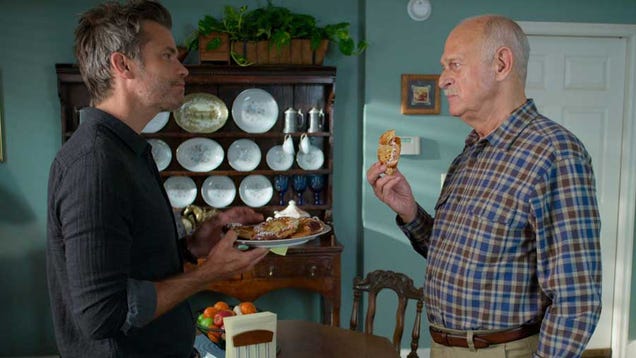 After the episode five cliffhanger with Ron and the Ball-leg Knights, I was really looking forward to episode six. Unfortunately, the Santa Clarita Diet writers dropped that thread for now and instead circled back to the Japopo's receipts, which is fine because that was a lead worth exploring, but the whole episode…

Read more...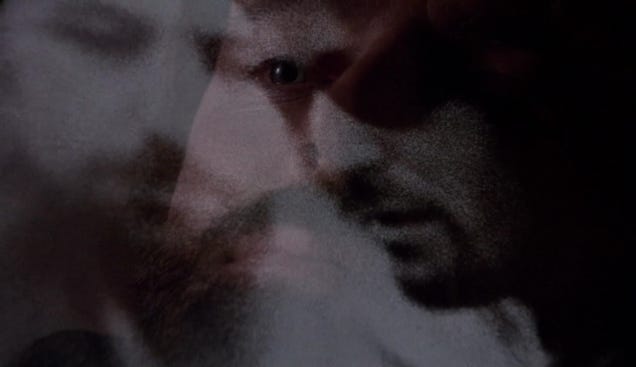 What Are You Watching? is a weekly space for The A.V Club's staff and readers to share their thoughts, observations, and opinions on film and TV. 


Read more...


Here are a bunch of little bites to satisfy your hunger for movie culture:   Mashup of the Day: In honor of the release of Pacific Rim: Uprising, The Game Brains present a crossover where the Jaegers fight the most iconic kaiju of all: Godzilla:   Craft Appreciation of the Day: In honor of the release of Isle of Dogs, Jacob T. Swinney looks at the eternal appeal of stop-motion animation for Fandor:   Remade Trailer of the Day: Here's another animated re-creation of the new Avengers: Infinity War trailer using Marvel cartoon footage, this one by Phillysteak:   Easter Eggs of the Day: We also already spotlighted one video of the latest Avengers: Infinity War trailer's Easter eggs, but here's...
Read More


Logic dominates the Billboard charts this week, as the MC's Bobby Tarantino II arrives atop the Billboard 200. The set also ...

RELATED ARTICLES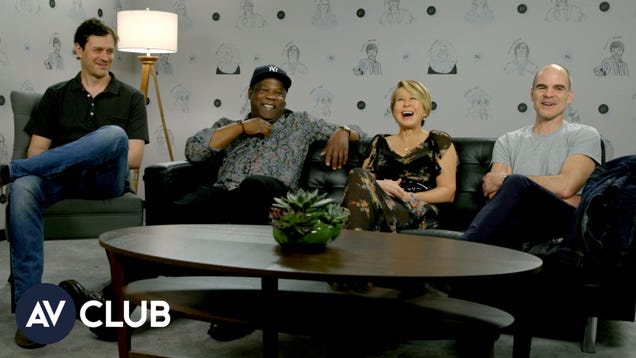 In his new comedy All Square, Michael Kelly plays a bookie who befriends a former high school classmate's son and starts taking bets on his little league games. At the SXSW premiere of the film, we spoke with Kelly and his co-stars—Tom Everett Scott, Isiah Whitlock Jr., and Yeardley Smith—about working with youngters,…

Read more...


Bel Powley and Michael Cera also star in Kenneth Lonergan's drama at the newly restored Hayes theater.
Despite winning the just-wrapped season of RuPaul's Drag Race All Stars on VH1, Trixie Mattel insists that she considers herself "a...

RELATED ARTICLES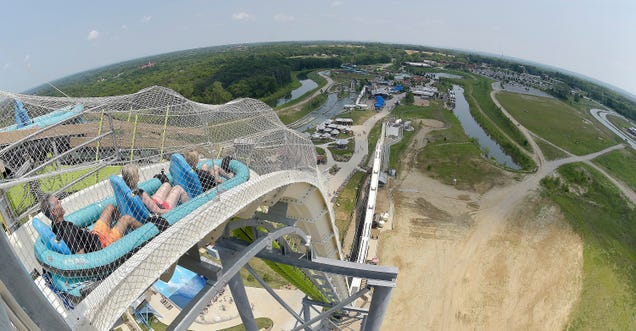 A Kansas grand jury handed down a 20-count indictment against the management of well-known water park company Schlitterbahn today, accusing the company's leaders of a long string of criminal mistakes, incompetencies, and deceptions that all reportedly contributed to the death of a 10-year-old boy. The incident in…

Read more...


The bodies of four Americans from Iowa were discovered in a condo Friday morning. Now, their deaths are being investigated. CBS News national correspondent Manuel Bojorquez reports.



RELATED ARTICLES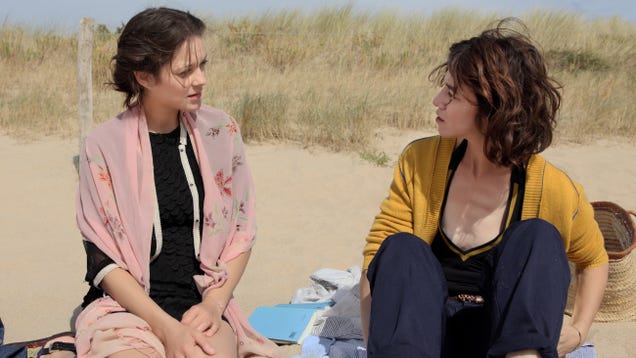 Arnaud Desplechin loves a good detour. Since making his international breakthrough in the mid-'90s, the French writer-director has built a career of messy, novelistic ensemble mosaics like A Christmas Tale and Kings & Queen that don't so much move from A to B as zigzag wildly across the entire alphabet, taking special…

Read more...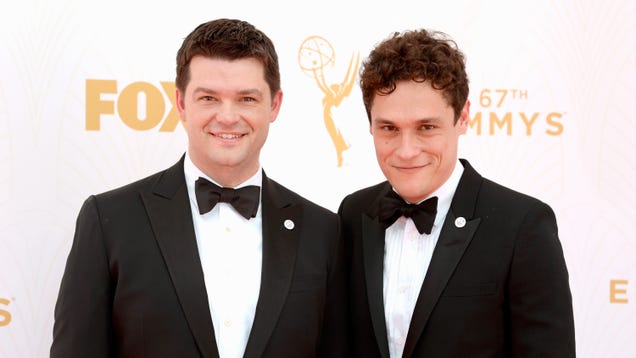 Suggesting that any lingering hard feelings about the fallout from their aborted tenure on Disney's upcoming Star Wars spin-off, Solo, have finally been put to bed, Phil Lord and Christopher Miller have announced that they'll still be getting official credit for their work on the film. Specifically, both Lord and…

Read more...


Hong Kong-born actor Wesley Wong makes his Hollywood movie debut in the new sci-fi thriller Pacific Rim Uprising — and he tried his best to steal scenes from stars John Boyega and Scott Eastwood. Especially a shirtless scene.

The 31-year-old — who received his master's degree from the Beijing Film Academy after graduating from the University of Southern California — learned about Hollywood's less glamorous side as he prepped with a strict diet and exercise regimen for six months.

"We had a fitness trainer and a nutritionist on set throughout the whole process," says Wong, who's featured as One to Watch in this week's issue of  PEOPLE. "So from day one it was basically bulking everything for me. The trainer was with us for five days a week, training everyday. I was actually the heaviest of my life. I've never been that heavy and it was specifically to prepare for that shirtless scene."

Wong continues, "That's part of it, looking like the role. It's pushes your limits to see how far you can go."

 

RELATED VIDEO: The 'Pacific Rim Uprising' Cast Gets Real About Training in Pilot Suits: 'It Pinches in All the Wrong Places'

Wong's parents, Angie Chiu and Melvin Wong, are both successful actors in China, but he wasn't pressured to go into the family business.

"Since I was a kid they absolutely didn't want a specific direction for me to go," Wong says. "They've always stressed the importance of finding my own passion in life."

But once he completed college at USC, Wong made up his mind to follow in his parents' footsteps.

"My dad took me aside as I was about to graduate. He was asking me what my plans were; whether I was going to

RELATED ARTICLES
Jennifer Aniston is moving on with her life apart from Justin Theroux.

"Since her split from Justin, Jen is doing fine," a source tells PEOPLE.

The duo, who announced their separation in February, has "had some contact" after the breakup but "won't get back together," adds the source.

"Justin has moved on with his life in N.Y.C.," while "Jen still enjoys hers in L.A.," the source continues.

Ultimately, Aniston's "life now is not very different" than it was before the breakup, the source says. "She loves socializing with friends."

Earlier this month, the actress, 49, headed out for Molly McNearney's 40th birthday party, where she posed with her pals — including the birthday girl, Tobey Maguire's estranged wife Jen Meyer, Jason Bateman's wife Amanda Aanka and her manager Aleen Keshishian — in a photo booth.

"Her friends always invite her out and to parties," the source says. "Jen has a very caring group of friends that take care of her."

Meanwhile, Theroux, 46, was in Paris recently for Fashion Week during which he attended the Louis Vuitton womenswear show and spent time reenacting a Bachelor rose ceremony with longtime friend Carlos Quirarte.

Want to keep up on the latest from PEOPLE? Sign up for our daily newsletter to get our best stories of the day delivered straight to your inbox. On Feb. 15, Aniston and Theroux 
President Donald Trump has issued orders to ban transgender troops from military service.

In a statement by the White House on Friday, the proposed ban blocks any transgender person from serving except under "limited circumstances."

"Today, the President rescinded his previous memorandum on transgender service in the military in order to allow Secretary Mattis to implement a new policy developed through extensive study by senior uniformed and civilian leaders, including combat veterans," the statement read.

It claims those with a "history or diagnosis of gender dysphoria … present considerable risk to military effectiveness and lethality."

"The experts' study sets forth a policy to enhance our military's readiness, lethality, and effectiveness," the statement continued. "On the advice of these experts, the Secretary of Defense and the Secretary of Homeland Security have concluded that the accession or retention of individuals with a history or diagnosis of gender dysphoria—those who may require substantial medical treatment, including through medical drugs or surgery—presents considerable risk to military effectiveness and lethality."

It concluded, "This new policy will enable the military to apply well-established mental and physical health standards—including those regarding the use of medical drugs—equally to all individuals who want to join and fight for the best military force the world has ever seen. The Secretary of Defense's memorandum and accompanying report have been made public today."

Many celebrities and politicians quickly took to Twitter following the news to speak out against Trump.



A new accuser has emerged with rape accusations against Russell Simmons, and she is suing him for $10 million. According to court documents filed on March 23 and obtained by Billboard, a woman designated only as Jane Doe claims that Simmons raped her in a hotel room after she met ... More »
(KANSAS CITY, Mo.) — A Kansas waterslide hyped as the world's highest was a "deadly weapon" that had already injured more than a dozen people…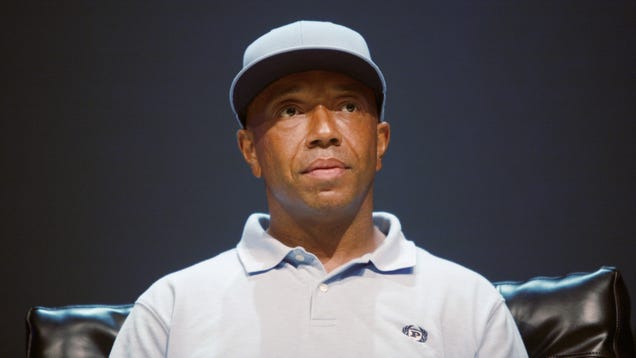 [Warning: While not graphic, this article does contain descriptions of sexual assault.]

Read more...


KANSAS CITY, Mo. (AP) — A Kansas waterslide hyped as the world's highest was a "deadly weapon" that had already injured more than a dozen people before a 10-year-old boy was decapitated on it in 2016, according to a grand jury indictment unsealed Friday that charges the water park operator and an executive with involuntary manslaughter.


Final broadcast primetime live same-day ratings for Thursday, March…
Can a dog get the flu? It's an important question, especially during 2018's fatal flu season, and one many may be asking after watching Isle of Dogs - Wes Anderson's new stop-motion animation movie about a mayor who banishes all dogs to a island of trash after dog flu starts to spread through his city.

Luckily, PEOPLE Pet Vet Dr. Evan Antin has the answers to your dog flu questions.

Unfortunately, yes, dogs are susceptible to the flu, more scientifically known as canine influenza. As Dr. Antin explains in the video above, there have been multiple outbreaks of dog flu around the U.S. in 2017 and 2018.

Dogs in Chicago were affected this past winter, and dogs in California, Arkansas, Missouri, Colorado and Washington are currently falling ill with the disease, Business Insider reports, with 80 percent of dogs that come in contact with the bug contracting canine influenza.

Dr. Antin says this infectious virus causes upper respiratory clinical signs, such as coughing, sniffling, sneezing, upper airway congestion or difficulty breathing. Occasionally, the illness can progress to a more advanced stage.

Learn more about the disease, how dogs can catch and spread it and the vaccine that may help prevent certain strains from affecting your pup in the clip above.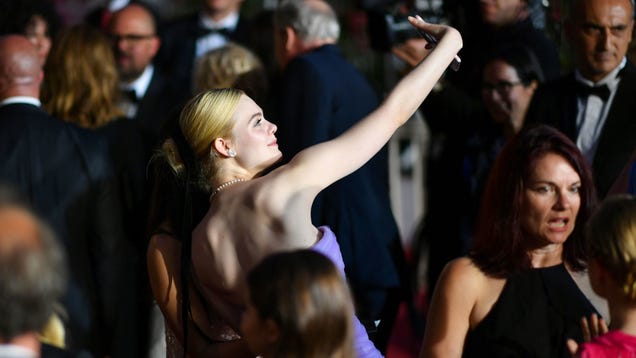 From the festival that brought you such hits as "no flats on the red carpet" and "are Netflix movies really movies?" comes a new Cannes rule: No selfies on the red carpet. Aside from, presumably, the crime against aesthetics committed every time someone takes a picture with a front-facing camera, the justification for…

Read more...



RELATED ARTICLES
U.S. President Donald Trump signed Congress' newly passed $1.3 trillion spending bill on Friday, ending several hours of confusion spurred by a tweeted veto threat that raised the specter of a government shutdown. Trump said he had signed the bill, despite his qualms on some issues, because a $60 billion increase in military spending had convinced him it was a worthwhile compromise. "But I say to Congress I will never sign another bill like this again," he told reporters.




Last night, the faint sound of barking filled the Upper West Side as Wes Anderson's Isle of Dogs took over the Film Society of Lincoln Center for a special preview screening. An eager crowd (including Anderson's former Moonrise Kingdom star Jared Gilman, a current NYU undergrad) had gathered in the ... More »

RELATED ARTICLES
Broadcast primetime live same-day ratings for Thursday, March 22,…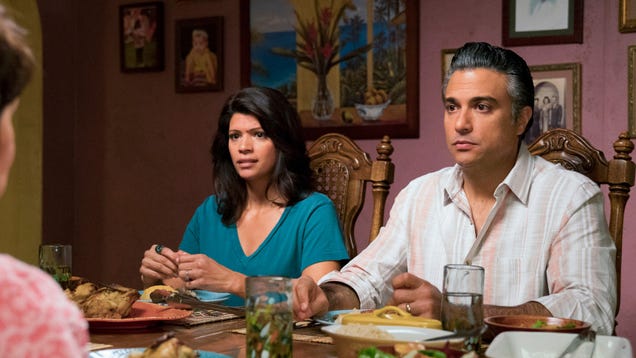 I hope everyone has tissues handy for tonight's Jane The Virgin. Or an absorbent shirt that won't irritate your eyes when you wipe tears away. I thought I was emotionally prepared for Xiomara's breast cancer storyline, but "Chapter Seventy-Eight" had me straight-up sobbing at multiple points. I didn't even cry this…

Read more...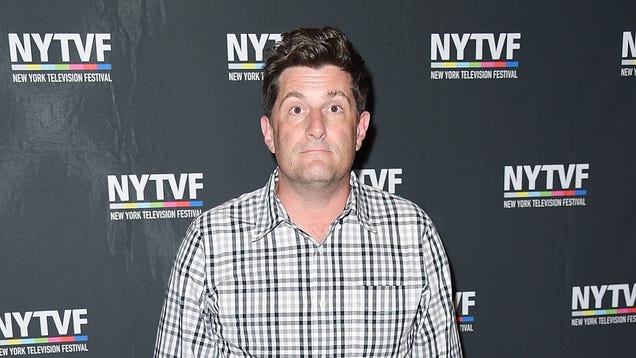 Fresh off his Oscar-nominated 2017 hit The Big Sick, director Michael Showalter has lined up his next project: a yet-to-be-titled holiday comedy reuniting The Help's Jessica Chastain and Octavia Spencer. Set during the holiday season, the film will see the women "fighting the elements to make it home for Christmas," a…

Read more...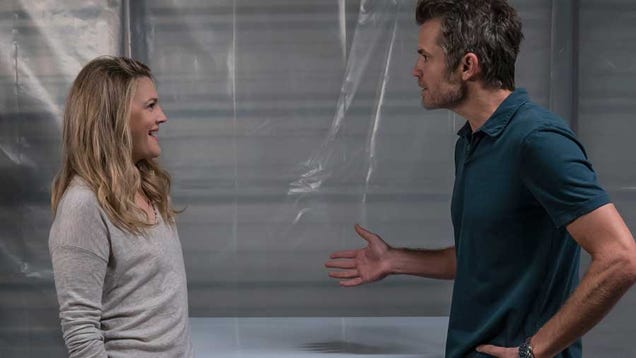 Episode four of Santa Clarita Diet kicked off some investigating into the zombie virus source and episode five picks up the ball and runs with it, leaving us with a midseason cliffhanger (for all of 30 seconds if you're binge-watching) that I've been waiting for since episode two ended. The episode does kind of take…

Read more...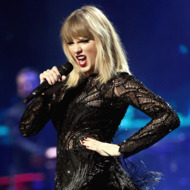 Our most apolitical pop star has finally found her cause. In a rare partisan moment, Taylor Swift (who voted, but for whom???) shared a message on Instagram taking a firm stance on gun violence. "No one should have to go to school in fear of gun violence. Or to a ... More »
'I have never been shy about what my views are,' John Bolton has said. Fifteen years ago to the week, the US began its invasion and occupation of Iraq. Among the war's many architects and cheerleaders was John Bolton, at the time a senior adviser to George W Bush on issues of arms control and international security.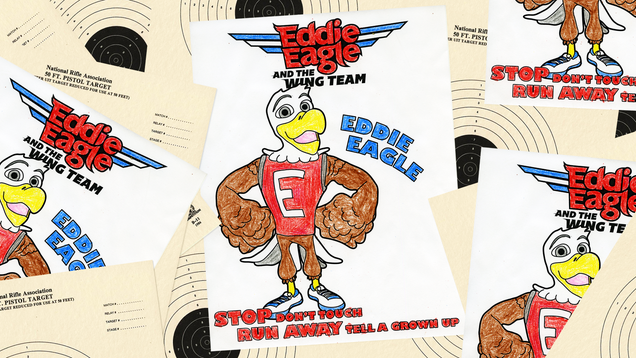 According to a recent study published in the medical journal Pediatrics, more than a thousand children die of gun violence each year, and thousands more are treated for gun-related injuries. In the wake of the Parkland school shooting and the upcoming March for Our Lives in Washington, D.C., the obvious question is…

Read more...


John Bolton wants regime change in North Korea and Iran, and he'll do whatever it takes to get it.


An exhibit of the French master's works at the National Gallery of Art, and Donald Sutherland as J. Paul Getty in "Trust."
The globe-spanning conflict between otherworldly monsters of mass destruction and the human-piloted super-machines built to vanquish them was only a prelude to the all-out assault on humanity in Pacific Rim Uprising. John Boyega stars as the rebellious Jake Pentecost, a once-promising Jaeger pilot whose legendary father gave his life to secure humanity?s victory against the monstrous Kaiju. Jake has since abandoned his training only to become caught up in a criminal underworld. But when an even more unstoppable threat is unleashed to tear through our cities and bring the world to its knees, he is given one last chance to live up to his father?s legacy by his estranged sister, Mako Mori (Rinko Kikuchi)?who is leading a brave new generation of pilots that have grown up in the shadow of war. As they seek justice for the fallen, their only hope is to unite together in a global uprising against the forces of extinction. Jake is joined by gifted rival pilot Lambert (Scott Eastwood) and 15-year-old Jaeger hacker Amara (Cailee Spaeny), as the heroes of the PPDC become the only family he has left. [Universal Pictures] Rated: PG-13Release Date: Mar 23, 2018

RELATED ARTICLES
For the second week in a row, "WWE Smackdown" led…

RELATED ARTICLES