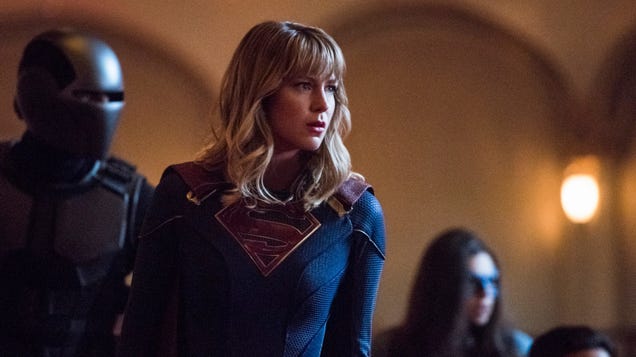 It looks like The CW's Arrowverse is really entering a new MCU-style "phase" pretty soon. Arrow, the show that started it all, ended after eight seasons back at the beginning of this year, and now TVLine says Supergirl will also be coming to an end once it finishes up its upcoming sixth season. Production is supposed…

Read more...



RELATED ARTICLES
Next week, BTS will bring "Dynamite" and more explosive surprises for their week-long hosting gig at The Tonight Show Starring Jimmy Fallon. But who should also have a takeover at the late-night show?

RELATED ARTICLES
This new documentary is a showcase for stunt performers in Hollywood, but it fails to capture the best of the action.
Young doctor fell ill after ER coronavirus rotation and suffered 'massive brain bleed


I made the infamous English trifle Rachel made for Thanksgiving on "Friends." It was actually good, thanks to "Friends: The Official Cookbook."        

RELATED ARTICLES
Both studies, taking different approaches, found clusters of COVID-19 cases traced back to long airline flights.


During a phone call with reporters, senior department officials said the rule, if adopted, would provide courts with a "cleaner and easier-to-use process" than the complex multi-factor test currently applied in lawsuits alleging workers have been misclassified. Independent contractors are not entitled to many of the legal protections afforded to employees, such as minimum wage and overtime pay. Employees can cost companies up to 40% more than contractors, according to several studies.


When the anthropologist Hugh Raffles lost two sisters within months, he looked to rocks and stones for a sense of perspective and stability.
A state of emergency has been declared ahead of an expected announcement from the state's attorney general


The startup has been described as the Uber for evicting people.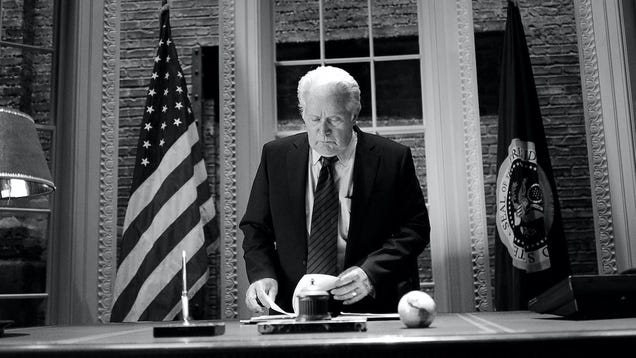 For many reasons, we wish we could just skip to 2021, when election season will be behind us and—hopefully—we'll know who will be sworn in on Inauguration Day. (Though, we'd like to take this moment to remind everyone that we're likely looking at Election Month instead of Election Day and to not let any right-wing…

Read more...


The nominations for the 2020 Billboard Music Awards came out today (Sept. 22), and Post Malone led the list with 16, including one for top artist. So who should win in that category?
Martin Sheen, Allison Janney, Rob Lowe, Bradley Whitford, and more are returning to the White House.
Donald Trump is likely to have the votes in the US Senate to confirm a Supreme Court nominee before the election after Mitt Romney became the latest Republican moderate to back a speedy process. Mr Romney, the Utah senator who was the Republican presidential nominee for the 2012 election, had been seen as a possible rebel given he is one of the few senators willing to publicly speak out against the US president. However on Tuesday Mr Romney disappointed liberals by making explicit his willingness to vote on the person Mr Trump picks to fill the Supreme Court seat open after the death of Ruth Bader Ginsburg last week. "The Constitution gives the president the power to nominate and the Senate the authority to provide advice and consent on Supreme Court nominees," Mr Romney said in a statement announcing his position. "Accordingly, I intend to follow the Constitution and precedent in considering the president's nominee. If the nominee reaches the Senate floor, I intend to vote based upon their qualifications."


Rulings in three states side with expanding vote-by-mail efforts despite campaign's attacks



RELATED ARTICLES
Ahead of her next act, Bea Miller caught up with Billboard about the surprise success of "feel something," what fans can expect from her upcoming music, and some of her earliest music memories.
Experts say US could reach 378,000 Covid-19 deaths by new year


Rob Lowe, Allison Janney, Martin Sheen and more "West Wing" stars to reunite for an HBO Max special to benefit Michelle Obama's get out the vote org.


New York congresswoman emerges as one of the high-profile faces of the Democratic response on ways to thwart Republicans' plansNew York congresswoman Alexandria Ocasio-Cortez has emerged as one of the high-profile faces of the Democratic response to Republicans' plan to quickly seat a new, conservative supreme court justice.Ocasio-Cortez, one of the most prominent champions of the liberal wing of the Democratic Party, was quick to offer a rallying cry to supporters discouraged by the late-Justice Ruth Bader Ginsburg's death last week."This moment is not the time for despair, it is not the time for cynicism. It is not the time to give up. It is not the time for us to say 'it's too late' or 'it's too far gone' or 'I don't know what to do,' we're going to talk about it right now," The New York congresswoman said in an 40-minute Instagram video posted on Saturday."Because it's that important. Because it is not hyperbole. The actual balance of our democracy rests in the actions that we choose to make - that I choose to make, that you choose to make, that every single individual - chooses to make between now and election day."Ocasio-Cortez has also made appearances alongside New York senator Chuck Schumer, the top ranking Democrat in the Senate. They made a joint appearance Sunday night in Brooklyn to urge supporters to mobilize to fight against Republicans' nominee to replace Ginsburg. That has suggested a strong sense of unity between Ocasio-Cortez and one of the most powerful
Everyone from Lil Nas X and Machine Gun Kelly to Thomas Rhett and Dan Shay took to social media on Tuesday (Sept. 22) to celebrate their BBMAs nominations.
The 2020 ceremony's host also poked fun at winners including Jeremy Strong and Zendaya.

RELATED ARTICLES
The 570-foot-long "Arktika" is designed to smash Putin's Russia a path of "sovereignty" through ice 9 feet deep in the sensitive northern region.


The Oscar winner plays Gloria Steinem opposite the Tony winner as Bella Abzug in the upcoming biopic.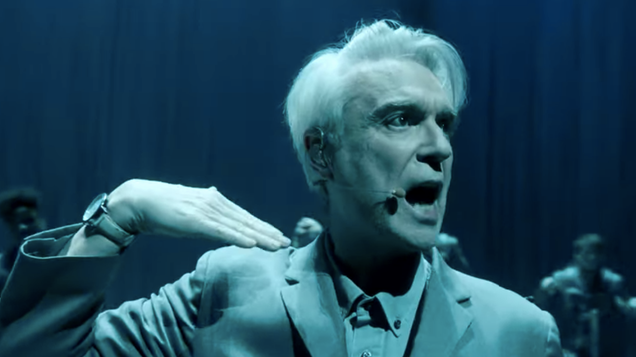 We're less than a month away from HBO's premiere of David Byrne's American Utopia, the Talking Heads alum's Broadway show that's here been translated to film with the help of Spike Lee. Described by our own A.A. Dowd as a "spiritual sequel" to Jonathan Demme's Stop Making Sense, the concert film finds Byrne and an…

Read more...



RELATED ARTICLES
The fall season will include Harold Pinter's Betrayal and Michael Frayn's Copenhagen.
Millie Bobby Brown stars as a teenager with sleuth skills that rival her famous brother's in this charming feature.
U.S. trade bans are spurring labor reforms in Malaysia, which produces two-thirds of the world's disposable gloves.


Our critics examine the highs, the lows and the oddities of the online versions of events in Toronto and New York.
The novel "Hench," by Natalie Zina Walschots, imagines a lost millennial in a Marvel-style war between good and evil.

RELATED ARTICLES
"Our Bodies, Their Battlefields," by Christina Lamb, a British foreign correspondent, provides one of the first exhaustive examinations of rape as a weapon of war.
The teen star says she looks up to the very same kids she's entertaining
The "Black Panther" star is a member of the 2020 Time100. He talked about how justice is central to his work
Despite her symptoms, the 27-year-old woman boarded her March 1 flight from London to Hanoi, Vietnam.


The new, narrower focus reflected political disagreements between the DOJ and state attorneys general, according to The New York Times.


People have hit protesters with cars dozens of times since the US erupted with protests following the death of George Floyd in May.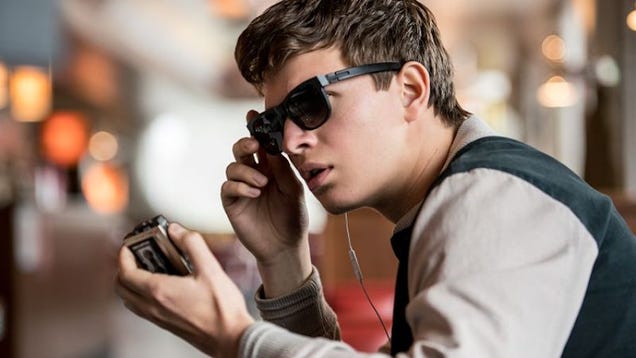 It's honestly wild that bands keep releasing new albums—Fleet Foxes, for example, dropped a new LP just this morning—when everybody collectively gave up on music following the premiere of Serial. Everybody you see walking down the sidewalk wearing headphones is listening to My Favorite Murder or Reply All or Chapo…


The band timed Shore to the autumnal equinox.
The social thriller's 27 Tomatometer score earned it the season's first anti-bonus.
Here's how your next trip to the retailer could soon look different.


The NSAI names Ashley Gorley its songwriter of the year at this year's virtual Nashville Songwriter Awards. He wins for the fifth time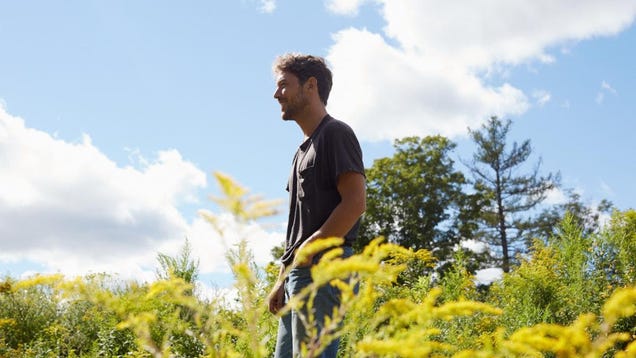 For many, the pandemic (and its subsequent lockdown) hasn't been quite the creative boom it was for Shakespeare. That was true, too, for Fleet Foxes' Robin Pecknold—until it wasn't. The singer and songwriter was sitting on a batch of instrumentals when the Bad Germ swept across the world, struggling to find the words…

Read more...


Jimmy Buffett, Mac McAnally and the late B.B. King are among the latest inductees to the Mississippi Songwriters Hall of Fame.
The Belfast-born author is best known for the children's classic book about two nutbrown hares.
The trailer for "The Croods: A New Age" is out, and it turns out the Croods aren't the only family on earth.There's another, more evolved family living in a utopia of irrigated fields of produce and a fancy treehouse named the Bettermans. Leslie Mann and Peter Dinklage play Phil and Hope Betterman, and Eep Crood (Emma Stone) couldn't be happier to meet their daughter, Dawn (Kelly Marie Tran) her first-ever friend that's a girl her own age. But Grug Crood (Nicholas Cage) isn't so sure all this fancy new stuff, like the TV-like bird-watching that's got all of Guy's (Ryan Reynolds) attention, is a good idea.Watch the trailer above.Also Read: Emmys' Historic Diversity: Majority of this Year's Acting Winners Are Black"The Croods need a new place to live. So, the first prehistoric family sets off into the world in search of a safer place to call home. When they discover an idyllic walled-in paradise that meets all their needs, they think their problems are solved … except for one thing. Another family already lives there: the Bettermans," reads the official description from Universal Pictures and Dreamworks Animation."When they take the Croods in as the world's first houseguests, it isn't long before tensions escalate between the cave family and the modern family," the description continues. "Just when all seems lost, a new threat will propel both families on an epic adventure outside the safety of the wall, one that will force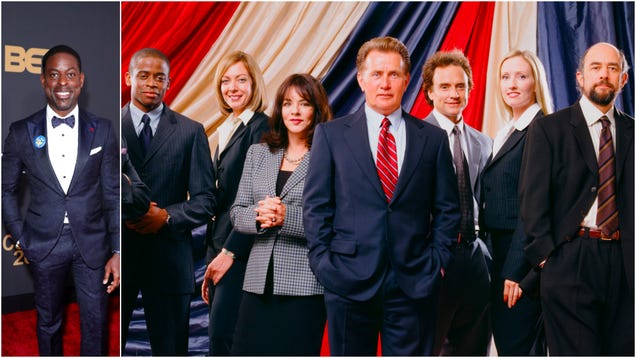 The West Wing creator Aaron Sorkin has long spoken of his dream to reboot his former NBC political drama with This Is Us star and perennial Emmy nominee Sterling K. Brown as president. Since This Is Us still has at least two more seasons, we doubt we'll be getting a full-on reboot any time soon. But it looks like at…

Read more...


Kimmel started his pandemic-era monologue by delivering it to a fake audience. "Of course we don't have an audience," he quipped. "This isn't a MAGA rally."
In this enthralling streaming production of Brian Friel's 1979 play, an itinerant miracle worker is grounded in a gritty reality.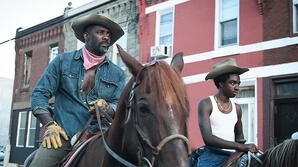 This year's Toronto International Film Festival was really one for the history books. With all of the films being available to watch virtually, this was the first time we've ever covered a film festival from our living room couch. But just because it was a virtual festival doesn't at all mean it wasn't valuable and, ultimately, memorable. Here's a little bit more on just how memorable the virtual 2020 TIFF was. Even though the festival was a virtual one this...

Read More

Read Comments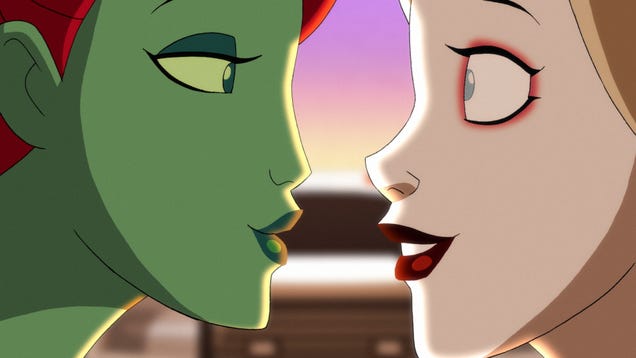 Season two of Harley Quinn may have ended on an exceptionally high note, but that doesn't mean that we weren't ready, willing, and more than able to sit in on a few more adventures from Gotham's newest chaotic couple. So yes, we absolutely let out a high-pitched sigh of relief when HBO Max announced on Friday that it…

Read more...


"The Spook Who Sat by the Door," a 1973 parable about institutional racism, was pulled from theaters after only a few weeks. The New York Film Festival is giving new life to the cult film.
From "Mulan" to "Wonder Woman 1984," here are the most anticipated movies hitting streaming services (and maybe theaters) this fall
Lauv released his debut album, How I'm Feeling, on March 6. Just a few weeks later, the world began to shut down due to the coronavirus pandemic. Lauv is a singer-songwriter whose intimate, downtempo pop has made him a go-to artist on streaming platforms and as a featured voice for artists like Troye Sivan, BTS…


  Shirley Jackson's most famous work, The Haunting of Hill House, has been turned into two feature films and a hit Netflix mini-series. But the biopic Shirley does not even mention her most seminal work. That's because it's not a standard biopic, but instead, a film that digs into the atmosphere of Jackson's gothic prose and weaves a standalone tale all its own. Josephine Decker's film begins shortly after "The Lottery" was published in The New...

Read More

Read Comments


In 10 Words or LessA charismatic guy, a fascinating life and Hollywood's secretsReviewer's Bias*Hollywood history, good documentaries
LGBTQ documentaries
gossip
hoarding
T...Read the entire review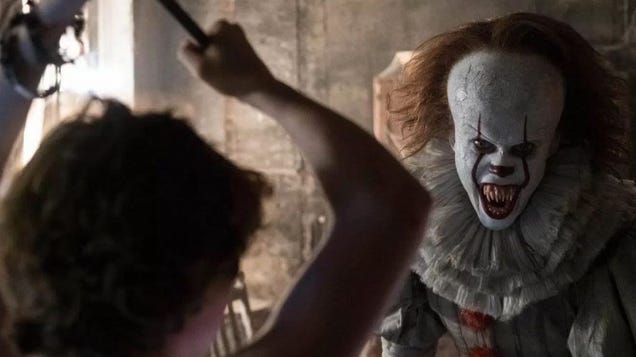 While filming the first It film, director Andy Muschetti made sure to keep the kids away from Pennywise (Bill Skarsgård) when they weren't filming so the diabolic clown would stay as terrifying as possible to them. However, now that Pennywise is a celebrity—and It: Chapter Two's actors are adults—Skarsgård is thrilled…

Read more...