Photo Illustration by The Daily Beast/Photos Getty ImagesThe time to hesitate is through. Congress needs to get its act together.

If it doesn't raise the debt limit, the government won't be able to pay its bills come October. And the key to this is for Democrats to suck it up and do the job the American public elected them to do. If they don't, there will be hell to pay.

Now, there is a temptation to try and blame Republicans for refusing to help. But according to a Politico and Morning Consult survey, twice as many people (33 percent compared with 16 percent) are prepared to blame Democrats over Republicans. This is a departure from the norm. Shutdown showdowns in the mid-1990s, and again in the early 2010s, predictably cut against Republicans and forced them to ultimately cave to pressure (whether we're talking about a government shutdown showdown or a debt limit standoff, the blame dynamics are similar—with the only difference being no one has ever been insane enough to actually default on the debt). But things are looking different this time around, for a variety of reasons.

Read more at The Daily Beast.


Biden's domestic agenda hangs in the balance, at risk of collapse and political fallout if he and Democratic leaders cannot pull their party together.
A new ad blitz by the National Republican Congressional Committee (NRCC) that targets House Democrats potentially facing difficult reelections bids next year has a new villain - President Biden.



(Second column, 6th story, link) Related stories:
Debt-Limit Standoff Could Force Fed to Revisit Emergency Playbook...
'X Date'...
Tumultuous Week on Hill..
DEMS ON THE ROPES?

Drudge Report Feed needs your support!   Become a Patron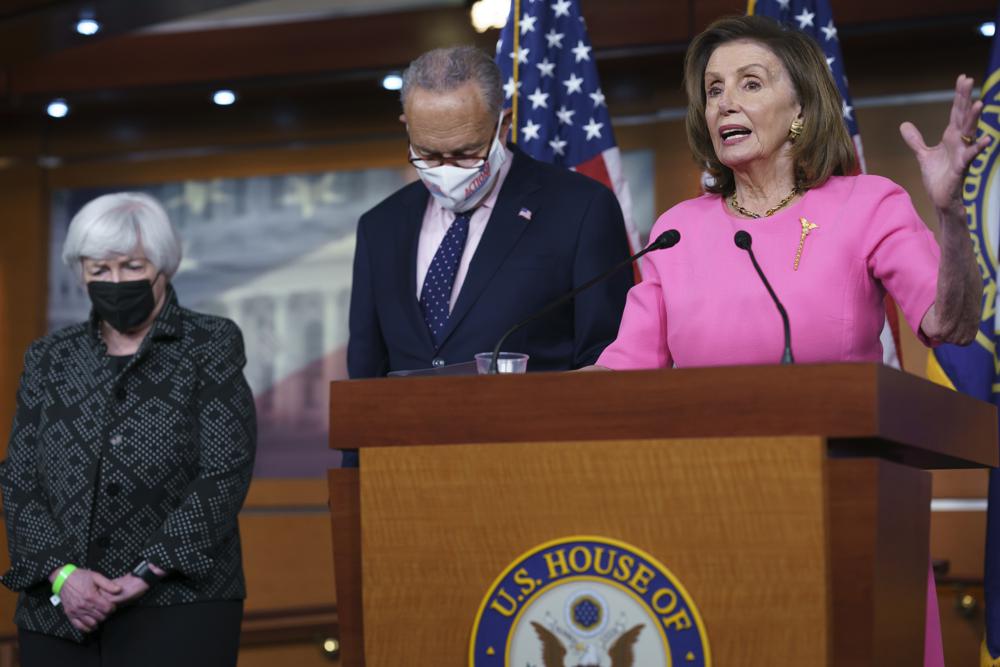 (Main headline, 1st story, link) Related stories:
'X DATE'


WASHINGTON — The Department of Homeland Security (DHS) today announced a notice of proposed rulemaking (NPRM) that would preserve and fortify the Deferred Action for Childhood Arrivals (DACA) policy.  DHS will open a 60-day public comment period for the public to submit comments relevant to the proposed rule.

"The Biden-Harris Administration continues to take action to protect Dreamers and recognize their contributions to this country," said Secretary Mayorkas.  "This notice of proposed rulemaking is an important step to achieve that goal.  However, only Congress can provide permanent protection.  I support the inclusion of immigration reform in the reconciliation bill and urge Congress to act swiftly to provide Dreamers the legal status they need and deserve."

The rule addresses the DACA policy as announced in the 2012 Napolitano Memorandum and based on longstanding USCIS practice.  The rule embraces the consistent judgment that has been maintained by the Department—and by three presidential administrations since the policy first was announced—that DACA recipients should not be a priority for removal.

The NPRM will publish on Tuesday, September 28.  The NPRM also modifies and improves the existing filing process, while codifying and clarifying DHS's longstanding information sharing and use policy regarding DACA requests.

DHS welcomes public comments on the proposed rule, including legal and policy considerations, and suggestions for alternative approaches.  Following the completion of the public comment period, DHS will review and carefully consider all properly submitted comments before issuing a final rule.

DHS is complying with the July 16, 2021 order issued by the U.S. District Court for the Southern District of Texas, which prohibits DHS from granting initial DACA requests.  DHS continues to accept and process DACA renewal requests based on the terms of DACA policy, as permitted by the court's order.  The Biden-Harris Administr
President Joe Biden has determined he will not assert executive privilege to shield Trump-era records from being seen by a congressional committee investigating the January 6 insurrection attempt, the White House said on Friday.