Fox NewsHours after acting White House chief of staff Mick Mulvaney held a disastrous press briefing in which he acknowledged a quid pro quo with Ukraine and said politics were influencing President Donald Trump's foreign policy decisions, Fox News host Laura Ingraham tried to blame Mulvaney's performance on the fact that he isn't a lawyer.

There's just one problem with Ingraham's theory: Mulvaney is a lawyer.

Midway through Thursday afternoon's White House presser, the acting chief of staff said Trump mentioned the corruption he was concerned about in Ukraine was "related to the DNC server" and that was the reason "why we held up the money." After admitting to a quid pro quo, Mulvaney added that everybody needs to "get over it" and realize there's "going to be political influence in foreign policy."

Read more at The Daily Beast.


President Trump on Thursday likened the Turkish offensive against the Kurds to a schoolyard fight, saying, "sometimes you have to let them fight a little while" before you separate them.

RELATED ARTICLES
U.S. President Donald Trump defended his Syria pullout at a campaign rally on Thursday and lashed out at "crazy Nancy" Pelosi and other Democrats who are trying to remove him from office through impeachment.

RELATED ARTICLES
Sen. Mitt Romney, R-Utah, on Thursday slammed the Trump administration, calling the recently announced ceasefire between Turkey and Kurdish-led forces in Syria "far from a victory."  

RELATED ARTICLES
In admitting that Trump had personally intervened to award a multimillion-dollar summit to his own company, and that the president had also used taxpayer money as leverage to push a Ukrainian investigation into Democrats, Mulvaney embraced a Trumpian tactic: saying the quiet — and potentially illegal — part out loud.

RELATED ARTICLES
Comedy CentralTrevor Noah spent a few minutes on Thursday night's edition of The Daily Show examining the day's "surprise press conference" from Trump's "acting" Chief of Staff Mick Mulvaney, who "shocked everyone in the room" by admitting that there was a "quid pro quo" in the administration's dealings with Ukraine and that everyone should just "get over it."

Hours later, Mulvaney had to walk back his statement, directly contradicting himself by saying, "?Let me be clear, there was absolutely no quid pro quo between Ukrainian and military aid and any investigation into the 2016 election."

"OK, hold up, hold up," Noah said in response. "Trump has said on multiple occasions 'no quid pro quo of any kind.' Now, middle-aged Harry Potter is coming out saying that there was a certain type of quid pro quo and everyone must 'get over it?'"

Read more at The Daily Beast.

Got a tip? Send it to The Daily Beast here



RELATED ARTICLES
The House speaker described the moment captured by a White House photographer when she challenged the president amid bipartisan anger of his decision on Syria.

RELATED ARTICLES
Earlier in the day, acting White House chief of staff Mick Mulvaney confirmed Trump ordered military aid to Ukraine to be put on hold. He later denied those remarks.
President Donald Trump is not pleased with acting chief of staff Mick Mulvaney's press briefing and his acknowledgment on Thursday of a quid pro quo, according to a source close to the President.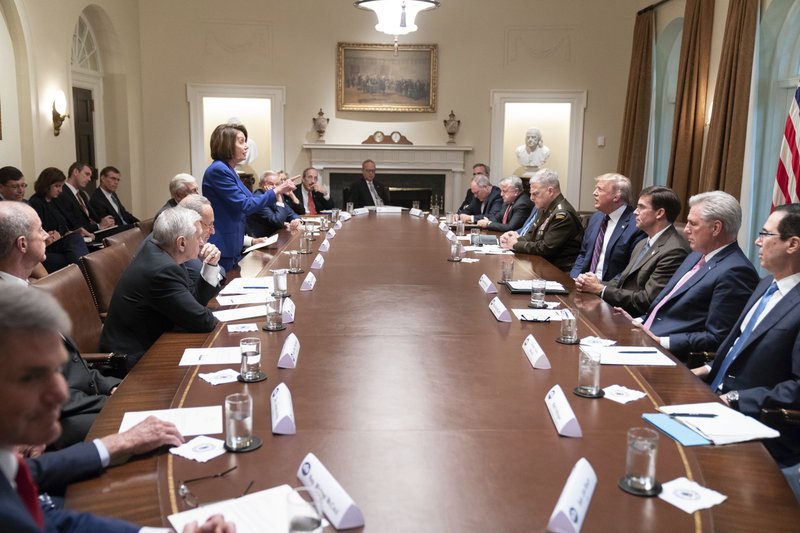 (Second column, 5th story, link)

At his campaign rally in Dallas, the president brought up Turkey's agreement to temporarily pause its attacks on Kurdish-held northern Syria.
The White House has settled on its defense for President Donald Trump and Rudy Giuliani's actions on Ukraine: It's all about 2016, not 2020.



(Third column, 1st story, link) Related stories:
10 times he clashed with President...


Energy Secretary Rick Perry notified President Donald Trump that he plans to resign from his post, two administration officials confirmed to White House reporters on Thursday.
At first the acting White House chief of staff undercut the president's denial of a quid pro quo. Late in the day he reversed himself.
U.S. Energy Secretary Rick Perry will step down by the end of the year, President Donald Trump said on Thursday, a day before a deadline set by congressional Democrats for Perry to turn over documents in the impeachment probe.
What he says happened makes no sense. What he says Trump wanted makes no sense.
President Donald Trump's emergency declaration, which he says allows him to redirect federal funds to build a U.S.-Mexico border wall, will stay in effect after the U.S. Senate on Thursday failed to override his veto of legislation terminating the executive action.

RELATED ARTICLES
Hours after his vice president and secretary of state brokered a cease-fire, President Trump said he was right to let Turkey attack America's Kurdish allies because it eventually led to a deal.



(Second column, 1st story, link)

Former Texas Rep. Beto O'Rourke, one of the Democrats seeking to unseat President Trump in 2020, urged Republicans in Congress to envoke a clause of the Constitution that potentially would block President Trump from hosting the G-7 summit at a Trump resort in Doral, Fla.

RELATED ARTICLES
President Trump was headlining a campaign rally on friendly turf in Dallas, Texas on Thursday, just hours after Energy Secretary and former Texas Gov. Rick Perry announced he would soon step aside amid scrutiny from House Democrats conducting an impeachment inquiry.
"I just think it's another day in the life of Washington, D.C., these days," Sen. Marco Rubio (R-Fla.) said.
Fox News' Chief White House correspondent John Roberts sat down with Vice President Mike Pence in Ankara, Turkey Thursday following Pence's announcement that Turkey had agreed to a ceasefire in Syria. 



(Top headline, 6th story, link) Related stories:
GALLUP: 52% SUPPORT REMOVAL...
MIRRORS NIXON...
TRIAL BY THANKSGIVING?
Impeachment Blockade Crumbles as Witnesses Agree to Talk...
Would Trump quit? One Wall St firm looks at potential...
Napolitano on Doral G7: 'As Direct and Profound Violation of Emoluments Clause As One Could Create'...


President Trump will not be discussing climate change at the next G-7 meeting, his acting chief of staff says.



RELATED ARTICLES
via REUTERSLast month, at the United Nations, Turkish President Recep Tayyip Erdogan waved a map of northeastern Syria before the world's dignitaries. His point was to demand U.S.-backed Kurdish fighters, whom Washington had relied upon to fight the so-called Islamic State, get out. His subtext was that he was ready to violently extend the Turkish border southward, seizing Syrian territory. 

In Ankara on Thursday, Vice President Mike Pence gave Erdogan everything the Turks wanted in the long-telegraphed war Erdogan launched following a green light from President Donald Trump during a now-infamous Oct. 6 phone call. The U.S. did not even get the status quo ante. 

The Turks did not agree to withdraw from Syrian territory. They agreed to a ceasefire, Pence announced. Over the next five days, the Kurdish forces that the U.S. abandoned are to withdraw approximately 20 miles south. In exchange, the Trump administration agreed not to implement new sanctions—Sens. Lindsey Graham and Chris Van Hollen introduced a new sanctions package as Pence briefed reporters—and, should the Turkish ceasefire hold, will lift those the administration placed on Turkey after Trump's greenlight drew widespread backlash. 

Read more at The Daily Beast.

Got a tip? Send it to The Daily Beast here


Members of President Donald Trump's own party are privately alarmed at his demeanor this week and his apparent lack of understanding of the consequences of his Syria policy, according to a Republican source familiar with a recent White House meeting.



(Second column, 9th story, link) Related stories:
Biden's most loyal supporters starting to look elsewhere...
Would You Bet Against Trump in 2020?

Drudge Report Feed needs your support!   Become a Patron


The Utah senator delivers an impassioned speech on the Senate floor that accuses the president of betraying American values.



RELATED ARTICLES
U.S. President Donald Trump will host next year's Group of Seven economic summit of developed nations' leaders at his Florida golf resort, a move Democrats and others decried as more evidence of the president misusing his office for personal gain.
U.S. Energy Secretary Rick Perry has told President Donald Trump he will step down, a day before a deadline set by Democrats in the U.S. House of Representatives for him to turn over documents in the impeachment probe, according to a source familiar with the matter.
"It's almost like they built this facility to host this type of event," the acting White House chief of staff said, dismissing questions over the propriety of the president picking his own hotel.
Sen. Rand Paul (R-Ky.) argued that Congress has not authorized the use of force in Syria.
The Fix analyzes the reactions of everyone in the photo President Trump tweeted out of the White House "meltdown" meeting.

RELATED ARTICLES
The House this week overwhelmingly voted to condemn the pullout.
Brendan Smialowski/AFP/GettyPresident Donald Trump invited Democratic Party leaders to the White House on Wednesday and proceeded to have what those leaders described as a "meltdown" in front of them. Before the lawmakers left early, Trump managed to rail against communists, his own former Secretary of Defense James Mattis, and House speaker Nancy Pelosi, whom he called "a third-rate politician," according to the Democratic leaders and sources' descriptions of the meeting.

Shortly after the brief, cross-partisan meeting with the president in the Cabinet Room—which was convened to discuss Syria and Turkey-related matters—Pelosi, Senate Minority Leader Chuck Schumer (D-NY), and House Majority Leader Steny Hoyer (D-MD) emerged to give a readout to reporters on what was, in Schumer's words, Trump's "nasty diatribe."

"What we witnessed on the part of the president was a meltdown—sad to say," Pelosi told reporters. "I think that vote, the size of the vote—more than 2-to-1 of the Republicans voted to oppose what the president did [on troops in Syria]—it probably got to the president, because he was shaken up by it [and] that's why we couldn't continue in the meeting because he was just not relating to the reality of it."

Read more at The Daily Beast.