A Texas doctor says he is fighting 'a war against COVID and a war against stupidity.' He has hopes for first, says second becoming 'more difficult.'



RELATED ARTICLES
Within the last few weeks, large indoor house parties across New Jersey, including Airbnb rentals, have been blamed for spikes in COVID-19 cases.


Mexican authorities say they have detained José Antonio Yépez Ortiz, alias 'El Marro,' the alleged leader of the Santa Rosa de Lima cartel.


The play podcast curates each season around a specific demographic that is underproduced and underrepresented in the American theatre.
NASA astronauts Bob Behnken and Doug Hurley will splash down near Pensacola or Panama City on Sunday as Hurricane Isaias batters Florida.


The White House coronavirus response coordinator told CNN that current outbreaks in the US are "different from March and April."


House Majority Whip James Clyburn joins 'Fox & Friends Weekend.'


The play podcast curates each season around a specific demographic that is underproduced and underrepresented in the American theatre.
It turns out mucking around with the past can have some real consequences after all.
ORLANDO, Fla. - Tropical Storm Isaias was expected to return to hurricane status overnight as it approached the southeastern Florida coast Saturday night, according to the National Hurricane Center's 11 p.m. update. Hurricane warnings remained in effect from Boca Raton in Palm Beach County to the Volusia and Flagler county lines in Central Florida. Isaias downgraded to tropical-storm strength ...


Music fans voted in a poll published on Billboard, choosing Beyoncé's stunning new visual album on Disney as their favorite new music release from the past week.
Taylor Swift's "Folklore" flies in at No. 1 on the Billboard 200 albums chart, capturing the biggest week for any album since Swift's last release, 2019's "Lover."
The Texas Board of Law Examiners will allow test-takers to bring their own menstrual products after previously forbiding them over security concerns.


It may be 2024 before airlines fully recover from the coronavirus crisis, a major airline group acknowledged for the first time.


She's now the only artist ever to have seven consecutive albums sell 500,000 copies or more in a single week.
J-pop boy band DISH// shared the new animated music video for their hit song "Neko - THE FIRST TAKE ver. -" made in collaboration with fans on TikTok.
The crab fisherman worked aboard the Seabrooke and Cape Caution on the Discovery Channel reality series.
A Manchester-born publisher has been identified as the alleged former girlfriend of Jeffrey Epstein named in legal papers relating to Ghislaine Maxwell that were unsealed by a Manhattan court last week. A woman named as "Shelley" was allegedly named by Ms Maxwell as Epstein's girlfriend between 1999 and 2002, according to an email contained in papers released by US District Judge Loretta Preska. It has now been claimed that the woman is Shelley Ann Lewis, 43, a "wellness entrepreneur", who runs a company called The Equanimity Expert. There is no suggestion that Ms Lewis was aware of any criminal behaviour by Epstein during the time of their alleged relationship. It coincided with the time when Virginia Giuffre alleges she was coerced into having sex with the Duke of York - an allegation that Prince Andrew has repeatedly and vehemently denied. Ms Lewis could, lawyers believe, be approached by prosecutors and attorneys in the United States acting for Epstein's victims to ask what she knew about the alleged behaviour of Ms Maxwell and Epstein. The tranche of papers was compiled during a defamation case brought against Ms Maxwell by Ms Giuffre. They were released despite fierce opposition from Ms Maxwell's legal team. In a January 2015 email to Epstein, Ms Maxwell wrote: "I would appreciate it if Shelley would come out and say she was your g'friend - I think she was from end [19]99 to 2002." Epstein replied: "OK with me." Ms Lewis' name appear
Fans were swift to make it known they're delighted over Folklore's accomplishments.
With a new collection, "In the Valley," Ron Rash revisits the monstrous protagonist of "Serena" and plumbs the depths of Southern hearts.
It was the first time students in Greenfield, Indiana, had been back in schools since the pandemic closed them in March.


The mustached Brimley worked his way up from movie stunt rider to an indelible character actor
Portland, Ore., where more than 72% of the population is white, has been transformed into a national center of the movement for racial justice.


Homicides soar as two gangs battle it out in the Mexican state of Guanajuato.


Jesse Eisenberg's audio drama, "When You Finish Saving the World," is coming to Audible ahead of a film adaptation with Julianne Moore.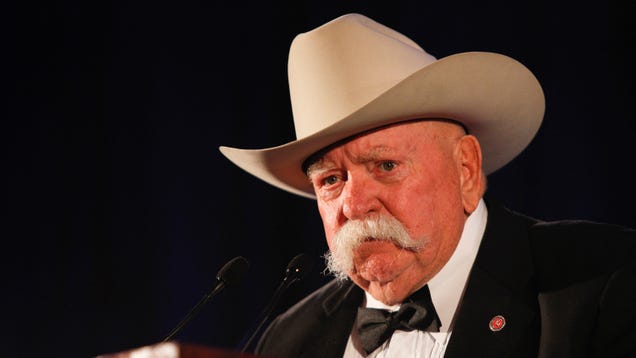 Wilford Brimley has died. One of the great gruff old men of cinema—despite the fact that his first great "old guy" performance, Cocoon's Ben Luckett, came when he was still just 49 years old—Brimley lent gravitas to everything from landmark sci-fi films, to John Grisham legal thrillers to, yes, oatmeal commercials and…

Read more...


Seth Rudetsky and James Wesley's daily series benefits The Actors Fund.
Burn the Floor and Gilda Radner—Live From New York both open on Broadway.
In his latest book, "Life of a Klansman: A Family History in White Supremacy," Edward Ball delves into his family's racist Southern past.        
Rep. Louie Gohmert is remaining stridently anti-mask even after being diagnosed with COVID-19, because he things that's what Trump wants.


Recognizable by his walrus mustache, the actor specialized in playing cantankerous characters in "Absence of Malice," "The Natural" and other films.
Connie Culp, the recipient of the first partial face transplant in the U.S., has died at 57, almost a dozen years after the groundbreaking operation.



RELATED ARTICLES
Katy Perry dropped some hints about what fans can expect from her upcoming album, 'Smile.'
"Allowing one group to paint messages on the street means everyone would be able to do so," Tulsa City attorney said, adding that murals shouldn't be allowed for safety reasons.


She detailed her experience with the virus in a post called "My Covid Story."
Despite the president's repeated call for schools to open to students, his son's Maryland private school will remain closed due to a county order.


Centerstage With Healthcare Heroes marks a partnership between Playbill and Weill Cornell Medicine.
Test your knowledge of Wicked's green leading ladies.
At Random House and elsewhere, including his own Summit imprint, he worked with James Baldwin, Marilyn French, Hunter S. Thompson and many others.
Yandel's new album "Quien Contra Mi 2," Reik's new single "Pero Te Conocí" and more new music featured on First Stream Latin.
(NEW YORK) — Broadway seamstress Amy Micallef hasn't put her talent on hold while theaters are shut. She's been making plush toys—unusual plush toys. Micallef, who has worked in the wardrobe departments of "Hamilton," "Waitress" and "Frozen," makes gleeful representations of COVID-19, complete with a pair of eyes and faux fur. Each one goes for…

RELATED ARTICLES
On outlets from Hulu to Peacock to PBS, it's the summer of the trans-Atlantic import.
The president said he didn't ask Vladimir Putin whether Russia paid to have U.S. troops killed. The "Daily Show" host can see why that talk would have been "super awkward."
Hugh Jackman and Allison Janney shine in their roles as New York school administrators who stole millions from their Long Island school district

RELATED ARTICLES
The way these guys think says a lot about the music they like. (Touchstone Pictures)