The Brexit Party has won nine of the first 10 regions to declare its results in the European elections - the North East, North West, East of England, Wales, West Midlands, East Midlands, Yorkshire & Humber, the South West and South East. In the process they have acquired 28 of the first 64 UK seats to be awarded. In the North East Nigel Farage's party recorded 39% of the vote, while they achieved 38% of the vote in the East of England, West Midlands and East Midlands, and 36% in Yorkshire & Humber. The Conservatives have lost a huge share of the vote across all regions, down 18% in the North East. The party is in fifth place, and on course for its lowest vote share in a national election since they formed in 1834. In London, the Liberal Democrats, who have performed well in all regions so far declared, topped the poll. European election: UK results - Follow all the latest European elections news in our liveblog The Grand Coalition of the centre-right and centre-left in the European Parliament could lose their 40-year majority, with exit polls predicting some 78 seats dropped between the two major establishment blocs. The European Peoples' Party (EPP) and Socialists & Democrats (S&D;) are predicted to suffer heavy losses amidst a surge of both populist and liberal support, with voter turnout at a 25 year high potentially reaching 51 per cent. In France, Marine Le Pen's far-right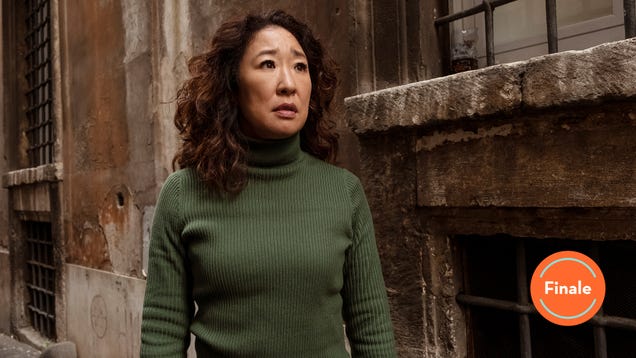 Early in the Killing Eve finale, Hugo jokingly calls Eve "Mrs. Robinson," and it's the exact sort of pat joke people have been making about The Graduate for years any time an older woman is involved with a younger man. But the reference turns out to be far more apt than he realizes.


Read more...


Following is a summary of current world news briefs. Several Kurdish lawmakers and thousands of prison inmates in Turkey have ended their hunger strike after a call from jailed militant leader Abdullah Ocalan, one of the MPs said on Sunday, 200 days after the protest was launched. Pro-Kurdish Peoples' Democratic Party (HDP) lawmaker Leyla Guven began a hunger strike in November in a bid to end Ocalan's years of isolation by securing him regular access to his family and lawyers.


A British climber, who became the latest person to die on Mount Everest this season, admitted before setting off that he feared the dangers of overcrowding in the "death zone". Robin Haynes Fisher, 44, died on his descent after reaching the 8,850-metre (29,035 feet) summit of the world's highest mountain. He passed away in the "death zone", the area named for the low levels of oxygen on descent from the summit. Mr Fisher, who lived in Birmingham, is one of at least eight climbers to die on the treacherous slopes in the current climbing season that ends this month. Hiking officials attributed most of the deaths to weakness, exhaustion and delays on the crowded route to the summit. In his last social media post on Tuesday, Mr Fisher wrote how he had changed his climbing plans in order to avoid the crowds. View this post on Instagram Climbed up to camp 3, 7500m but the jet stream had returned closing the summit after only 2 days so I descended to basecamp. Around 100 climbers did summit in those 2 days with sadly 2 deaths, an Indian man found dead in his tent at camp 4 and an Irish climber lost, assumed fallen, on his descent. A go fund me page has been set up for a rescue bid for the Irish climber but it is a well meaning but futile gesture. Condolences to both their friends and families. Both deaths happened above 8000m in the so called death zone where the majority of deaths of foreign climbers happen. Around 700 more people will be looking to summit f