With Joe Biden tapping a woman as his running make, Trump is offering a divisive message to women voters that some Republican operatives are questioning.
'Radical leftist' or not progressive enough? In the hours after Ms. Harris's announcement as Joe Biden's vice president, the Trump campaign struggled to launch a clear attack on the Biden-Harris ticket.
"America is crying out for leadership," Harris said of Trump's presidency in her first appearance as Biden's running mate in Delaware.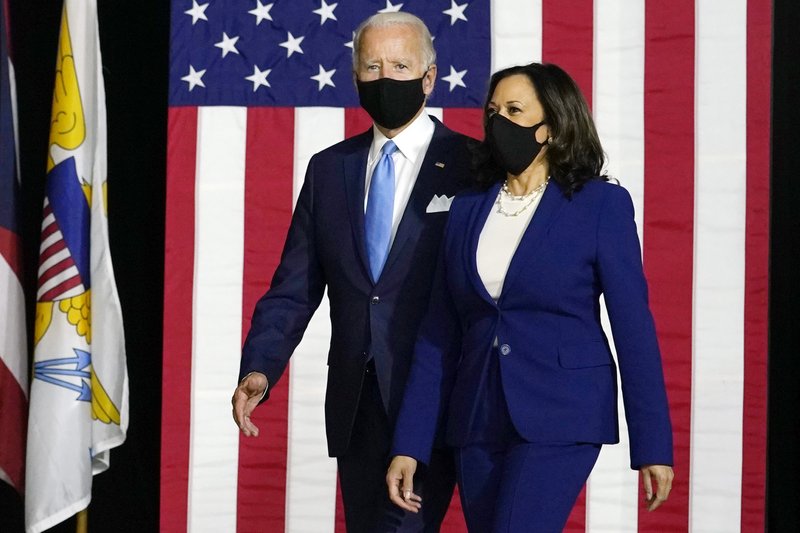 (Second column, 4th story, link) Related stories:
538: BIDEN 71% CHANCE OF WINNING...
LEADS 5 BATTLEGROUNDS...
SURGE IN FUNDRAISING...
Socially Distanced Debut...
No Crowd...
Vicious in primary, now Kamala and Joe as one...
FLASHBACK: CNN's Jeff Zucker once feted...
PALIN OFFERS ADVICE...

President Trump weighed in on Joe Biden's running mate pick Wednesday, saying there was "nobody more insulting to Biden than she was" during the Democratic primary.
Joe Biden and Kamala Harris made their debut together as running mates Wednesday afternoon in Wilmington, Del., a day after Biden announced his choice of the California senator to join him on the 2020 Democratic ticket, with Harris vowing to prosecute the political case against the Trump-Pence ticket.
Drew AngererWell—she was great.

Kamala Harris has swagger. That's going to drive right-wing men nuts. They're just not going to know what to do about that. She was so confident in her first remarks as the Democratic Party's vice presidential candidate. The delivery, the timing. The body language: She bounced from foot to foot, raised her index finger every couple minutes, looked this way, looked that way, smiled here, furrowed her brow there. She was mesmerizing to watch.

And the words—this was a really well-written speech. Not long—barely 20 minutes, if that. But it flowed seamlessly from this section to that. There were five sections in all: first, a little intro section sounding the basic themes about this historical moment of pandemic and economic collapse and a moment of reckoning about systemic racism; second, some lovely stuff that was new to me about her friendship with Beau ("Beau and I spoke on the phone practically every day, sometimes several times a day, working together" to help underwater families keep their homes) and a nice little tribute to the way Joe cared for his boys after his wife and daughter died; third, an autobiographical section with some very nice stuff about her husband and kids and her parents, which will drive the wingnuts crazy because her parents met marching for civil rights and took baby Kamala on some protest marches; fourth, the case against Donald Trump and Mike Pence, which was brutal; and fifth, the Biden-Harris agenda—an energy revolution, health care, choice, v
The president has attacked Joe Biden by trying to appeal to a community that no longer exists.


President Trump told Fox News' Sean Hannity in an exclusive interview Tuesday that presumptive vice presidential nominee Kamala Harris is "the most liberal person, supposedly, in the Senate," adding "I'm not sure that's what the country wants -- if it is, we've got problems."
President Trump should have congratulated Sen. Kamala Harris, D-Calif., on being named presumptive Democratic nominee Joe Biden's running mate from the White House briefing room, Sen. Amy Klobuchar, D-Minn., told "Special Report" Tuesday.
In a pair of interviews on Tuesday, President Donald Trump railed against his competitor for being weak on China -- but stopped short himself of condemning China's repression of its Uyghur ethnic minority or its crackdown on political freedoms in Hong Kong.

RELATED ARTICLES