Hong Kong police have banned the annual candlelight vigil commemorating the Tiananmen Square massacre, the deadly 1989 crackdown on students demanding democracy in Beijing, just as tensions rise in the city over controversial national-security legislation.Police denied an application by the group that organizes the vigil in Victoria Park on Hong Kong Island, stating in a letter that the decision was due to concerns surrounding the coronavirus pandemic. The letter said that violations would be punished by imprisonment and fines, the Wall Street Journal reported Monday.This year would mark the first time the event has not been held in three decades."We are extremely disappointed and strongly object to this decision," said Richard Tsoi, secretary of the organizing group, the Hong Kong Alliance in Support of Patriotic Democratic Movements of China. "The freedom of assembly is enshrined in the basic law.""We think it's a political decision," Tsoi said.The decision comes as China on Thursday approved a controversial national security law that would allow Beijing to wield expanded power over Hong Kong.Pro-Democracy activists and other critics say the national security laws would effectively scrap the "one country, two systems" policy that has allowed Hong Kong its political freedoms and civil liberties despite still being technically governed by China.China claims that the laws are necessary to crack down on separatism, subversion, terrorism, and foreign intervention in Hong Kong in the wake of the pro-democracy protests a

RELATED ARTICLES
Authorities say the decision was taken due to public health concerns amid the coronavirus pandemic.


China is engaged in diplomatic disputes on numerous fronts, from acrimony with the United States to a backlash over its clampdown on Hong Kong, a border dispute with India and criticism over its handling of the novel coronavirus. From disputes over trade and technology, to U.S. criticism over the coronavirus outbreak and China's accusation of U.S. backing for protests in Hong Kong, ties between the world's two biggest economies are at their lowest point in decades.


* A milestone for two Nasa astronauts in historic mission * First such rendezvous by US spacecraft since 2011A mere 19 hours after blasting off from Florida, and with a short break for some Black Sabbath music in between, two Nasa astronauts docked the SpaceX Dragon crew capsule to the International Space Station (ISS) on Sunday in another milestone moment for their historic mission.The precision move 262 miles about Earth, both spacecraft traveling at 17,500mph, was the first time since July 2011 that a US-built human-rated vehicle, the long-retired space shuttle Atlantis, had completed such a rendezvous.It was also the first pairing in space featuring a crewed spacecraft constructed by a private entity, the SpaceX company founded by the billionaire entrepreneur Elon Musk, who broke down in tears at a post-launch press conference on Saturday.SpaceX confirmed docking was made at 10.16am ET above the China-Mongolia border, the crew of the ISS ringing the station's bell three times in maritime tradition to signal the new arrival.It was a particularly poignant moment for astronaut Doug Hurley, who piloted the 2011 mission that closed the 30-year shuttle programme and now the first crewed test flight under Nasa's $6.2bn private-public partnership known as the commercial crew programme."It's been a real honor to be a small part of this nine-year endeavour since the last time a United States spaceship has docked with the ISS," he said, noting that the SpaceX Dragon was only the first of a new generation of private
The show, about a couple who cheated on a game show, is coming to AMC. It wasn't just a hit in Britain; it changed attitudes toward one of that country's strangest crimes.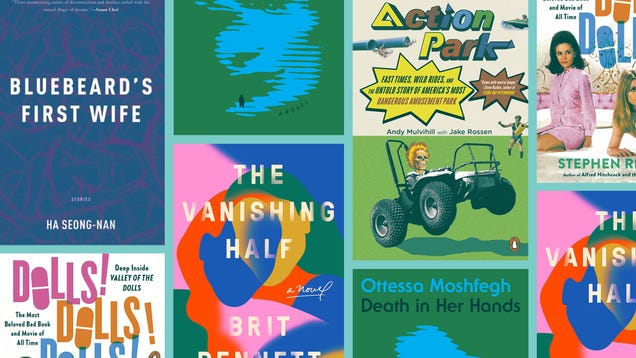 Every month, a deluge of new books comes flooding out from big publishers, indie houses, and self-publishing platforms. So every month, The A.V. Club narrows down the endless options to five of the books we're most excited about.

Read more...