President Trump on Monday denied any suggestion that he might want to hold this summer's Republican National Convention at his resort in Doral, Fla., following his threat to move the convention from North Carolina if that state's governor can't guarantee the party will be allowed "full attendance" at the event.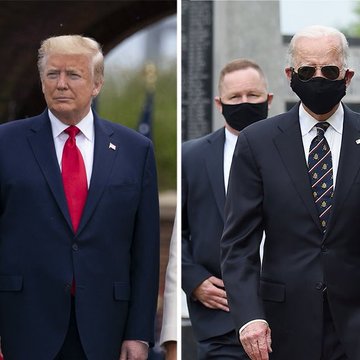 (First column, 1st story, link) Related stories:
Ohio's Republican gov. urges masks: 'This is not about politics'...


President Donald Trump has found his convention scapegoat: North Carolina Gov. Roy Cooper.
President Trump warned Monday that planners would be "reluctantly forced" to find a new site for the Republican National Convention if North Carolina's governor can't guarantee the party will be allowed "full attendance" at the event currently planned in the state's largest city. 



(First column, 2nd story, link) Related stories:
Memorial Day offers contrasts as Biden and Trump salute war dead...


GettyOn Sunday, just days after Donald Trump encouraged houses of worship to reopen even in states under coronavirus lockdowns, churches from Maine to California defied the law and welcomed worshippers at live services.

In Washington State—the early ground zero of COVID-19 in America—Covenant Christian Church in Spokane welcomed a sizeable, mask-less crowd for morning prayers, according to the local Spokesman-Review. The Reverend Ken Peters, who claims he'd been holding in-person services since May 3, blasted the "satanic" agenda of Governor Jay Inslee's stay-at-home order and vowed to start offering a second in-person service each Sunday evening.

And in California, where in-person services also remain banned and where officials say more than 180 people were exposed to the virus at an illicit church gathering on Mother's Day, News Channel 3 reported that Church Unlimited in Indio flouted state rules by reopening its doors this weekend. On Saturday, a Pentecostal church in Chula Vista also filed an emergency motion with the U.S. Supreme Court in hopes of forcing Governor Gavin Newsom to allow churches to open.