The writer behind second season of "American Crime Story" talked about his work on this challenging and disturbing series.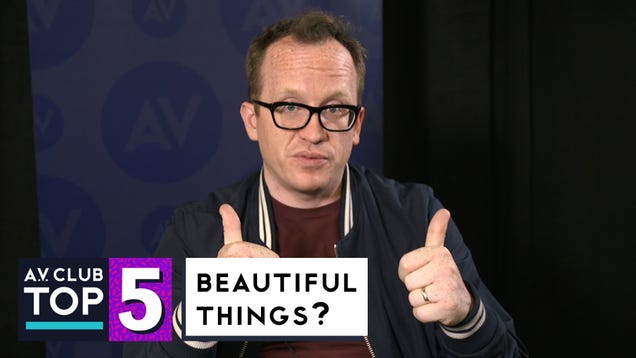 On each episode of his podcast Beautiful Stories From Anonymous People, Chris Gethard takes one call from a stranger, and has an hour-long conversation during which he is not allowed to hang up. This usually results in guests who are uninhibited, willing to share their secrets, and Gethard is able to get some really…

Read more...


Movies that were a lot of work to make shouldn't be a lot of work to watch. But Wes Anderson's ambitious yet faltering stop-motion adventure Isle of Dogs sentences us to hard labor every minute: not a moment goes by when we're not reminded how much cleverness, how much painstaking planning, how much meticulous manipulation…

RELATED ARTICLES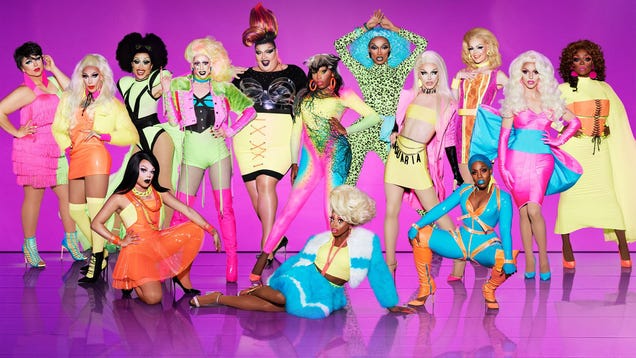 Here's what's happening in the world of television for Thursday, March 22. All times are Eastern.

Read more...


Deadpool is back — and he's as vulgar and inappropriate as ever!

The second full-length trailer for the highly anticipated sequel dropped on Thursday, giving fans a closer look at what to expect from Deadpool 2.

And while the trailer is complete with plenty of fighting and NSFW language, star Ryan Reynolds even managed to sneak in a Sisterhood of the Traveling Pants joke.

"And that's why Sisterhood of the Traveling Pants is pure pornography," Reynolds' titular character tells his trusty cab driver at the end of the clip.

Reynolds is married to Sisterhood actress Blake Lively.

Deadpool 2 finds the unlikely hero trying to save a young boy from villain Cable (Josh Brolin), who has come back from the future to kill the child.

"I am not letting Cable kill this kid," says Deadpool. "But I can't do this alone."

Deadpool rounds up a group of fellow superheroes to help him — including a few familiar faces from the last film.

"We need them tough, morally flexible and young enough to carry their own franchise for 10 to 12 years," he jokes.

Deadpool 2 hits theaters May 18.



RELATED ARTICLES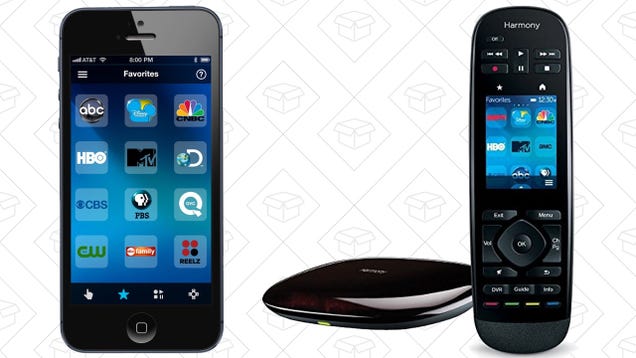 The ', 'B00BQ5RY1G');" data-amazontag="kinjaavclub-20" href="http://www.amazon.com/dp/B00BQ5RY1G/?tag=kinjaavclub-20&ascsubtag=a623c7de2c42d1d7420524cf471333ab2e0efcde&rawdata=[t|link[p|1823981246[a|B00BQ5RY1G[au|5727177402741770316[b|avclub"Logitech Harmony Ultimate has just about every feature you could ever ask for in a universal remote, and then some, and Amazon's offering it up for an all-time low $140 today.


Read more...


CNN's Jake Tapper wants to know why President Donald Trump keeps giving


Men in Black: Tessa Thompson will reunite with her Thor: Ragnarok costar Chris Hemsworth in a spin-off of the Men in Black series. F. Gary Gray (Fate of the Furious) will direct what is described as an "ensemble piece" that is "more global in scope." The team of Matt Holloway and Art Marcum (Iron Man) wrote the screenplay. The film is still expected to revolve around a secret law-enforcement agency that protects the Earth from alien creatures that live among us. It's set for release on June 14, 2019. [THR]   Bartender Thriller: Dakota Johnson (Fifty Shades Freed, above) and Zazie Beetz (TV's Atlanta) are in negotiations to join Armie Hammer in an untitled thriller. Hammer will play a bartender in New Orleans who picks up an apparently lost...
Read More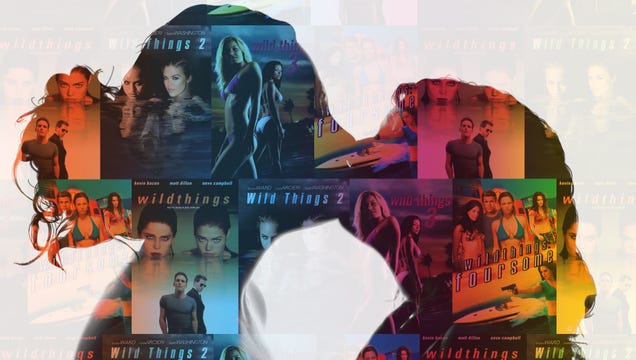 With Run The Series, The A.V. Club examines film franchises, studying how they change and evolve with each new installment.


Read more...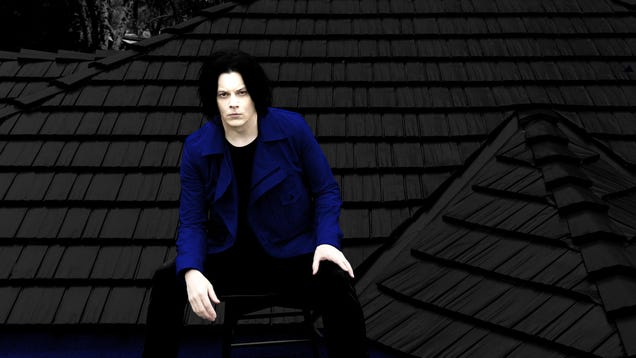 Although Jack White was the primary creative force in The White Stripes, the three albums he's made since officially going "solo" have all been decidedly non-Stripes-like. Both Blunderbuss in 2012 and Lazaretto in 2014 were rooted in the primitive blues, garage rock, and rural folk music that White made with his…

Read more...


The pledge is aiming to reach 475,000 children and families in Burundi by 2020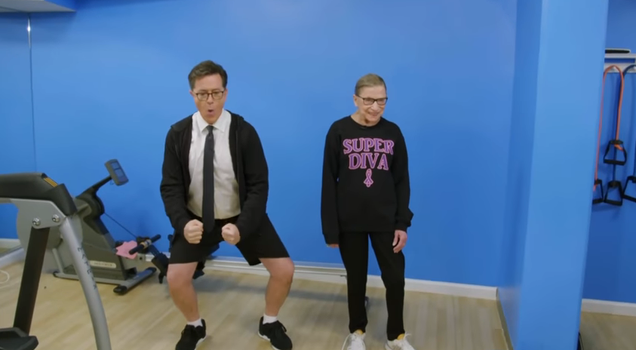 On Wednesday's Late Show, Stephen Colbert took a field trip down to Washington D.C. for a meeting with 85-year-old Supreme Court Justice and woman to whose health the nation nightly prays, Ruth Bader Ginsburg. By "for a meeting," one might substitute, as Colbert did, "getting shredded," as the pair sat (then lunged,…

Read more...



Mike Pence's daughter revealed she bought a copy of the sold-out parody children's book that trolled her vice presidential father.

"I have bought his book," Charlotte Pence said of John Oliver's gay-themed love story, A Day in the Life of Marlon Bundo, that was released in response to Marlon Bundo's A Day in the Life of the Vice President, the tale about the family's pet rabbit written by the 24-year-old and illustrated by her mother, First Lady Karen Pence.

"He's giving proceeds of the book to charity, and we're also giving proceeds of our book to charity, so I really think that we can all get behind it," Charlotte told ITK as reported by The Hill on Wednesday. "It doesn't have to be divisive. I think that everybody can come together over Marlon."

The proceeds from Oliver's book have been pledged to The Trevor Project and AIDS United.

"Happy to support charities and important causes," Charlotte, the oldest daughter of the second family, tweeted on Wednesday.


— Charlotte Rose Pence (@charlipence) March 21, 2018

https://platform.twitter.com/widgets.js

RELATED: John Oliver's 'Gay' Spoof of Mike Pence's Bunny's Book Is Outselling the Real One

The Last Week Tonight story follows Ma
Steven Soderbergh is one of those directors who can do anything-which doesn't necessarily mean he should. His latest experiment, the psychological thriller Unsane, was shot on iPhones, which is probably the one thing most people will remember about it 10 years from now. The story-featuring Claire Foy (The Crown) as a woman who, after being…
The writer James Lord (Armie Hammer) poses for the artist (Geoffrey Rush) in what is essentially a 90-minute conversation.
In this documentary, the demigods of electronic dance music gush about the genre's milestones.
A Quinn Martin Production starring Karl Malden. Also starring Michael Douglas.
With Guest Stars James Gregory, Leslie Nielsen...Special Guest Star Andrew DugganThe Streets of San Francisco (1972-77), previously available only as half-season sets, has been repackaged using the same masters, indeed the very same discs, as those releases, but at an astonishingly reduced price - currently around $50 for the entire series, versus $39 back in the day for just one of the half-season sets, or about 40 cents per episode. As noted above, the show was the product of Quinn Martin Productions, whose other shows of the period included Cannon and Barnaby Jones, The Streets of San Francisco being the best of the three. It had two fine actors for the price of one, more attractive locations, and generally slightly better, more believable scripts. Cannon r...Read the entire review





RELATED ARTICLES
This week, the actress reads Robin Grearson's story of falling into a relationship with a man half her age.
While celebrities like Meryl Streep and Robert De Niro are using their words to express opposition to President Donald Trump and his administration, Jim Carrey is turning to his paintbrush.

The Ace Ventura actor, 56, who picked up painting about six years ago, has been demonstrating his political beliefs through his artwork. Carrey rarely explicitly names the subjects of his portraits but many appear to be prominent political figures. Over the past couple years, Carrey has taken to social media to share some of his pieces, which have generated praise, condemnation and everything in between.

On Wednesday, he shared a new image depicting Trump's new attorney Joe diGenova as a Troll doll suspended from the rear-view mirror of a car driven by the president, who seems to be nervously sweating. The St. Basil's Cathedral in Moscow and the Russian Federation's flag is seen reflected in the rear-view mirror.


— Jim Carrey (@JimCarrey) March 21, 2018

https://platform.twitter.com/widgets.js

"Lawyer and lucky charm Joe diGenovia hopes to put Dirty Donald's troubles in the rearview mirror. B
His solo show will run through Dec. 15, but tickets are available only to those who tried to get them earlier.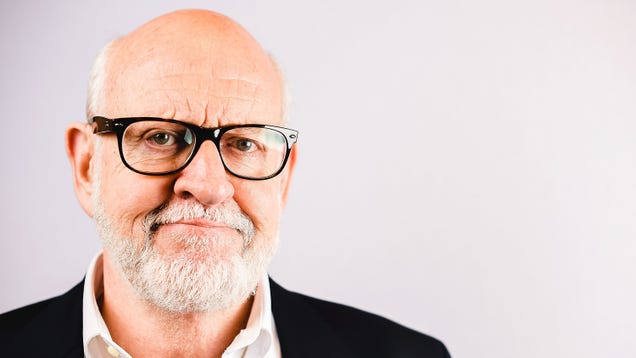 In addition to his credits as a director (and as a tiny, wizened Jedi), Frank Oz also holds a firm position as an elder statesman of the Muppet universe. As the guy who introduced the world to Fozzie Bear and Miss Piggy, among others, people tend to pay attention when Oz weighs in on the beloved characters (even if he…

Read more...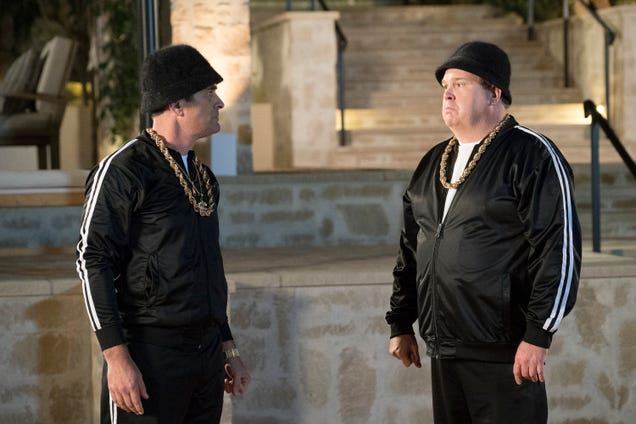 For the most part, Modern Family has two approaches to its episodes: there's either a dominant A story complemented by a few meaningless B stories, or one large, overarching plot that includes every single person in the main cast. Both kinds of episodes have their charms. The former allows for a more focused, personal…

Read more...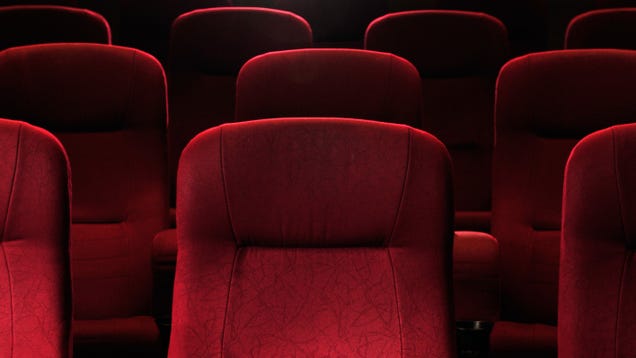 A man in the United Kingdom died last week after a bizarre accident with a movie theater seat, with his heart stopping after he got his head stuck under the chair's automatically closing footrest. According to The Guardian, 24-year-old Ateef Rafiq was looking under his chair at a Vue International theater in order to…

Read more...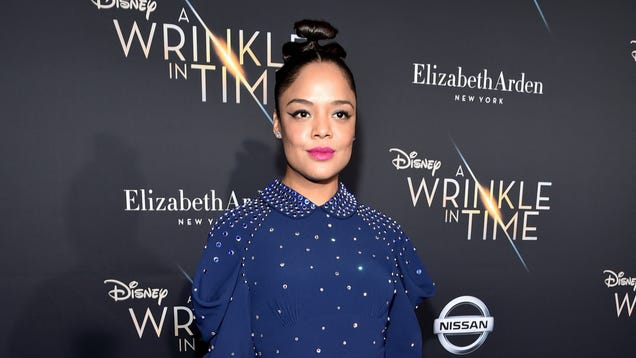 At the end of last month, we reported that Chris Hemsworth was in talks to star in F. Gary Gray's new Men In Black movie—which, as we've noted many times, is a Jurassic World-style revival that expands the universe without using the same characters—and now we know at least one person who will be joining Hemsworth as…

Read more...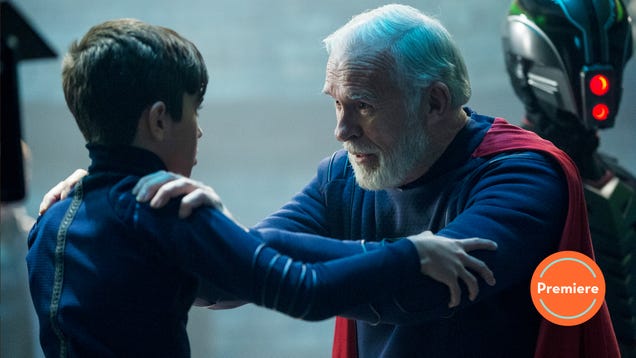 Somewhere along the line, today's comic book-obsessed pop culture landscape became so jam-packed with origin stories that studios decided we needed origin stories for our origin stories. The superhero tale before the actual superhero shows up. Basically, you've seen Peter Parker get bitten by a radioactive spider, but…

Read more...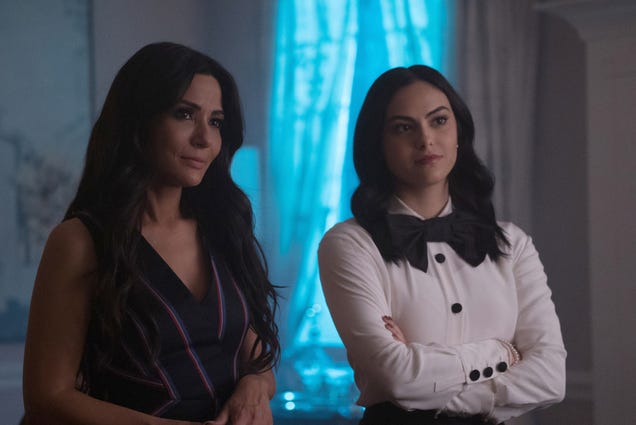 These days, Riverdale is like a game of chess where most of the actual pieces are missing, so it has to be played with pieces from Monopoly or Sorry or the Buffy The Vampire Player board game. The problem is, those games are also missing pieces—so it never has all the pieces to any game it wants to play, even when it…

Read more...


The Defense Department is looking at ways to prevent an enemy from being able to launch a weapon in the first place. With Russia and China developing advanced cruise missiles and weapons such as hypersonic boost-glide vehicles, the United States is looking at ways to defeat threats other than incoming intercontinental ballistic missiles.



RELATED ARTICLES
Chalk this one up as a new success for John Oliver. The comedian and host of HBO's Last Week Tonight put together a children's book to troll Vice President Mike Pence, documenting a day in the life of Pence's family pet bunny Marlon Bundo. (Pence also put out a book about the rabbit, but Oliver's…
For the second week in a row, "WWE Smackdown" led…

RELATED ARTICLES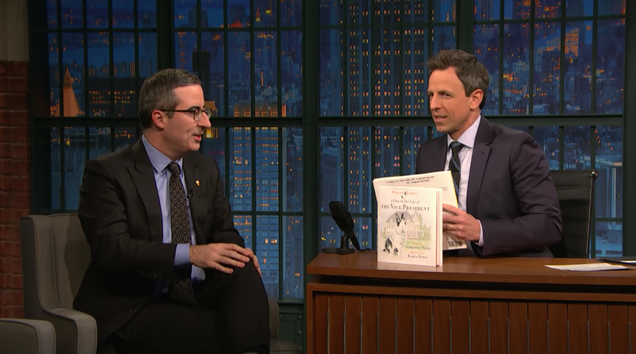 Yesterday, we reported on the success of John Oliver and the Last Week Tonight writing staff's latest viral stunt, which involved them producing a fully realized children's book about Mike Pence's family rabbit, Marlon Bundo, falling in love with another male rabbit and getting married. Given the rabidness of Oliver's…

Read more...


Troye Sivan's "My My My!" garners the singer/songwriter his second top 40 hit on the Dance Club Songs chart, as the tune struts 43-31...
The cake that will be served at Prince Harry and Meghan Markle's upcoming wedding on May 19 is bound to be gorgeous.

On Tuesday, the couple announced that they chose pastry chef Claire Ptak to create a lemon elderflower cake for their big day. If Meghan's chic style and love of food are any indication, the dessert will certainly be on-trend and modern with a subtle nod to tradition.

Harry and Meghan asked Ptak to create a dessert "that will incorporate the bright flavors of spring," a statement from Kensington Palace read. "It will be covered with buttercream and decorated with fresh flowers."

With just enough details to get my creativity flowing, I took to the PEOPLE test kitchen to bake-predict (bredict?) what this regal confection will actually look and taste like.

RELATED: The Most Glamorous Royal Wedding Cakes Through History First, it's all about the flavor. Ptak—who was raised in California like Meghan—"focuses on using seasonal and organic ingredients," so she no doubt will be using fresh elderflowers in her cake recipe. Unfortunately the tiny, creamy white blooms, which come from elderberries, are not easy to pick up in New York City during a crazy spring snowstorm, so I had to compromise and use elderflower liqueur (in this case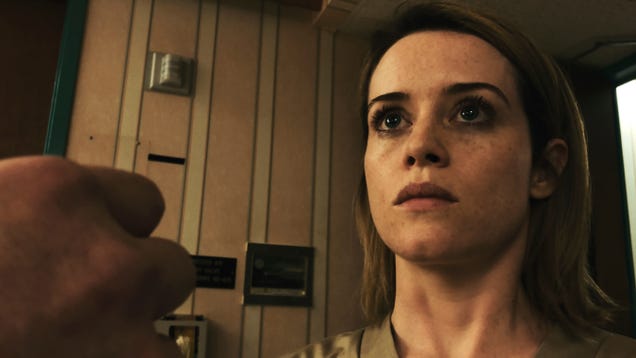 Taking the pulse of American anxiety for the nth time, director Steven Soderbergh concocts an unusually literal vehicle for his principles of deception, clinical detachment, and self-imposed constraint (not to mention his interest in the deceptive language of therapy) in Unsane, an art-brut not-quite-thriller about a…

Read more...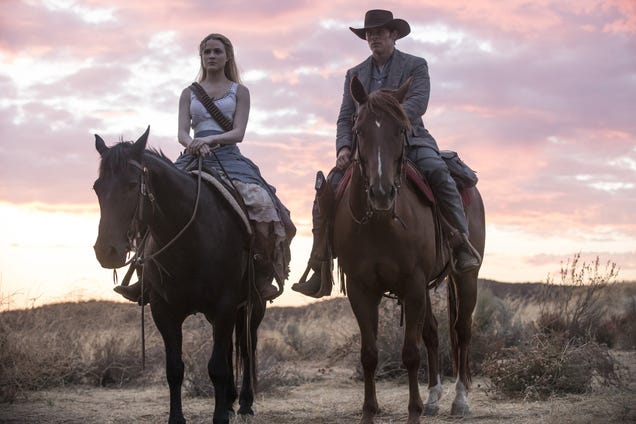 The long wait for more Westworld is nearly over—season two is scheduled to premiere on April 22, when we'll learn what the next steps are in the robo-revolution. Entertainment Weekly spoke with the cast and producers about what's on the horizon for Dolores, Teddy, and yes, the Man In Black, in what co-showrunner…

Read more...