The Senate impeachment trial of President Trump began on Thursday, with the House impeachment managers walking the two articles of impeachment to the Senate, lead House prosecutor Rep. Adam Schiff (D-Calif.) reading the articles to the full (and silent) Senate, Supreme Court Chief Justice John Roberts taking an oath to administer "impartial justice according to the Constitution and laws," then asking the jury of all 100 senators to swear to the same. ABC News recapped the formal and solemn proceedings, noting that the impeachment trial is beginning even as new evidence emerges."After we were all sworn in, a surprise (at least for me): we were all requested to sign our names, one by one, in the trial's log book," Sen. Chris Murphy (D-Conn.) recounted. "Afterward, one of my colleagues showed me his notes, where he had kept track of how many senators are left handed." And the number of southpaws — 13, by our count — does stand out as you watch the senators sign their names, sped up here by ABC News: WATCH: Timelapse shows all Senators in attendance signing the Senate oath book, after being sworn in by Chief Justice John Roberts for the impeachment trial of Pres. Trump. https://t.co/VzqoLhOsfn pic.twitter.com/JXiYp8Q4Th — ABC News (@ABC) January 17, 2020If you haven't perused the two articles of impeachment, you can read along as Schiff recited them for the Senate.As Schiff read the articles to the "deathly quiet" Senat
Iran's supreme leader, Ayatollah Ali Khamenei, led Friday prayers at a mosque in Tehran on Friday for the first time since 2012, trying to rally support among intertwined crises facing his government. On the foreign front, punishing U.S. sanctions have harmed Iran's economy and the Trump administration's killing of Iran's top general brought the U.S. and Tehran to the brink of war. Domestically, Iranians already angry over a hike in fuel prices took to the streets this week to demand justice and accountability for the Revolutionary Guard's downing of a Ukrainian jetliner, killing 176 people, most of them Iranian.In nationally broadcast comments from inside the Mosalla mosque, Khamenei, 80, said the missiles fired on the Ukrainian jet were a "bitter accident" and defended the Revolutionary Guard, which reports directly to him. "Our enemies were as happy about the plane crash as we were sad," he said. "Happy that they had found something to question the Guard and the armed forces." He called President Trump, who has been encouraging the antigovernment protests, a "clown" who is only pretending to support Iran's people and would just as soon "push a poisonous dagger" into their backs.Khamenei also addressed the missile strikes on two Iraqi bases hosting U.S. forces, calling the a "slap on the face" to the U.S. "The fact that Iran has the power to give such a slap to a world power shows the hand of God," he said, but pushing the U.S. military out of the Mid
The London-based actress finds time for cultural enrichment between starring in "Sex Education" and "The Crown."
Supreme Leader Ayatollah Ali Khamenei said in a Friday prayers sermon that Iran's missile strikes on U.S. targets in Iraq showed it had divine support in delivering a "slap on the face" to a world power. Making the main weekly sermon in Tehran for the first time since 2012, with Iran and its clerical rulers under pressure at home and abroad, Khamenei also said that U.S. sanctions imposed in a row over its nuclear program would not make Iran yield. Thousands had gathered inside a large prayer hall in central Tehran and packed the area and streets outside the building, chanting "Death to America".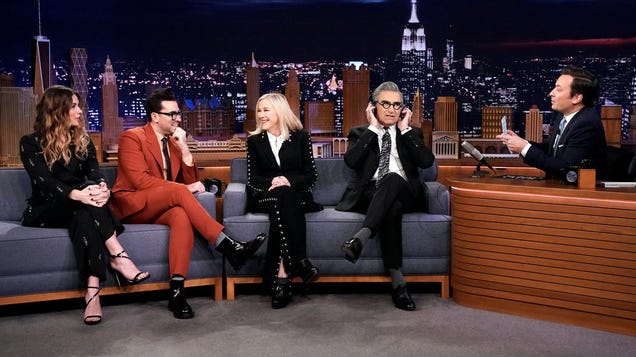 With the sixth and final season of Canadian stealth hit comedy Schitt's Creek currently airing in America on Pop TV (and reruns cementing its cult hit status on Netflix), the cast assembled in slightly less than their Rose family finery on Thursday's Tonight Show. (Note that Fallon, wary of the FCC, one supposes,…

Read more...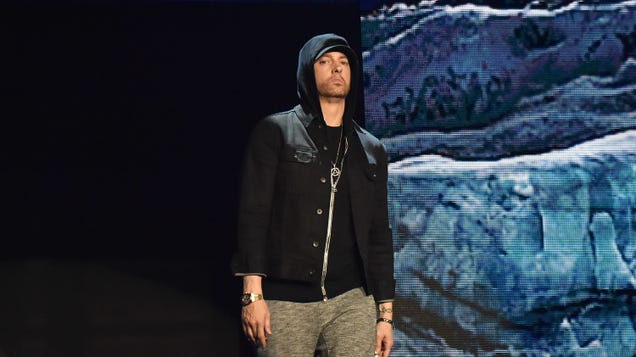 For the second time in the span of a handful of years, Eminem has surprised the musical world by abruptly dropping an album onto his legion of fans, pretty much in the middle of the night. But whereas 2018's Kamikaze included—amid a fresh stew of warmed-over beefs—the Detroit rapper's homage to that beloved monster of…

Read more...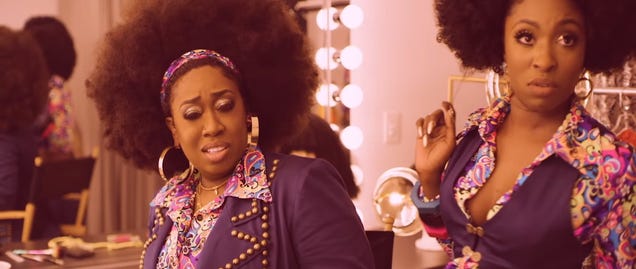 Missy Elliott released the third installment of The Iconology Saga (not the official name, but humor us here) in the form of another new music video. "Why I Still Love You" is retro, du-wop R&B ballad about a frustratingly persistent love. As she cruises through the decades with her girl group, the Demeanors, Missy…

Read more...


She was spared by German soldiers seeking her uncle and protector, a cousin of Albert Einstein. She went on to help start the British New Wave in cinema.
Final broadcast primetime live same-day ratings for Wednesday, January…
After being nominated three times, Nine Inch Nails have finally locked down a spot in the Rock and Roll Hall of Fame Class of...
Broadcast primetime live same-day ratings for Wednesday, January 15,…
The bang-bang buddy-cop franchise returns for a belated third entry, and its stars prove that they still have that '90s action-movie chemistry
Tippet Rise, an ambitious music center in the rolling hills of Montana, on Tuesday announced a second season that will include a premiere by leading composer Aaron Jay Kernis. The Tippet Rise Art Center opened last year on a sweeping ranch in the western US state, aiming to bring world-class classical musicians to a venue in nature with concerts attended by no more than 150 people at a time. The estate -- which features original sculptures, communal dinners and, this year, a new 5.5 kilometers (three and a half miles) of hiking and bicycle trails -- is funded by free-spirited philanthropists Peter and Cathy Halstead who sell tickets for just $10.