Cuomo believes Trump is bothered by the fact that New York now has one of the lowest COVID-19 infection rates in the country.


The musical, based on Mira Nair's 2001 film, was previously slated to play Leeds Playhouse and London's Roundhouse Theatre this year.
After months of testing its COVID-19 candidate vaccine in adults, Pfizer recently lowered the age of participation to 16.


Alexander Hillel Treisman was found with child porn images, said he would "do a columbine" and mused on killing Biden, court documents say.


Giuliani turned the offer down out of credibility concerns, a source familiar with the meeting tells Salon


U.S. voters have cast more than 47 million votes for the Nov. 3 presidential election, eclipsing total early voting from the 2016 election with 12 days to go, according to data compiled by the U.S. Elections Project. The surge comes after many states have expanded mail-in voting and in-person early voting as a safe way to vote during the coronavirus pandemic and amid voter eagerness to weigh in on the political future of Republican President Donald Trump, who is facing a stiff challenge from Democrat Joe Biden. Biden leads Trump in national opinion polls, although surveys in crucial battleground states indicate a tighter race.


Joe Biden appears to have met his son Hunter Biden's business partner in 2017, according to text messages obtained by Fox News.If it took place, the meeting may contradict the former vice president's claim that he "never" spoke with "my son about his overseas business dealings." The text messages came from Tony Bobulinski, the former CEO of SinoHawk Holdings, a joint venture between members of the Biden family and now-defunct Chinese oil company CEFC."Mrng plse let me knw if we will do early dinner w your Uncle & dad and where, also for document translation do you want it simple Chinese or traditional?" Bobulinski wrote in a text to Hunter Biden on May 2, 2017."Not sure on dinner yet and whatever is the most common for a Chinese legal DOC," Hunter replied."Chinese legal docs can be both, i'll make it traditional," Bobulinski answered. Later on, Hunter replied, "Dad not in now until 11- let's me I and Jim meet at 10 at Beverly Hilton where he's staying." "Jim" is James Biden, Hunter's uncle and the former vice president's brother.On the same day, Bobulinski sent a text to James Biden."Great to meet u and spend some time together, please thank Joe for his time, was great to talk thx Tony b," the message states.The Beverly Hilton referred to by Hunter appears to be the Los Angeles branch of the hotel chain. On May 3, one day after the text conversations, Joe Biden participated in a conversation at the Milken Institute's "Global Conference," held in the Beverly Hilt
Sacha Baron Cohen serves up a serious October surprise involving Rudy Giuliani in "Borat 2," while the Trump counselor claims he was just "tucking in my shirt" and not in a compromising position.


Rudy Giuliani's daughter wrote a scathing rebuke of her father's boss and his "toxic" administration, and urged Americans to vote for Biden.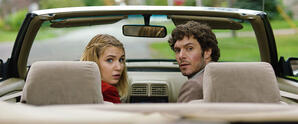 Young people with an especially active imagination often dream of solving a great mystery, yet most soon get caught up in the adventures of an adult life. That is the not the case, however, for Abe Applebaum (Adam Brody), who became known as The Kid Detective for his uncanny ability to solve simple mysteries in his youth. Now in his early 30s, Abe remains obsessed with unlocking puzzles, so when he is offered a chance to investigate his first real, complex 'adult' case, he leaps at the...

Read More

Read Comments