Editor's Note: The following is an excerpt from the book Battlegrounds: The Fight to Defend the Free World by H. R. McMaster. Copyright © 2020 by H. R. McMaster. The book was published on September 22, 2020, by Harper, an imprint of HarperCollins Publishers. Reprinted by permission. Part I of the excerpt is here.The CCP views its centralized, statist economic system as bestowing advantages, especially the ability to successfully coordinate efforts across government, business, academia, and the military. And it views America's and other nations' decentralized, free-market economic systems as rendering them unable to compete with China's centrally-directed strategies, such as Made in China 2025, OBOR, and Military-Civilian Fusion. That is why the United States and other free-market economies need to demonstrate the competitive advantages of decentralization and unconstrained entrepreneurialism while defending themselves from Chinese predation. Here, the private sector plays a vital role. Companies and academic institutions at the forefront of developing and applying new technologies must recognize that China is breaking the rules to take advantage of our open societies and free-market economies. A first step toward preserving competitive advantage is to crack down on Chinese theft of our technologies. Although there have been significant reforms in national-security reviews of foreign investments, another effective defense would be to enforce requirements that U.S. companies report investment by China-related entities, technology t
Former president has been campaigning for Joe Biden


Helsinki Airport has started making use of dogs to detect COVID-19.The airport in Finland is deploying trained sniffer dogs as part of a new trial after researchers said that in preliminary tests, dogs could "identify the virus with nearly 100 percent accuracy," including "days before before a patient developed symptoms," The Guardian reports. They can reportedly detect it in 10 seconds or less."It's very promising," University of Helsinki researcher Anna Hielm-Björkman, who is overseeing the trial, told The Guardian. "If it works, it could prove a good screening method in other places."The trial reportedly involves having passengers use a wipe to dab their necks, which one of the dogs then sniffs, and if it detects the coronavirus, the passenger can then take a polymerase chain reaction test. Participation in the trial is voluntary, The New York Times reports.Hielm-Bjorkman told the Times that it's not entirely clear what the dogs are actually detecting, explaining that "we know how dogs detect it — by smell — but we have no clue what they detect yet." But she added, "If we find this out, we can train thousands of dogs across the world." Airport Director Ulla Lettijeff in a statement said "we are pleased" with the start of the trial, adding, "This might be an additional step forward on the way to beating COVID-19." More stories from theweek.com America needs to hear the bad news first A mild defense of Republican hypocrisy on the Supreme Court Trump is the only one being honest about the Supreme Court fight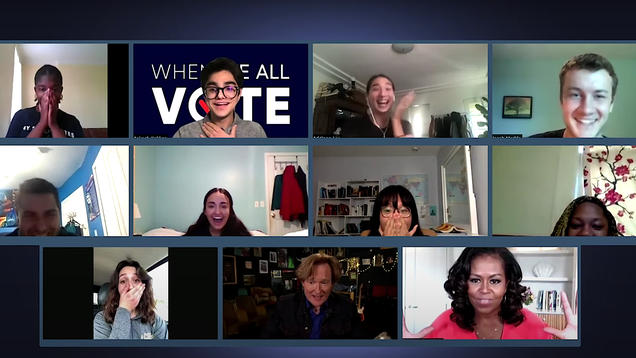 Having taped their shows prior to the current occupant of the White House openly spill his super-villainous plan to "get rid of the ballots," not commit to a peaceful transfer of power should he lose the November election, and essentially declare everything America supposedly stands for null and void at the whims of a…

Read more...


The British-American journalist, publisher and author was best-known for his campaigns against injustice.
The documentary focuses on the history of African-American expatriates in France and the writings, paintings and music they made there.
The median age of people with COVID-19 in the U.S. has declined, with adults in their 20s now accounting for more cases than people in any other age group.


Cuomo questioned how so many Americans can accept the blatant hypocrisy on the part of Trump and Senate Republicans.


Bad Filmmaking. Worse Timing. Unclean! Unclean!!!