President Donald Trump arrived in Northern California on Saturday to see firsthand the grief and devastation from the deadliest U.S. wildfire in a century amid confusion over how many people remain unaccounted for.



RELATED ARTICLES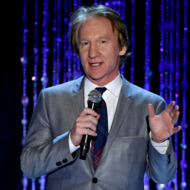 Today in Arguments That Probably Could Have Waited A Week, Bill Maher is coming hard for the real reason Donald Trump got elected in 2016: comic book creator Stan Lee, who passed away on Monday. While most people would have put a pin in their political Stan Lee op-eds for ... More »
At least 71 people are confirmed to have died in a catastrophic wildfire in northern California while a further 1,000 are still missing, officials have said. Authorities attributed the high death toll from the so-called Camp Fire, which erupted last Thursday in the drought-parched Sierra foothills 175 miles north of San Francisco, in part to the staggering speed with which the wind-whipped flames raced with little warning through Paradise, a town of 27,000. Nearly 12,000 homes and buildings, including most of the town, were incinerated hours after the blaze erupted, the California Department of Forestry and Fire Protection (Cal Fire) has said.