Trump calls 99% of COVID cases "harmless" in his July 4 speech. FDA Commissioner Stephen Hahn refused to comment on the claim.


Ex-national security adviser also says any decision to withhold intelligence would 'certainly not' be 'made only by the briefer' * Trump uses Fourth of July to stoke division on virus and raceDonald Trump's claim not to have been briefed about intelligence suggesting Russia paid Taliban-linked militants to kill US soldiers is "just not the way the system works", former national security adviser John Bolton said on Sunday.Bolton was appearing on Face the Nation, the Sunday talk show from ViacomCBS, the communications giant which owns Simon & Schuster, the publisher which put out Bolton's Trump White House memoir, The Room Where It Happened, over the president's objection.Elsewhere, former Obama national security adviser Susan Rice said Bolton would have known about the bounties intelligence while he was in the role, which he left in September 2019, and would therefore have briefed Trump himself."I don't buy this story that he was never briefed," Rice told NBC's Meet The Press. "I believe that … when the information first came to light in 2019, my successor, John Bolton, would have walked straight into the Oval Office, as I would have, and informed the president of this intelligence."Bolton's book, a tell-all which sold nearly 800,000 copies in its first week in stores, is named for the Oval Office and contains numerous shocking descriptions of Trump's behaviour. But it does not mention the alleged bounties plot."I'm not going to disclose classified information," Bolton t
A lobbyist with ties to the Trump administration and a client list that includes governments accused of human rights abuses has declined to represent Prince Andrew, it was claimed on Sunday night. The New York Times said the Duke of York's lawyers approached the Washington-based lobbyist Robert Stryk "in recent weeks". Mr Stryk has a history of "taking on clients with unsavoury reputations" the newspaper reported but it claimed that he "expressed discomfort about the possibility of assisting Prince Andrew". The Telegraph understands a "conversation" took place between Mr Stryk and Blackfords, the London law firm representing the Duke, but no deal was struck. A spokesman for Prince Andrew declined to comment. A source said: "This looks like a lobbying firm advertising. No engagement has been made or sought." Mr Stryk was unavailable for comment on Sunday. According to The New York Times, he owns a company called Sonoran Policy Group which runs a "global private diplomacy" firm. Mr Stryk has represented a Saudi prince who fell out of favour with the country's rulers as well as the Venezuelan government which Mr Trump considers "illegitimate". His clients also include Isabel dos Santos, Africa's richest woman and the daughter of Angola's former president, who is accused of embezzlement, a charge she denies. Previous clients include the government of the Democratic Republic of the Congo when it was run by Joseph Kabila, who has been accused of human rights abu
President Trump suggested testing be slowed because it uncovers more cases. Experts say the rise is due mainly to wider exposure to the virus.


Kremlin-controlled Russian state media set out to tickle U.S. President Trump's fragile ego amid falling ratings after his blustery appearance at Mount Rushmore on Friday. Mentioning that the American head of state had previously toyed with the idea he might be featured alongside Washington, Jefferson, Teddy Roosevelt, and Lincoln, Russia's premier state media channel Rossiya-1 aired a graphic of Trump's mug right up there on the mountain beside them. Given the frequent allusions on Russian state media to Trump as Moscow's friend, even Moscow's "agent" in the White House, maybe the Kremlin would like to see the enormous monument renamed Mount Russia-More. But there were signs on Saturday, July 4, that, for now, Trump and Russian President Vladimir Putin are trying to keep their longstanding bromance in check, at least where the official record is concerned. Putin sent a telegram congratulating U.S. President Donald J. Trump on America's Independence Day. Interesting move. By avoiding a phone call Putin also avoided any direct pressure to address reports about the Kremlin paying bounties to the Taliban to kill American soldiers and coalition forces in Afghanistan.Prior to the bounty leaks flooding out of the U.S. intelligence community, the calls between Trump and Putin had become unusually frequent, but those revelations put the brakes on the presidential chatter. Trump Uses Mount Rushmore Event to Sic Supporters on 'Evil' ProtestersTrump—who is at least as reluctant as Putin to discuss the matter—had also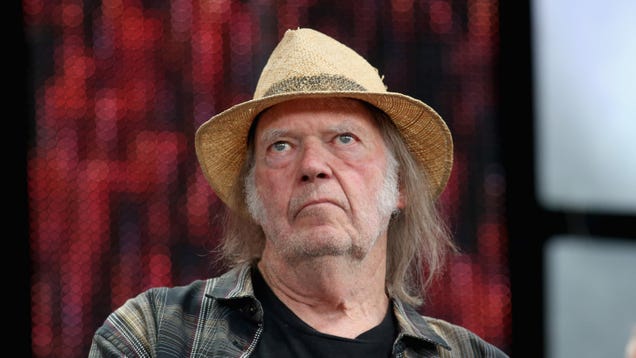 Neil Young has never been shy about letting the world know who can, in his opinion, go fuck themselves. In the past, that august list has included everybody from record executives, to any number of former collaborators, to all who dared speak against the power of Pono. But these days, it's mostly just the one guy who…

Read more...



RELATED ARTICLES
On Friday's episode of "Real Time," Bill Maher used the "New Rules" segment to mock white people for "culturally appropriating" the Black Lives Matter movement. But he also asked activists to go just a little bit easier on white people who might be trying to join the movement but still have some more learning to do to get caught up.'New rule: black people have to demand that white people stop culturally appropriating how mad they are about racism. It's great that Caucasians have finally joined the fight for racial justice in unprecedented numbers, but hating racism the most? You can't steal that," Maher began.Maher joked that "Elvis taking little Richard's act, that was bad enough," and then he mentioned Victor Sengbe, a Black Oakland resident who hung ropes around his local park to serve as exercise aids, but ended up being condemned as racist by Oakland's mayor, Libby Schaaf, because they resembled nooses.Also Read: Bill Maher Imagines Future Headlines From His Summer Break: 'All Musicians on Earth Demand Trump Stop Playing Their Music'"She said, 'These incidents will be investigated as a hate crime.' Why is this white woman seeing racism where a black man isn't? The mayor also said, 'intentions don't matter.' But they do matter," Maher said before transitioning to his main point. "And white people need to stop trying to cancel other white people whose heart is in the right place but don't get it exactly right